Update:
The Linux version is now officially available!

Splatter - Blood Red Edition is a fantastic looking top-down shooter that features a film-noir styled single-player campaign. I decided to pick it up now the developer has put up a
test branch on Steam
, and found it to be fantastic.
About the game
(Official)
Splatter is a top-down-shooter with a film-noir-singleplayer-campaign, challenging fights against all kinds of monsters, gory splatter effects and destructible level environments. Meet real cool characters with quests, engage boss fights and upgrade your weapons. You also get stylish cutscenes, actions sequences, secret collectibles and an arcade survival modus with worldwide leaderboards to compete with your friends.
Use light to create breathing space in battles and to expose hidden weaknesses of your enemies. Explore the surroundings to find new weapons, resources and secret areas. Spend the money you got to upgrade your guns and unlock new weapon features and discover the best tactics against the variety of monsters.
Find out what happened to Max in the story mode, spanning 16 levels, quests, fully voiced NPCs and dialogs and animated cutscenes. You're standing alone amongst the inhabitants of a modern city which suddenly took a turn for the apocalypse. Humanity isn't exactly worth saving, but you might end up doing it anyways.
Try to beat the Highscores in the Survival Mode or gather up to 4 friends in front of your computer to co-op against the horde.
My thoughts
I had never heard of this game until someone poked me in the direction of it, and now that I've been able to play around with it I'm extremely glad someone did.
Performance
I'm impressed, as everything turned up to maximum has given me a solid 60FPS (VSYNC). There is a slowdown when it saves, but that's the only time the performance dips at all.
I've seen a report from another Linux gamer of it running reasonably well on an AMD APU as well, so that's really promising for the lower-end gamers amongst us.
Warning: This may/probably will spoil little parts for you, read at your own risk.
Gameplay
It's plays out a lot like you might expect from a top-down zombie shooter, but it's very enthralling. The film-noir styled scenes are really well done, and certainly helps you to become engrossed in the atmosphere of the game.
The start may feel like an ordinary top-down zombie fest (could that ever be ordinary?), but I assure you it gets more interesting as you play on.
The lighting in the game is really quite impressive, and further makes me fall in love with it. I wasn't expecting the lighting to look as good as this, and it's constantly impressing me across the different levels. The shadows actually move around as you move with your torch if you look closely, and it's that attention to detail that makes the atmosphere as awesome as it is.
Linux game-play video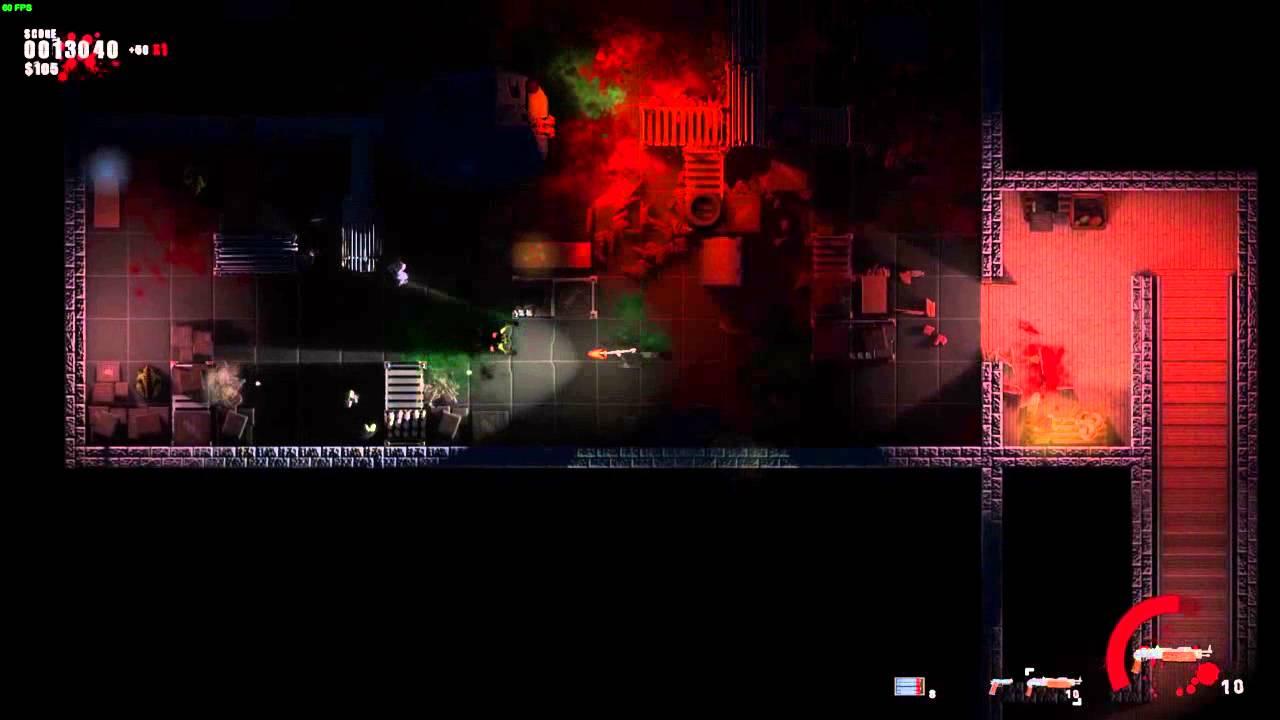 Watch me play it horribly, and see what I mean about the lighting being awesome.
There's a new monster it introduces you to on (I think) the second section, and it certainly did make me jump. You know something's coming since your character gives you the whole "what's that noise?". I hope there's plenty of that, as it did give me a proper "oh crap" moment.
At one point I walked into a gun store, only to find someone else, and I could either let him take a gun, or shoot him. I wasn't sure what to do, so I risked it and let him take a gun, and the lovely chap decided to help me out; great success.
Shortly after this, I was briefed on flares and how awesome they are at scaring the monsters away, and boy are they awesome to throw around. It's a bloody good job the game gave me a bunch too, as I encountered quite the hungry horde just after this.
Honestly, I think the greatest thing about the game is the fact that when you un-pause it, the screen is all grey and it slowly comes back to gameplay colours and highlights where you are. It's a small thing in reality, but well executed and very useful for when you're coming back to a point where you're knee deep in horrific hungry monsters.
Everything is well executed, well thought out, and really quite fun to play.
Minor issues
Gamepads work great, but two on-screen prompts tell you the mouse keys and not the gamepad. It doesn't really break anything, and the controls are simple enough. My Logitech F310 works perfectly.
Final thoughts
: Once the Linux version is completely official you really should buy it, unless you want to buy it now to help test it that is.
Check out
Splatter - Blood Red Edition
on Steam.
Some you may have missed, popular articles from the last month: