You know Doom, right? Well, are you aware of Brutal Doom, a mod that makes Doom even more awesome and brings it into the 21st century? Let's try that mod out!
Brutal Doom is a mod for certain Doom ports, namely Zandronum and GZDoom that makes drastic changes to the Doom formula while still retaining the feel of the original game. It changes the weapons, adds completely new weapons like hand grenades and adds a whole new level of gore.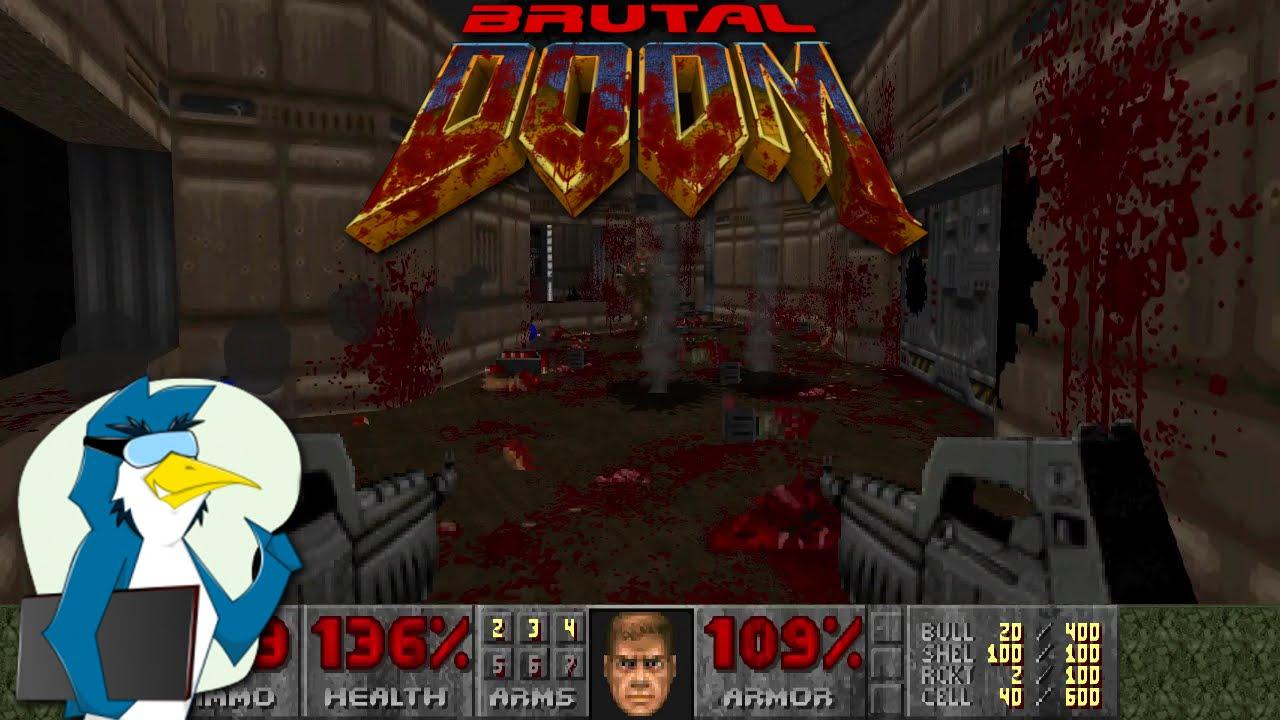 The past week or so has been quite dry and nothing that has sparked my interest has been released, so I was left with the choice of either going back to the depths of my to-do list or coming up with something new. And because GOL Cast hasn't featured this particularly awesome mod, I figured I'd show it around.
Brutal Doom is a big modification and it changes a lot of things. One of the first changes you'll see when you fire up the game is that your pistol is swapped for an assault rifle, capable of a lot more destruction than the puny peashooter of the original game. When I played the game originally I would only use the pistol if I didn't have any other weapons or ammo for them. But the assault rifle is actually a fun and powerful weapon, which makes the whole experience more varied since you are not just running around with the shotgun all the time. The mod has also tweaked some of the old weapons and added new ones to the mix. The shotgun shoots more pellets, making it more deadly from close range (this also applies to the sergeants, the zombified marines with shotguns) and the minigun will basically cut enemies in half. Hand grenades are a completely new thing and are extremely fun, if a bit overpowered.
Another quite big change is that weapons have to be reloaded. In the olden Doom days you could just fire away until you ran out of ammo, but in Brutal Doom you need to reload new clips or slap new shells into that shotgun of yours. Minigun is one exception to this rule and allows you to empty all of your bullets in a single go if you so desire.
So, how about the gore then? Well, there's plenty of it and it's all over the walls, ceilings and on the floor. The demons will quite often get torn into giblets by your bullets or by explosions and blood, guts and body parts will be flying quite a lot, especially after a nice headshot with the shotgun. Enemies also have new sprites and animations that convey their death very nicely. Sometimes you will see demons grasping to what is left of their life after that hailstorm of lead you unleashed upon them and you can end their suffering with the bottom of your boot. And for a little bit of extra you could press F after doing this which makes Doomguy give the finger and yell a variation of "fuck you". The game actually rewards these kinds of brutal kills with a "cruelty bonus" that will give you 5 health for each brutal kill. Sometimes enemies are also lit on fire and will run around screaming until they meet their end. Just complete awesomeness. Wow, I sound like a total sadist.
The mod has also tweaked other things in the game. Invisibility orbs have been changed into captured marines that you can release and they will join the fight against the demons wielding random weapons. The mod has also added in executions that will happen semi-randomly when you attack enemies with your fists. These executions make you enter an animation during which you won't take damage as you rip the enemy in pieces with your bare hands.
But that's not all! Brutal Doom also has an optional package that you can download which replaces the original Doom music with remastered metal. E1M9 has never sounded that good. I'd say it's a must-have if you are going to download Brutal Doom.
If you have Doom, you have to get Brutal Doom. It makes for an awesome excuse to replay all of the Doom levels and you will most likely have a ton of fun while doing so. Just make sure to crank the difficult up because Brutal Doom's changes can make the game feel a bit tame on the lower difficulty levels. And there's only so much gore you can get from a handful of enemies, so naturally you'll want to have as much meat in front of your shotgun as possible.
Brutal Doom on ModDB: http://www.moddb.com/mods/brutal-doom
Installation instructions on the second page!
Some you may have missed, popular articles from the last month: