Do you fancy things like revenge fantasies and silly physics games? If so, then Kill The Bad Guy might do for you. The game has you playing as the invisible hand of an organization trying to murderize people they find unsavory in various ways. I've been taking a look at it on and off for the past couple weeks, when I could tear myself away from Dark Souls (Tux, I was weak, forgive me!), but the farther I got in the clearer it became that this wasn't the game for me. But hopefully being a critic doesn't make
me
a bad guy, otherwise I might have a bullseye on my own back before this review's over with.
The first thing that came to mind when I started playing was that the game feels a lot like a mobile game. You've no doubt seen various puzzle games on your phone where you're trying to do well enough to get the gold star, 3 stars, or 5 stars in this case. You get a dossier on your target, describing his misdeeds and a secondary objective describing a specific way you could kill him if you're trying to get that perfect score. You then get an isometric view of a street, block, or park where your target will be lurking around. You can sabotage things in the environment to ensure the 'bad guy's' demise: namely cars, wrecking balls, catapult tree, dead dogs (yep), and a few other items.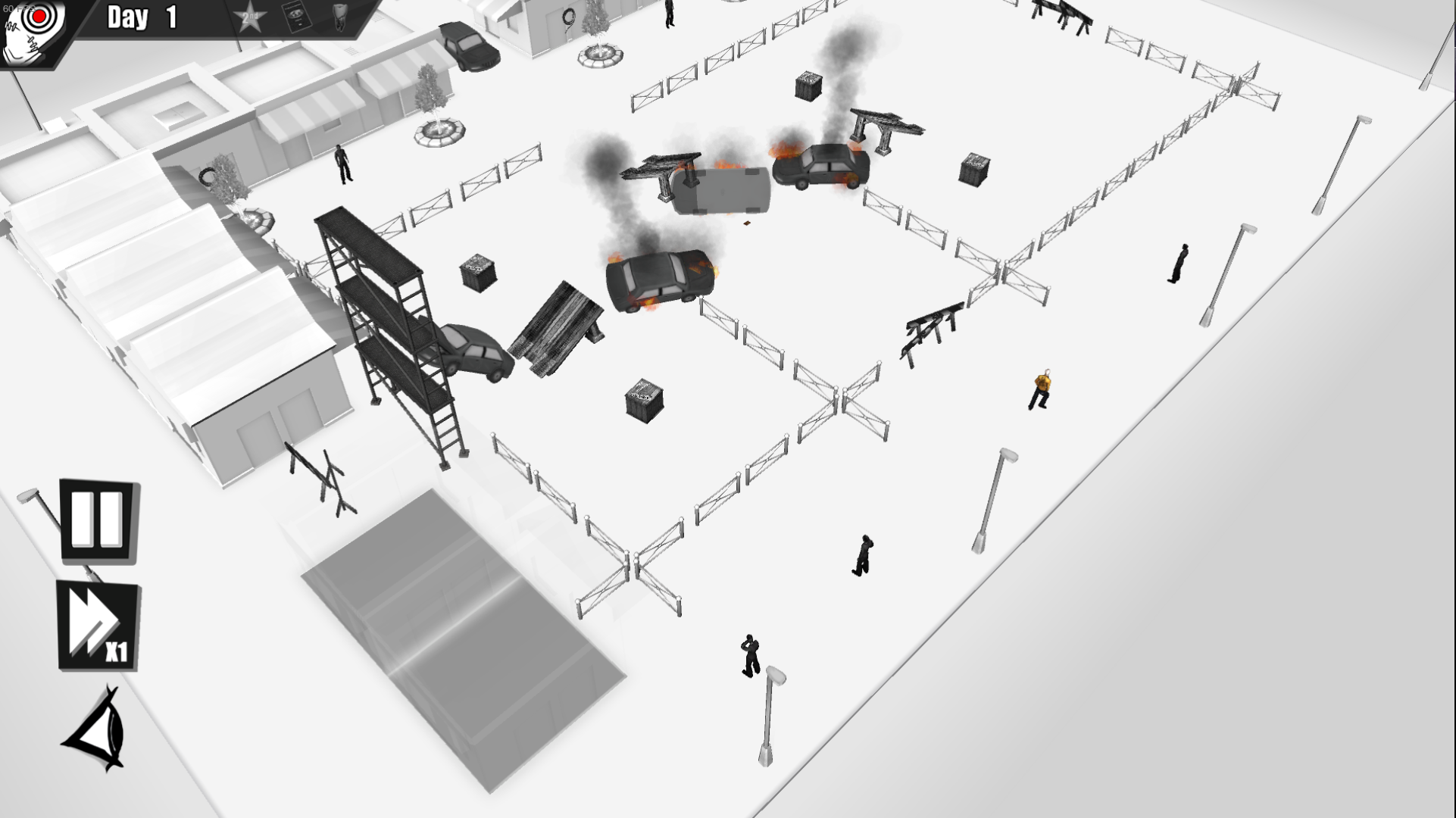 If you want to get those five stars you'll need to:
-Kill the target, duh
-Do it on the first day
-Complete the secondary objective
-Find the passport (for some reason) hidden somewhere in around the level
-Catch the golden tooth that every bad guy spits out when they die (of course)
Personally, I think they could've done away with this system; instead I would've had a regular victory for killing the bad guy, and one bonus for doing it in the way the secondary objective describes, because all the other objectives feel pretty pointless. If you fail to kill the bad guy and he makes it off screen the stage just starts over and now it's 'Day 2', there's no reason to not just restart the level at that point. You can pan around the level and look through buildings, so finding the passport is pretty trivial, and becomes tedious as you have to remember to grab it again every time you restart if you mess up. And finally there's the gold tooth that's just an annoyance. The cursed cusped is small and bounces all about once you get your guy, and you have a few seconds of mad clicking to catch it before the level ends. It's not usually too hard, but it's a finicky experience that can ruin a perfect run in one fell swoop.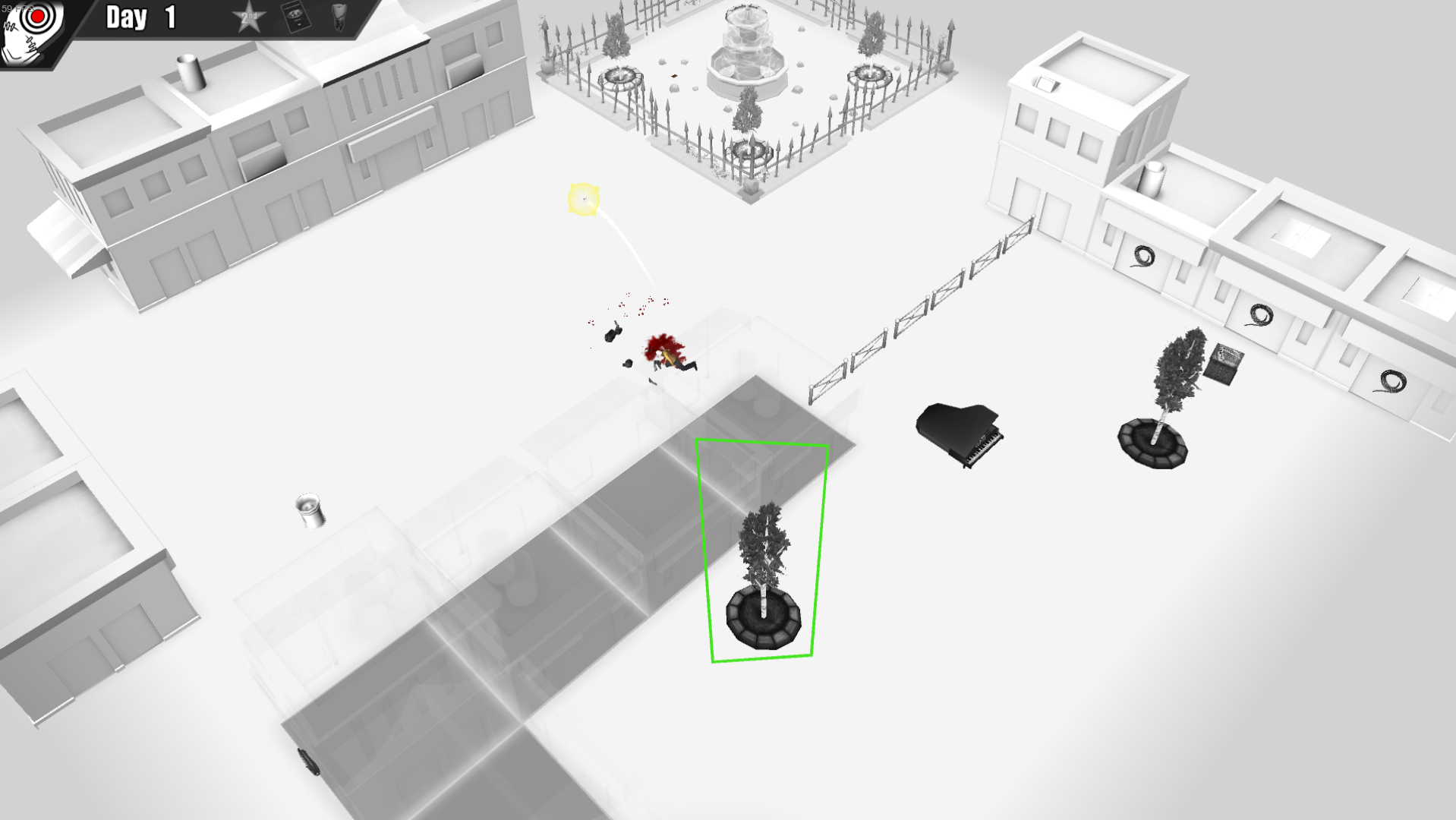 Speaking of finicky, let's talk controls; I don't like them. All your interactions are done via mouse. You can move certain objects, like a dead dog to deter people, the problem there is that it's hard to tell where exactly you're putting it. You don't drag items, but click 'em and stick 'em. The levels are all white: White buildings on white ground, and that certainly does not help. So put the dog on the wrong spot and then frantically click around trying to move it again, at which point the bad guy sees your activity and runs off. To sabotage objects you usually have to slide a bar across the interface and wait a few seconds, once completed you'll click a hold a button until the opportune moment, be it setting a car to take off or a sewer to explode like a geyser. The problem here is that the power varies depending on how long you hold it, and launches automatically once it hits the max. This means you're not only waiting for the moment the bad guy walks past the convenient car ramp, but also having to guess when you should start holding the button to get the right speed and how long it'll take for it to actually get to the ramp. The handy pause button would probably
would be
handy, but you can't do anything while paused but look around, which changes what could've been an interesting mouse-trap style game into a sloppy Final Destination simulator. Now there are some games where difficult controls are part of the fun and/or challenge, such as Surgeon Simulator, but this is not one of those games.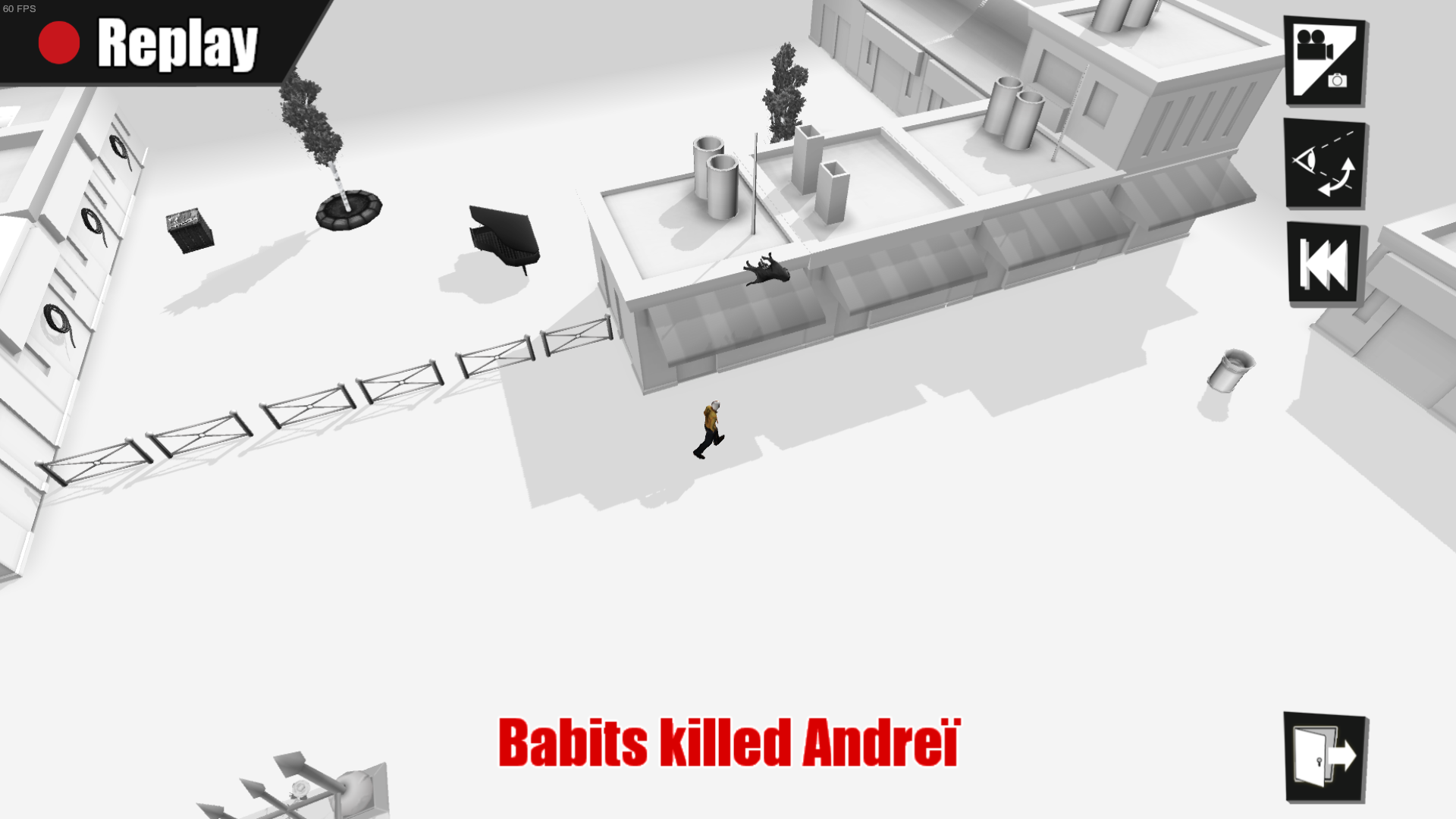 I should also note that the physics are pretty finicky in themselves. When making a physics puzzle game you should either make sure the physics are very consistent and predictable, or at least give the player enough leeway to get things right without too much frustration. Kill The Bad Guy apparently takes its wacky physics quite seriously because some things react straight up randomly. At one point I caused a man hole to explode from below the bad guy, then the man hole came down landing on a civilian. This is one of the few points in the game where I actually had a good laugh, before the game over screen came up for killing a civilian. After restarting I played with the man hole a few more times and found that where it landed seemed completely random, which I consider a sin in such a game.
Some you may have missed, popular articles from the last month: