If a nuclear holocaust were to happen right now it probably would be nothing like Nuclear Throne. But that doesn't mean we shouldn't check out this indie roguelite top-down shooter, so check it out we shall!
Nuclear Throne developed by Vlambeer is an indie roguelite shooter currently in Early Access in which you play as one of 12 inhabitants of a twisted post-apocalyptic world in search of the Nuclear Throne. You have an army of mutants, robots and combinations of the two that stands between you and your goal. And, as it usually is with video games, the only way is through.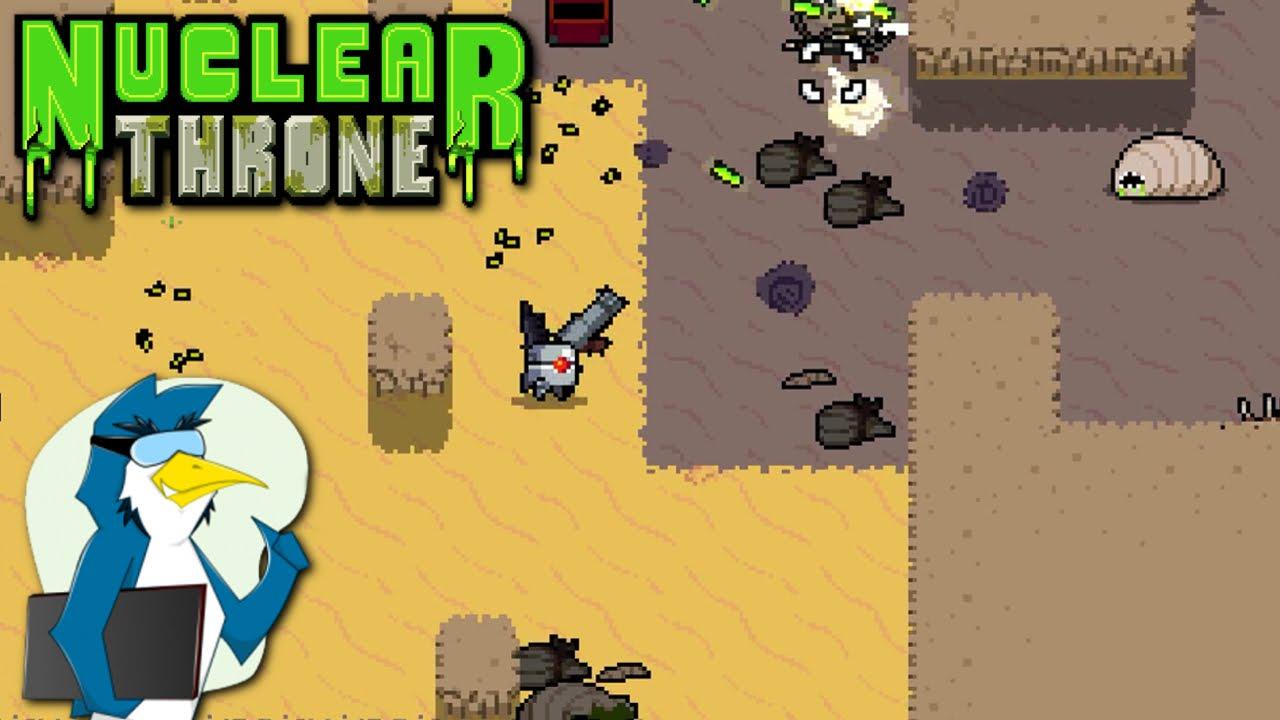 You start out by picking a character to play as. You start with only 2 options but you can unlock the other characters by playing the game. Or alternatively you can click a button in the menu to unlock all content immediately, if testing progression is not for you or you are impatient. These guys have very different abilities to one another and have their own playstyles. For example, Melting has the ability to blow up corpses of dead foes to deal damage to enemies near them but he is very vulnerable to enemy fire. Crystal on the other hand has more health and can become invincible for a moment, making it(?) one of the toughest to kill characters in the game. The others are just as unique and interesting.
The gameplay itself is super simple. To progress you need to kill all the enemies on the level and a portal will take you to the next level. That's it, no complex gameplay mechanics, no puzzles or anything like that. Just pure mayhem as you try to obliterate the bad guys standing in front of your guns. But simple doesn't mean easy. The enemies are quite numerous and the game can very easily turn into a bullet hell when everything tries to kill you at the same time. Nuclear Throne really tests your reaction times because dodging all of the incoming fire can be quite the task.
Over the course of the game you will find new weapons and this is one thing Nuclear Throne shines at. The weapons range from simple stuff like pistols, shotguns and assault rifles to grenade launchers, flak cannons and automatic crossbows. There are a lot of weapons and they all work better in certain situations. And since you can only carry two weapons at a time, you need to plan what you will take with you and what you will leave behind. Different weapons will also use different ammo types, so at least that's there to help you pick your loadout.
Another thing you will pick up is radiation and quite surprisingly, this is a good thing. Gathering enough radiation allows you to level up and pick a mutation. These mutations are helpful buffs that can increase your health, make you move faster, give you health from killing enemies and various other things like that. Together with the character choices and weapons this allows you to create quite bizarre and fun combinations that can in some cases work really well. One of the interesting builds I did was with Melting, who only has 2 health points and can be killed by pretty much anything. I took a mutation that makes you invincible to explosions and fire if you have less than 4 HP and took a grenade launcher that I found. Now I had a character that can run at enemies and fire grenades everywhere without a care in the world. It was quite awesome. Remember to turn down screen shake when you start reaching those very powerful weapons though, it can get pretty crazy when you leave it on.
There is another form of mutations called Crowns. They can be a bit difficult to reach and are sort of hidden but they can be quite powerful at times. They are sort of gimmicks, since they also have negative effects in addition to positives. But they will certainly make your builds even more weird and at times quite effective.
So, overall the gameplay is good, what about the technical stuff? Well, the game definitely has some shortcomings in that department. The game only runs in 4:3 resolution, as you can see in the video. In addition to this, the game is locked to 30 FPS. Some people might find that to be a non-issue, like myself, but for others that could be a deal-breaker. 60 FPS would most likely improve the game quite a bit but since it's a top-down shooter it doesn't have a big negative effect in my opinion. But if your PC Master Race status is extremely important to you, you might want to keep that in mind.
The game was also broken on Linux recently but that has now been fixed and the game works wonderfully on Linux once again.
Overall Nuclear Throne is a really fun game with gameplay that is easy to learn but difficult to master. There's a lot of replay value and the runs are quite quick, making the game easy to pick up and play for a moment without having to invest a lot of time per session. And apart from a couple of technicalities that are not real bugs nor platform-specific it works very nicely on Linux. I will give this game my stamp of approval and recommend you to get it if this genre of games interests you. I recommend you check out the gameplay in the video portion of this article to see what it's like.
Get the game DRM-free through a Humble Widget: http://nuclearthrone.com/humble.php
Some you may have missed, popular articles from the last month: