It's time to get your monthly fix of stats now that the results for the August survey are available for you to take a look at and compare with results from previous months. This also marks the one-year anniversary of the GOL survey!
You can find the new survey for September
here
, so please fill that out if you haven't already.
There's been steady improvements in the quality of the questions and taking on board feedback, which many of you have noticed. The main one for this month is the addition of a graph showing the average amount of games bought, rather than the individual responses, so thanks to Fedso for that!
Please click on the images to enlarge. Once enlarged, you can also cycle through them using the arrows.
Respondents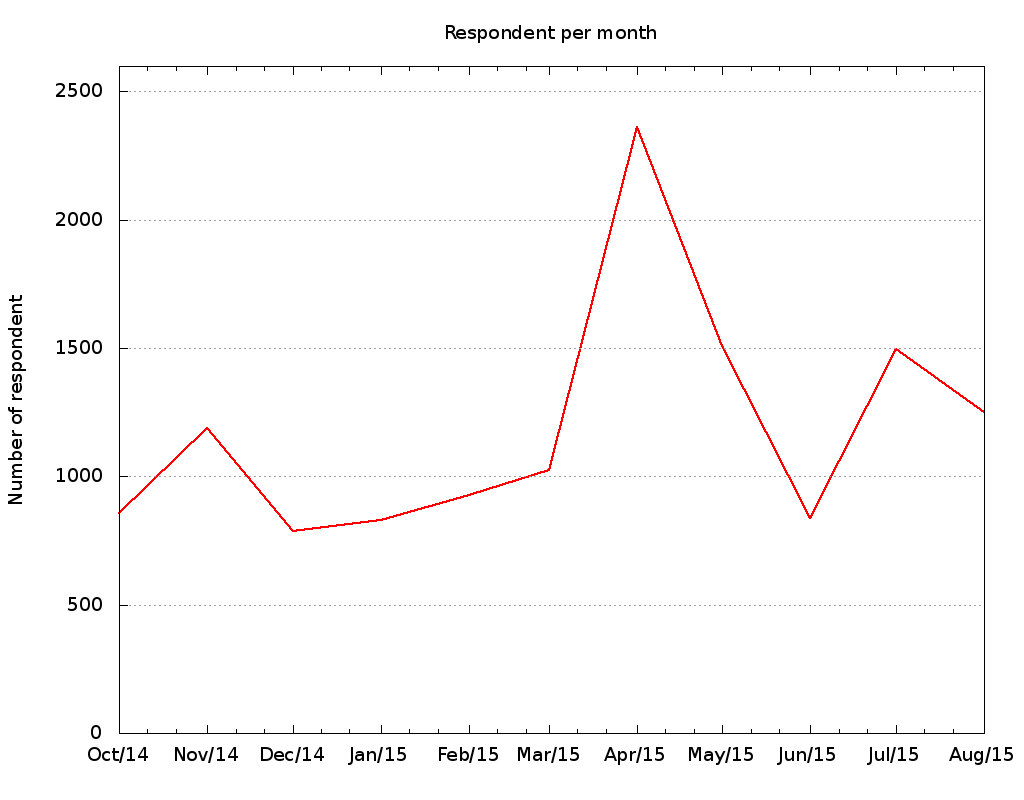 We had 1250 responses this month, just slightly below the 1496 last month, but still well within what we're looking for, so thanks for everyone who took the time to fill it out.
As usual, we ask nicely that anyone on r/linux_gaming reading this please share the survey there if it hasn't been shared already. This is more to ensure that the fluctuations which have messed up the results a bit in months past don't return.
Question 1
- Do you currently use Linux as your primary PC gaming platform?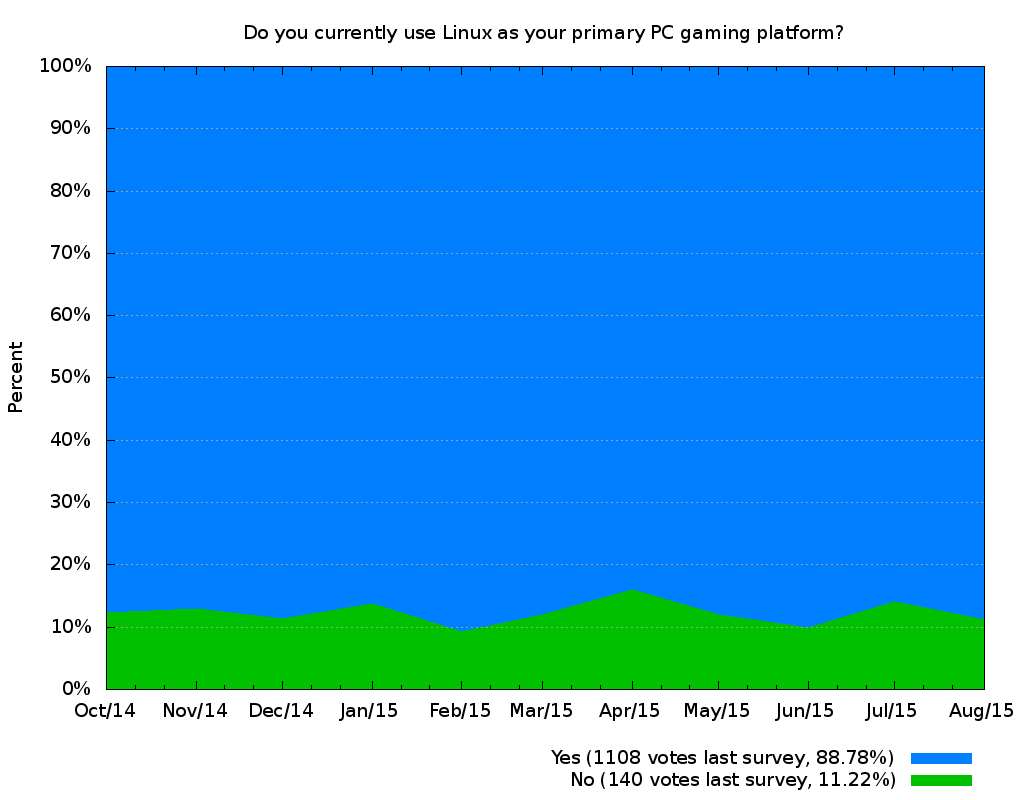 Question 2
- Did you use Wine to play games last month?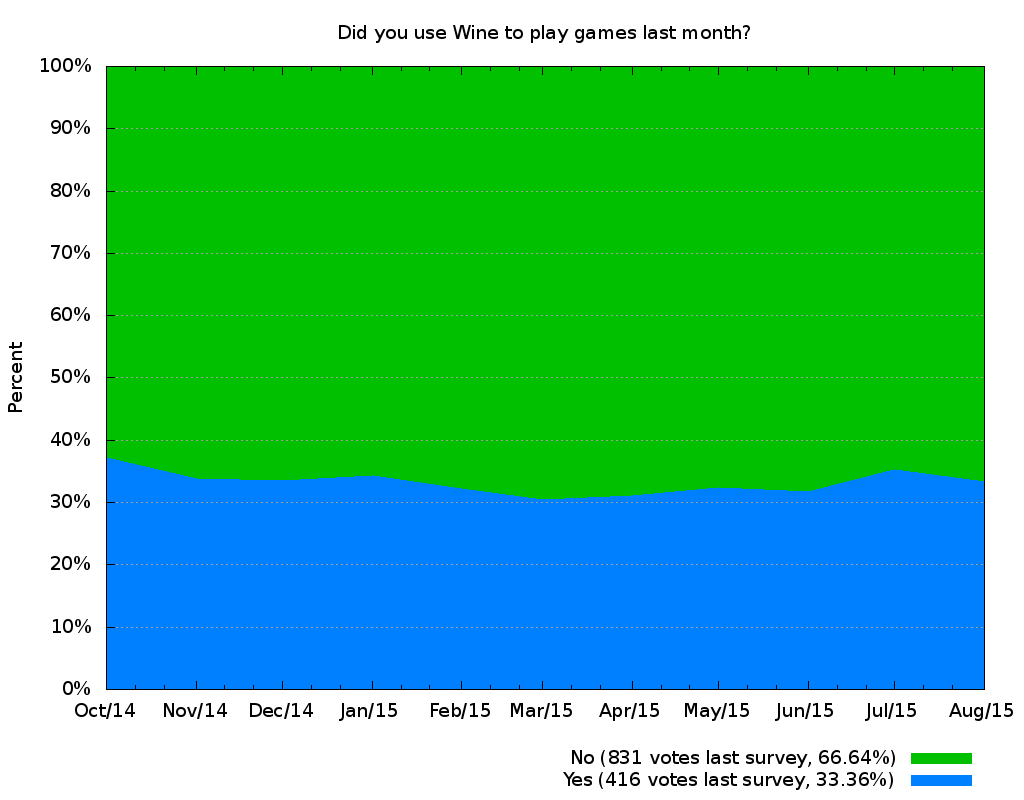 Question 3
- Did you use a Windows partition for gaming last month?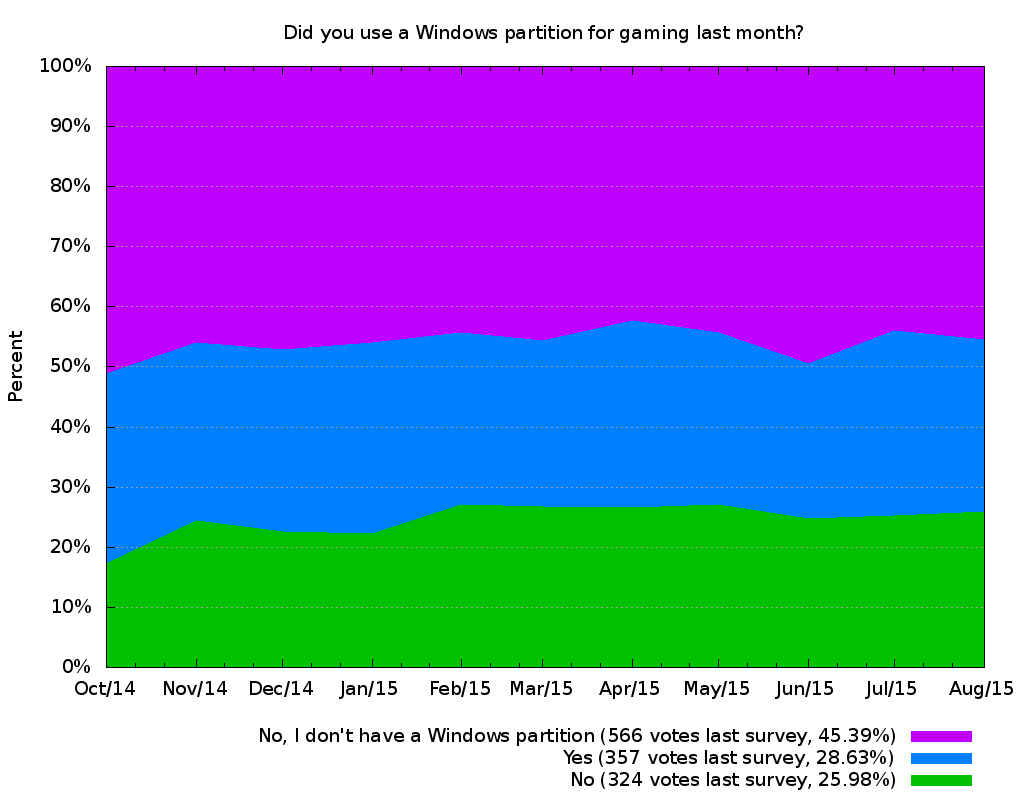 Question 4
- What distribution do you use on your primary Linux gaming PC?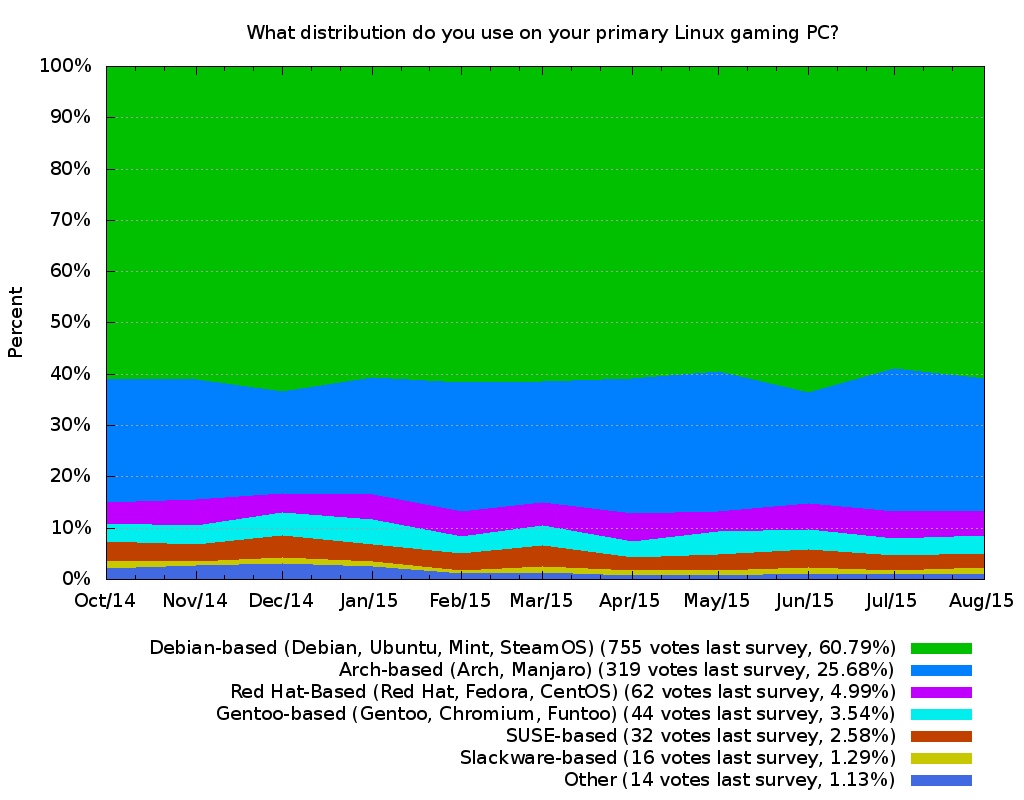 Question 5
- What Desktop Environment do you use on your primary Linux gaming PC?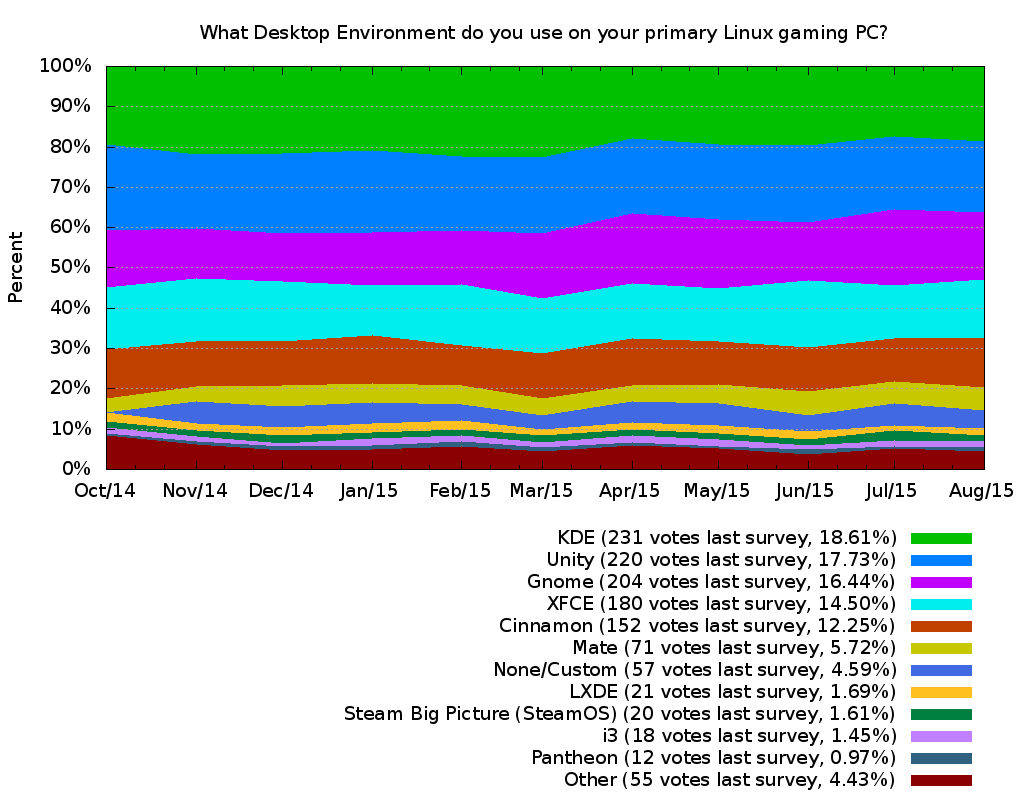 KDE is back on top again and Gnome is back in third, with Unity second. It seems the normal order of things has been restored. Also, before I get a scolding, the i3 option was removed long ago, but this survey was written way back in July, so this will be the last time it is seen on GOL ;).
Question 6
- Did you change your primary Linux gaming distribution last month?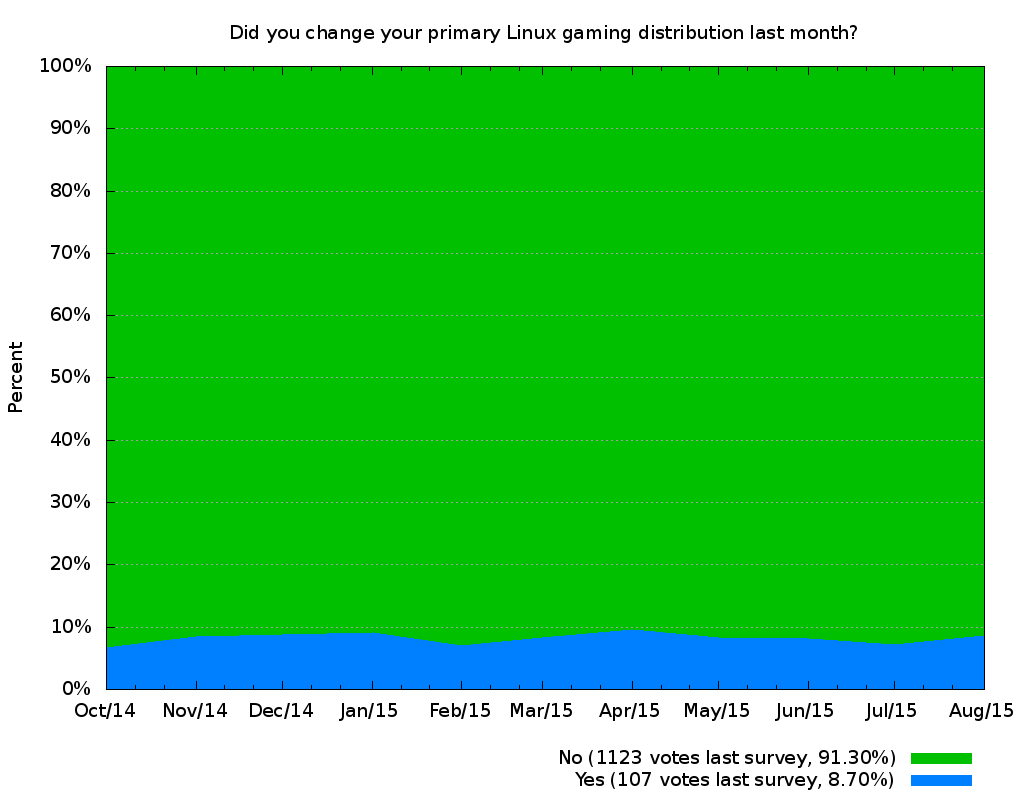 Question 7
- What type of device do you primarily use for Linux gaming?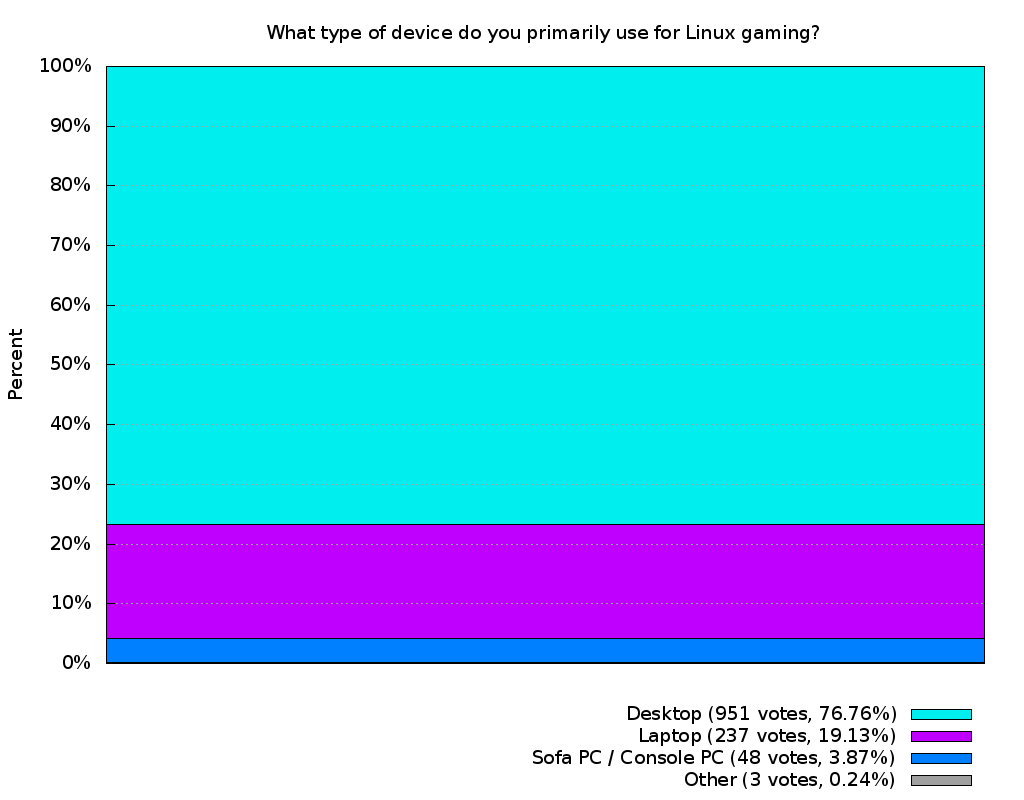 I expected to see perhaps a few more laptops in this section, but it's certainly no surprise that there are overwhelmingly desktop users. We'll be keeping an eye on the Sofa-PC stats over the coming months.
Question 8
- What graphics card do you use on your primary Linux gaming PC?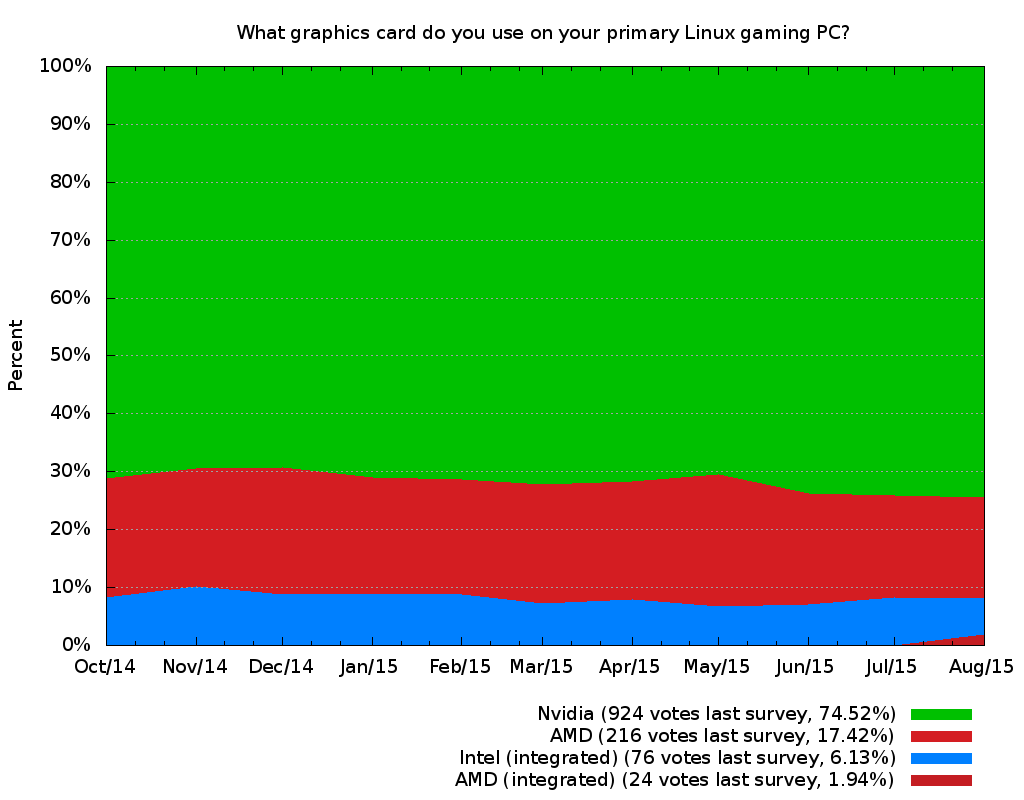 Here's the first results with the "Integrated AMD" option added, so it seems we will get more accurate results from now on.
Question 9
- Which drivers do you use for that graphics card?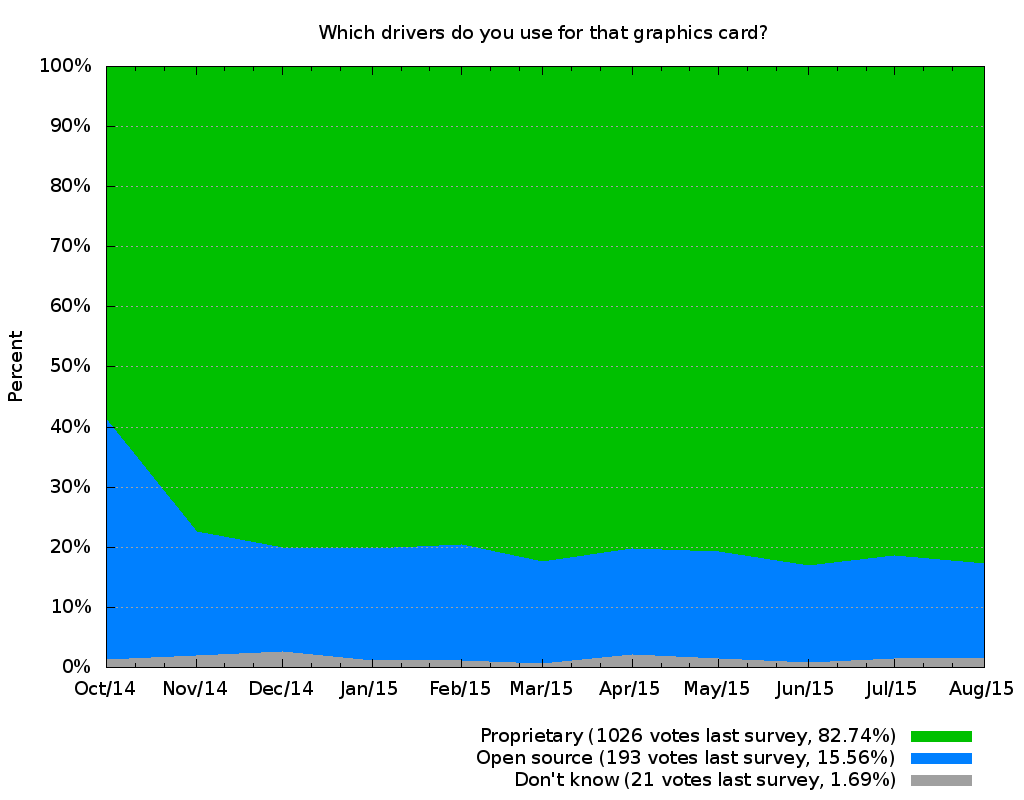 AMD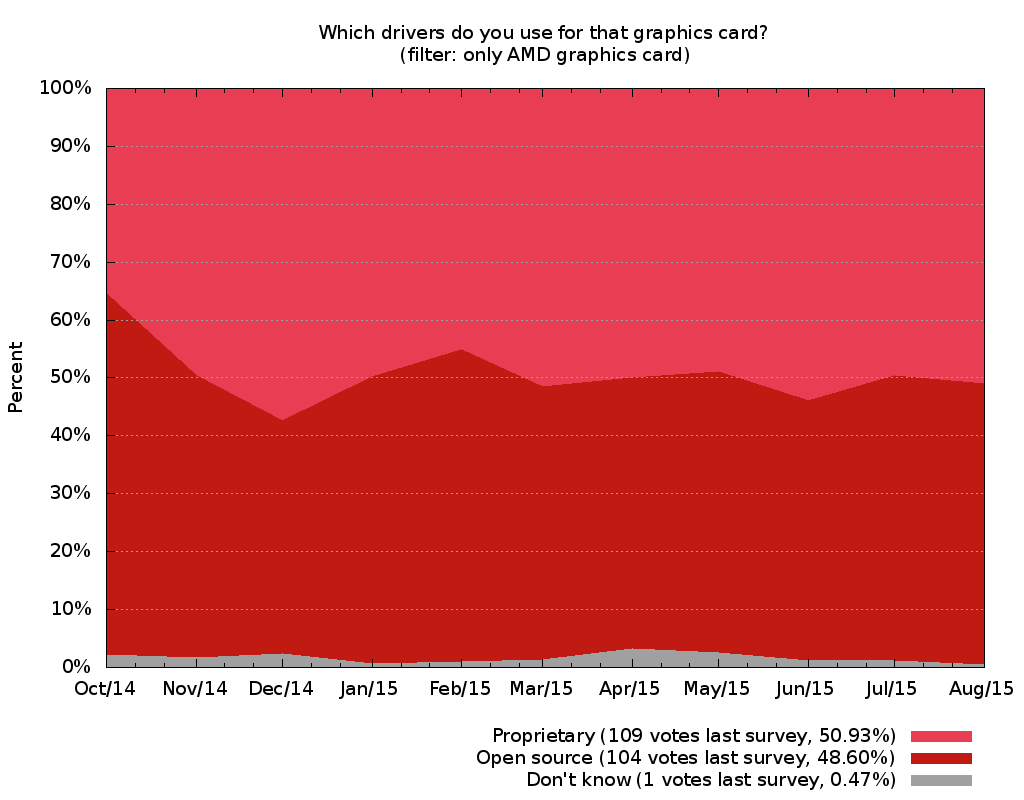 Intel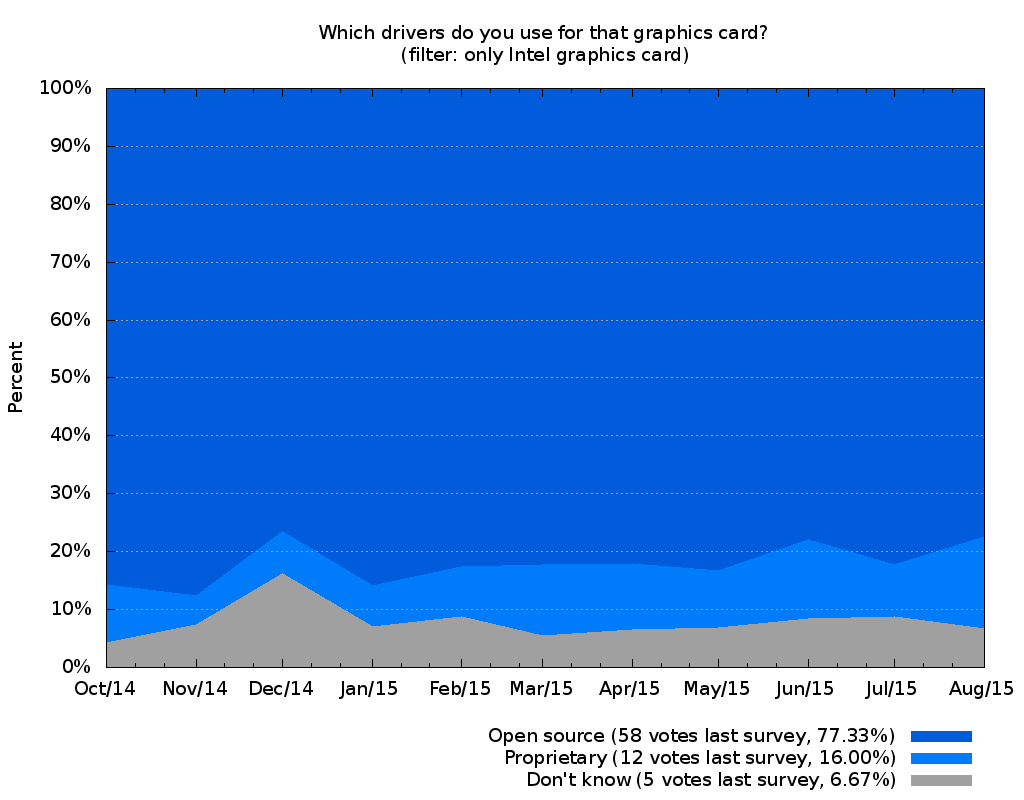 Nvidia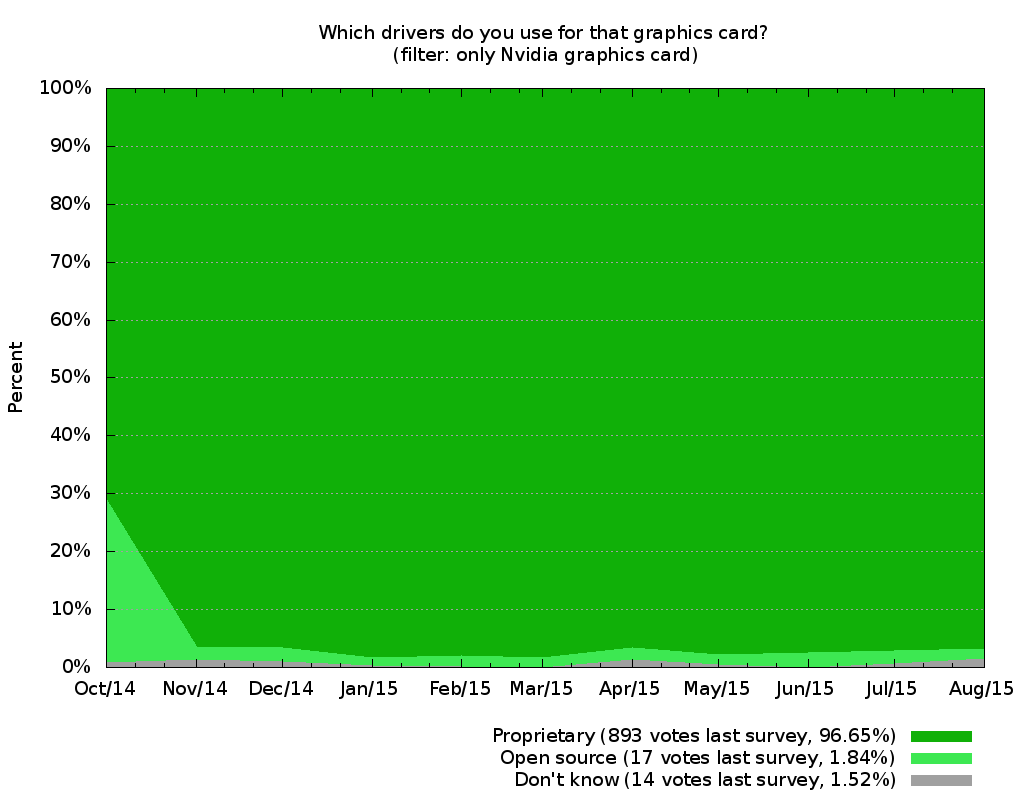 Question 10
- What CPU do you use on your primary Linux gaming PC?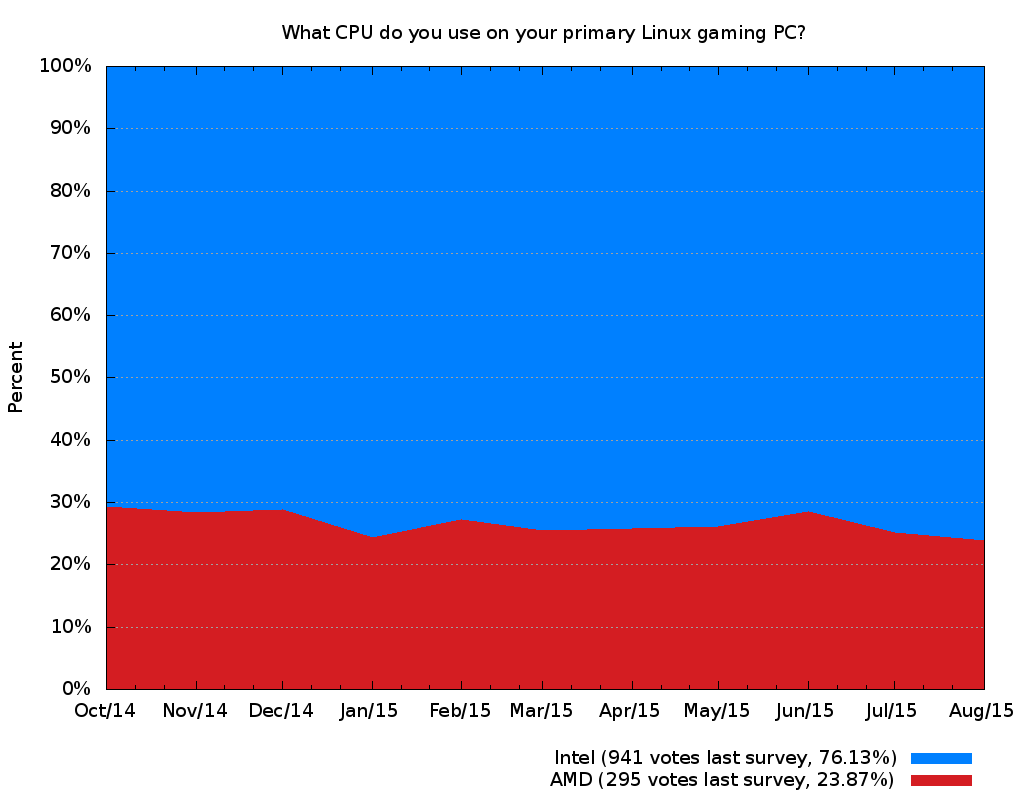 Question 11
- Did you exclusively buy Linux-supported games last month?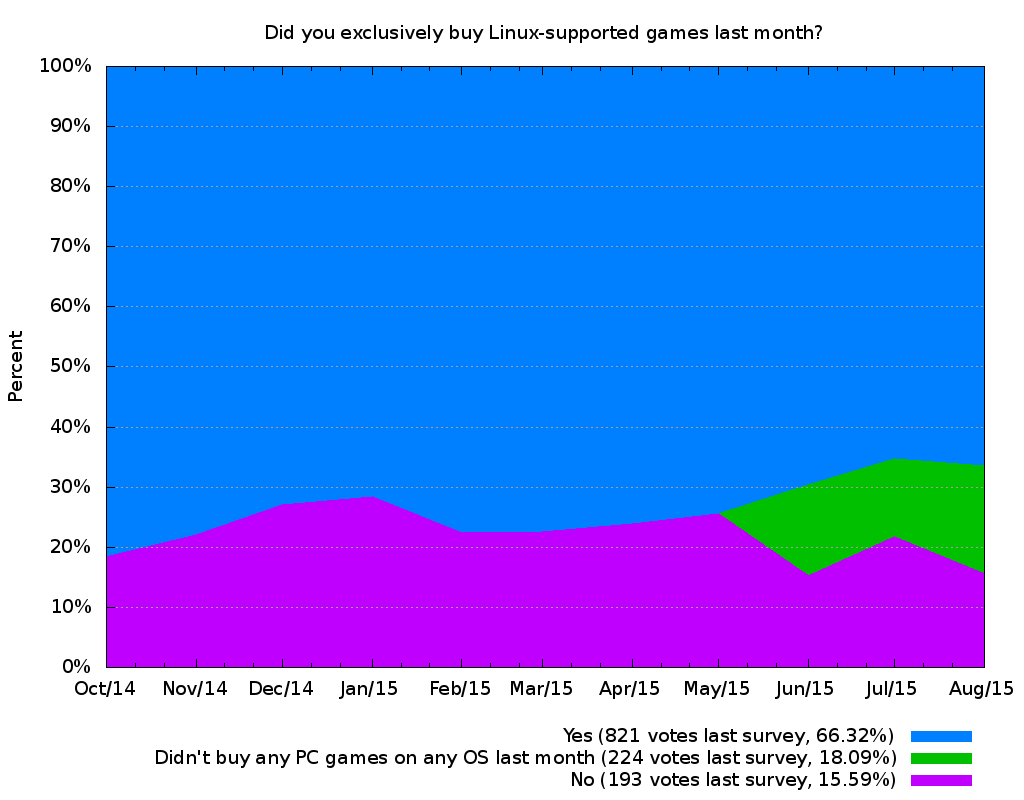 Question 12
- How many Linux games did you buy last month?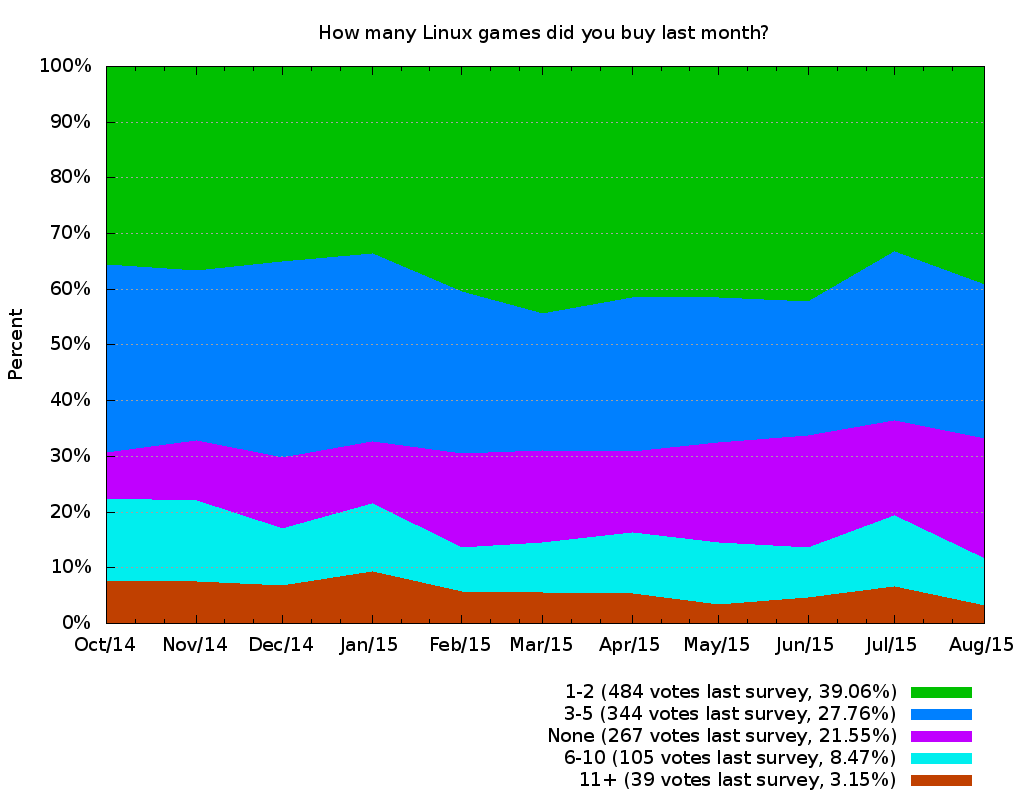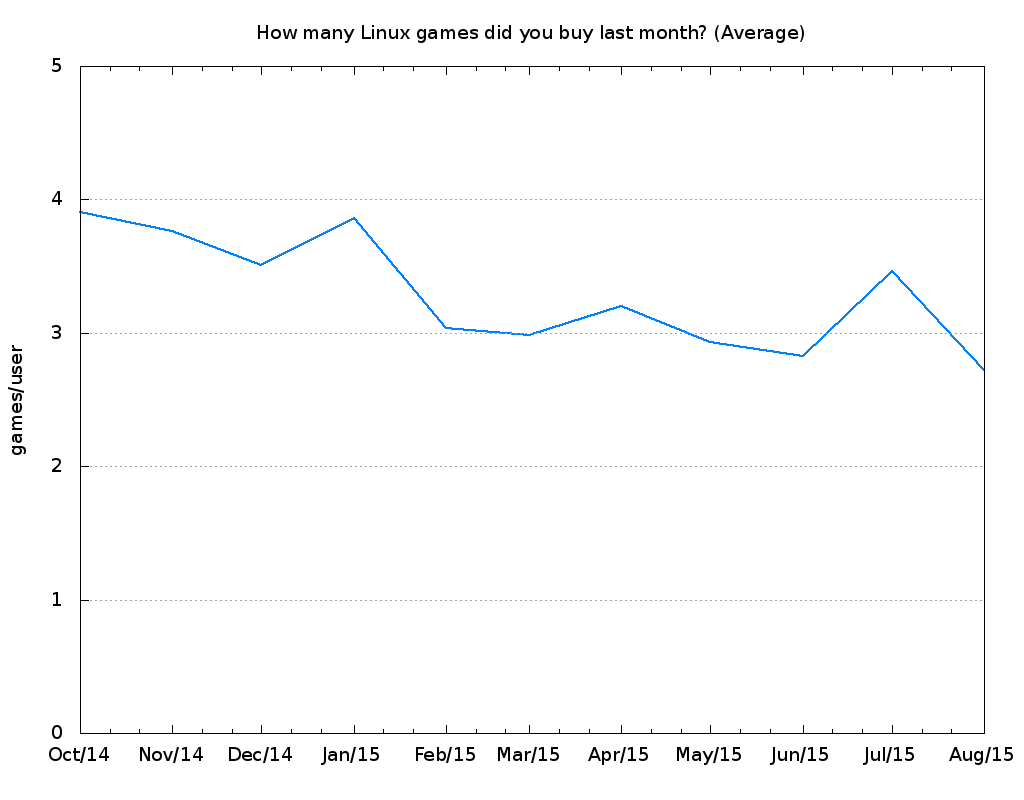 Last month I did a bit of analysis suggesting that Linux sales were in decline, and this new graph seems to support that. The exact number isn't necessarily as important as the trend, since it's more prone to over-estimations and under-estimations to the respondents, who we're asking to recall their purchases over the last 30 days. The little spikes around the time of the Steam summer and winter sales seems to indicate we're getting pretty good data though.
However, as I said in the
previous results
, this isn't necessarily negative and is most likely due to changes in purchasing habits (such as less bundles and more expensive games) and other reasons.
Question 13
- Which of these retailers did you use to buy your Linux games last month?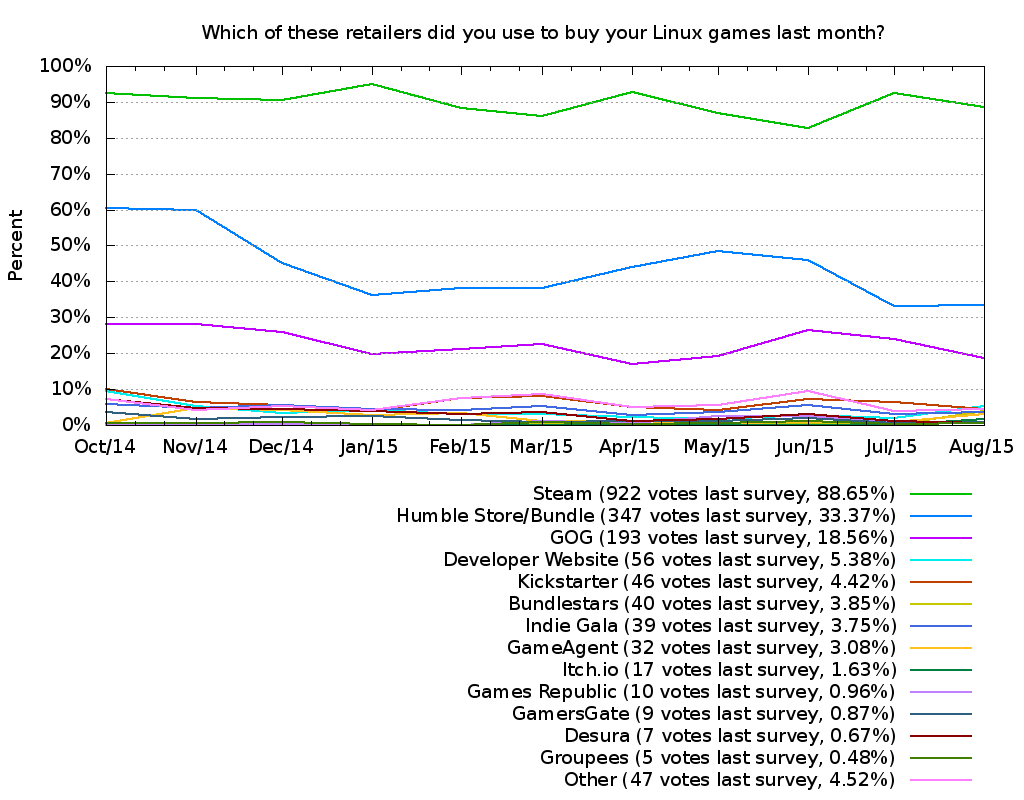 Unique Question 1
- Do you currently use emulators for gaming?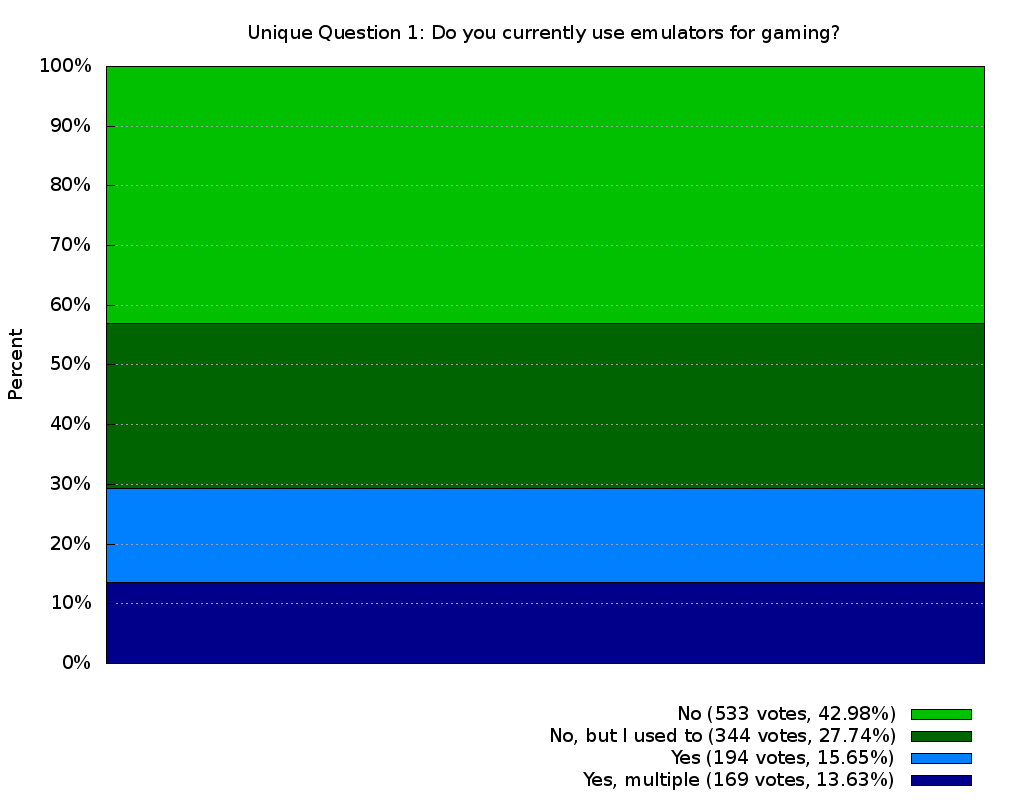 This is one of those where if we had asked this question a couple of years ago, there would have been a lot more people using emulators considering there was a more limited choice of gaming options. We're pretty fortunate to have a good selection on Linux, many of which are very actively developed.
Unique Question 2
- How's your interest in Shadow of Mordor?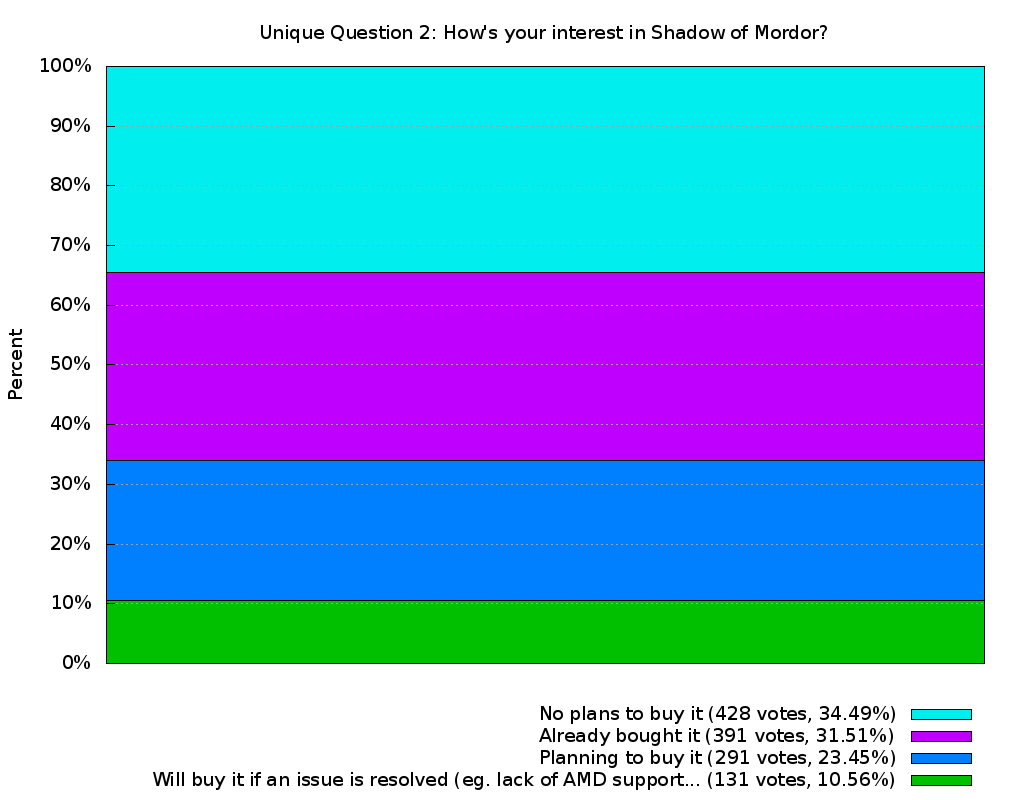 It's pretty safe to say that Shadow of Mordor is a very popular game. As far as I recall, this has been the most popular game featured in the unique questions on the survey.
Some you may have missed, popular articles from the last month: