Rack N Ruin
is top down action adventure game similar to Legend of Zelda or The Binding of Isaac. As a demonic wizard you roam an open world, solve quests and puzzles, and most importantly decimate thousands of enemies using evil and malevolent magic, weapons and abilities. Instead of saving the world, you get a chance to destroy it for a change!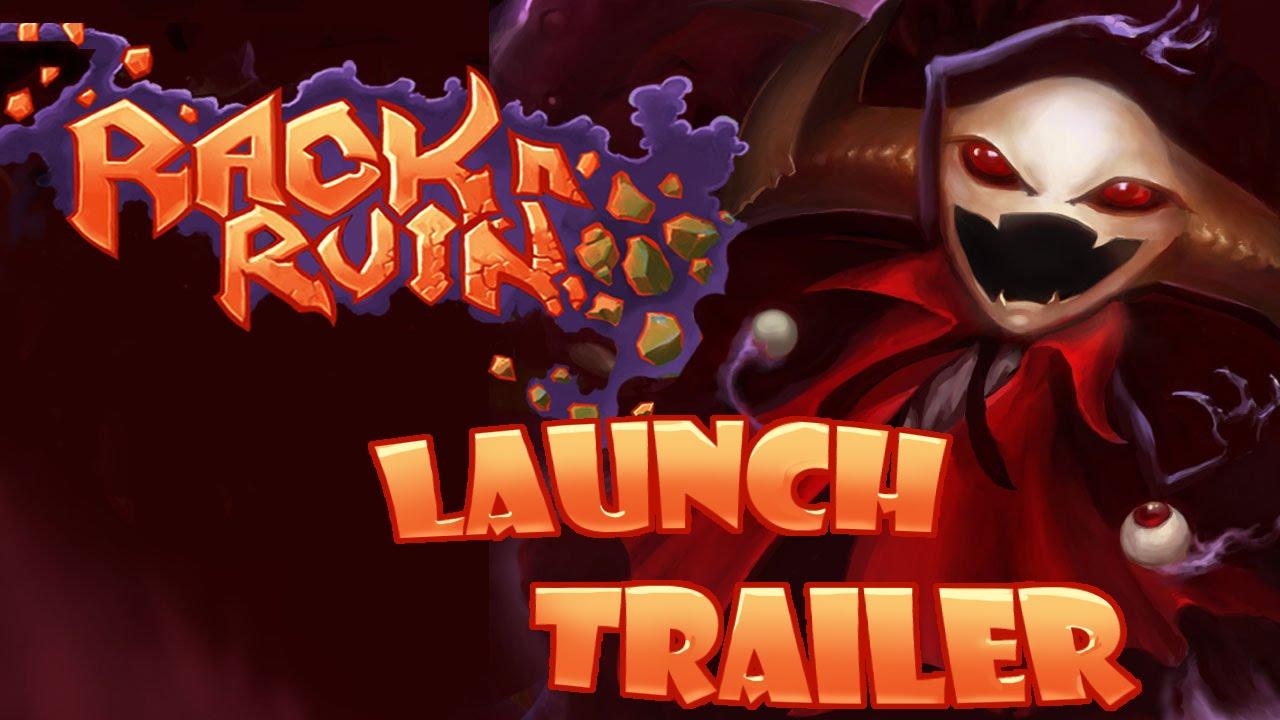 The art style is charming and it was created by a former Blizzard artist Tyler Hunter, whose work you may have seen in World of Warcraft, Starcraft 2, Diablo 3 and Prey. The game seems to feature a good deal of humor. Those of you, who like bullet hell gameplay mechanics, you won't be disappointed either.
There aren't too many reviews of this game on Steam yet, but from the few dozens present this game gets 100% positive feedback. If you want to see first play impressions from some of the famous youtubers, check out TotalBiscuit's
15 Minutes of Game - Rack N Ruin
video.
Official game info
Rack N Ruin is a fusion of a top-down action adventure game and a classic arcade shooter. Take control of Rack, a maniacal demon wizard with a gleeful appetite for destruction, and embark on a grand adventure across a world filled with magic and wonder. Then transform the once enchanting world into a hellish nightmare. As the world falls deeper into darkness, Rack's power will grow, and the champions of good will rise to face him.
Engage the legions of good in fast hectic combat that gives Rack N Ruin a special action oriented twist unique to the genre. Explore a vast open world filled with treachery and secrets at every turn. Then dive into delicately crafted dungeons, each with distinctive themes and foes to conquer. The entire world of Rack N Ruin is lovingly hand-crafted, and uniquely laid out. Every bit of the game is hand-painted in detailed high definition.
Story
Sitting atop his throne, the dark lord Ruin rules over much of the known universe. His demon lords march outward into the cosmos subjugating planets for Ruin's ever growing demonic empire. One such creature is Rack, a small, sharp tongued, and diminutive demon lord. Rack's talent for destruction and conquest is unmatched amongst Ruin's legions. However, Rack has one issue that infuriates his dark master. He doesn't subjugate, or enslave any world he is sent to conquer. He just blows the planet up, and moves on. Planets turned into asteroid belts make poor slaves, so Ruin is giving Rack one last chance to conquer a world without jump starting the apocalypse, or be cast into the eternal abyss. Will Rack obey his master? Absolutely not!
Features
Burn through hordes of foes with 4 core elemental weapons.
Unleash death with an array of 24 spells, items, and contraptions.
Interactive items that allow the player to create unique item interactions and combos based on the elemental weapon type.
Weave through complex bullet patterns while smiting titanic bosses and over 30 unique enemies.
Explore an enchanted benevolent world, and then transform it into a nightmarish image of its former self.
Ransack castles, pillage dungeons, escape prisons, navigate gloomy caves, and awaken ancient evils.
Meet a charming cast of townsfolk, and collect their souls.
Upgrade your weapons by selling the souls of innocents to an ancient wizard.
Unravel devious puzzles, and scour the land for over 100 secrets.
Play on Windows, Mac, and Linux completely DRM free like the Gods and Demons meant PC gaming to be.
Customize your destruction with fully remappable controls for Keyboards, Mice, and Gamepads.
And, of course, destroy the world.
The game is available on
Steam
and DRM free from the
Humble Store
(comes with a Steam key).
Some you may have missed, popular articles from the last month: