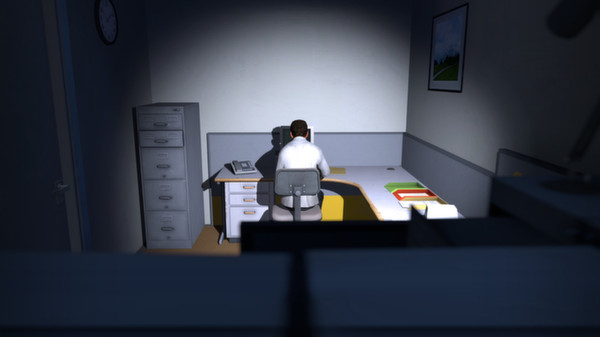 The Stanley Parable has finally been released for Linux after a bit of a delay, and it's one of the most interesting experiences I've had in a long time.
Disclosure: Key provided by developer.
About the game
(Official)
The Stanley Parable is a first person exploration game. You will play as Stanley, and you will not play as Stanley. You will follow a story, you will not follow a story. You will have a choice, you will have no choice. The game will end, the game will never end. Contradiction follows contradiction, the rules of how games should work are broken, then broken again. This world was not made for you to understand.
But as you explore, slowly, meaning begins to arise, the paradoxes might start to make sense, perhaps you are powerful after all. The game is not here to fight you; it is inviting you to dance.
Based on the award-winning 2011 Source mod of the same name.
My thoughts
Runs great for a Wine port.
- Jokes aside, it's not a Wine port. Recently some people downloaded it due to an accident on Linux with Windows files, and Wine launched it. This led to some
fun trolling by the developer
.
I had heard of The Stanley Parable before we posted about it originally, but I had never played it from my time on Windows. I had no idea what to expect, the description didn't give me a clear picture and so I went in blind.
What I came across with this game is definitely an odd experience. It's odd because you don't actually do all that much. I know, I'm not selling it to you right now, but I didn't say it wasn't interesting—which it most certainly is.
The voice over work by Kevan Brighting is simply amazing, and really fits perfectly with the pace of the game. I've played a lot of games in my years, and I'm already putting the narration of this game in a pretty high place.
Some people may not see it as a game, but a game doesn't have to be all about action, explosions and whatever else. It reminded me a little bit of Gone Home, only with a lot more comedy, and less throwing things around.
It's very hard to say a lot about the game, without spoiling all the little funny quirks of it. You really will just have to take my word for it being fun, or the 17 thousand positive Steam reviews for it.
As for how it ran, being a Source engine based game it's not surprising how well it ran, as it was always above 200 FPS for me. Top notch, but not surprising as it's not exactly rendering a lot at a time.
Final thoughts
: If you like figuring things out, exploring and having a chuckle about how it reminds you of "that one job I had", go buy it.
Check out
The Stanley Parable on Steam
. There's also a demo, so you have nothing to lose.
Some you may have missed, popular articles from the last month: