Dreamfall Chapters Book 4 has been released, accompanied by a major engine update and the time seems apt for a review. I previously covered the game's performance improvements, and thanks to those, the game can now be discussed on its own merits rather than get bogged down in the numerous performance issues.
I have yet to finish Book 4, but nonetheless, this will be a spoiler-free review that discusses the game as a whole rather than each specific part. Those still concerned about performance should take a look at
the other article
, and also take it with a pinch of salt considering performance is likely to vary somewhat depending on hardware.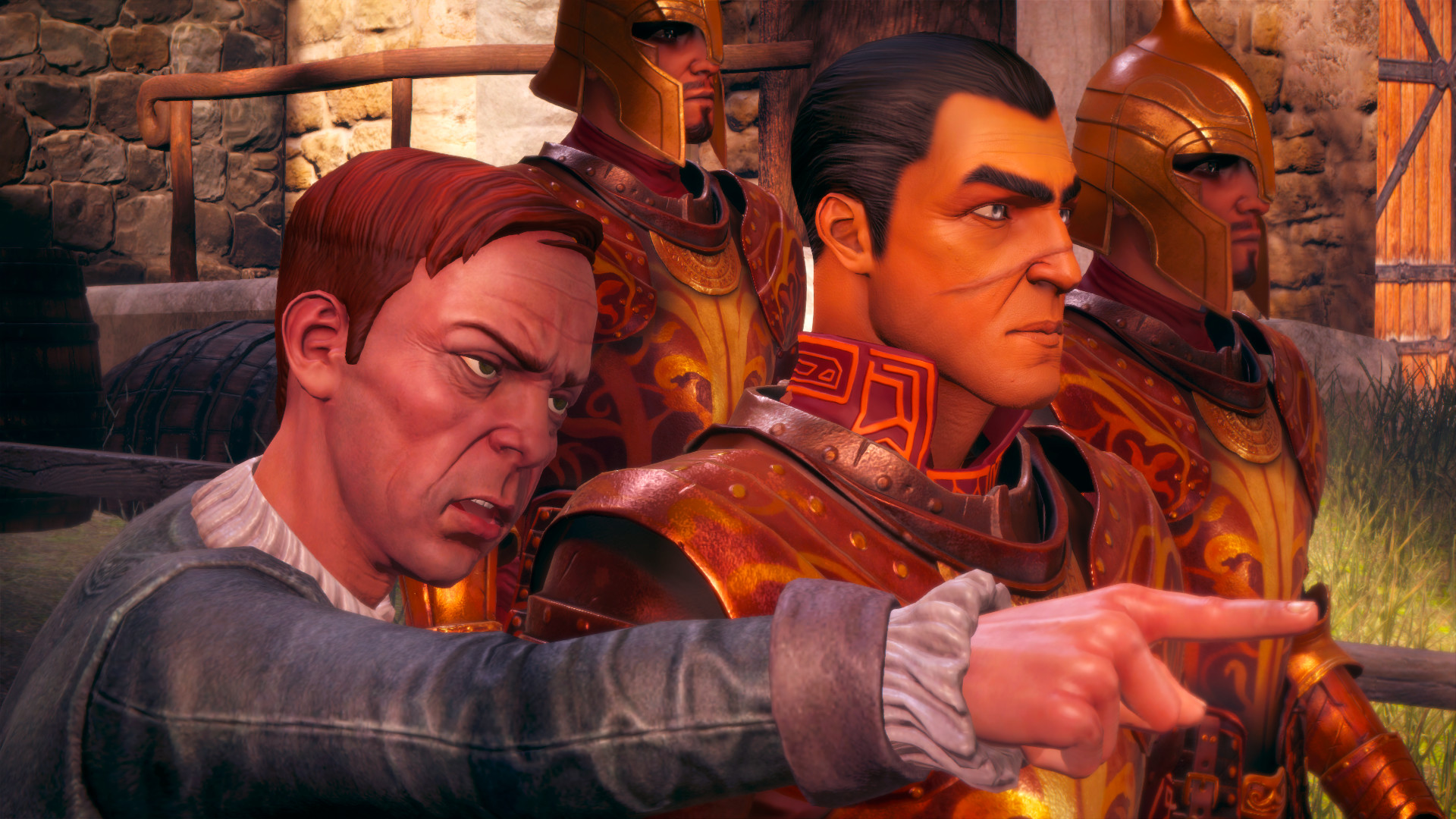 Background and Story
For those not familiar with the series, Dreamfall Chapters is the third instalment of the widely-praised Longest Journey point-and-click adventure games which take place in the two equally intriguing and seemingly opposite worlds of Stark and Arcadia. Though, unfortunately, the original two games - released in 2000 and 2006 - do not have a Linux ports.
To give a bit more background on the game, there is a highly complex lore, character and location list and quite a bit of backstory to digest - all of which can be very rewarding and make the world(s) feel very much alive. However, those who haven't played the original two games (being in that camp myself) will benefit greatly from doing a bit of prior research.
I took the approach of getting a rough idea on the characters and goings on with the previous games, without entering into too much detail. The reason being that I have been aware of the games for quite some time and remain cautiously optimistic that they may well see ports on GOG or the like someday and would like to play them natively.
For the most part, I still found the game very engaging, but still find myself scratching my head when a character is introduced who clearly played a role in one of the previous games and we're introduced like old friends. The overall story is pretty complex, but nothing a few youtube summaries can't sort out and the game does provide its own background to the stories - though I feel this isn't quite detailed enough.
Without giving too much away, the story is great. The dystopian sci-fi future world of Stark (essentially a future Earth) is full of politics, intrigue, corruption and mega-corporations intent on enslaving humanity. Meanwhile, the fantasy world of Arcadia at first seems like Stark's opposite, but it is also equally marred by fascist thugs and an overbearing stench of racism.
There's a lot to do with dreaming, entering different worlds and sinister plots taking place simultaneously in both worlds. At the same time, there's a great deal of smaller sub-plots going on, all of which are interesting and none of which felt like red herrings. Again, I don't want to enter into too much detail, but if you like the general themes and story-heavy games as a whole, chances are you'll enjoy this game's story.
The story is told through two and a half playable characters. There's the very human Zoë Castillo in the Stark mega-city of Europolis and the somewhat tortured and misanthropic Kian Alvane in Arcadia. There's a third and more minor playable toddler/baby character called Saga who is far more unexplained, though no doubt her significance to the story becomes apparent in the later game. I'm usually not a fan of games which use multiple perspectives since they often lack focus, but in this game it has been pulled off well, especially as it progresses.
Of the game's two (and a half) stories, Kian's certainly felt like the weaker of the two, particularly in the first Book. At first, I couldn't wait to get back to Zoë's story and the fascinating city of Europolis, but this feeling soon subdued and they became equally as interesting. Similarly, the divide between the two seemingly unconnected worlds is weakened to the point that they converge by Book 3 and things really start to pick up.
Dreamfall Chapters really lets the player into the minds of the first two main characters in a way not often seen in video games. The medium is also used to the fullest in this regard, and the game's choice system makes both of the characters far more ambiguous, with a certain interaction between the player and character since the player makes the characters' choices based on their interpretation of them or desire to shape the characters based on the player's own morality. All the while, the protagonists never seem to lose their identity and aren't simply the player's plaything. More on choice in a bit.
The NPCs in the game are extremely lovable and contribute their own uniqueness, while providing much of the game's comic relief. From Nela the Marxist sausage vendor in Europolis, to Ulvic the rotund Welsh landlord of the Rooster and Kitten (yes, indeed) in the Arcadian city of Marcuria, the sheer quantity and variety of these well-written characters is impressive. My personal favourite is the hapless robot dubbed "Shitbot" by Zoë, whose antics make Borderlands' Claptrap look paltry by comparison.
At the same time, the protagonists often engage in very human relationships with these characters and the game does a good job in making the player emotionally invested in their fates, which can often be determined in one way or another. In the entire game, there was only one character I found somewhat annoying since her #OMGRANDOM humour didn't particularly chime with me, but then again it's almost impossible for everything to be appealing to everyone.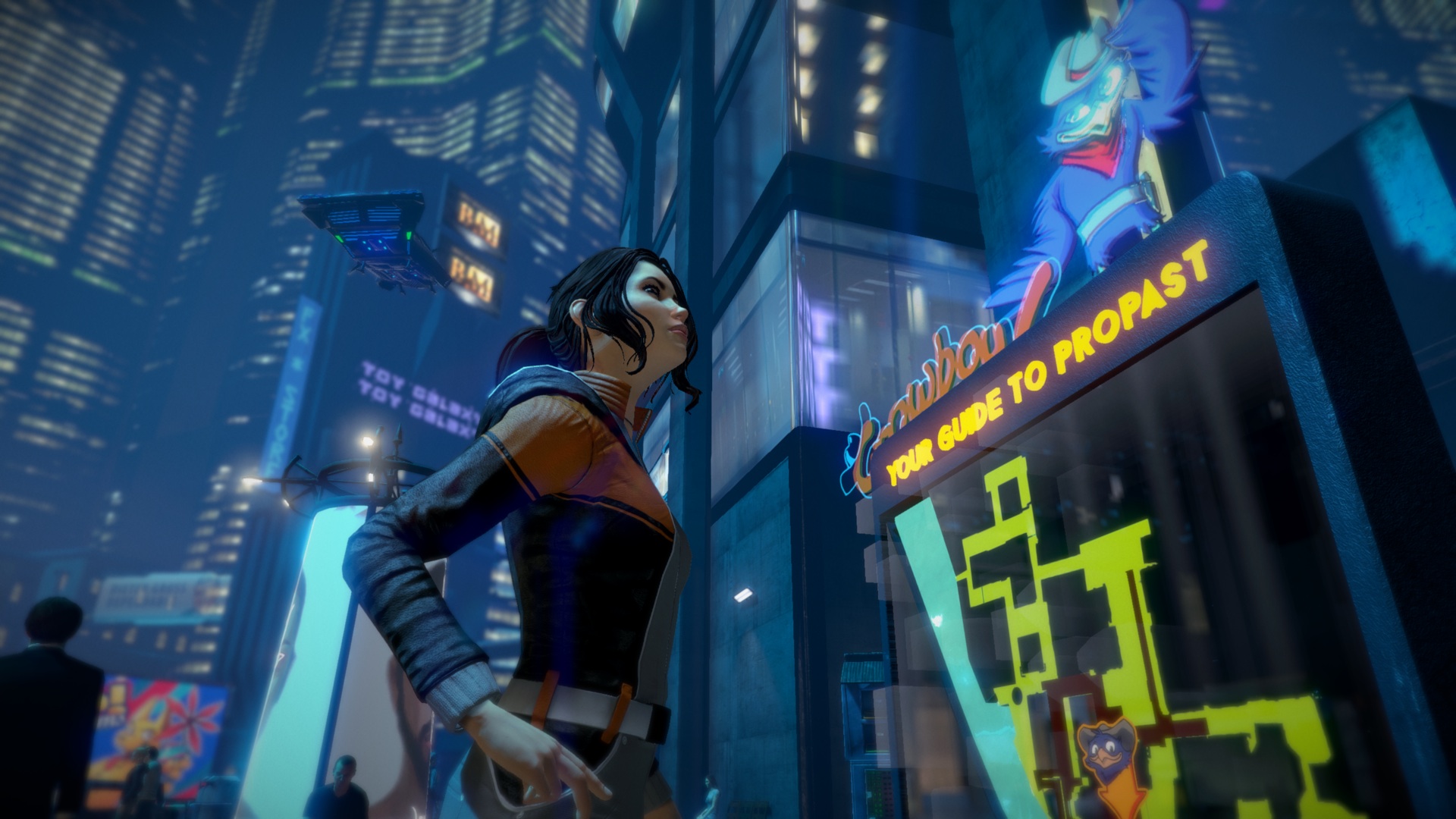 Gameplay
Gameplay in Dreamfall Chapters is not good or extensive, and that's what I like about it. All too often recently have I felt that story is an afterthought in games or in other cases, that gameplay just gets in the way of a strong story. Not too long ago, I was incredibly frustrated at Bioshock Infinite, a game which created a fascinating story and world with a lot of underlying themes, but whose silly shooty bits, though fun at first, were far too frequent and got in the way of the story's progression and made its world far less believable.
Being an adventure game, Dreamfall Chapters does not provide an endlessly unrealistic horde of identical goons to shoot, but also does away with the contrived puzzles of point-and-click games. Not much goes on that breaks the suspension of disbelief, and though it's not for everyone, I saw it as a breath of fresh air not having to feel like the game was holding parts of the story ransom in exchange for the player completing some task… for the most part.
Yes, there is the occasional puzzle and they're extremely hit and miss. The majority feel like a very real interaction with the game's world where the player is fulfilling a task which is very much part of the story while still telling that story as the puzzle is solved. There are though a few incredibly frustrating moments where the player either has to pixel hunt an expansive 3D world, or where there is simply too much trial-and-error involved to the point where it just stalls the game.
That said, most of these give the player the opportunity to explore the game's locations and experience a lot of great ambient storytelling. Though there are unfortunately a lack of locations in the game which has, at least in the first three Books, been mostly limited to the two main cities, the ongoing events of the games mean that these environments are constantly changing and feel very different with each change.
As a result, I was not severely bothered by this, partly due to the knowledge that there are more locations to come, but mainly because seeing both subtle and drastic changes to the same locations really helps to drill in the fact that the stories which the protagonists are a part of are significant. Rather than have an NPC approach the characters and speak of events, it is far more effective to see them unfolding whilst witnessing the effects which said events (and choices) have on the world.
Undoubtedly, the main mechanic of the game is the choice system, which I've had somewhat love-hate feelings towards. Choice in games can either be done naturally, driving forward the game's narrative, or simply be a gimmick designed to entice players and invoke a false sense of interactivity. In Dreamfall Chapters, it somehow manages to be both natural and a gimmick, though oddly because it constantly attempts to remind the player that the choices are meaningful.
Every time a choice is presented the game both literally and figuratively screams at the player "YOU ARE MAKING A CHOICE NOW! THIS CHOICE IS IMPORTANT AND WILL HAVE CONSEQUENCES!" and then when the decision's ramifications are later presented, the game again takes the almost desperate self-justificatory step of screaming "SEE?!? THAT CHOICE YOU MADE IS NOW HAVING AN EFFECT! YOU ARE A MEANINGFUL AND IMPORTANT PART OF THE STORY!"
On top of that, the game also provides a summary of choices at the end of each Book and a reminder at the beginning of each new one which makes very clear the choices which will have consequences in the new Book. The latter can be forgiven considering it serves as a good recap between Book releases, which have been pretty sporadic, but being reminded after each book seems only necessary for goldfish.
This all really does feel like overkill. But at the same time, it's undeniable that the choices do play a fundamental part in the story and makes me want to replay the whole thing again in order to have a very different experience. Similarly, the choices are very effective in leaving the player second-guessing as to what other outcomes may have been, and at no point was I making these choices arbitrarily since they always felt extremely relevant and helped to drive the plot.
All in all it does come down to nitpicking, and although some aspects were frustrating at times, for the most part the gameplay does its job in being a crutch for the story to lean on and not something bogging it down. Lastly though, I couldn't be more pleased that the game uses a third-person perspective, as most character-driven games should be in my opinion. Being able to
see
the characters in the world and not simply
be
a legless, armless floating camera is great. The pretence that I am "in" a world rather than simply experiencing it as a participating outsider is a trope which I have learned to despise with time since it is very rarely done correctly since for the most part it simply detracts from a character-driven story by minimising their presence.
Conclusions
Overall, I personally love this game to the point where I'm willing to overlook its flaws to the degree where they're simply written-off as "quirks" more than anything - as is often the case with a lot of the better games. It's certainly one of the better games I have played on Linux thus far. That said, it isn't for everyone and some might not be as lenient. There's also Book 5 still to be released and bad endings can ruin games, so bear that in mind.
One aspect not touched upon is that the game also deals with some pretty heavy stuff, ranging from morality to sexuality and this can be off putting for people since it can come off as rather preachy in many games. Fortunately though, Dreamfall Chapters manages to do this in a way which far too many indie games just haven't managed to do, and that is portray these things as the characters having viewpoints rather than the game itself.
It's certainly one to pick up if you're fed up with the conventionalities of video games, or just enjoy a decent plot and memorable characters. You may well need a little bit of patience at times, but that pays off in what is overall a rewarding and memorable experience. As I mentioned in the performance review, if a game could induce nausea (before the performance fixes) but still makes you want to play on, it certainly says a lot about just how captivating it is.
Some you may have missed, popular articles from the last month: