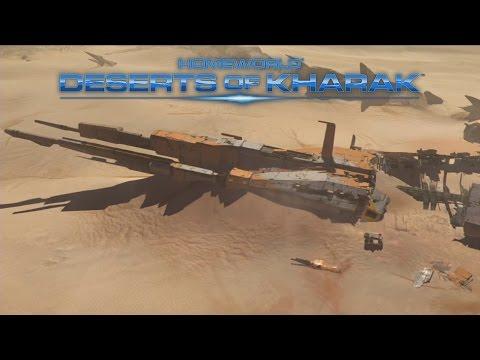 According to a member of BBI Interactive the game may come to Linux and Mac in the future. Not likely soon, but at least they aren't saying no right away:
QuoteAs jaen says, Unity does support Mac and Linux as well as PC (and a stack of other platforms - Hololens anyone??), so in theory we should be able to create Mac and Linux versions. We've talked about this idea in the past, but right now all our energy and attention are focused on making the PC launch as good as we can.
Source
I'm a big fan of the Homeworld series and since the game is being developed with Unity I really hope it comes to Linux in the near future. Homeworld: DoK is due to be released this 20th January.
About the game (source: steam):
QuoteHOMEWORLD: DESERTS OF KHARAK

A ground-based RTS prequel to the classic Homeworld games. Assemble your fleet and lead them to victory on the shifting sands of Kharak in this compelling strategy game. Crafted by Blackbird Interactive, a studio founded by veterans of Homeworld and Company of Heroes, Homeworld: Deserts of Kharak takes players to the deserts of Kharak where danger lurks over every dune.

EXPERIENCE AN ORIGIN STORY
In Deserts of Kharak's campaign, an anomaly is discovered deep in the southern desert. An expedition is sent, but the story is not that simple. Discover the story of Rachel S'jet as she leads her people on a quest to find their destiny in an exciting campaign.

HEAVY DUTY HARDWARE
Take control of fleets of land and air vehicles – from nimble light attack vehicles to massive heavyweight cruisers – built to conquer the desert.

MASSIVE ENVIRONMENTS
Fight your way across massive dune seas, deep craters, and hostile canyons in sprawling maps – all in unprecedented fidelity and scale.

TACTICAL COMBAT
Position your fleet to take advantage of the high ground or create ambushes across dune lines in terrestrial combat. Attack your enemies' resource operations, or assault their military head-on.

STRATEGIC DECISIONS
Meaningful choices in resource management, fleet composition, and technology research directly impact your chances of survival.

ONLINE MULTIPLAYER
Compete online solo or with friends in a variety of game modes, including ranked play, to rise through the ranks and become the most powerful Fleet Captain on Kharak.


Before you can find your Homeworld, you must first unlock the secrets of the desert.
Some you may have missed, popular articles from the last month: