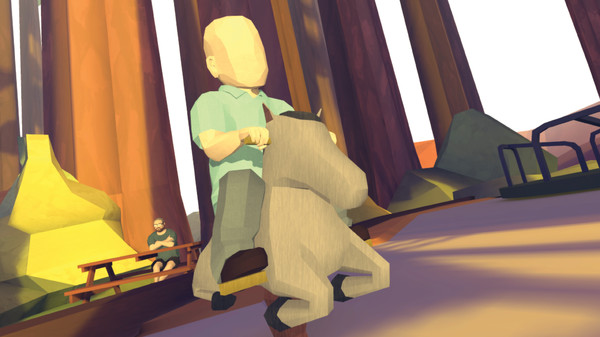 I was wondering what was going on with the silence of That Dragon, Cancer. Linux wasn't listed on their website, and it launched on Steam without the promised Linux version. Now at least we know. Check the bottom for tweets to us from the developer.
Here's a little info for you from GOL user
Adolson
who sent in an article before we knew what was going on:
One way to immortalize your child who was taken far before his time is to make an interactive piece of software which tells his story. That's exactly what the Green family chose to do after the loss of their 3-year old, Joel, to a brain tumor.
After several years of development and a
successful crowd-funding campaign
on Kickstarter, the (for lack of a better term) game released on what would have been the toddler's seventh birthday, to critical acclaim and a worldwide virtual pancake party celebrated by scores of people. After digging into breakfast, everyone was able to dig deep into the barrels of their emotions while reliving the family's nightmarish struggle of faith and family.
Everyone, that is, except for Linux users.
The same Linux users who were believers in the project in the early days and took the opportunity to shell out well over a year in advance by pitching into the Kickstarter campaign and were promised right up front a version of the game would release on their operating system at launch day, alongside everyone else.
True, a Kickstarter pledge is not technically a "pre-order," but let's face it, that's what it often gets used for, and we have come to expect it with video game projects that do make it to release. And that is exactly how it worked for everyone else! Never once did the developers communicate the decision to drop the Linux version; no, not even a delay was signalled ahead of time.
Now we do know though, thanks to the developer breaking the silence on Steam:
QuoteHey all, we are planning on getting the game on linux, this is not a matter of ignoring you, we've just been under a pile of messages on all of the social media platforms. Some, like twitter are easy to retweet, but messages also get lost. I apologize for not getting back to you.

We are disappointed we weren't able to get the Linux build ready for launch. And we did not intend to leave you in the lurch. We should be able to do a build, and send it to you individually, however our first agreement with OUYA restrains us from releasing a linux version on Steam.

We also have not had the resources to test on Linux and so we're afraid we have to ask for your patience as we ramp that up. We could very much use your help!

Please email us at info@thatdragoncancer.com and we'll be sure to follow up

-Ryan
Source
They do say they should be able to do it eventually, and they should be able to get a DRM free Linux build on their website. One of our editors 'flesk' also
got clarification
that they should have a Linux build up on some DRM free stores too like GOG, Humble Store and possibly Itch.
We shouldn't go with pitchforks to OUYA, as the developers are as much to blame for either not reading their agreement properly, or simply not caring enough to argue their case.
Either way, I'm personally quite annoyed by Linux gamers getting treated like this. With no word before release that this was happening, I think the developers need to learn to communicate a lot better. I personally messaged them to no reply, but I imagine they have been pretty busy to message everyone back. Still, an official note to backers would have been the right thing to do, not make people wait.
One of the developers tweeted to us after seeing the article:
@gamingonlinux OUYA has no interest in blocking us, we just have console exclusivity for a term and steam machines are consoles.

— Ryan (@ryangreen8) January 14, 2016
@gamingonlinux OUYA has always been generous and fair with us. We dropped the ball on linux for our launch and we're working hard to remedy.

— Ryan (@ryangreen8) January 14, 2016
@gamingonlinux please accept our apology Linux gamers, we don't intend to leave you out. We will have a DRM free build soon.

— Ryan (@ryangreen8) January 14, 2016
Some you may have missed, popular articles from the last month: