Roguelikes have a tendency to be really complex games with tons of depth and thick user manuals. Sproggiwood is a game that tries to do away with the complexity but still offer an enjoyable roguelike experience. Let's check it out!
Sproggiwood by Freehold Games is a roguelike in which you are tasked with civilizing the Sproggiwood, a land filled with chaos and all kinds of interesting creatures, and to do this you must venture into many dungeons around the world to mainly kill lots of these creatures. Progress, I tell you! The game is inspired by Finnish mythology, which was one of the reasons I decided to pick the game up.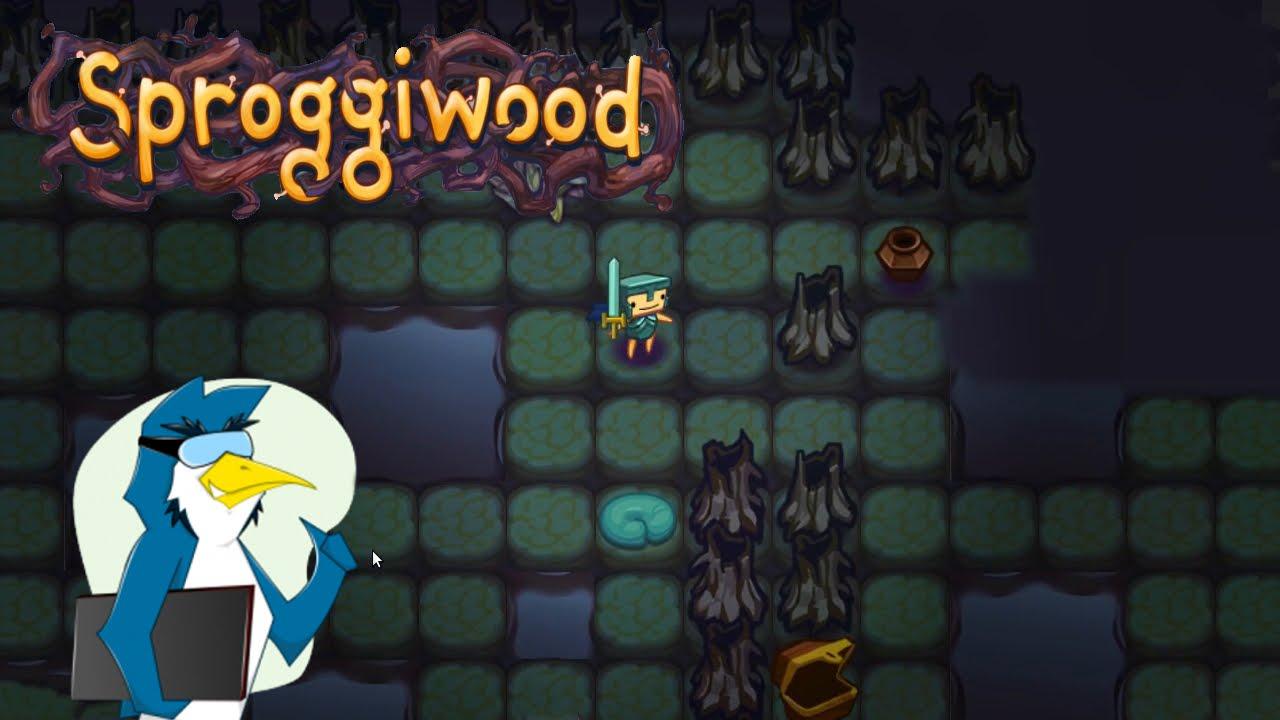 Like I already mentioned, Sproggiwood is a very different game to typical roguelikes. So different in fact that I suspect some people are reluctant to even call Sproggiwood a roguelike. The basic elements of a roguelike are definitely still there: you pick a character class, explore various randomly generated dungeons, find new equipment and kill the horrors contained in these dungeons. The game is also grid-based and turn-based, as you would expect a game of the roguelike genre to be. However, that is where the similarities to typical roguelikes seem to end.
First of all, there is essentially no inventory management whatsoever. You have one inventory slot for each item type which allows you to carry a single weapon, a single piece of armor, a single amulet and a single potion or a scroll. You cannot carry multiple items of the same type and then switch between the gear, you are stuck with what you decide to pick up. Cursed items are also not a thing in Sproggiwood and all the potions and scrolls have been identified for you.
The combat is quite similar to that of Nethack, Rogue etc. If you want to execute a basic attack you simply need to walk into the enemy and you will do X amount of damage to the creature you are attacking. In addition to the basic attacks, you can also use class specific abilities which allow you to charge enemies, shoot them from a distance or lay down traps. Some scrolls will also allow you to attack your enemies directly. The enemies are also quite varied and they have different tactics and attacks at their disposal. The more basic enemies will simply aim to walk towards you and smash you to pieces but others will be able to attack from further away or charge at you. Some enemies also pose a threat after you have mortally wounded them as they might explode or spawn more enemies when they die.
The game is split into multiple dungeons which are connected by an overworld. The overworld isn't like the one in ADOM though. It's basically just a level selection menu. The overworld also allows you to visit your own village which acts as a shop and an upgrade point. You can buy equipment for your dungeon runs and improve your characters by upgrading the village buildings to gain a health increase for example. You can also find the occasional quest there and, if you want, you can even decorate the village with trees.
The game progresses quite linearly and requires you to complete dungeons in order to unlock more of them. You also need to complete dungeons to unlock character classes. You start with just one, the farmer, but by completing enough dungeons you will have a total of six classes at your disposal. The character progression is a little bit unusual as your level progress is reset every time you enter a dungeon and you need to level up again to regain the high-level abilities you might have had previously. Getting equipment can also be quite atypical. You naturally find equipment in the dungeons and you get to use the weapons and armor you find in the dungeons. However, when you exit the dungeon the equipment is taken from you and it enters the village shop. If you want to use that sweet sword you found on the previous dungeon run, you must actually purchase it with the gold you have found from the village shop. After you have done that, the game allows you to get that item instantly at the beginning of a dungeon immediately. It's definitely a little bit weird but it adds a new level of gameplay to the game.
The topic of permadeath should also be discussed when talking about this game. The game does feature some amounts of it but the permadeath is very localized. What I mean by that is that dying in a dungeon will reset your progress in that dungeon but the overall progress is not lost. The items you have bought and the classes you have unlocked are still yours. The story progress is also saved. You will simply need to redo that particular run of the dungeon. Considering that the dungeons are quite short and only take maybe 20 minutes to fully explore, this permadeath barely matters. This is the reason why I still sort of hesitate to call this game an actual roguelike. There's a certain charm to the constant fear of losing your character which is simply not present in Sproggiwood.
Let's talk a bit about the graphics next. The game is actually quite cute and colourful and those two are adjectives I don't usually get to use when talking about a roguelike. That's a not really a bad thing, most roguelikes offer very basic graphics if any at all. I quite like the art style of Sproggiwood. It's functional and very pleasing to look at. It's also very easy to see what is happening and the way the different characters are drawn makes it easy to see what you are up against.
The user experience by default was honestly not the greatest ever. Sproggiwood has obviously been designed with mobile devices in mind and the UI has this huge compass thingy on the screen as a default option. Obviously on a desktop you don't need such touchscreen controls and the compass just eats screen space. However, this can be fixed by selecting the PC setting in the menu for the compass. That will simply remove it from existence and you can focus on the action. The other buttons are a bit large too but I didn't find that nearly as annoying as the touchscreen compass. As for the input options, you can play the game with just a keyboard as all the important actions have hotkeys. I actually prefer this method since I have gotten some training with it by playing other roguelikes. You can also use a mouse if you wish to point and click rather than tap. Gamepad support is also a thing but I personally found it a little bit buggy so I gave up on the controller quite quickly.
In conclusion, Sproggiwood is definitely a different sort of a roguelike. Going in expecting a expecting a true, brutal roguelike experience would simply end up disappointing you. There are a lot of trade-offs at play here, the gameplay is definitely a lot simpler but this is compensated for in ease of access and less frustration. Like I mentioned earlier, for hardcore roguelike fans this game doesn't really have much to offer, it's simple, it's easier and that thrill of permadeath isn't really there. If you are looking for a simpler experience, Sproggiwood might be it. The gameplay isn't dull, it's just simpler and this makes the game a lot easier to get into. You also don't need to stress out over the fate of the heroes you send down into the depths of dangerous dungeons. Should they die down there, you haven't really lost much in the way of progress. If I had to pick up a good game to get started with roguelikes, Sproggiwood would probably be one the best options out there.
Humble Store: https://www.humblebundle.com/store/p/sproggiwood_storefront
Some you may have missed, popular articles from the last month: