Darkest Dungeon was launched last week supporting only Windows and Mac. However,
as per their Kickstarter promise
made in early 2014, Canadian developer Red Hook Studios has now
outlined their intention to bring the title to Linux
as a "short term goal".
QuoteSHORT TERM ROADMAP

Aside from bug fixes, a bunch of other stuff is in the works for the near future:

Kickstarter Backer Trinkets: these are done and being QA'd. We expect them to deploy within a few days!
Gameplay tweaks: now that we've been able to watch and collect some data regarding the endgame, we have a few gameplay tweaks planned that should help reduce some of the grind that occurs in mid and late-game.
Credits: in addition to crediting ourselves for all of our hard work (har har), we will soon be adding the Kickstarter Backer credits in game ($20 tiers and higher).
Linux: This is in work and we'll announce a date as soon as we know how long it will take.
March 8th Update: Town Events, the Merchant, and the Musketeer (Adventurer Tier Kickstarter reward class). Circle your calendar–these new features are planned for that day!
Having spent just over a year in Steam's Early Access, the Steam reviews are swinging wildly from extremely positive to scathingly negative on this unusual roguelike-RPG. That said, its 1500 or so negative reviews are outnumbered nearly 10-1 by positive and if you factor in the near universal industry praise, we should definitely be looking forward to having this challenging game on Linux.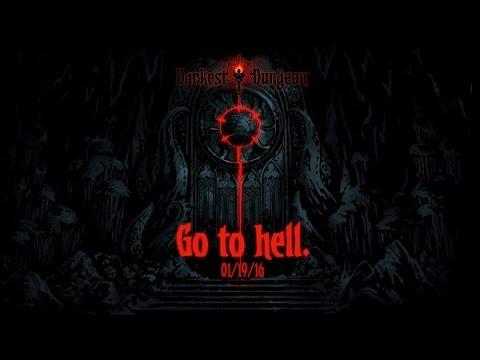 Hopefully this news also makes at least one GOL reader happy:
Feist
has commented on this title a few times over the months, most recently just before Christmas, expressing the hope that this would launch in time to make the Santa deadline! That wish didn't come true, but hopefully we won't have long to wait!
As always, the standard warning applies: If you game solely on Linux, then DO NOT buy this game until the Linux version is out. Plans change, bad things happen and you don't want to be left out in the cold. Wait until the official release!
About the game (Official – Steam)
Darkest Dungeon is a challenging gothic roguelike RPG about the psychological stresses of adventuring. You will lead a band of heroes on a perilous side-scrolling descent, dealing with a prodigious number of threats to their bodily health, and worse, a relentless assault on their mental fortitude! Five hundred feet below the earth you will not only fight unimaginable foes, but famine, disease, and the stress of the ever-encroaching dark. Darkest Dungeon focuses on the humanity and psychological vulnerability of the heroes and asks: What emotional toll does a life of adventure take?
Some you may have missed, popular articles from the last month: