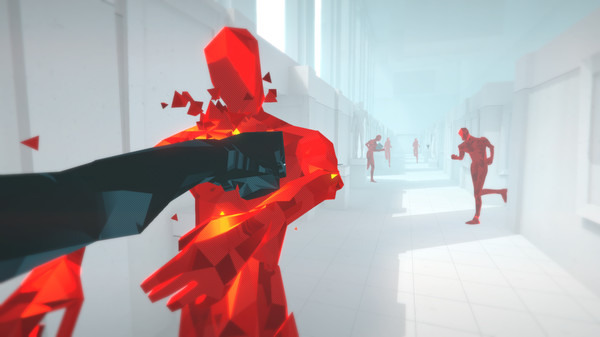 Today I am taking a look at SUPERHOT, a game that I've been hyped about ever since I first heard about it. The idea is awesome, but does it work well?
Disclosure
: Key provided to me.
Reviews are flowing in across the web giving it pretty great scores, and I agree with the positive outlook for the game overall.
The game is a lie:
QuoteSUPERHOT is the first person shooter where time moves only when you move.
No, time moves very slowly when you don't move and speeds up when you move. That's a much more accurate description of the game that I'm going to give you.
The gameplay is addicting, as soon as I started it up I was absolutely hooked by the idea and how well executed I thought it was. It's pretty much like being NEO in The Matrix, and it's probably one of the most inventive shooters I've ever played.
Letting off a shot, missing, but seeing your bullet smash into someone else is really quite satisfying, as is landing headshots. That's what this game is brilliant at, it makes you actually feel accomplished when you complete levels.
Some levels I felt were genuinely hard, but a lot of the time it's because you overlook things you should remember. Simple things like even the slightest mouse movement will speed up the game. I kept looking around quickly, dying, and then cursing myself for forgetting.
I can imagine the difficulty in some of the levels annoying people, especially the level in the lift where you are surrounded by three gun wielding red dudes, and you have little time to do anything before they all seem to fire at you.
It's a very
trippy
game, for lack of a better word. Nothing is explained, you're left wondering for quite a while. There's one point in the game (that I won't spoil) that had me laughing as the game tricks you.
One thing did bug me, at times when I got hit by a bullet I felt like I shouldn't have as it would be touching my view only, and not my actual body. The hit-box just seems a little off at times.
There are major issues on Linux
First of all, the annoying SUPER HOT SUPER HOT bit after each level, that annoyed me every time. I didn't think it was cool, just annoying. I liked it replaying the level to me, that was fun to see. Even later when more things happen, it still annoyed me constantly.
The mouse sensitivity by default is insane.
Sometimes the mouse movement completely bugs out, and you're only able to turn 180 degrees. Samsai has also come across this, and it's very annoying. Although, it seems intermittent, as it goes away when I die and restart at times.
There's a bunch of people on the
linux_gaming reddit having some major issues
too.
Endless mode crashes to the desktop after a few minutes, confirmed to happen to Samsai too.
The game will capture mouse input, and not let it go. If you want to do any alt+tab you may need to bring up the Steam Overlay to get the mouse back.
Final thoughts
It takes about two hours to get through the "story" even after I had to replay some levels quite a lot, so it is quite a short game. It has an endless mode (possibly broken on Linux), and challenges to boost it up a bit, but apart from that it's quite shallow content wise. I did thoroughly enjoy what was there though.
Overall all, I think it's a really well executed idea and a game you need to play to appreciate. It's buggy on Linux, so hopefully the developers will be responsive.
It's the most innovative shooter I've played in years. I definitely didn't have to say this, I'm definitely not one of them. Okay, the game told me to say that. It's buggy, but it's also great.
You can grab SUPERHOT at
GOG
and
Steam
.
Some you may have missed, popular articles from the last month: