Warning:
Wine-Staging is as name suggests a staging repository of patches and should be treated with caution. Most of the patches are harmless, but if you desire a more stable experience, please wait for a proper upstream Wine integration.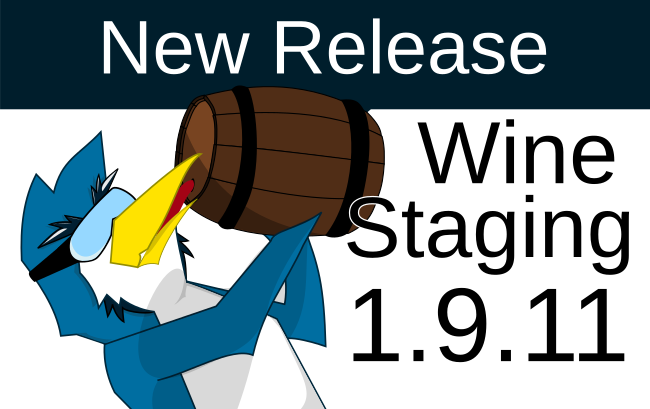 Wine Staging
1.9.11 has been
released
this weekend. This release is a small update containing only a few improvements targeting different applications.
What is Wine Staging?
QuoteWine Staging is the testing area of Wine. It contains bug fixes and features, which have not been integrated into the development branch yet. The idea of Wine Staging is to provide experimental features faster to end users and to give developers the possibility to discuss and improve their patches before they are integrated into the main branch.

Wine Staging is maintained as a set of patches which has to be applied on top of the corresponding Wine development version.
What's new:
QuoteBesides updating the existing patches (including CSMT) to be compatible with the current development release of Wine, this release contains only a few additions. The most noticeable one is a patch to fix a crash when launching DOOM. However, this doesn't mean that the whole DRM protection is working yet, but it is a first step. We also fixed a regression that caused problems when creating threads on FreeBSD and could also lead to issues on some Linux systems. A list containing all newly added patches is available below.
List of all new patches included in this release:
Do not sort the InMemoryOrderModuleList by memory addresses (DOOM, Wine Bug #40623)
Add stub for setupapi.CM_Get_DevNode_Status (DVDFab, Wine Bug #40691)
Provide DeviceID, Location and PortName for printers (HP Diagnostic, Wine Bug #40539)
Implement DrawDibProfileDisplay in msvideo.dll16
Workaround for Windows 3.1 apps which call LoadImage(LR_LOADFROMFILE) with a resource id (Okad2, Wine Bug #24963)
Add stub for ntoskrnl.IoStopTimer
People interested in trying this new version can try
this site
.
More information about Wine Staging development process is available
here
.
Some you may have missed, popular articles from the last month: