There is a huge 90% discount for a double package featuring
both 'Frederic' rhythm games
until September 26th. Right now, if you buy the games separately, they would cost you USD 10.98 in total, but with this deal you'll only pay USD 0.89 for both.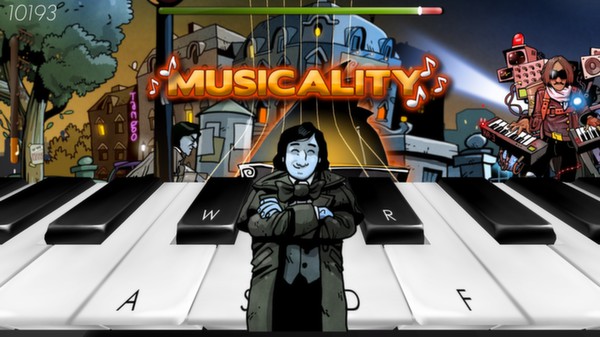 Although they never got a lot of exposure, the 'Frederic' games have been available for a long time: the first one (
Frederic: Resurrection of Music
) was released on Steam on May 26, 2014, followed one week later by its sequel (
Frederic: Evil Strikes Back
). Both have collected overall 'Very Positive' reviews from Steam users, though for the second title there are also a couple of negative reviews which are considered among the 'Most Helpful' ones.
Luckily, the developers were smart to provide demos at the store pages, so you'll be able to judge for yourself if they're worth your time. I briefly played them, and since they're very similar these first impressions apply for both: the performance is very smooth, the comic-styled cutscenes are nice but a faster pace would be better, and above all, the gameplay is entertaining, though you'll need some time to adapt to the game mechanics. This is due to two reasons: the first one is the way the notes appear on the screen, because they fall until a certain point and then start to come towards the keyboard; at least for me it was a bit confusing, despite my previous experience playing
Flash Flash Revolution
for a long time. The second reason is the weird layout of seven keys, as you can appreciate in the following screenshot: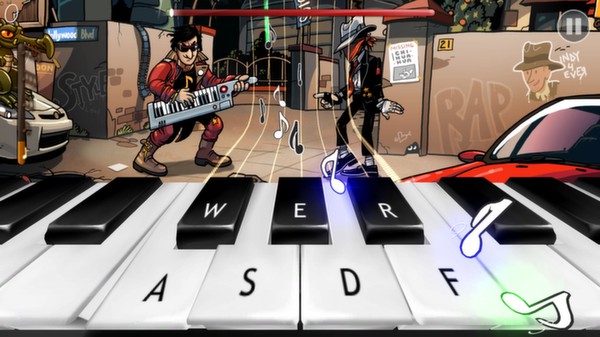 Therefore, for these reasons I would suggest a bit of patience before making a decision, since the learning curve may be a bit steep at the beginning.
Finally, according to the games descriptions, you'll get for free the alleged 'award winning' soundtracks, though I would've loved that they featured the original classical compositions instead of remixes, but who knows, maybe you can actually unlock them later in advanced levels of the full game.
Package link
:
Frederic Bundle
Store pages
:
-
Frederic: Resurrection of Music
-
Frederic: Evil Strikes Back
About Frederic: Resurrection of Music (Official)
Frederic Chopin – one of the world's most talented classical composers, is brought back from the afterlife and finds that he's an involuntary part of a treacherous plan. The world of music is at the edge of destruction. Soulless music labels and mass-produced popstars have hindered all creativity. And you're the only hope of bringing it back.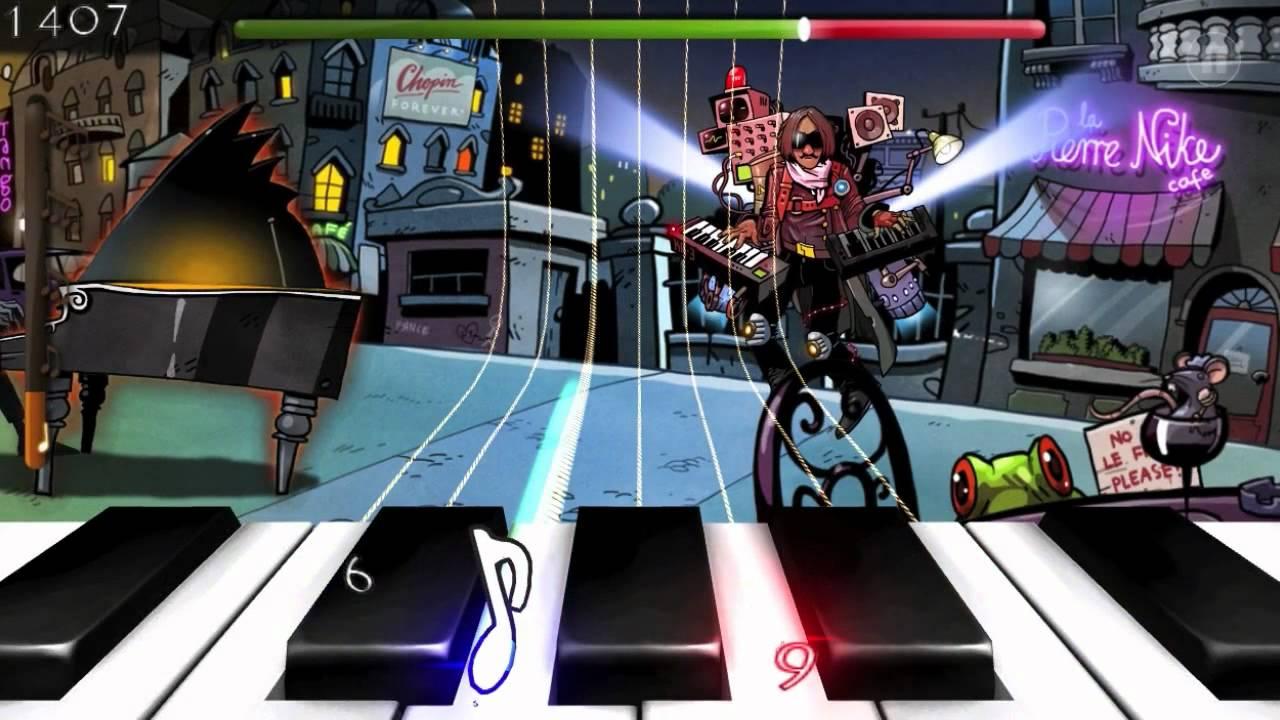 Accompany Chopin in his amazing journey full of quirky events. Battle your opponents in musical duels, intensity of which will make your palms sweat. Enjoy an hour of hand-drawn animated comic picturing the quirky story. Play through twelve catchy arrangements of Chopin's greatest classics, each in a different musical genre. Practice your skills until perfection and become the master of the piano.
About Frederic: Evil Strikes Back (Official)
Defeat famous opponents in musical duels. Immense [sic] yourself in [a] fantastic story of Frederic's endeavors. Catch all the Easter Eggs and subtle parodies hidden in the background. Practice your skills until perfection and become the Master of the Piano.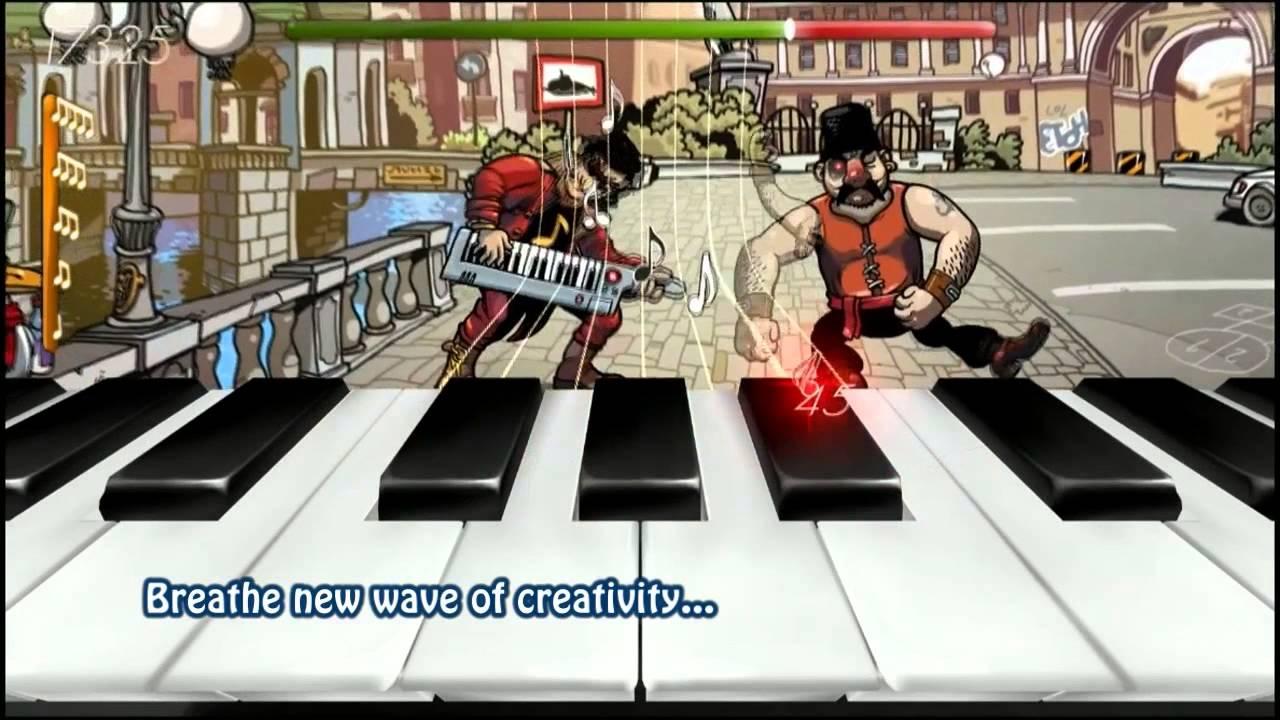 The world of music is once again threatened. The art of soulful music, the kind that touches your heart, is in grave danger of disappearance. The evil forces that you fought so bravely are back! And they are even more powerful and desperate. Once again you'll need to step into Frederic Chopin's shoes and face opponents that have only one agenda - to enslave the musical world, mass produce soulless artists with their same-sounding radio hits, and reap enormous profits, hindering any creativity in the process.
Some you may have missed, popular articles from the last month: