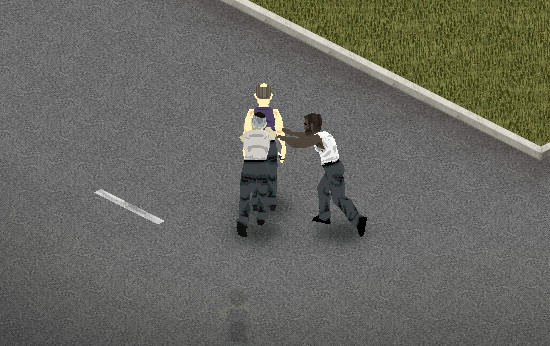 Project Zomboid [
Steam
,
GOG
,
Official Site
] is the rather good sandbox Zombie survival game from The Indie Stone, and it has come a long way!
It doesn't have a SteamOS icon on Steam, as Valve removed it a long time ago as it (and a bunch of other games) wouldn't launch correctly on SteamOS. It works perfectly fine on a normal Linux distribution and I assure you the Linux version is still on Steam and perfectly up to date.
I know what you're thinking, and no this isn't just "another Zombie game". This game has been in development for years, it's been through hell and it's come out a better game. The developers have been putting in a crazy amount of effort into this title.
Note
: I highly recommend using the "IWBUMS" beta branch on Steam, which is what I use. It's their beta branch where all the new fun stuff goes in. The current stable version is quite outdated in comparison. More
info on that here
.
The newest beta version added in:
- Nights events, keep those curtains closed
- Zombies can tear down sheets
- Wet items will dry out after a while
- You can now paint walls (spruce up that safe house!)
- You can now paint wooden furniture
- New food items and recipes
- You can make a Molotov, and watch those Zombies fry!
- Tons of helpful additions for online play admins to make servers nicer
- Sleeping changes: A nice bed will be better than a chair for example
- You can now drop your cooking pot, bowl, bucket or saucepan to collect water
- And
tons more see here
What's terrifying is that you can only see in front of you, even though the game is from a top-down view. Zombies can, and will, sneak up on you for a tasty snack.
I played through the newer tutorial, ate a mouse and got queasy, equipped a saucepan and bashed a Zombie's head in. Well, that's one way to introduce someone to a game.
It has everything you could want in a Zombie game: hordes of Zombies, crafting, injuries, skills, looting, online servers and more.
The game also features a bunch of scenarios and challenge maps to complete, as well as the original sandbox mode (which is now highly customizable), which is awesome to see.
I'm really impressed with how the game feels now, it's exiting, engrossing and it looks a lot better visually than it did a while ago.
Be sure to check it out and tell me what you think.
Some you may have missed, popular articles from the last month: