Total War: WARHAMMER [
Steam
,
Feral Store
] is the latest big Linux port from Feral Interactive. As someone who has only recently become a fan of Warhammer, it was fun to see this game arrive on Linux.
Note: My copy was provided by Feral Interactive.
The multiplayer is sadly only Linux to Linux. It is not cross-platform with Windows. This is a bit of a sore spot, but thankfully the single-player seems to be great. Feral confirmed to me that they are aiming to get Linux vs Mac like Empire and Med II in time for the Mac launch. You can see the reasoning why in Ellie's previous
post about CoH2 here on Steam
, which gives some small insight.
I will be livestreaming tonight at 8PM UTC:
https://www.twitch.tv/gamingonlinux
You can view our
livestream schedule for other events here
.
Gameplay video
Here's a preview of a random battle I did, I realise how badly I was doing everything but in my defence this was one of my first battles.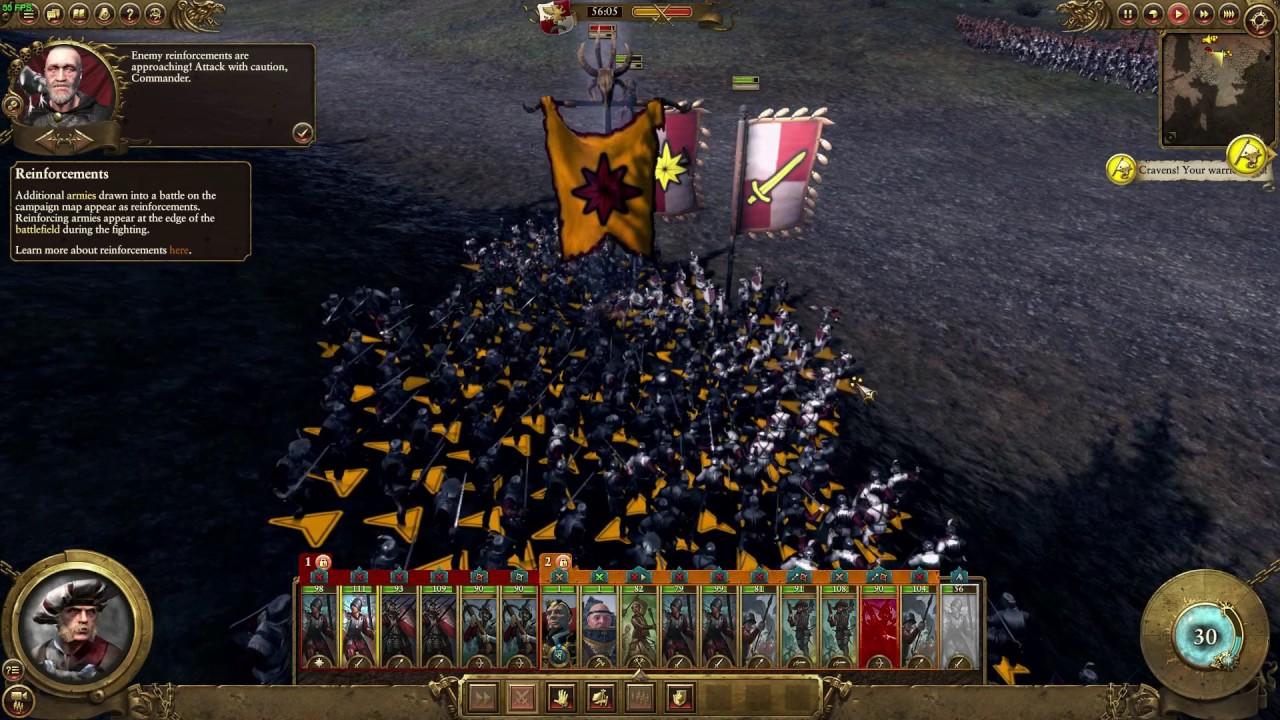 System requirements
Minimum requirements
3.4GHz Intel Core i3-4130
3.5GHz AMD FX6300 processor
4GB RAM
1GB Nvidia 650ti/2GB AMD R9 270 graphics card* or better.
Recommended requirements
3.4 GHz Intel Core i7-4770 processor
8GB RAM
4GB Nvidia 970/4GB AMD RX 480 graphics card* or better.
*Nvidia cards require 367.28 drivers or newer. AMD cards require Mesa 13.0.1 drivers compiled using LLVM 3.9 or newer. AMD graphics cards are not supported when running SteamOS.
This is another of Feral Interactive's games to fully support Mesa, thanks to the hard work of the Mesa developers.
Benchmarks
All benchmarks done with the built-in benchmarking tool on my test/benchmark PC. Due to the way the benchmark is done in TW, I will only be giving the average FPS.
Specifications: Ubuntu 16.04 64bit, Intel i5 4670K, 16GB DDR3 RAM, Standard Hard Drive, 1920x1080 resolution. Using the Nvidia 367.70 driver.
Note: All setting seem to leave Textures on Ultra (even when on Low). The only preset that uses Anti-aliasing is Ultra, which sets it to FXAA, all others have it turned off.
All benchmarks done using the presets as-is on Linux. I made sure the Windows comparisons had the exact same settings as Linux.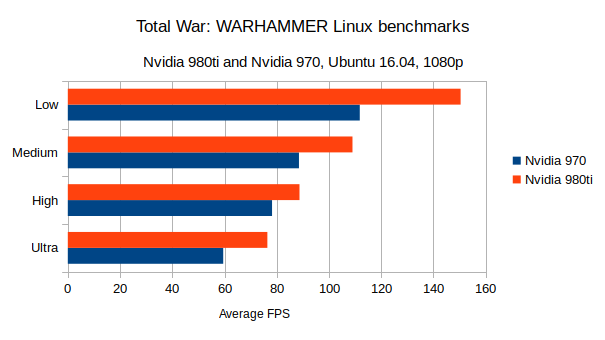 Windows vs Linux benchmarks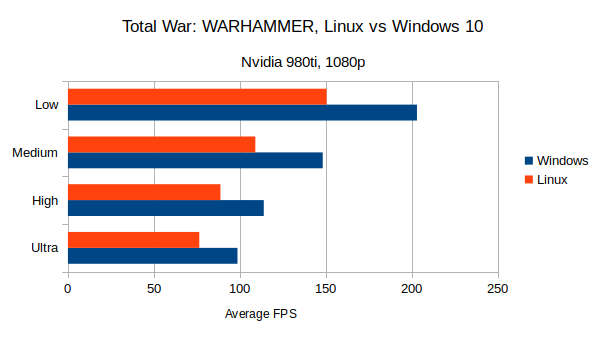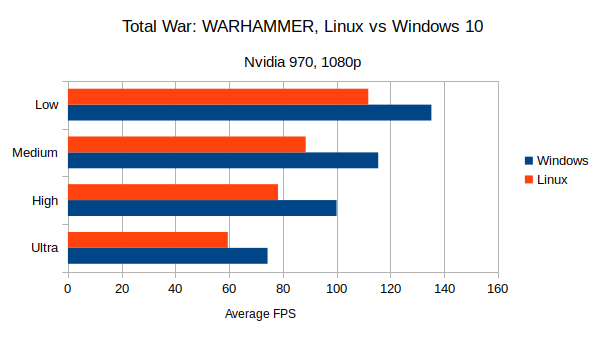 Nvidia 980ti Windows vs Linux raw details
Ultra
Windows: 98.6
Linux: 76.4
Linux performance compared with Windows 10: 77.48%

High
Windows: 113.9
Linux: 88.7
Linux performance compared with Windows 10: 77.88%

Medium
Windows: 148.2
Linux: 109
Linux performance compared with Windows 10: 73.55%

Low
Windows: 203
Linux: 150.4
Linux performance compared with Windows 10: 74.09%
Nvidia 970 Windows vs Linux raw details
Ultra
Windows: 74.3
Linux: 59.5
Linux performance compared with Windows 10: 80.08%

High
Windows:100
Linux: 78.2
Linux performance compared with Windows 10: 78.20%

Medium
Windows:115.5
Linux: 88.5
Linux performance compared with Windows 10: 76.62%

Low
Windows:135.3
Linux: 111.8
Linux performance compared with Windows 10: 82.63%
Considering that an Nvidia 970 can get practically 60FPS on Ultra settings, I would say the port is pretty well optimised.
The Linux scores are between 73% and 82% of Windows FPS, so pretty standard stuff when it comes to performance loss on OpenGL Linux ports.
I haven't witnessed any large drops in performance during the campaign map or during larger battles, it's been a real pleasure to play in terms of performance.
General thoughts
The game seems to be extremely stable, in my many hours of testing I haven't encountered a single crash. It's pleasing to see that Feral have kept putting out games that, at least for me, are very stable.
Like with XCOM 2, the Feral Launcher has a built-in Mod Manager, which uses the Steam Workshop. It's also themed for the game once again: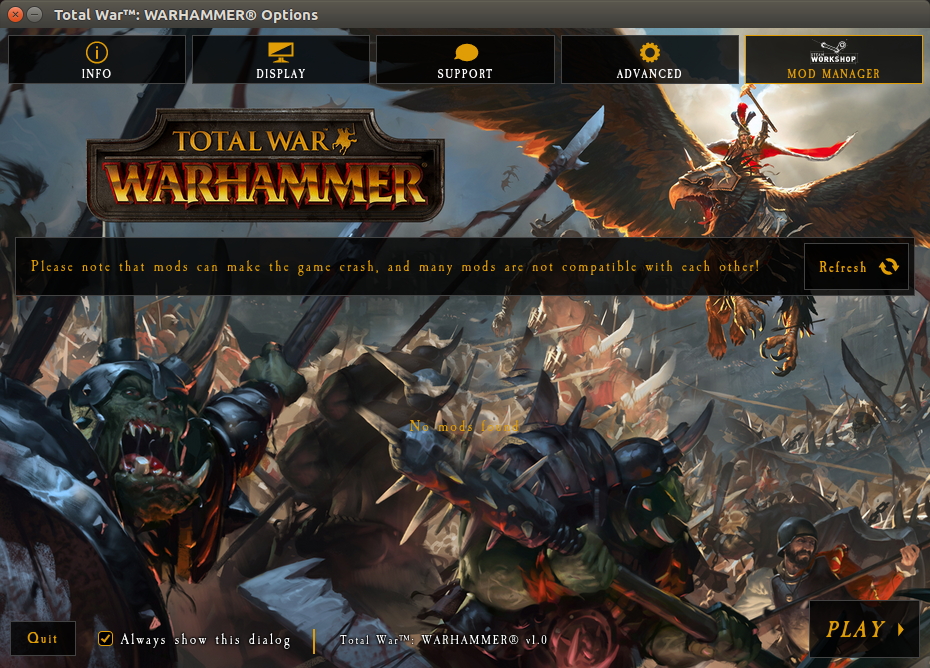 As expected from a Warhammer title, the intro video is very well done and is graphically quite impressive. Would have been nice to have the intro at 60FPS, as the video is locked to 30FPS which does make it seem a bit sluggish. Still, it certainly got me interested in it right away so it did the job.
For those that don't know, Total War: WARHAMMER is a mix of both a turn-based strategy and real-time strategy. The strategic board of the world is turn-based where you manage your empire, while the battles are intense real-time ordeals.
While there is a simple in-game tutorial when you play as The Empire, you can also access an overview which brings up a Youtube instruction video. I recommend watching it if you're not familiar with Total War at all or, if like me, it's been a long time since you last played one. It was very useful just to get a quick idea of what to expect.
Armies are each commanded by a Lord—who can level up, equip special items and banners, and gain skills. Each army can also have powerful hero units, which are interesting, as they can serve two functions: wander alone on the campaign map providing benefits to provinces they are in, or as a powerful unit within an army. Heroes also gain experience points from fighting and performing other actions, which can be used to upgrade them as well. These special units can be very useful in actual battles and they can sway the battle with their power.
It's all rather familiar to anyone who has played any Total War, Civilization or other grand strategy type games. You will be dealing with research and diplomacy, rebellions and so on..The variety in gameplay comes from all the differences between the in-game factions. For example, Dwarfs will need to keep an eye on their grudges and act accordingly. Whereas the Vampire Counts spread corruption and things like that. It makes each faction a unique experience to play as, which is spices things up across multiple playthroughs.
What I really like about the game that helps me be genuinely interested in it is that it's not bound by history. We have plenty of historical games, so it feels rather fresh. The variation in the different types of units is fantastic; seeing soldiers run at big lumbering monstrosities while massive artillery fire comes bearing down sure is a sight to see. The battles themselves are certainly brutally beautiful.
What I like about the battle system is that you don't actually have to command the battles yourself. You can have them auto-resolve and the AI will just do it and present the outcome to you. This is particularly useful if you have an army that will quite obviously stomp all over an enemy easily. It saves you time when you might not want to even bother going directly into the battle yourself.
The battles are immensely fun, especially when you manage to hide entire legions of your troops inside a section of forest to flank your enemy. Using charging horses to break through enemy lines while archers and artillery strike, to thin them out, is glorious.
There is a bit of a controversy surrounding the DLC in the game. I won't go on about it too long, but I feel the need to point it out. Warhammer as a universe is pretty violent, and this game is largely about destructive battles. To see any blood or gore you need to
buy a cheap DLC
and enable it. I admit it's a complex issue due to ratings boards and if it was included by default, or as a free DLC the game would likely have a much higher rating. I don't agree with it personally, but it is what it is. It's a really minor feature that doesn't actually add anything substantial to the gameplay, but I needed to mention it for clarity.
There's also the fact that one extra playable race costs over a third of the price of the entire game, I'm certainly not a fan of the DLC model here.
Feral Interactive don't control the DLC or pricing though of course, so it's down to the original developer and publisher.
Still, even without the extra DLC on offer, there's likely tens of hours you could put into it without needing any of it. The Total War games usually have a rather active modding community too, with Total War: WARHAMMER already having over 2,000 mods.
The problem I find is still the same as it is with all Total War games: I am horrific as a tactician when it comes to actually participating in battles. Not even my newly-found enthusiasm for Warhammer helped me learn to not lose all my soldiers repeatedly. Even though I'm really not very good at it, I found it to be the most interesting Total War game I've ever played. Likely because it doesn't have a huge amount of depth to it (so it's easy to get to grips with) and because it's rather good-looking.
If you like Total War or Warhammer, this is probably a no-brainer purchase for you. If you've not played Total War before, this is probably a fantastic entry to get you into it as it's quite easy to understand.
You can find Total War: WARHAMMER on
Steam
and the
Feral Store
.
Some you may have missed, popular articles from the last month: