Rust [
Steam
] is a game I've tried a few times and it never really seemed to click with me, but now after coming back to it after so long I'm finding it to be incredibly fun.
Note: My copy was personally purchased, quite some time ago.
The problem I always have with survival games is that they feel like an endless and boring grind, but Rust has somehow managed to throw that feeling out the window.
I've now experienced the fear of walking out of my house at night, to find a shadowy figure standing on my roof with some sort of assault rifle. I shortly met my end, but it was frantic and exciting to experience the absolutely panic and dread at seeing them there. There's many little stories like that you can get from Rust, like the ninja boar that sneaked up on me while I was mining and ran away right after it hit me. All I saw was a boar butt running off into the long grass―sneaky little devil! It practically made me crap myself, it was so totally unexpected.
For me, it's the fact that it's a sandbox that doesn't require endless level grinding to access items. They tried that once, it didn't work and they responded to feedback and removed it. Sure there's a bit of resource grinding, as practically any open-world game requires grinding of some kind, plenty from other genres do too! In Rust you only need the resources to make the items. There's no levelling, no classes―just a proper sandbox. Want to build a tower? Go ahead! Want to throw on a hazmat suit and explore some radioactive ruins? That's cool too.
When playing Rust, there's one rule you should generally follow: trust no one. You shouldn't buy Rust if you're not prepared to lose hour's worth of loot at a moment's notice, as it will happen. You might log in one day to find something like this: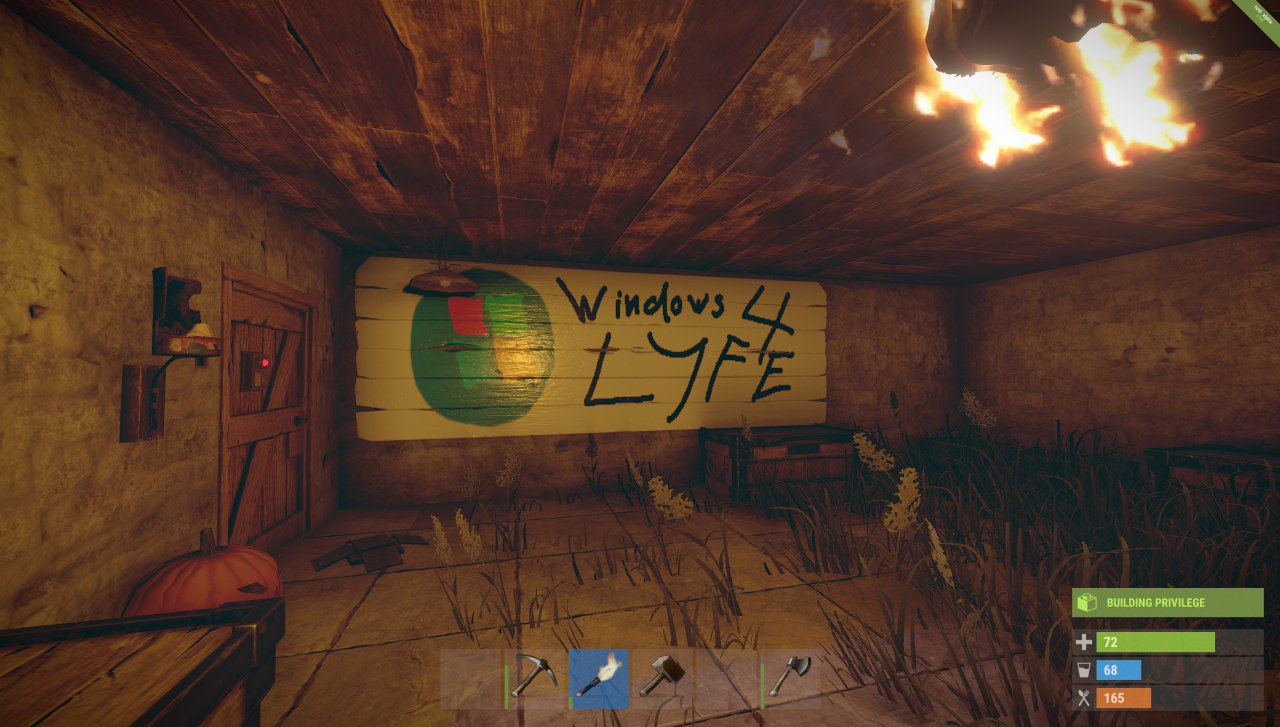 They left us cold, naked and afraid. They also took all of our stuff―bastards! I've still got no idea who did it! That happened more than once, people sure do love to leave a sign to laugh in your naked face. The thing with Rust, is that when you log out, your body is still in the game. If you kill someone, the game will tell them exactly who did it. However, this makes it rather interesting. You could literally build a jail around them, or just pilfer all their crap, leave them naked and put a code lock on their door to be a nuisance.
In stark contrast to other survival games (hello ARK), the game actually runs
incredibly
well. I'm often above 90FPS on quite high settings. It does have a strange bug where running it in fullscreen results in no mouse and keyboard input, but running it in Windowed Mode until that's fixed does solve it. I'm pretty sure that's a Unity bug and not their problem, since other Unity games have the same issue.
In Rust there's a plane that flies over the map at random intervals to drop a big loot box, but don't think even for one second getting it is going to be easy. I honestly can't count the amount of times I've gone to grab it, to be taken out by a wolf. The absolutely terrifying sound of hearing footsteps suddenly speed towards you, as you see the jaws of a wolf jump out of the grass. Everything in this game is trying to kill you, unless you're that stupid horse I can never catch that runs at the slightest fucking breeze. On top of that, players will camp the drop out, waiting for you. Think you're safe? Think you got there first? Think again buddy.
The visuals in Rust can be absolutely amazing at times too, take this particular shot I took at random early on into our new server:

I looked out of the window in our first house, saw this and I was in absolute awe at just how utterly gorgeous this game really is. That shot isn't even close to being maxed out either, which is amazing.
It does get a bit of stutter and frame-drop when it's loading new areas in, but it's not too often. This can likely be reduced by having the game on an SSD rather than a standard HDD. It's acceptable to me, considering the game isn't finished and they are clearly working on optimizations all the time.
Rust is just constant eye candy! I honestly think it's one of the best looking games we have available on Linux. Quite shocking really compared to how it was only a year ago. Take this shot from youtuber and GOL community member
xpander69
that was taken on our server: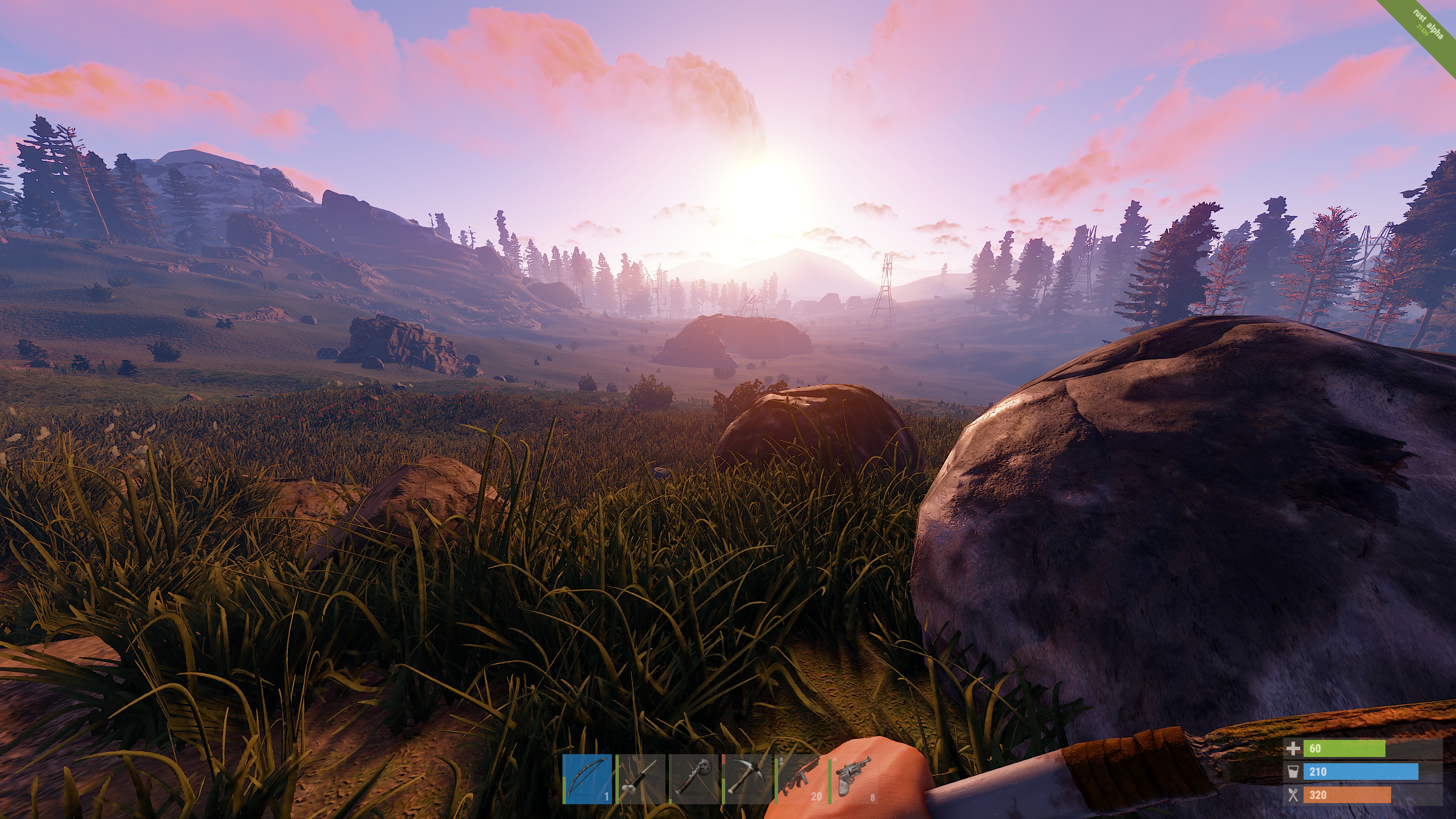 I'm looking at this image, struggling to put into words how I feel about it. It's almost film-like quality with the colours—it's just so striking.
If you want to play with us, we have a server! See the server information
in this linked article
.
I'm also appreciating how open the developers are about what they're doing with the game. The frequent blog posts detailing various sections of the game being worked on, along with a bit of comedy at times about the nudity.
Honestly, I'm a little shocked to be recommending it. You can find
Rust on Steam
.
Some you may have missed, popular articles from the last month: