After a long wait, EVERSPACE [Steam] arrived for Linux recently, here's my thoughts of this rather intense space shooter. I personally purchased my copy, as space combat games are one of my original loves.
Note: Spoilers.
Sadly, due to issues with Unreal Engine, the developers are unable to support the game on an AMD GPU, for now. You can find their original Linux release announcement here.
I've heard mixed reports on how it works on AMD, plenty of people say it works with newer versions of Mesa and LLVM 5.0. You might also need to edit the "Everspace.sh" launch script, so the last like of it looks like this:
"$UE4_PROJECT_ROOT/RSG/Binaries/Linux/RSG-Linux-Shipping" "$@"
While I posted about the initial release, I wasn't expecting it and only got a little bit of testing in. Now I've had many attempts, many deaths, destroyed many enemies and here's my thoughts.
Reminder: The current release is still in an "unofficial" launch state, while they work on issues. So it has no SteamOS icon. Don't let that stop you buying it though.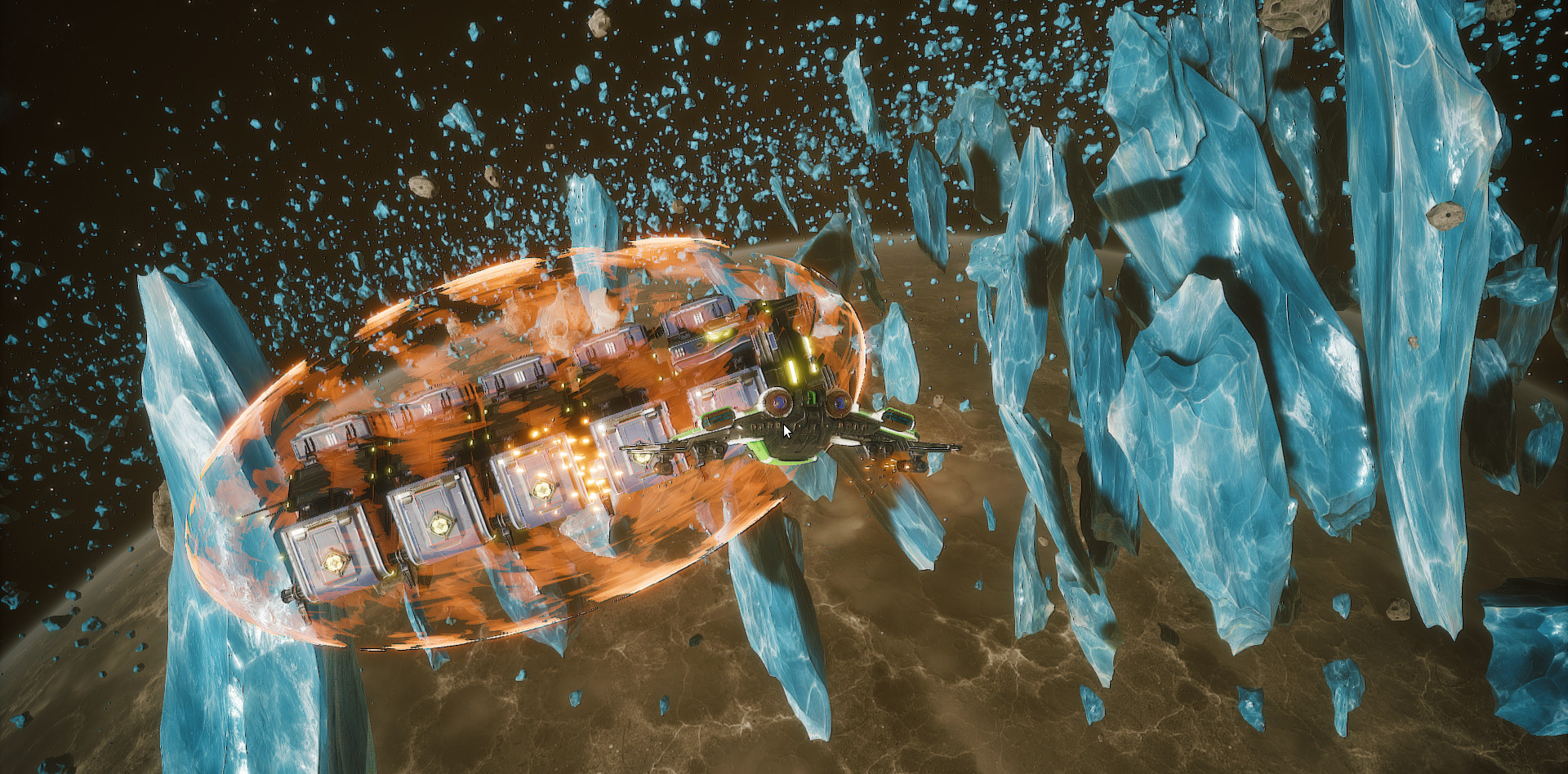 I've been utterly blown away by the sheer beauty of it. ASTROKILL might give it a run for it's money when it's further developed, but this is hands-down the best space combat game on Linux right now. I really don't think I'm overstating that either, both in terms of audio work, graphics and gameplay EVERSPACE seems near-perfection. Not quite perfection, since it has a few really minor rendering issues right now.
The movement controls in EVERSPACE are what I imagine most people will struggle with. The ship doesn't continually move, like I expected. It's much closer to FPS controls, with you coming to a stop if you're not holding down W to go forward. The mouse is also a little different, with it controlling both your aim and your ships directly too. It took an hour or two to really nail it, but now it feels pretty natural to me.
While the game is primarily about flying around and blowing spaceships up, there is a story behind what's happening. The story is presented by impressive cutscenes, followed up by a chatty on-board computer. It's clever, looks great and kept me wanting to know more. For a space combat roguelike, the game is incredibly engrossing. While it's true the game is all about the pew-pew-pew, I wouldn't dismiss their storytelling either as I rather enjoyed it. It's drip-fed, but it doesn't take too long to get most of it.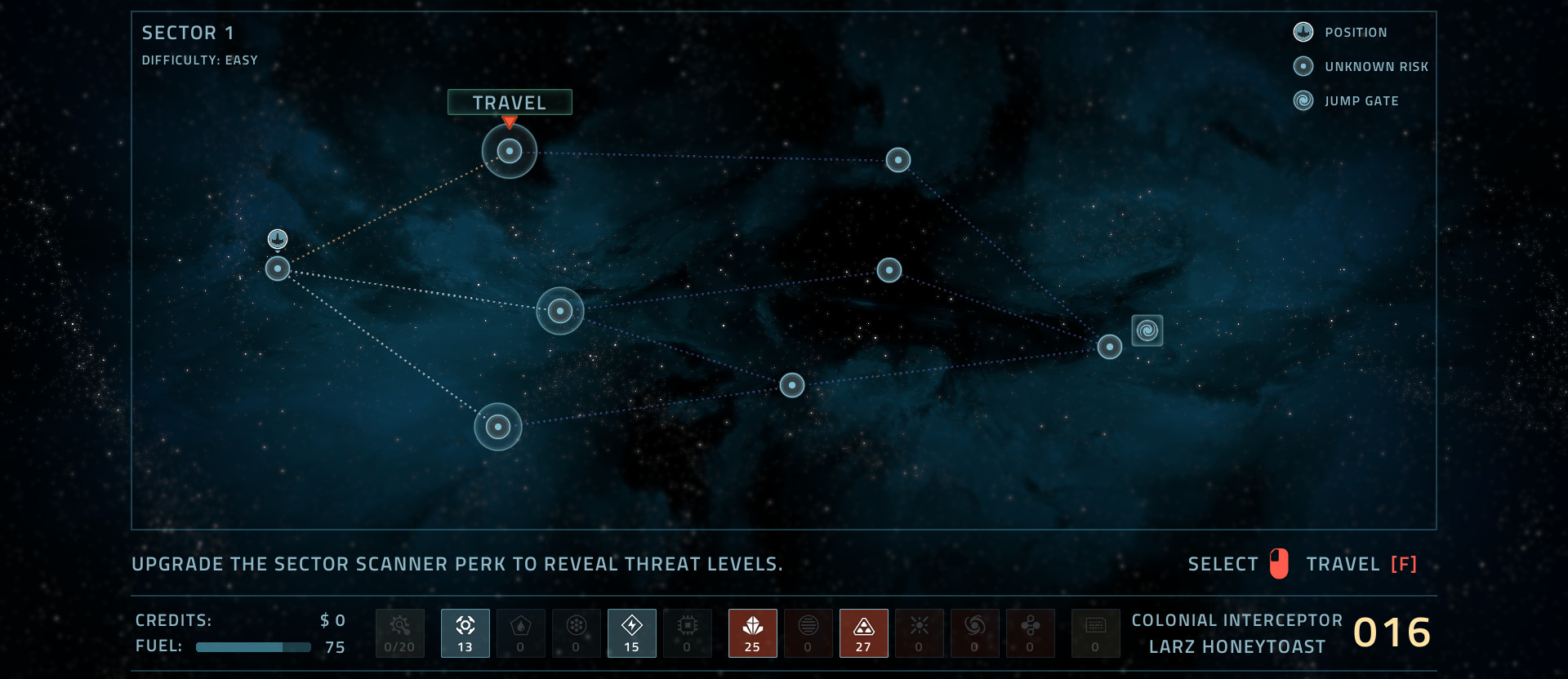 The game features a very FTL-like jump system, with you picking between routes leading to the end of the sector. Also, like FTL, if you stick around too long powerful ships arrive to crush the life out of you. It's not really a question of "should I stay?", because they really will send you packing. It's a fast paced game of dogfights, a little exploration to find crates, gas, ore and a few other items before making your next jump.
One of my favourite features, by far, is the Action Freeze. What it does is freeze the game at that exact moment, for you to move the camera around. The result can be some awesome shots like this: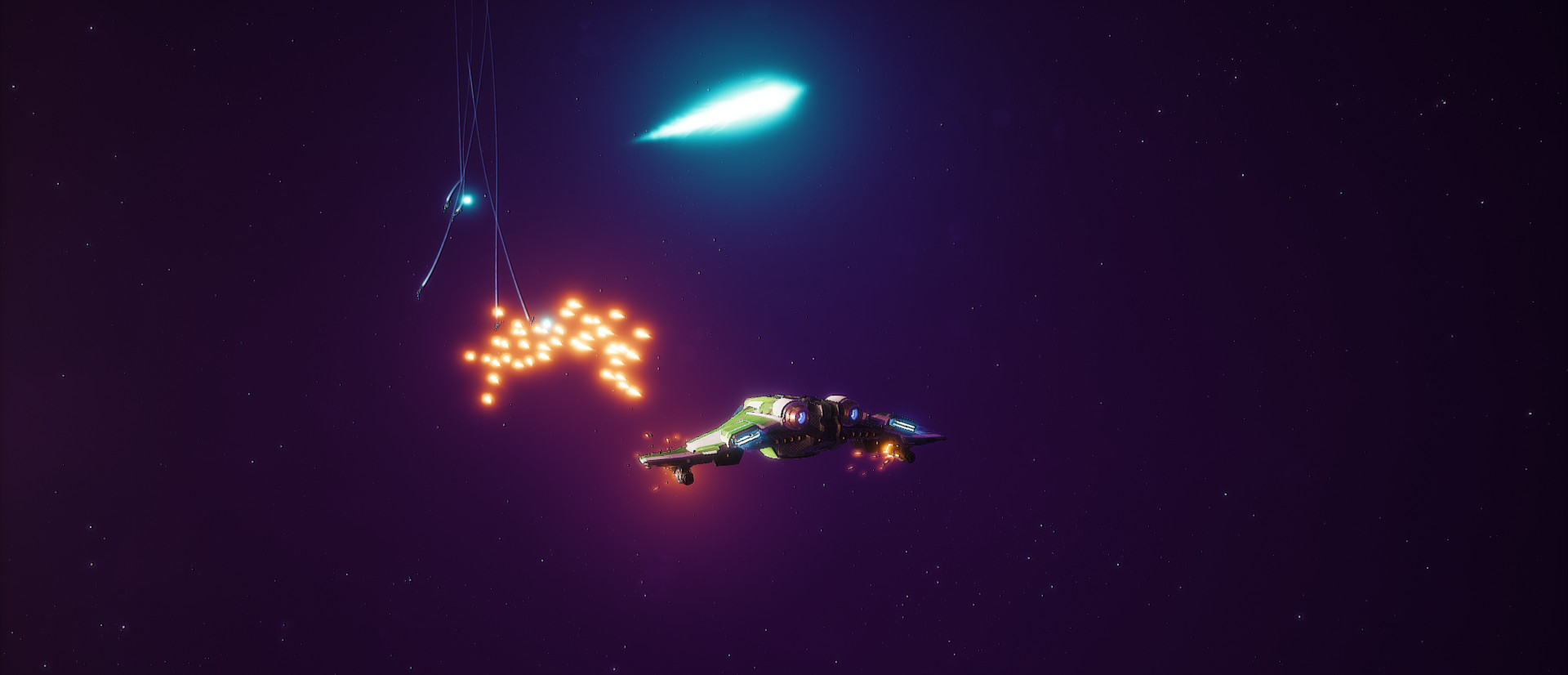 That's an actual still taken during one of my space battles, impressive right? What's more impressive is how utterly seamless this feature is. You hit the button and it's just completely frozen in time for you to take it all in. Hit it again and you instantly jump back into that moment. Is a small, yet incredible feature.
Hilariously, my first death in EVERSPACE was due to me flying into the side of what I was hoping was a repair-ship. In my defence, my ship was heavily damaged with my inertia dampeners basically gone, so it was like trying to stop a fast moving truck on ice. The onboard computer poked fun at me too as the game faded out, by telling me about physics and colliding with large objects. Then the game trolled me by giving me a "Welcome to EVERSPACE" achievement, nice touch. One of those amusingly ironic moments, that I blow up by flying into a stationary repair ship.
EVERSPACE isn't just a straight up "you versus them" shooter, in fact I've often jumped into areas where a battle is already going on. In one such example, I saw two different factions go at it, engaging in a dogfight that looked like a dance, but what truly made me sit back and say "woah!" out loud, was seeing one of the bigger ships blow up before I could get there to help it. This massive explosion filled my screen with beautiful destruction, it was at that moment that I truly fell in love with it.
It's a game where death can come quite quickly, but death is not the end. The game features persistent progression, so you take credits from one run to the next to get better and better at the game as a whole. You can unlock new perks between runs, but you need to spend all your credits since they vanish when jump in at the deep end again. One bit of story even came to me after my death, so it was pleasantly surprising.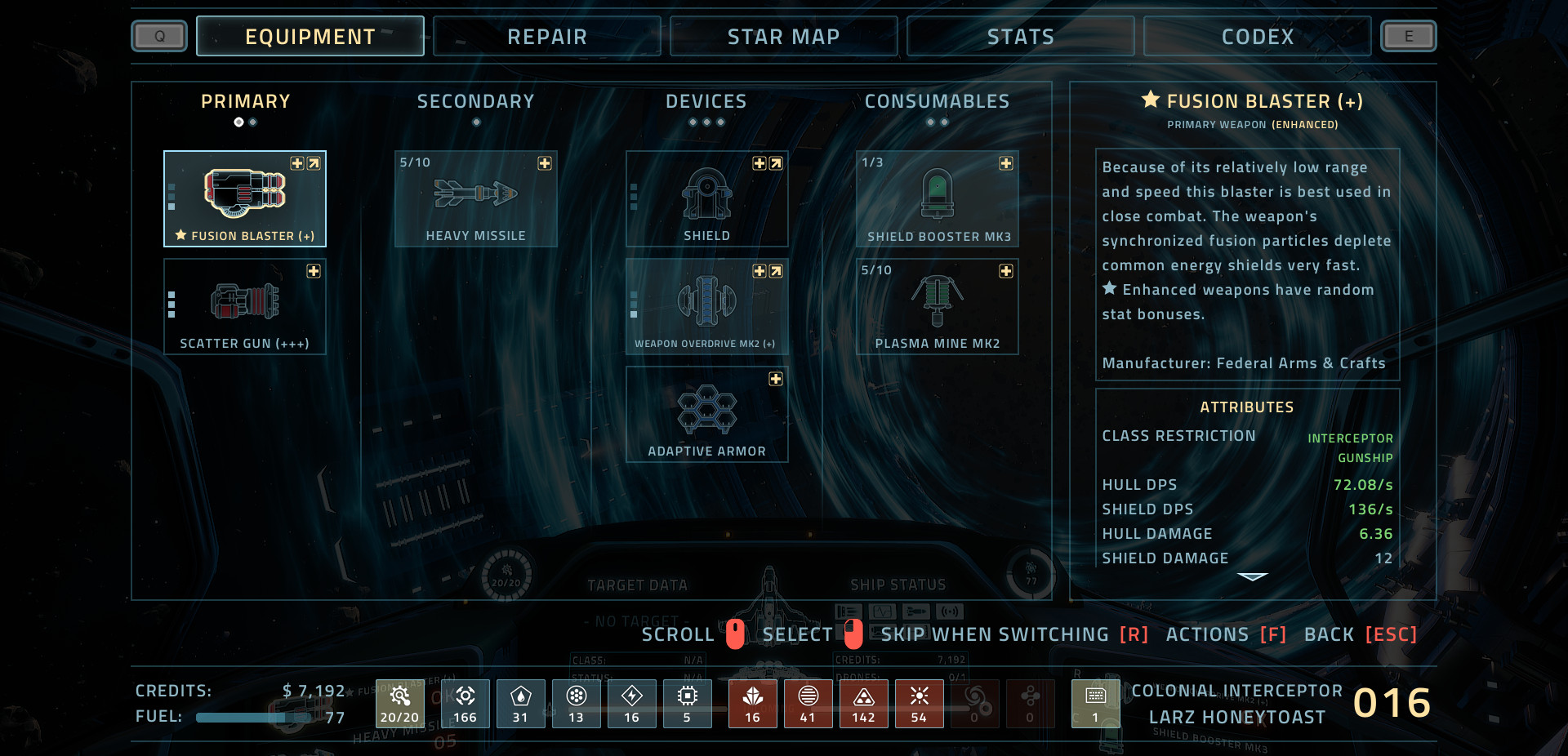 While the game is more of an action orientated roguelike, it does feature elements from more fully features space sims too. You have lots of different components which can get damaged, you can install and upgrade components, craft new upgrades and plenty more. I mentioned the damage states briefly before, when I had trouble slowing down, but there's much more too. You could be leaking oxygen, your weapons or shields could be offline and so on. There's a lot of smaller systems at work behind the scenes that you don't fully appreciate until you spent a number of hours in it.
Here's another shot taken with the Action Freeze feature: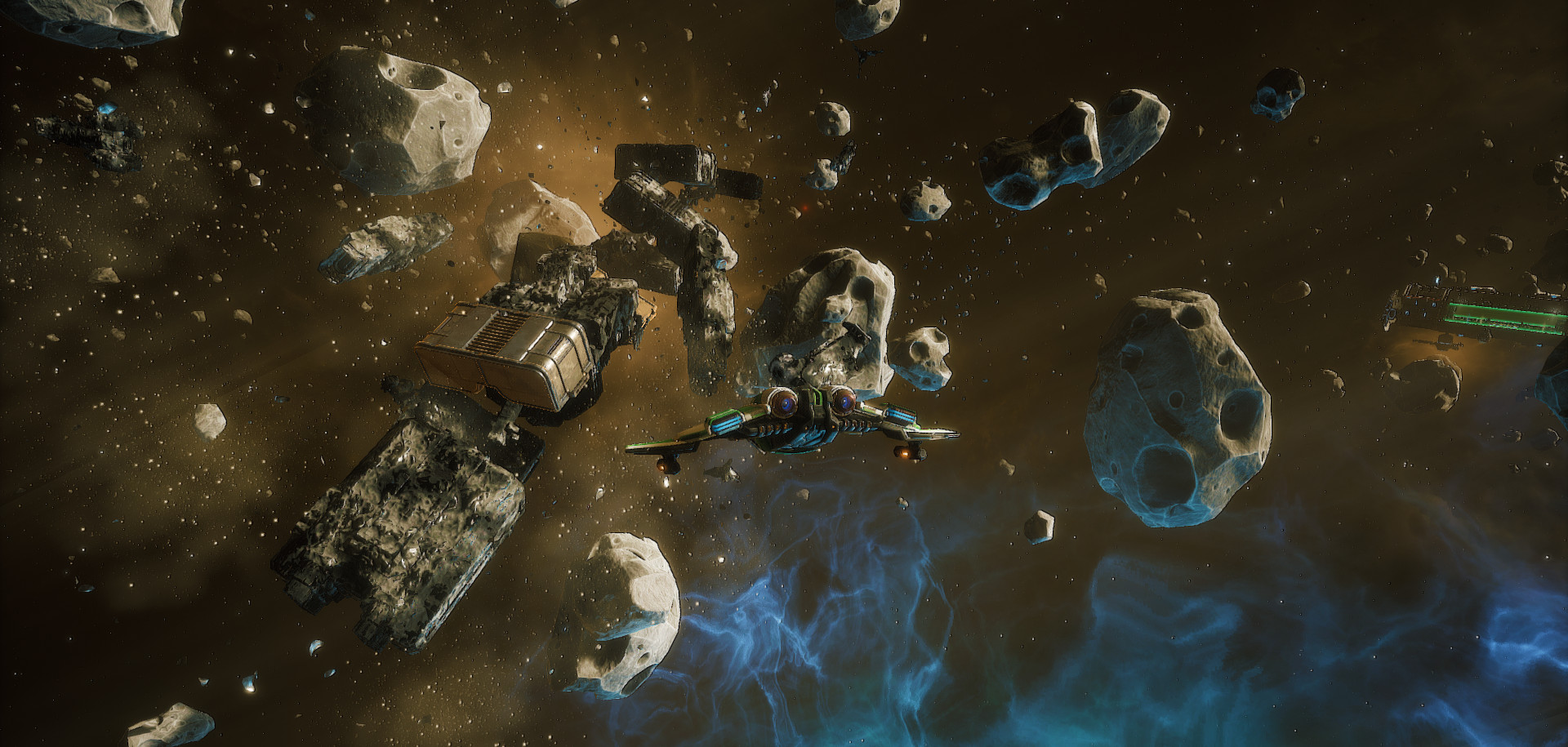 I'm highlighting this one for another good point: the loot. You will come across various wreckage either floating in space, attached to an asteroid or even on bandit outposts. There's plenty to find, but it does often require a good eye to spot as your sensors don't always pick it up until you get much closer.
It's not just smaller fighters and drones you will be up against, but enemies will have elite unites, frigates and more. After 4 hours I finally got to the third sector, but I was totally unprepared to face a bigger ship. Probably didn't help that the first jump into Sector 3 put me directly into a lightning storm.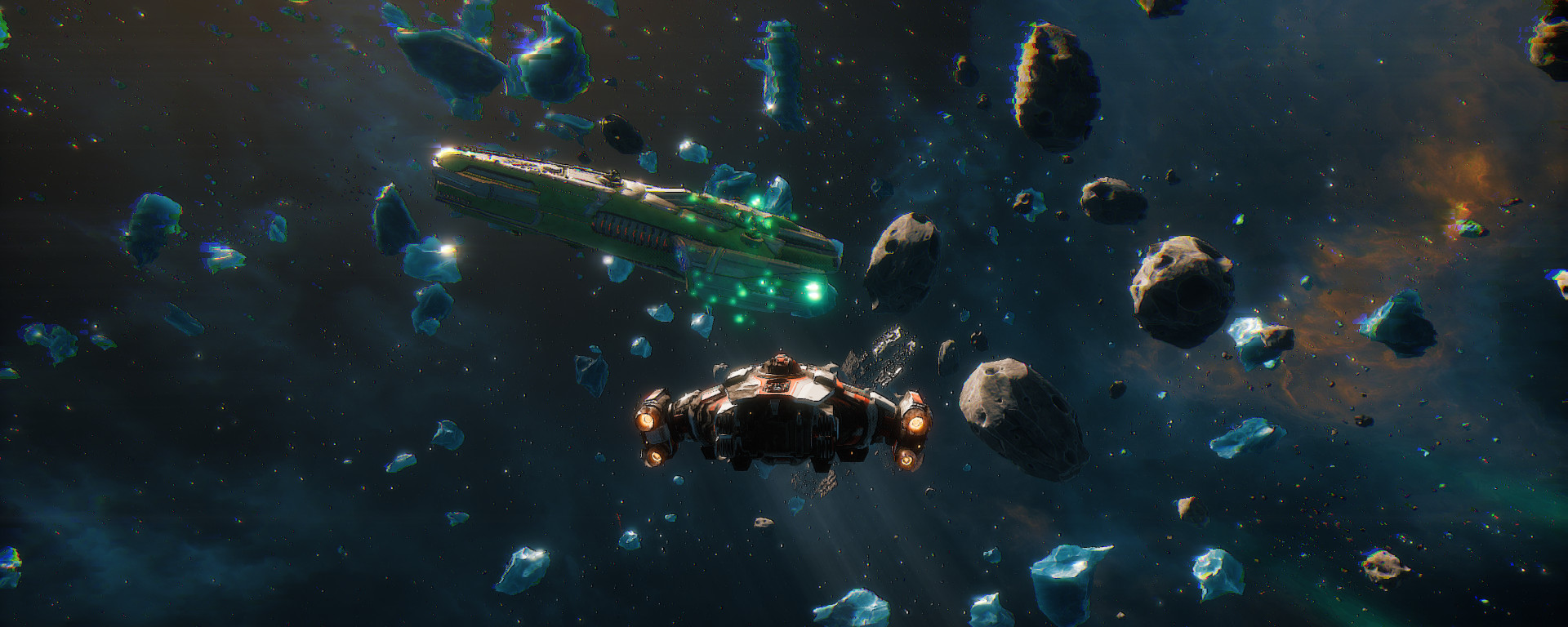 For those looking for a space sim that allows you a lot of exploration and breathing room, this isn't it. If you like gorgeous graphics, intense dogfights and a bit of random generation thrown in then this is definitely one to buy if you haven't already.
I enjoy it so much, I'm even going to livestream it again tonight on our Twitch channel. It's going to firmly sit in the limited pile of games I always go back to for "one more run".
Be sure to share your EVERSPACE stories in the comments, would love to hear what you've been up to in it.
For now, the Linux version is only available on Steam.
Some you may have missed, popular articles from the last month: