In the mood for another trading card game? Forgotten Lore [Steam, Official Site] is another free option and it seems reasonably interesting.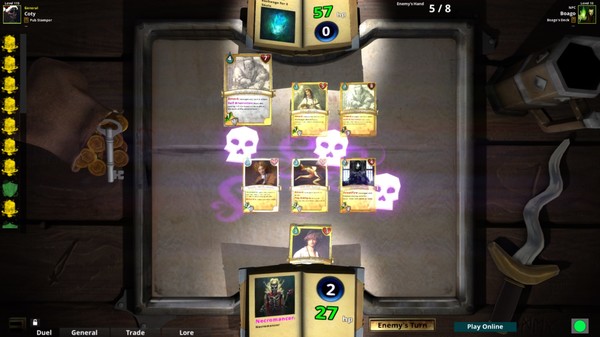 About the game:
An online trading card game, powered by a single dev's passion! Forgotten Lore has online matchmaking, playing with friends, an actual in-game text chat with your opponents, workshop support for player to design their own cards built into the game, a complete deck builder with support for as many decks as players can create, tons of unique cards, and an ambitious Tome system. If this wasn't enough, players within Forgotten Lore completely control the community's economy.
What's interesting with this one, is that players can make and submit their own cards to get accepted into the game. On top of that, any cards you earn in-game can outside of the starter deck be freely sold on the Steam Market, so the economy is controlled by players.
You can buy a "Basic Pack" of cards with in-game gold earned from battles and there's also a $1 micro-transaction to buy a "Premium Pack". It's not actually noted on the Steam store page that it has any micro-transactions, so they should note that to be clearer.
I've tested it out quickly and it's a little on the rough side, but some of you who enjoy your deck building card games might appreciate the quick tip here.
Thanks for the tip Joss.
Some you may have missed, popular articles from the last month: