Short on games to sink endless hours into? RPG MO [Steam, Official Site] is a free to play MMO that has full Linux support.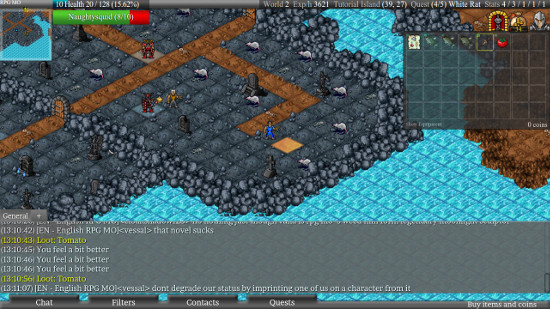 It's rather retro, which might limit the appeal somewhat. There's limited animations, the art is all rather low-res and it's pretty slow to get going. Thankfully, it does have options for scaling the interface and making the graphics bigger, so you're not forced to read tiny text.
Features:
Explore 37 hand crafted beautiful pixeled large worlds
Explore randomly generated dungeons with up to a 4 player party
Fight monsters
Fight other players in many different modes - guild wars, RSC-wilderness like map, last man standing arena
Level up 18 different skills with no level caps
Build your own house and invite your friends over for a party
Choose or breed yourself a pet from our 285+ pets
Become a collector and try to get all our 3200+ items
What I do like about it, is that it can be played in the browser, as well as downloading it—handy!
Sadly though, it does feature micro-transactions. That's not always a bad thing, if for example it was just cosmetics it wouldn't actually bother me at all. In RPG MO, it seems you're also able to purchase weapons, accessories and so on that do change your attributes. To me, that can end up feeling like a pay to win game, so I wasn't pleased about that.
The combat system is interesting, with it based on different stances. Each stance trains different skills, with one of them being a balance between all of them. I quite like that, since it allows you to decide on what type of fight you're going to be. However, the combat seems rather repetitive and slightly dull, since there's very little to it other than click and watch.
There's also a magic system, but the game is so retro it seems you can't do ranged magical attacks. You need to be right up next to any kind of enemy to fight them, which was disappointing. It seems this is based around the design of the game, with creatures never seeming to move.
I did encounter a real annoyance too, since actions don't seem to require any kind of stamina or interaction other than click item and wait, an anti-bot captcha popped up that I had to complete. That's the kind of nuisance I really don't want to see when I'm trying to get into a game.
I'll be completely honest, I don't get the appeal, I'm just highlighting it in case there's any of our readers who do enjoy these retro slow burn MMOs. If they added proper ranged attacks, more animations and roaming creatures I would probably find it more interesting. However, I understand fully I'm not the target audience since I generally prefer at least slightly more modern games.
It's being developed by only two people and they celebrated five years of the game back in July. It seems they do have other contributors for things like music and graphics, but still, that's pretty impressive going.
Some you may have missed, popular articles from the last month: