Project 5: Sightseer [Steam] is a hard game to describe properly, but it certainly has managed to capture my attention.
Note: Copy personally purchased. This is not a review as it's in Early Access, these are some initial thoughts.
It's an open-world sandbox, with elements from survival and strategy games all merged into one. It has the usual features of a huge world to explore, with you starting off with basically nothing. Project 5: Sightseer is vastly different to games like ARK and Rust, even if it does share some familiar features. For one, you control vehicles not people so you're not dealing with thirst, hunger or anything like that.
Let's start with a bit of a joke that anyone who's playing it will appreciate. Here's a user-review that sums up how I felt about the game after the first hour (source):

I don't think I've ever played a game, that's had me yell at trees so often.
You so much as touch a tree and it slows you down so much it becomes a literal hell. You don't bump into the trees, they don't actually do anything but slow you right down into a crawl. It wouldn't be so bad if you were pushing them down, so you could travel faster when going back over, so I hope they adjust that in future. Thankfully, it's less of an issue when you're further along the research tree, since you can get some pretty slick looking flying vehicles.
It's probably the only open-world sandbox game to make me feel like a real explorer. I will be discovering things, be the first to do so in this world and damn it feels good when you find a large deposit of the exact resource you've been after. That's the key thing about Project 5, you need to go out and scan for resources to make anything. This can require a fair amount of patience and a little luck to achieve. Naturally, some resources have to be made by players using the natural resources you can find as well. You can gather some resources manually, but setting up outposts with automated mining facilities is a must, like the one below: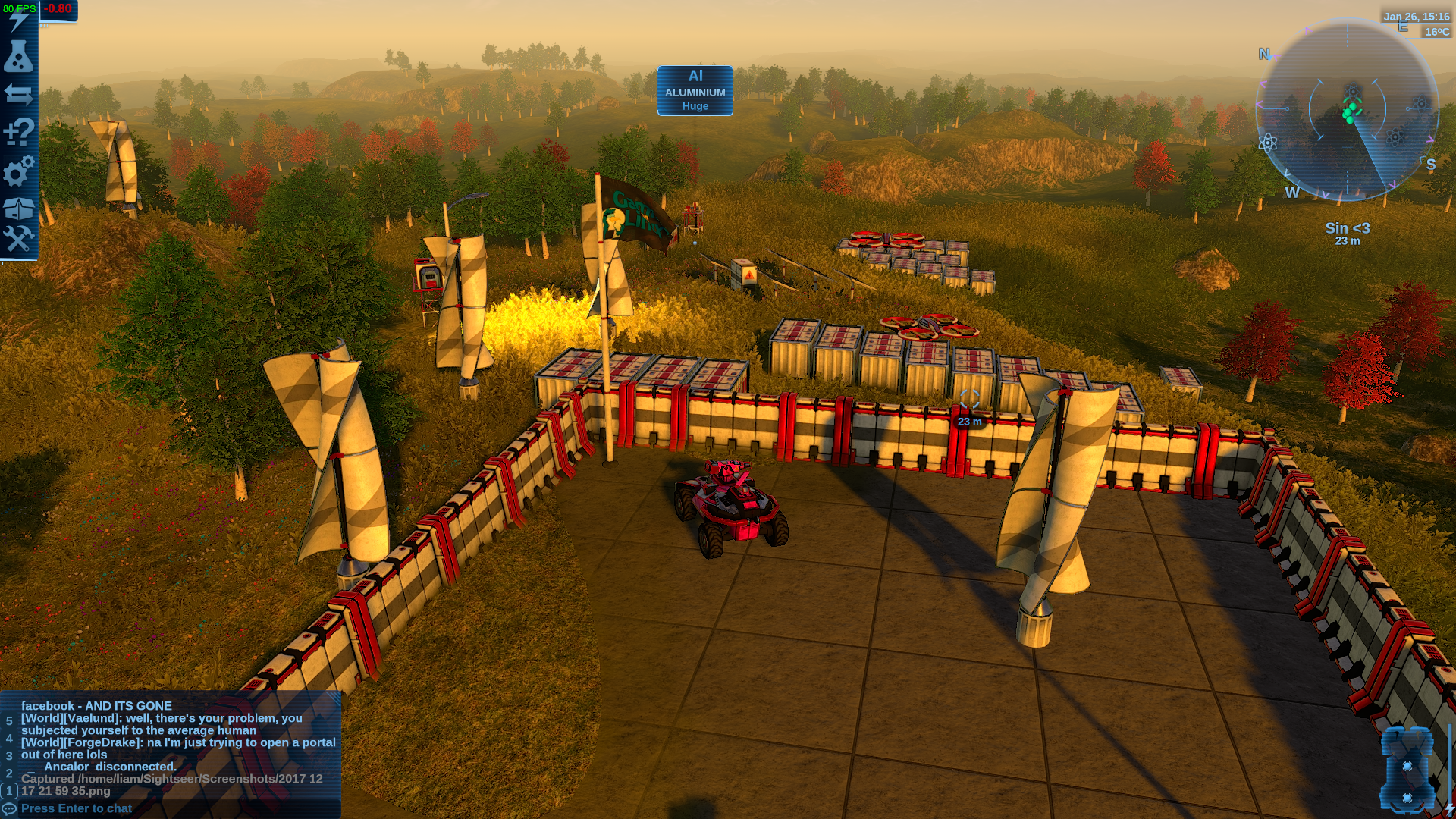 That's a pretty sweet looking flag…
The resource gathering system is quite interesting. As each deposit will contain a different amount, which requires you to expand and explore like you would in a real-time strategy game. You can deplete resources too, although if you're manually mining, simply moving a few metres can likely result in finding more resources.
The map size is pretty insane—it's huge! It can take a long time to travel even a short distance, especially at the start when you've only got the rather crappy starter vehicle. Thankfully, you can find upgrades from containers to improve your power, engine and more. On top of that, there's multiple vehicles and drones you can unlock through research (upgrade parts can be researched too). Research can take a few hours, but it will continue whilst you're offline which is great.
If you don't have a resource, you could setup a trade route with another player. That's also done in a rather unique way, instead of it being an automatic process, you have to travel once between the two outposts while you're setting it up. It tracks the time it takes you to travel between them and takes into account the space you have in your inventory to determine how much it can transfer per-tick between you. I must say, it was rather amusing seeing another player with their annoyingly awesome drone fly down into my outpost, to then fly off again to setup a route.
What I like about the game is not just that it has a slower pace, but it's also developed in a way that's quite friendly to people who don't get a lot of time to play. If you're playing online, there's a 48 hour timer by default before anyone can touch your stuff. Handy, considering when you're offline everything, including your vehicle stays right where you left it for everyone else to see.
It's not just other players to think about, there's also UFOs flying around: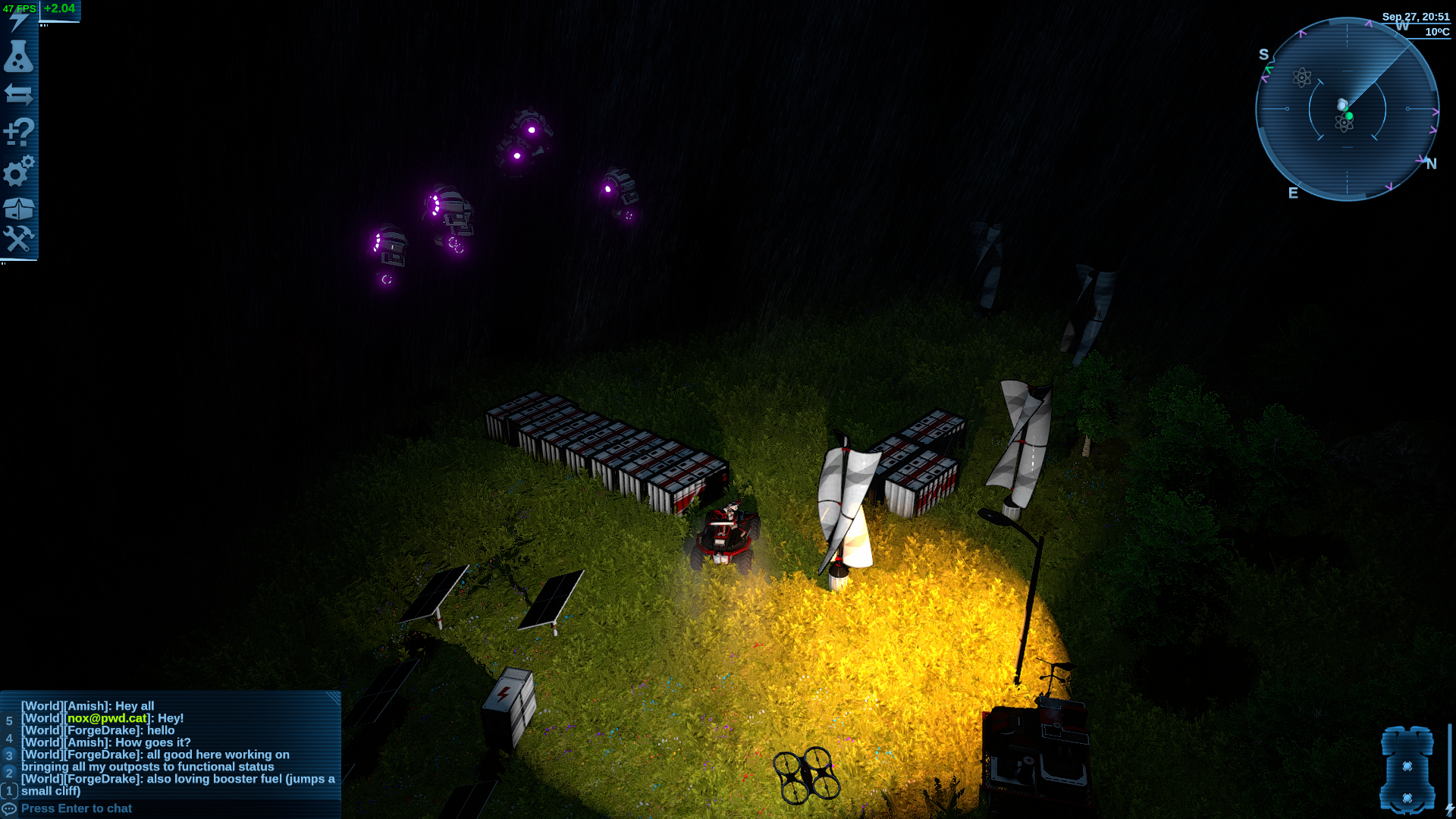 They're pretty tough, so I would advise against firing on them until you're really well equipped. They're seemingly harmless too, unless your doing some pretty heavy pollution. That's another thing, do you go green and build a lot of solar and wind for powering your various outposts, or do you go the more polluting route and go for things like coal, which can result in heavy pollution and a bunch of pissed off UFOs knocking on your door? Thankfully, I lied a little bit at the start of this article as trees do have a purpose other than annoying the crap out of you, they suck up pollution!
The developer has been rapidly iterating on the systems in the game to improve the player experience too. They added a VSYNC toggle and FPS limiter within a day of being asked, they've kept adding in smaller quality of life fixes too and it seems they have some pretty grand plans for the game that has me excited. The developer has said the game only has around 25% of the planned content, with much more to come, like the possibility of travelling to another planet—exciting!
There's plenty that still needs to be done, like the possibility to set actual way-points on the map and have them appear on your screen, getting lost is a regular feature of the game right now. They've been slowly improving the navigation and marker system, so it's certainly not as bad as it was at the initial EA release. There's also practically no tutorial right now, so it's not the easiest game to get into, but rather rewarding for those willing to get into it.
The community so far seems rather helpful too, seeing people in the chat ask and answer questions has been really nice to see. Makes me hopeful for the future of the game. I was very surprised when playing on the official server at just how nice the atmosphere was.
I have a feeling I'm going to be putting many more hours into it. It's already become a comfort game for me to jump into when I'm exhausted, since I can just drive around for awhile and explore. Quite handy that it's a game you can easily sit back with the Steam Controller, which works surprisingly well.
There's so much to talk about when it comes to this game, just one article simply cannot cover all of it. Especially when it takes quite some time to experience the later parts of the game as research takes a while. I will write more about it in future when it's been through some more patches. For now, I'm very much enjoying the experience.
For those that missed it, I put up a video on our YouTube that's a cut from the livestream to show you some very early gameplay. Linux gamers Xpander69 also has a video on his YouTube showing some later gameplay too.
Also, if you do decided to pick it up, be sure to join our community-run server. Look for "GamingOnLinux" in the server list, with thanks to Nox for that. There's also this starter guide, which is worth reading.
Some you may have missed, popular articles from the last month: