It's been a while (August 2016) since I said anything about the frantic shooter Monsters and Monocles [Steam, Official Site] and it turns out that it's improved a lot since the initial release.
Disclosure: My key was provided by their PR team some time ago.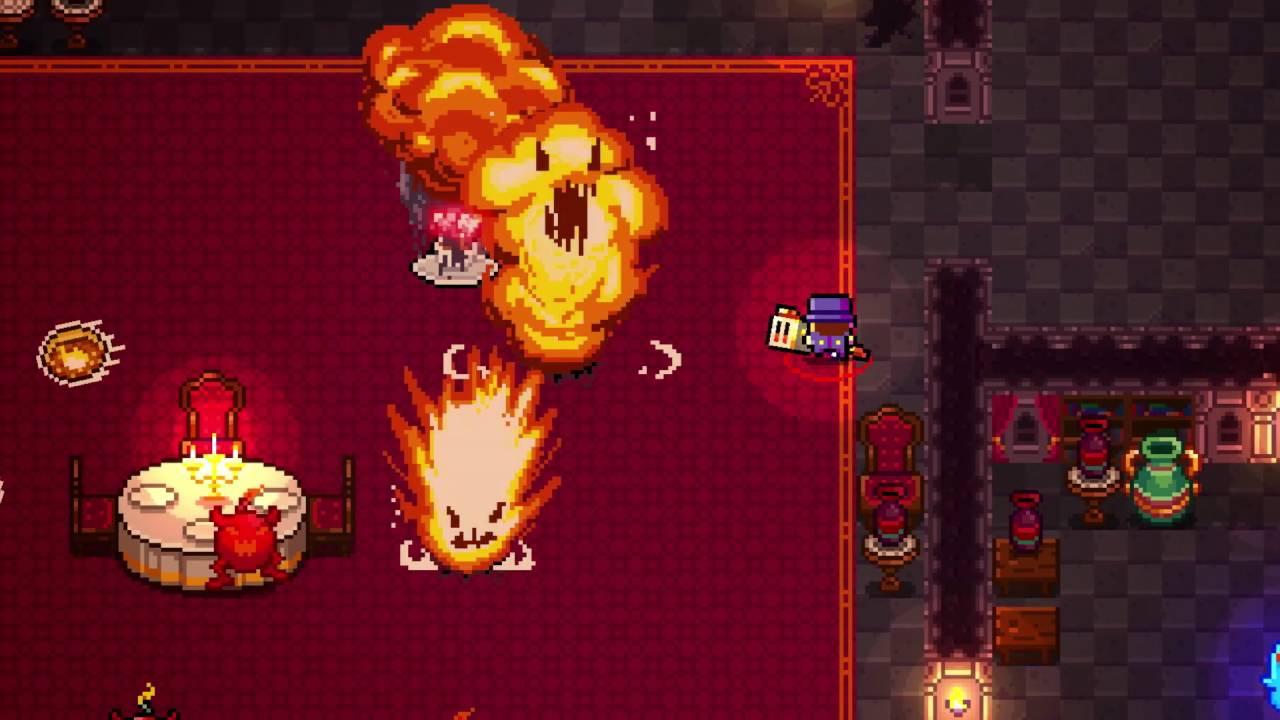 The gameplay is fast, quite difficult and it can quickly become a bullet hell if there's enough enemies around. You have very limited lives, levels are absolutely rammed full of enemies of all shapes and sizes, each having their own different type of attack. The enemies are hilarious, you will find walking gravestones, some enemies split apart into many tiny versions of themselves when you kill them and health pickups are literally a cup of tea.
The weapons are fantastic too and extremely varied in their power. The crumpet cannon is by far the most amusing, you litterally walk around with a weaponized toaster like this:


Delivering warm, buttery crumpets to all!
You need to watch the heat in Monsters and Monocles, as all weapons can overheat requiring you to switch weapons or wait for the cool down. This is another part of what makes the game challenging, as some weapons heat up incredibly quickly. You can also find loot, some of which may increase your fire rate, but also increase the heat build up at the same time. There's lots of things like that which makes the game both fun and challenging to take on.
Originally, the game suffered with issues if you had more than one monitor attached, it would (for me) start on the wrong screen. Now that's not the case, even after completely removing all config files at starts perfectly on the right screen with the correct resolution. While many of us know the tricks of getting around such issues, not having to deal with that at all results in a much more polished experience.
The enemy AI was also an issue, but the most recent release has updated the movement code for all enemies. They are a bit more aware of their surroundings now, so they don't get stuck on random objects so often. It's not perfect, but at least now enemies are a little smarter. This has resulted in a much better (and slightly more difficult) experience, since they really will try to take you down.
It does still provide a gamepad picture with the key list when loading, even though I don't have any gamepad plugged in and my Steam Controller hasn't even been turned on at all today. Not a major issue though, since when you get in-game the little help signs will cover both gamepad and keyboard controls.
If you like your manic shooters with fantastic style, do check it out. It even has local and online co-op, so you can bring a friend along for the ride. You can find Monsters and Monocles on Steam.
Also, the developer gave over some statistics about the sales of their game:
Linux: approx 1.25%
Mac: approx 6.3%
Some you may have missed, popular articles from the last month: