Parkitect [Official Site, GOG, Steam] is such a beautiful theme park building game and they're working towards their final release with the third beta.
This latest beta version adds in the Magic Carpet ride, which really looks slick in-game. Their attention to details in the animations is incredible, all the rides simply look amazing when moving. Also the fact that you see your actual visitors on them as well—brilliant.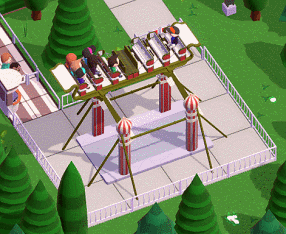 They've also added a First Aid room, a new type of tree, new "LSM launches" for the Steel Coaster, Giga Coaster, Wing Coaster along with new track pieces. There's also a bit more of a challenge now too, since they've added more ride breakdown types along with consequences that happen as a result of crashes.
What I really love about Parkitect is how you can pretty up your park with various decorations and props. They've expanded the selection again with this third beta, to include more fantasy props including: two trees, spooky lamps, string lights, a Giraffe statue and a Turtle topiary.
They also added more sound effects, they adjusted how rain and temperature affect guest interest in rides and various other tweaks and bug fixes.
See the full update notes here. You can grab it on GOG and Steam. It's such a sweet game, I can happily continue to recommend it.
GOG links are affiliate links.
Some you may have missed, popular articles from the last month: