To go along with Liam's benchmarks of the game on his Nvidia GPU, I decided to also run some tests on my RX 580 to give you a picture of the AMD performance of the Rise of the Tomb Raider port. So, let's go!
Disclosure: I participated in the closed Linux beta for ROTTR and thus received a key for the game from Feral.
Let's first go over my gaming rig specs before we jump into the results. My system uses an AMD R7 1700 at 3.7GHz and 16 GB of 2133MHz DDR4 RAM. The GPU I am using is an Asus ROG RX 580 8 GB. On the software side I'm using Antergos with Linux 4.15.15 with Mesa 18.0.1. Feral's Gamemode was installed and operational for these tests.
Due to time constraints I stuck to running the benchmark through the Lowest, Low, Medium, High and Very High without anti-aliasing at 1080p resolution. Benchmarks were repeated a couple of times on each preset to eliminate as many discrepancies as possible.
So, let's have a look at the numbers: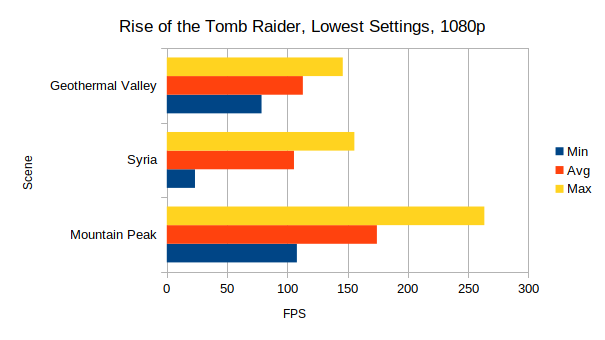 On the Lowest preset the game quite simply ran flawlessly, maintaining an average of above 100 FPS during each of the three scenes the benchmark went through. The low minimum framerate during the Syria scene appears to be an oddity of this game that makes the minimum framerates in this benchmark largely meaningless. While monitoring the game, it never actually seemed to drop down to 24 FPS, so my guess is that some individual frames in the benchmark just take abnormally long to render and bring the minimum framerate way down. You can see similar numbers in my other benchmarks of the game but I wouldn't consider these low minimums meaningful. I decided not to average them out so as to avoid looking like I am tampering with the results.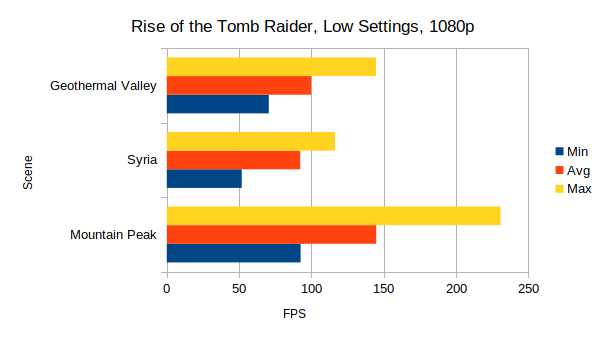 Low preset isn't a big change from the Lowest in terms of performance. The game still maintains an average framerate of around 100 FPS throughout the benchmark.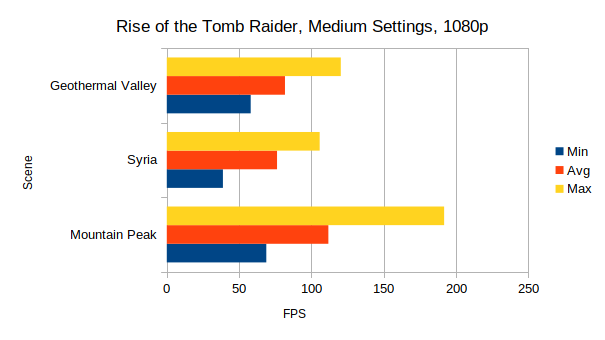 On medium settings the game is finally starting to make the RX 580 work but the averages are still very much on the healthy side of 60 FPS and even according to the somewhat untrustworthy minimums the game is maintaining a stable framerate.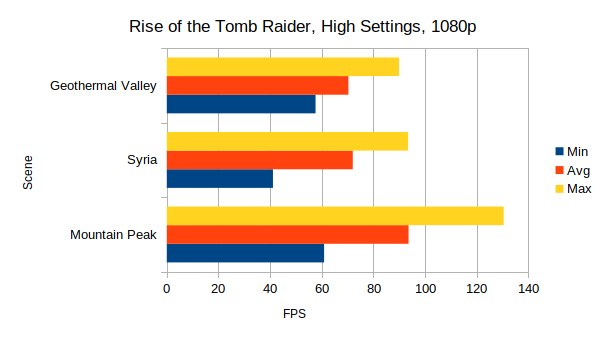 On High settings the gap to 60 FPS is narrowing but there's still some wiggle room for anti-aliasing effects and possibly increased resolution here.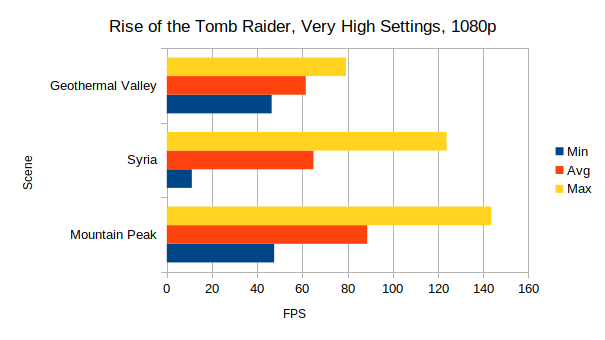 At Very High some of the Scenes are hitting near the desired 60 FPS average and dipping below the 60 FPS at times, although not to a point of unplayability. You could probably still enable some anti-aliasing and get away with it, but if you are unwilling to occasionally dip below the 60 mark you might need to drop some settings to achieve a constant framerate.
Overall I'd say this port is working quite wonderfully. Not only are AMD cards on the officially supported list, they would seem to be running quite well too. Do note however that 1st and 2nd generation GCN graphics cards (or older) are not supported, which makes sense considering the experimental state of the Vulkan drivers for those graphics card. According to Feral at a minimum you want an R9 285. So, if your GPU is either that or an R9 380, RX 470/570, RX 480/580 or better you should be good to go.
When it comes to the actual game, I sadly haven't been able to test it too much. I played about 3-ish hours of the game during the beta and I didn't run into issues, graphical or stability-wise so I think the game beyond the benchmark is also shipping in good condition. As far as the gameplay and story are concerned, I'll leave the evaluation of the game to those with more time on their hands.
Some you may have missed, popular articles from the last month: