Welcome to the third review in the PIN (Play It NOW) series. This time, we're covering a game that is so good, you'll be devastated when you finish it. It's quality-over-quantity, it's Gunpoint by Tom Francis, sole developer and owner of Suspicious Developments [Official Site].
History
Saving you a trip to Wikipedia, I can tell you that Tom Francis was a section editor working for PC Gamer UK when he decided to dip his toes into game development. He had no prior development experience, but was inspired by the background and history of Spelunky (which is also by a sole developer) and so he crashed ahead with his idea, originally titled Private Dick. He used his blog to ask for contributions in the art department, and subsequently also the music department and ended up crediting two artists and three musicians for their work on what would eventually be released as Gunpoint.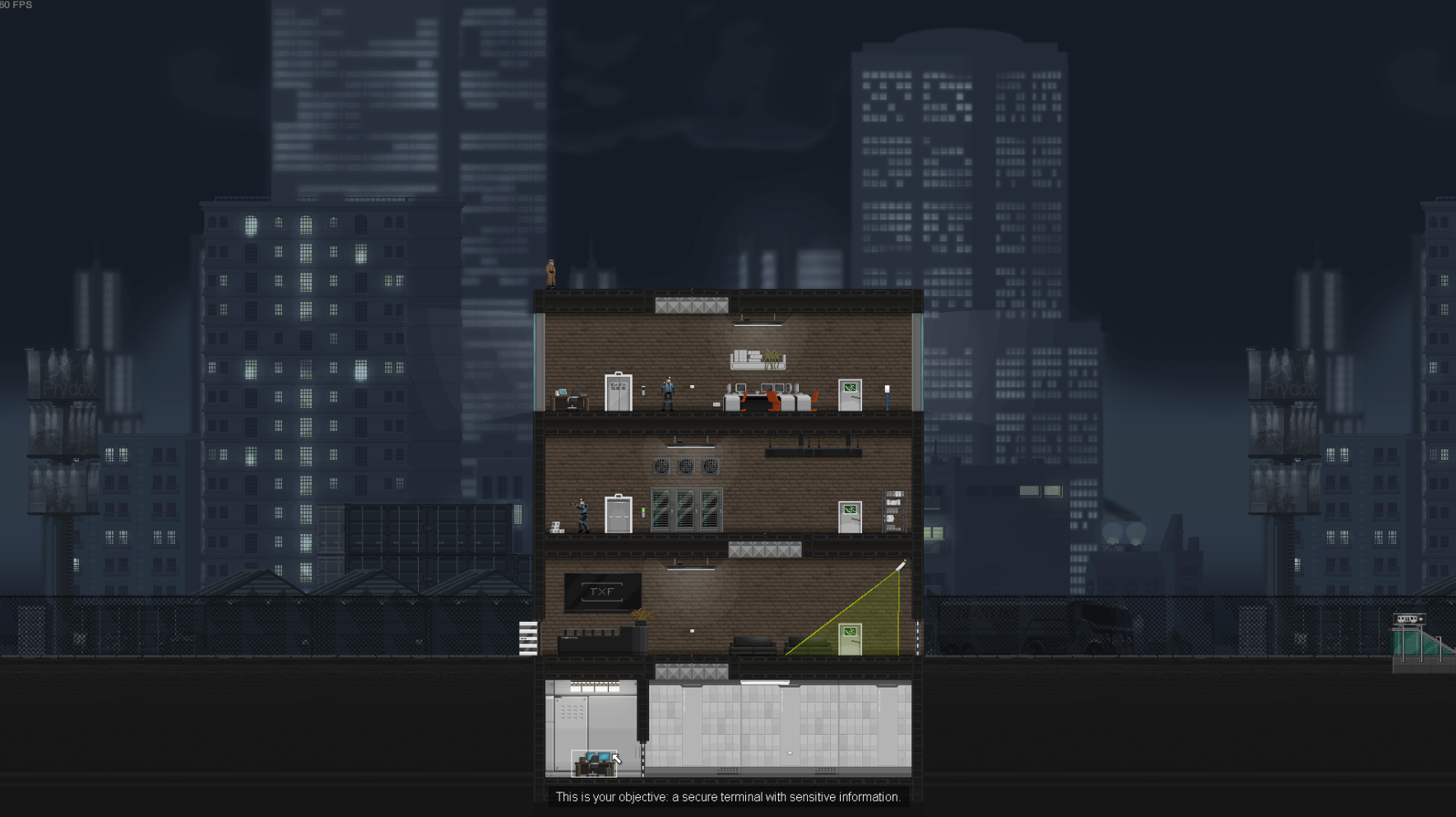 Plot
You play as Richard Conway, a smart-talking private-eye who's just bought a pair of TX Fabrications™ Bullfrog Projectile Trousers and decides to try them out, like a moron, while still standing inside his apartment, just outside an office.
Having thrown himself out of his window using said trousers, Conway is standing right outside that office when a murder goes down. And so begins the story of Gunpoint.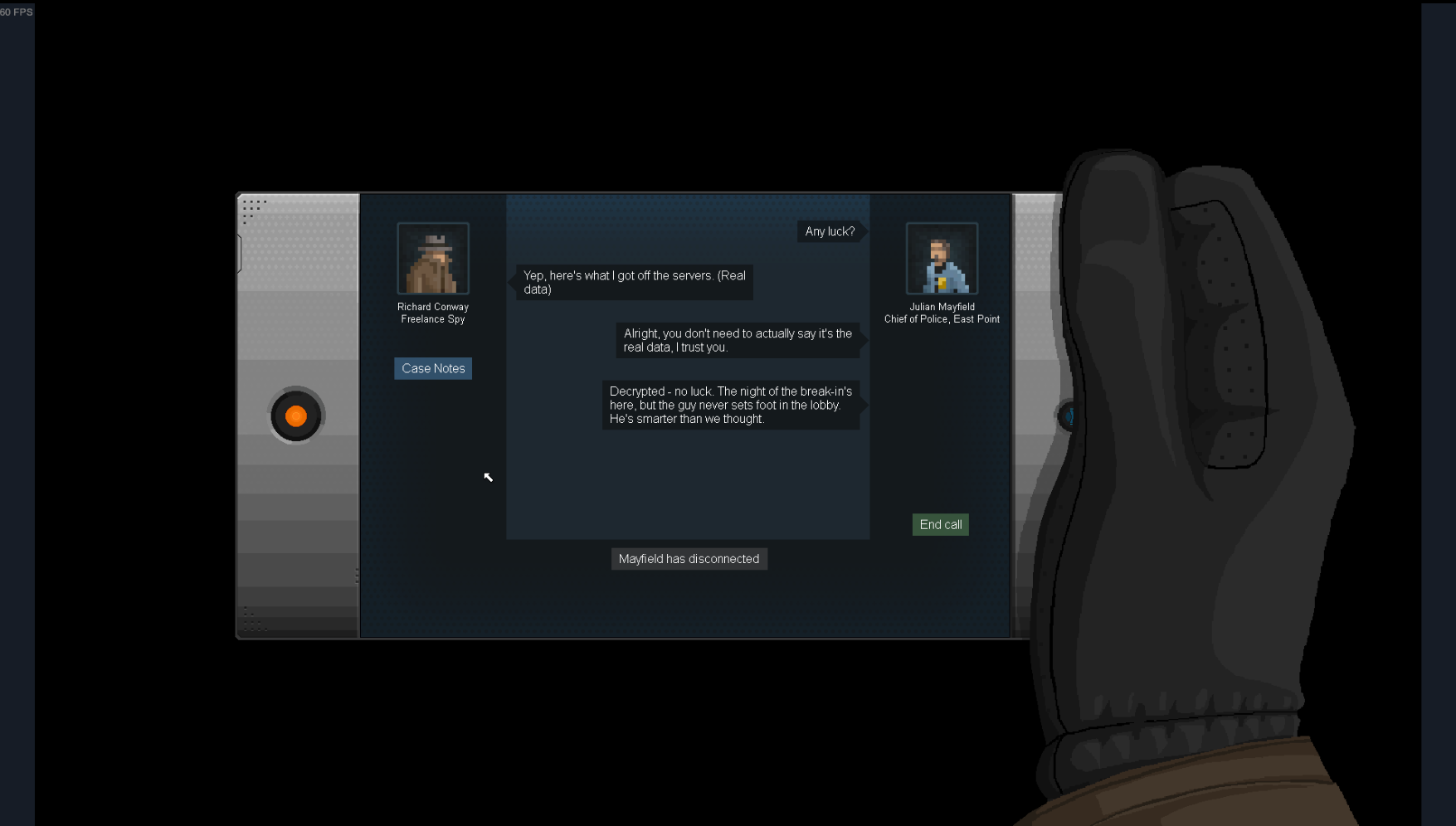 And what a story. Told through a series of text chats on your mobile phone, the writing is both engaging and witty with several twists and turns. Simple conversation trees will allow for both additional humour, and in some cases, side missions and plot movement. For example, siding exclusively with one or other of the main characters will result in different, sometimes sinister outcomes.
Interesting to note that there's a moderate amount of swearing in the game, but you can turn this off in the game's options!
Game Mechanic
There are two key mechanics in the game. The first mechanic is your Bullfrog jumps, which are controlled by the mouse. Aim, then hold for power adjustment, release to jump. Conway appears to be something of a budding spiderman and will stick to whatever surface you throw him at. He can then scale walls up or down, flip under doorways to opposing wall surfaces, or even monkey-bar across the ceiling. You can see a very short, spoiler-free video of the game's mechanics here: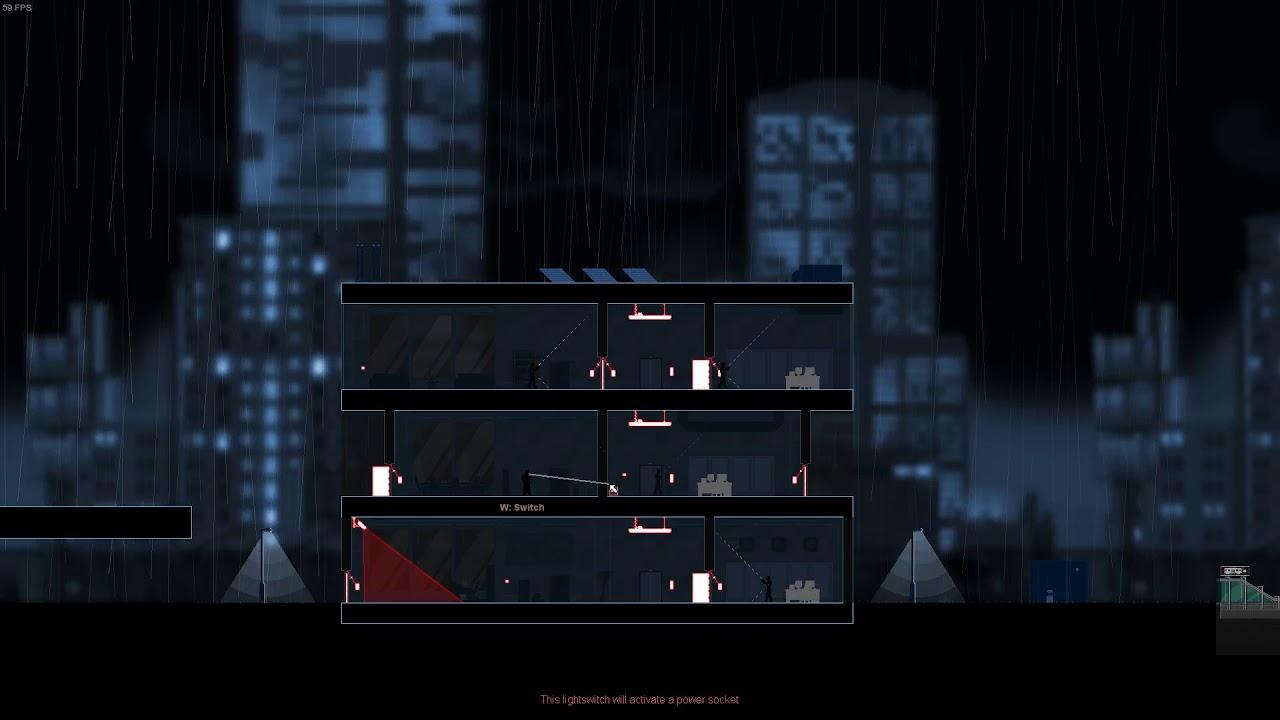 Now Gunpoint is made in Game Maker, which is reasonably famous for free-flowing action games, such as HyperLight Drifter (also available on Linux). So it's no surprise that the movement in Gunpoint is just sublime. Conway is like a literal ninja in the game and in terms of satisfaction, only true classics like Nintendo's Mario series, Mark of the Ninja, or the more recent Dead Cells will surpass this.
The second mechanic introduces a puzzle element, called the crosslink. The crosslink is accessed at any time through your mouse-wheel and allows you to rewire colour-coded electrical systems in the level, simply by dragging and dropping wires from node to node. Need to open a locked door? Drag a light switch to the door, then flip back into realtime-mode and activate the switch. It's incredibly intuitive, great fun and makes level completion possible in a huge number of different ways. You can use it to turn out lights in other rooms, putting the guards on alert. Rewire doors to traps those guards in a closet. Link motion sensors to trap doors so that one guard will drop another guard to his death. Almost endless possibilities.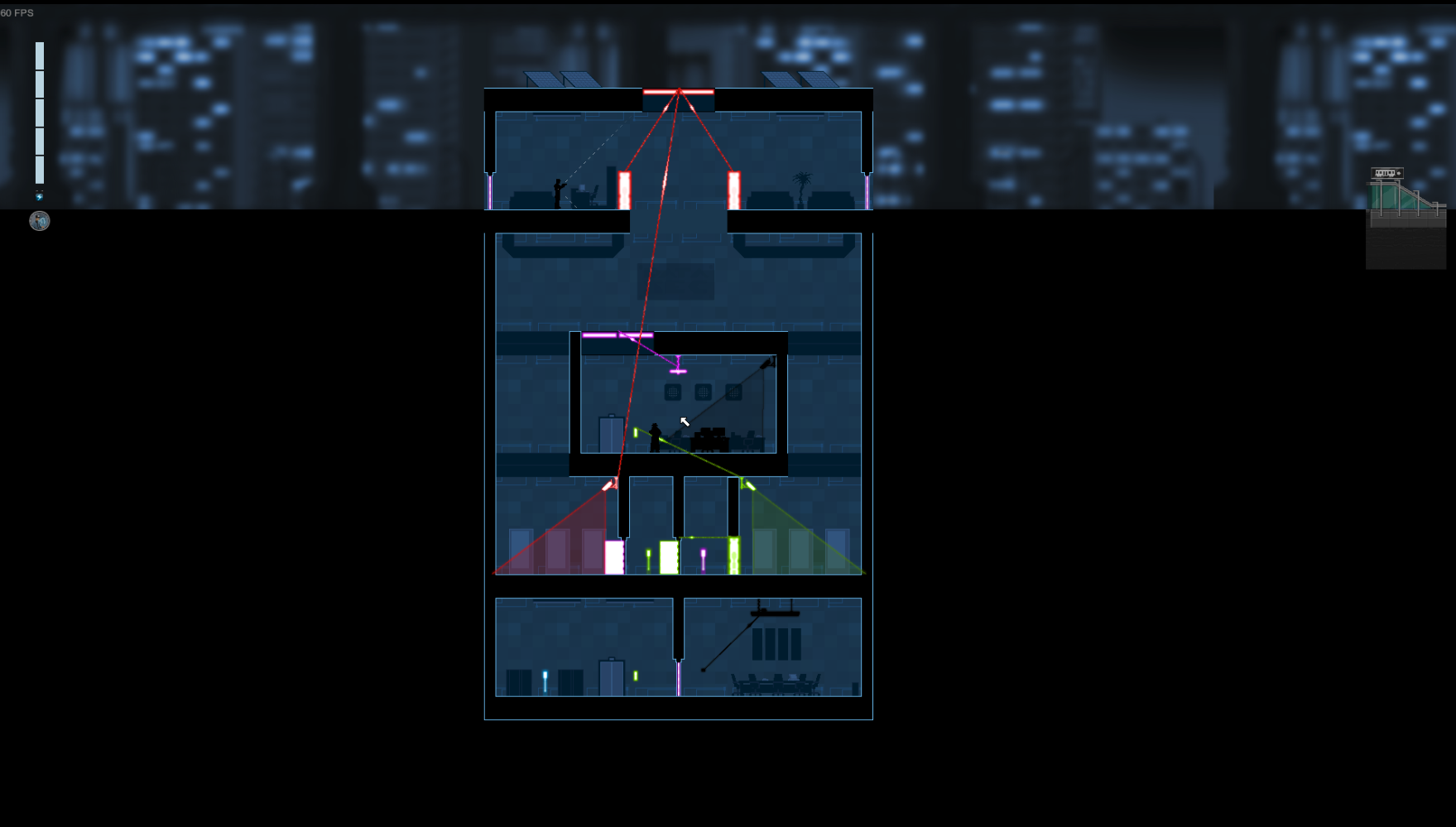 Of course, crosslinking everything on a level is incredibly powerful, so later levels introduce coloured wiring which you can't crosslink until you've uncovered that colour's corresponding wirejack. This splits the levels up into more of a progression, but even then, it's entirely feasible to skip certain wirejacks to complete levels in different ways.
Guards will react in predictable ways, allowing for a certain amount of consistency when playing. If you turn the lights out, they'll make their way to the light switch and turn it back on. Unless you've crosslinked the light switch away from the light, in which case, they'll flick the switch a few times, then ready their weapon and start patrolling.
If a guard sees you, even for a moment, you're dead. Technically, it might take more than one shot to kill you, but these guys are like WWII, Enemy At The Gate-style Russian snipers - they'll shoot you, instantly and with lethal results, even through a window as you fall from the top of a building. Their reflexes are truly astounding. This was an attempt by Francis to give the stealth mechanic real meaning, and it works.
So isn't that super-frustrating? Well, no actually, because Gunpoint has an awesome, incredible and why-isn't-this-in-every-game-ever-made autosave feature. When you die, or even just do something you instantly regret, you may choose to equally-instantly reload from 1, 3, 6 or 12 seconds previously. You can keep repeating this up to about a minute or so. Or you can fully restart the level in the unlikely, but still possible scenario that you trap yourself in a room with no exit. Been there, done that!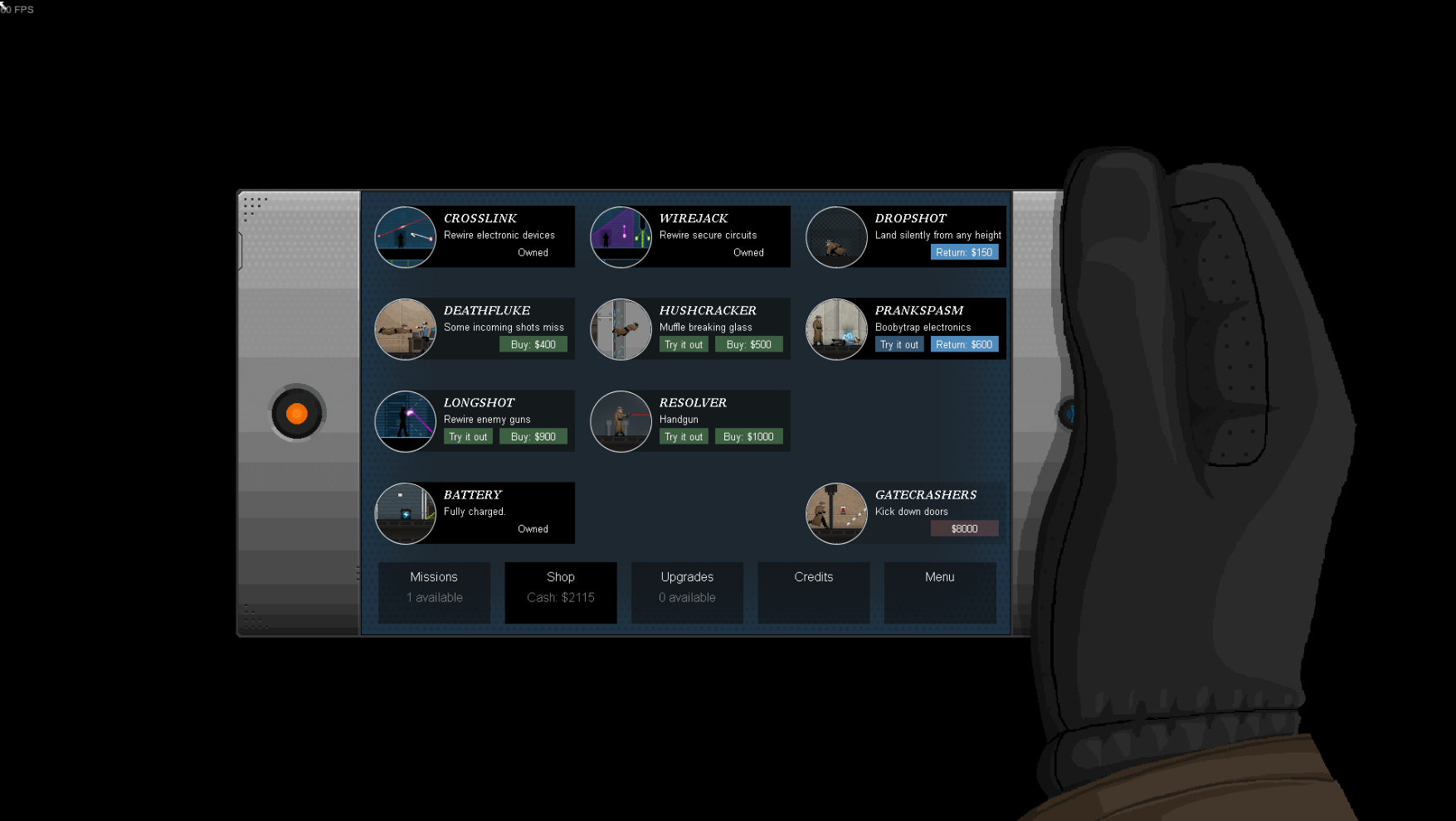 Finally, completing each mission gives you money and upgrade points. The money can be used to give Conway more capability, such as kicking down doors, or increasing his stealth. Meanwhile, upgrades allow you to jump further, or faster, or carry more batteries for activated abilities bought in the store.
Not so nice
Every other review of Gunpoint will say it, and so will I: this game is short. The first time you play through, you might take around three or four hours, perhaps five at a push. However, knowing the game mechanic well in my second play through, I battered through the main story in just under two hours. There are around 30 missions in total.
As I alluded in the opening paragraph though, this is quality, not quantity. The writing is superb, the gameplay mechanics are satisfying and the level design is varied enough to keep your interest right through to the end, leaving you desperate for more.
And more there is. The community around Gunpoint has created hundreds of workshop levels to experiment with. Sadly, I haven't found any with plot, but in terms of extending the game's life, these levels can be a lot of fun as stand alone challenges.
I'll end this section with some (in my opinion) devastating news: despite Gunpoint being available on Linux, his awesome second game, Heat Signature, is not. Now HeatSig isn't actually a follow up, but I'm pretty certain that once you play Gunpoint, you'll all be Tom Francis fans and will want some of that sweet procedurally generated spaceship action. But no - Heat Signature uses an advanced version of Gamemaker, and while Francis noted that if it exports cleanly, he'd consider launching on Linux, the Windows version launched a year ago and so I think we can assume that it won't be coming. Morphblade is also Windows-only, but at least we can play the free Floating Point [Steam] game he released in 2014.
Summary
Everything about Gunpoint is polished and exudes excellence. It has a great plot, humorous writing, fantastic movement, and engaging puzzles. The autosave encourages experimentation and ends frustration, it features atmospheric music and will leave you desperately wanting more. But more simply, it's just great fun. In short, play it now.
Gunpoint is available on Steam and Humble. Usually £6.99, it's 50% off in the Steam sale until July 5th.
It also has a demo available on Steam and Humble - be sure to check it out for a taste of the gamplay!
Some you may have missed, popular articles from the last month: