Welcome to the another review in the PIN (Play It NOW) series. Conscious that all previous PINs have been action games, this time I'm covering Invisible Inc from Canadian studio Klei Entertainment, a superb stealth/strategy hybrid in the mould of XCOM.
History
First up, fun fact! Did you know that "Klei" rhymes with "play"? I didn't and had been rhyming them with "sky" all this time until a random google search set me on the straight and narrow.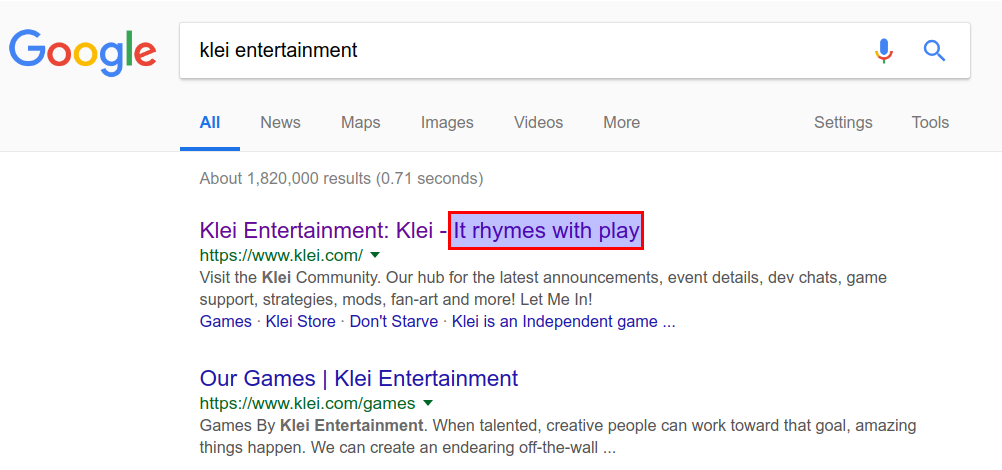 Klei have been around since 2005 and have produced some great titles, such as Eets Munchies [Steam] and the Shank games [Steam: 1, 2]. But they are probably best known for the masterpiece Mark of the Ninja [Steam, GOG]. More recently, they met with critical acclaim for Don't Starve [Steam, GOG] and of course their latest offering, still under development, Oxygen Not Included [Steam].
Klei have been very good to us penguins over the years. Only two of their games are unavailable for Linux, namely their beta FPS platformer, Hot Lava [Steam], and their yet to be launched new IP, Griftlands [Steam]. There's no news on the latter yet, but just last month the developers updated us on Hot Lava, claiming that while there were no dates yet, the Linux builds were being worked on.
As for Invisible Inc itself, it was released in May of 2015 and met with critical success, but only limited commercial success. Still, Klei attribute a lot of that critical acclaim to their Early Access model. When Eurogamer interviewed Invisible's lead designer, James Lantx, he noted that the original concept was very, very different from what was eventually delivered. He praised the EA model for helping to mould a game that he was pleased to release as Invisible Inc.
Plot
You're the unseen "Operator" for a futuristic international spy ring dubbed "Invisible". During what should have been a routine operation involving two of your best agents, your headquarters is attacked by unknown assailants and only your boss "Central" escapes with you. Central and you, along with the two agents who were on mission at the time, regroup in the organisation's stealth jet and the game begins. Central was also able to retrieve the organisation's artificial intelligence, Incognita, before escaping. This was crucial, as Incognita is the very crux of Invisible's ability to beam into a mission situation without alerting the guards. She'll also pack some important hacking skills during missions which will help you take control of cameras, open safes, or even override sentry guns or bots.
The game is driven by the fact that Incognita is required to enact any given mission, but because she's outside of her mainframe, she only has around 72 hours of battery before she expires. You'll fly the stealth jet from mission to mission, looking for clues as to who attacked you, and hopefully find a solution to Incognita's dilemma while you're at it.
Game Mechanic
This is a turn-based squad-based stealth game. Some of the mechanics are reminiscent of XCOM, but there's precisely zero, nil, no RNG (random number generation) at all. In fact, there's no such thing as "health" really. Either you can take an enemy down with your attack, or he's too armoured and you can't. Similarly, if an enemy sees you during a turn and another agent can't block his line of sight, or take him down before that turns ends, your agent is toast. One hit, one kill, both ways. As a point of note, early versions of the game in Early Access did have both hit points and RNG, but it was later designed out of the game to give it a more tactical feel.
This creates a fantastic tension to the game. Technically, guard routes are random, but even there, you have options to predict those routes (at the cost of 1 action point), so that your planning and strategy plays out exactly as you'd expect. Realistically, the only luck in the game is on the harder modes where guard patrols cross rooms and you might face a guard opening a door and walking in on your meticulously planned take down of the guard already in that room! Even there, though, the doors are well marked and you should be covering that possibility with an agent, or careful movement.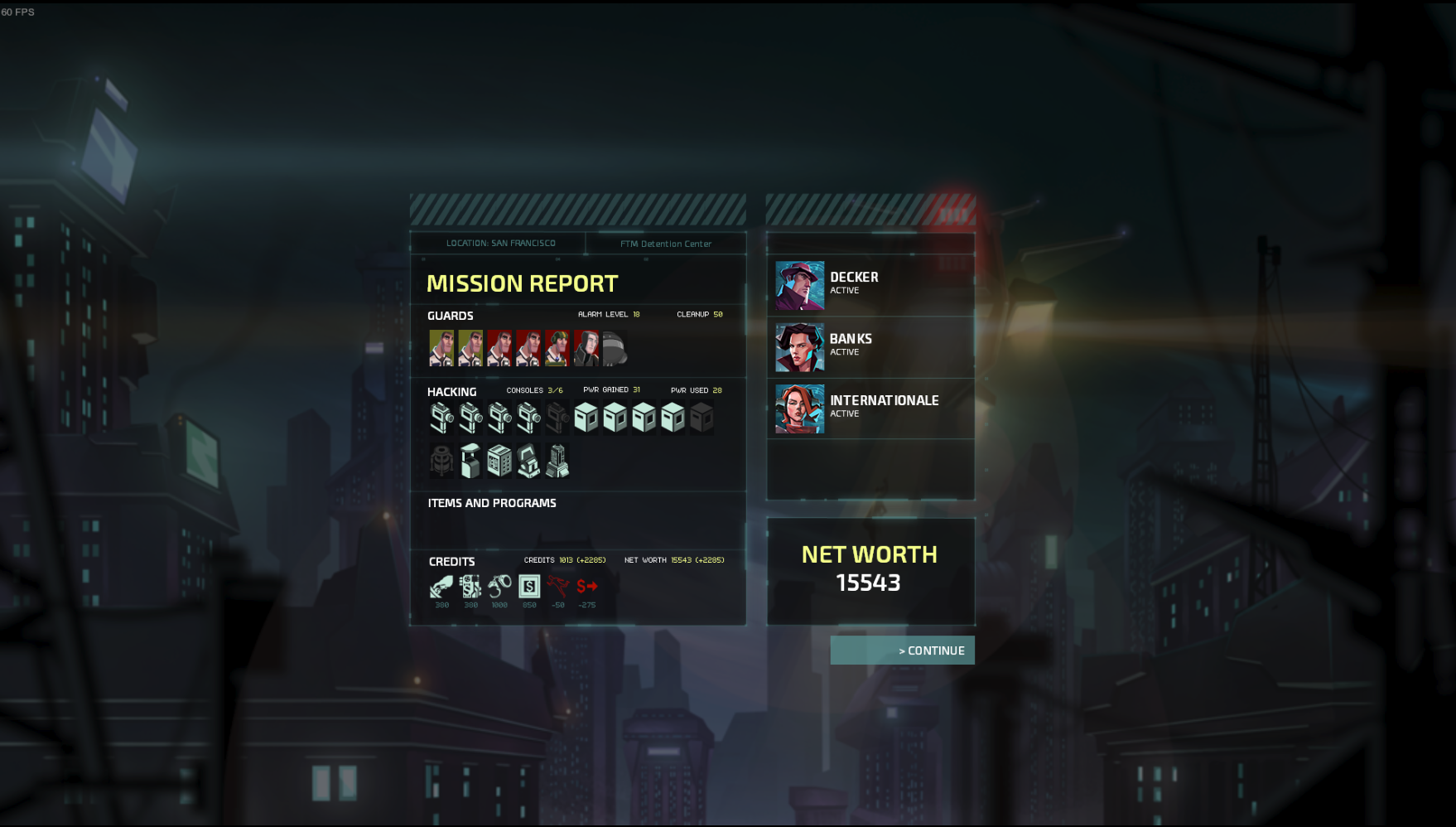 If you do overlook a potential threat, you can rewind your last turn and try a different approach, or even retry the whole (randomly generated) level if required. Rewinds are limited to five in the "normal" mode, but you only get three at the "experienced" difficulty and level retries are also disabled on that harder game mode. I haven't tried any of the game difficulties above that - Invisible Inc doesn't pull any punches in terms of difficulty. You might initially struggle, even at "normal" difficulty until you learn to appreciate how awesome your agents really are and start to push their capabilities, exploiting all the tactical advantages at your disposal.
As usual, I made a video, tackling the initial mission to demonstrate some of the mechanics. I get a bit mixed up between the agent called Internationale and your AI, Incognita at times - apologies!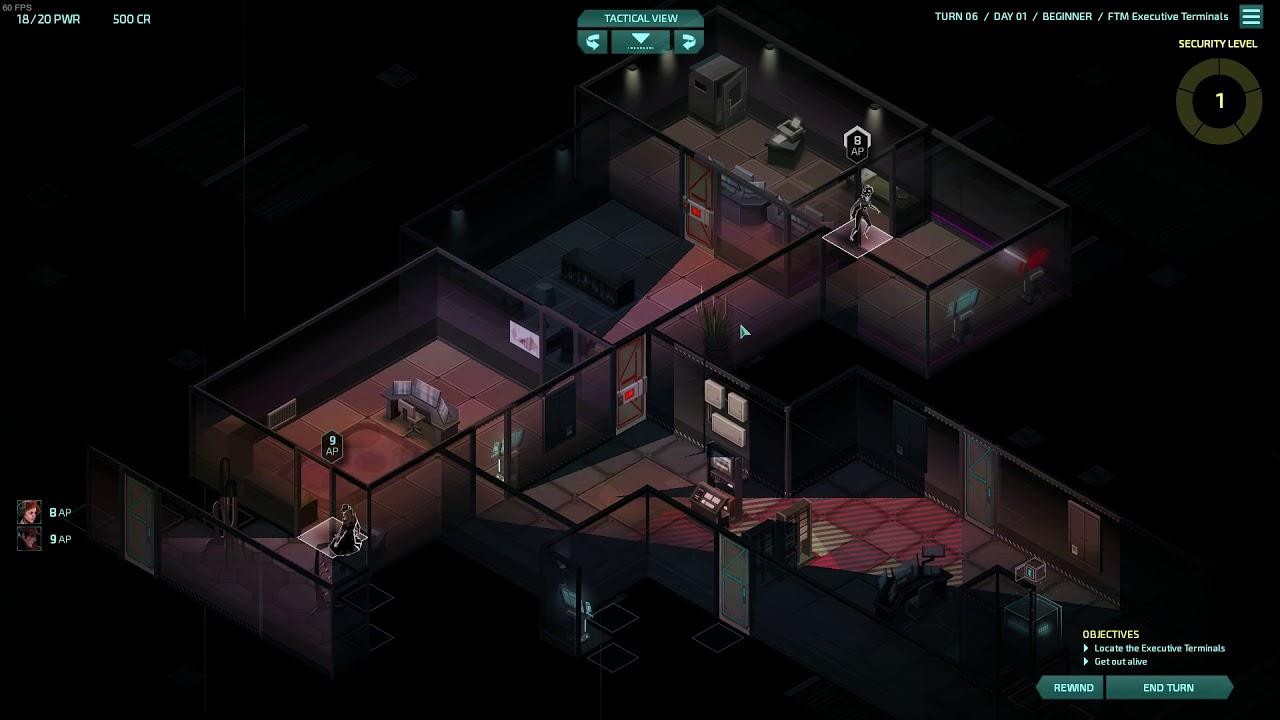 Every agent has four attributes which you can power up with enough money. Speed affects movement, hacking affects how much PWR you retrieve from consoles which Incognita can use in cyberspace, strength affects carry space, drag speed and eventually KO damage and finally anarchy affects how much money you steal from guards and unlocks certain powerful tools later in the game. But those tools rarely come cheap and you'll likely constantly struggle with the balance of agent upgrades vs keeping money in reserve to buy better equipment.
You can also augment your agents with new abilities which can be bought or found on certain levels. Most agents start with one augment and can fit one more. You have to be careful about what augment you apply as these are permanent and can't be swapped later. One agent, called Sharp, starts with no less than six augment slots available. Needless to say, he can become something of a powerhouse in later levels, if you're lucky enough to unlock him in one of the detention centre missions!
Each agent starts the round with 11 action points and you spend these in movement and attacks. The game is very forgiving beyond these two actions though and you can freely interact with objects, opening/closing doors and picking up or dropping corpses as often as you want.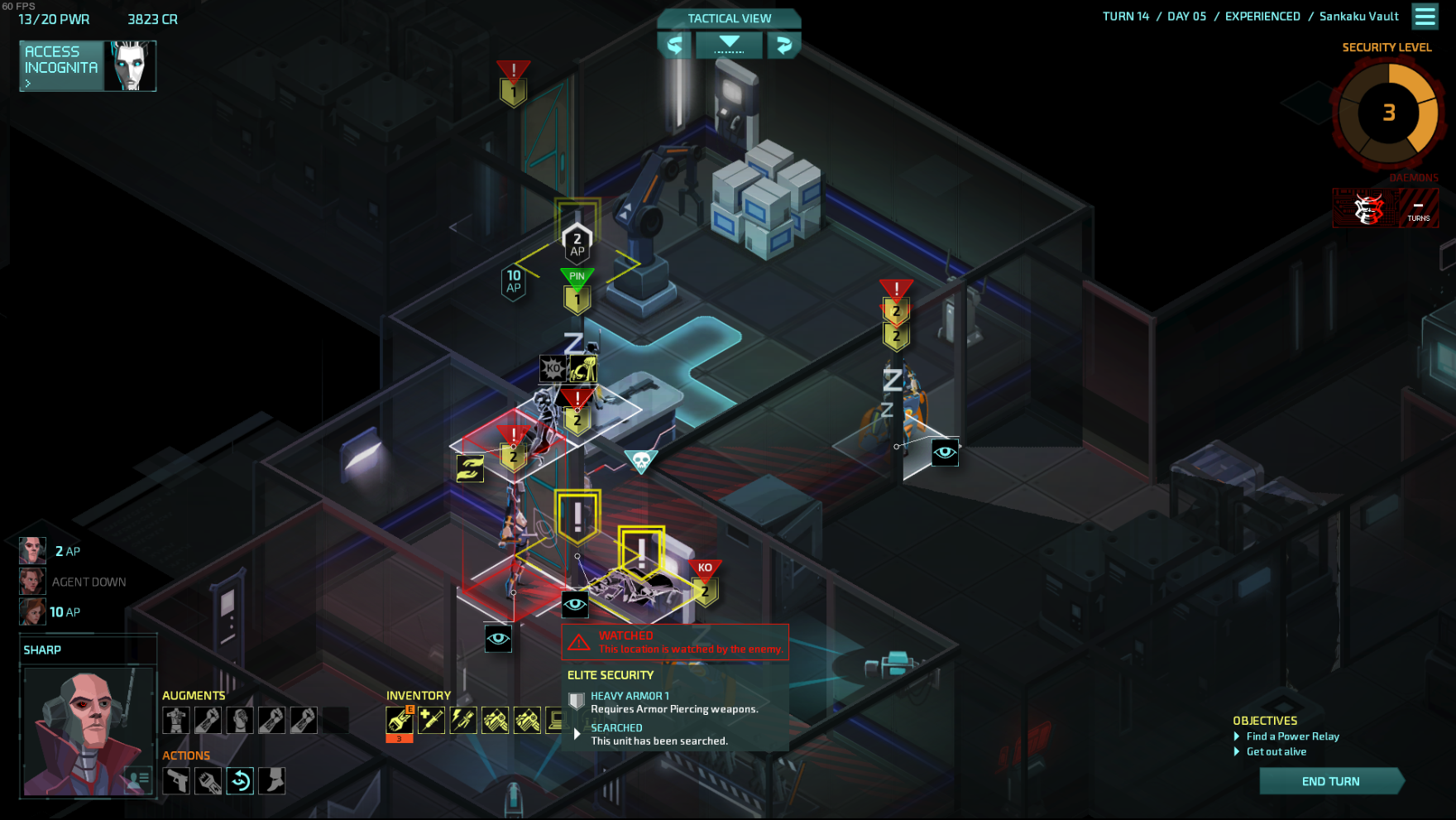 One additional, huge, key difference to XCOM is how your agents' rounds play out. In Invisible Inc, you can switch between agents at any point in an agent's round freely. There's no concept of an agent's round being "spent" except when their action points run out. This creates excellent tactical options. You can move one agent to a door, peek through it (at the cost of an action point), and see a guard and a camera. Interrupt the turn to use cyberspace to take control of the camera, back to the first agent to open the door, then use a second agent to move into the room and take down the guard. A third agent might step in and move the body, then the first agent, still at the door with some remaining points, might also move into the room one pace, close the door behind him/her, then take a cover position in the room and activate overwatch. It makes for very flexible turns, maximising strategic changes as new information becomes available.
Not so nice
In terms of core gameplay, there's honestly not much to complain about. Everything that follows is a bit of a quibble. In fact, I wholly endorse you skipping this section and going straight to the Summary. You won't regret it!
Okay, okay. So, the map can occasionally become quite cluttered. But you have the option of holding down the ALT key to see a tactical overlay that helps clear things up. It's a shame the isometric view necessitates this, but even with the limited zoom in/out AND the ability to rotate the map by 90° segments, you'll still need some clarification on the map and the tactical view does help here.
I'm not a huge fan of the mechanic of forcing you to buy nearly all your equipment via Nanofabricators whilst in-mission. Later missions are fraught enough without having to plan these trips into your agent's agenda, but it's an absolute necessity. While you start with two agents, you can end up with as many as four, if you plan your missions accordingly, and it's incredibly frustrating to not have any equipment for them, reducing them to spotters for your more ably equipped agents.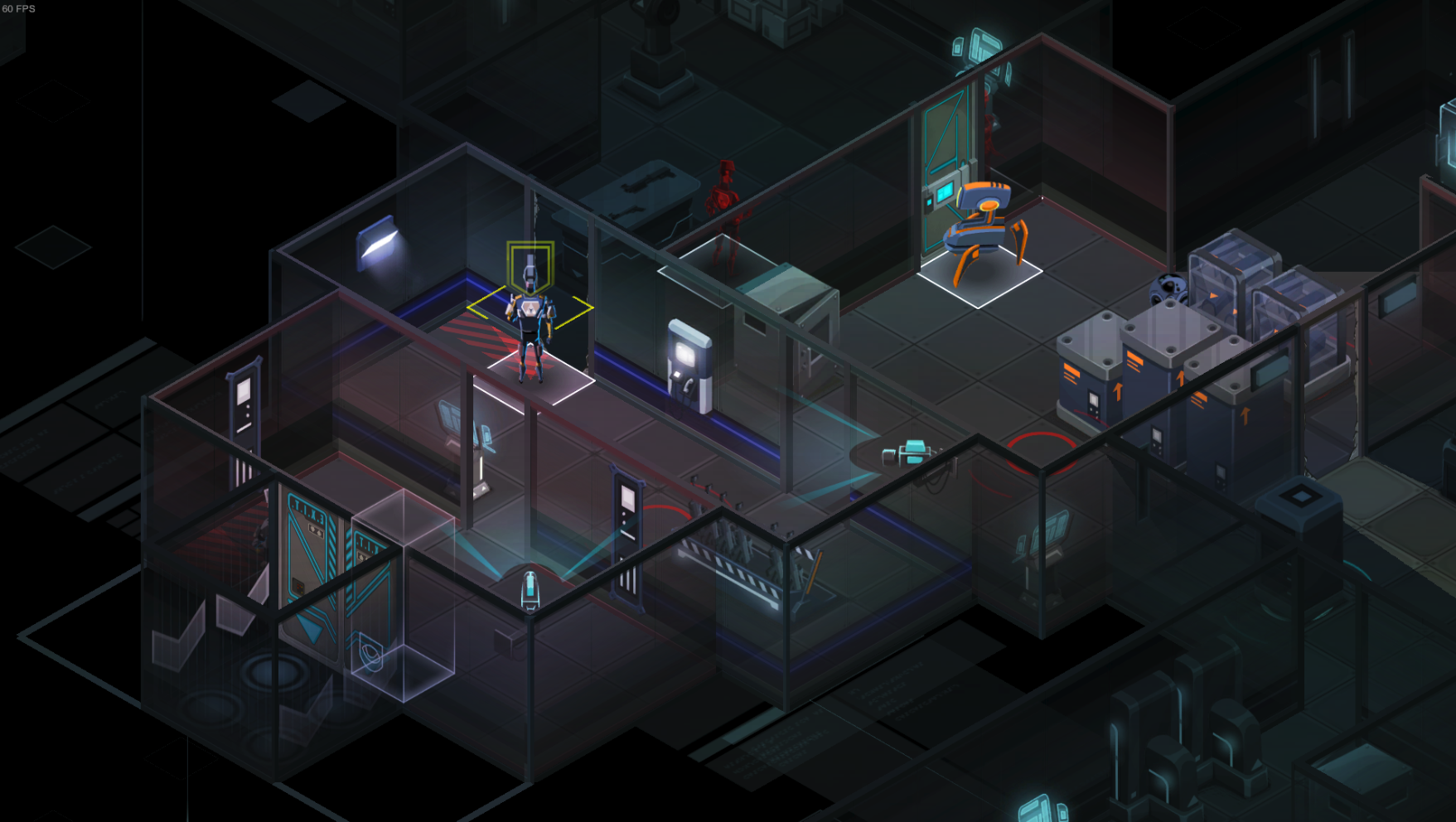 As a side note, I once made a horrible mistake when I unlocked an agent called Decker who starts the game with a cloaking device (the one that I rave about in the video). I subsequently marched him into a guarded room only to discover that unlocked agents don't recover any of their starting gear when they're unlocked. This obviously makes a lot of sense, given that you literally "unlock" these agents from detention centres, but it really tripped me up on that occasion!
Finally, the countdown mechanic feels a bit overplayed and artificial. Overplayed because regardless of how you work the missions, you'll get to choose around seven or eight before the story moves on in any significant way and artificial because even if your plane is in the UK and you choose a mission in France, the timer will still inexplicably drop at least five hours instead of just two at the most.
But as I say, these are minor quibbles. It's a tense, challenging game and all the better for it.
Summary
In short, you start with an engaging story which plays out through excellent voice acting and one of the most solid turn-based mechanics I've ever come across. Then throw in some character progression, a huge variety of equipment and augments and then combine with great audio and stylish graphics to enhance the tension and atmosphere. Finish up with Klei's usual polish and quality and it's clear that this is an absolute gem, not to be missed.
I replayed the entire game twice more to make this review and loved every minute of it. In fact, in terms of my hours played, it's almost identical to Flamebreak, just outside the top twenty in my Steam library of most-played games of all time (and as a thirteen year Steam veteran, that's a lot of hours)!
You can pick up this awesome slice of gaming goodness on Steam, GOG or Humble.
Some you may have missed, popular articles from the last month: