I have to admit, the game manager Lutris [Official Site] has come along quite a bit since I last used it. Today, version 0.4.20 was made available.
For those not aware of it, Lutris is an application that aims to give you a single place to manage all your games on Linux. It supports native games, Wine, various emulators and so on. The application itself is available under the GPL and the helper scripts to install games can be viewed before using them so it's quite nice.
Here's what's new in Lutris 0.4.20:
Fix detection of winetricks path
Improve visual feedback on wine download dialog
Add skill and command-line arguments for Zdoom
Add option to disable joypad auto-configuration
Restore refresh rate on monitor reset
Truthfully, I've not always had a great experience with Lutris. The interface needs a lot of work to make it more friendly, but once you tame it there's a lot of possibilities. Keen to see what it had to offer, Humble Bundle recently sent over a copy of the latest Humble Monthly which includes Overwatch. Since I wanted to finally see what all the fuss is about (and have a good test-case for DXVK), I decided to use Lutris.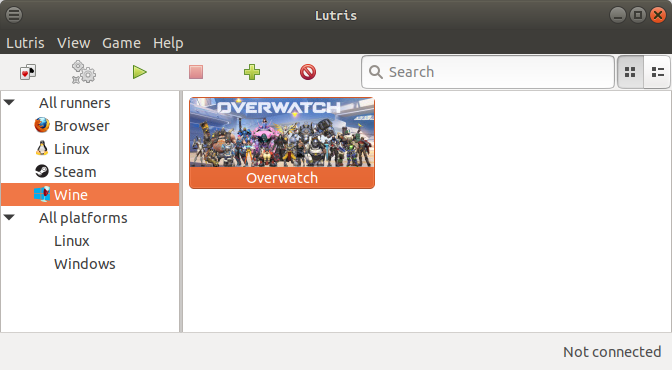 Thanks to Lutris having scripts to do basically everything for me (like this), after little fuss I had Overwatch installed and running with Wine plus DXVK setup for me.
I did come across an issue with Battle.net, with the install button on Overwatch doing nothing which was fixed by removing the "C:\ProgramData\Battle.net" folder inside the location where it installed Overwatch and then restarting it.
There was also a strange issue with keyboard input not working, as the game liked to start in a small window so I had to put it into fullscreen, doing that somehow messed with keyboard input. This can also be easily solved by adding your screen resolution into the Overwatch config file found here:
/installed folder/drive_c/users/username/My Documents/Overwatch/Settings/Settings_v0.ini
Look for the "Render.13" header and simply add in:
WindowedHeight = "1080"
WindowedWidth = "1920"
Obviously adjusting for your own resolution.
The initial first 30 minutes or so had a huge amount of stutter (you can probably overcome this doing training or something), but once a cache has been built up Overwatch has run really quite smoothly just like any other native game. Very impressed with Lutris together with Wine and DXVK.
Some you may have missed, popular articles from the last month: