The game was released last month, on the 15th August and I'd have written this review sooner were it not for the scene-stealing announcement from Valve regarding Steam Play just a few days after release! But put down those old Windows games for a moment. Honestly, State of Mind is well worth a look.
Disclosure: Copy personally purchased.
The setting is stunning. You'll transition frequently between a futuristic, dystopian Berlin and a virtual landscape called City 5. It's all very reminiscent of Deus Ex or Blade Runner and indeed, some of the plot revolves around the idea of what makes us human. In fact, this is a fairly grand game in terms of plot and you'll recognise a number of tropes throughout: artificial intelligence achieving singularity, the definition of humanity, cyber-augmentation, state surveillance, oppression and rebellion. It's a testament to the writing, visuals and voice acting that it's all presented reasonably realistically.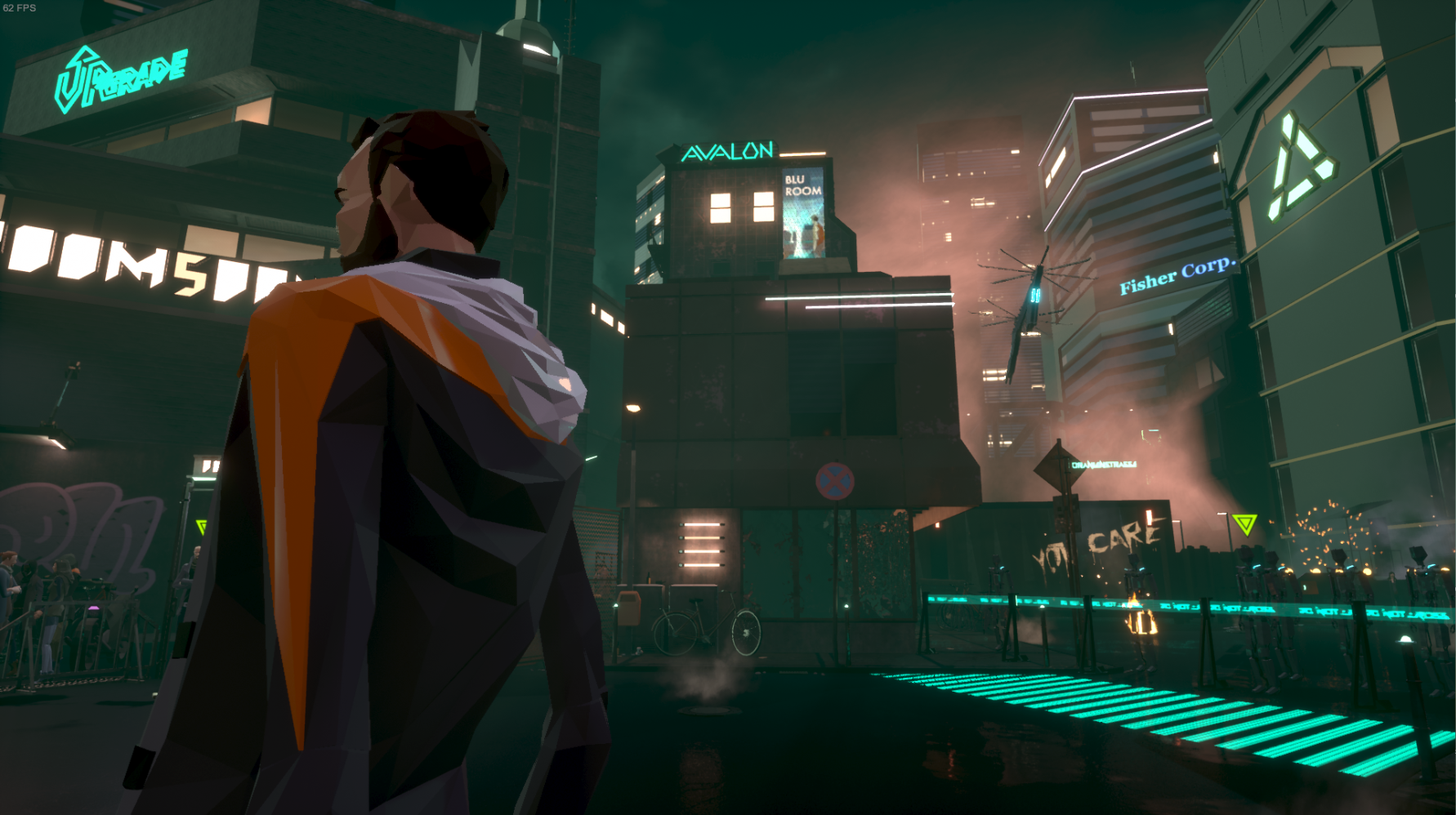 And that voice acting! Nolan is portrayed by Doug Cockle, more famous for his rendition of Geralt of Rivia from the Witcher series. That said, you might recognise Doug as Victor Vran instead, or perhaps as one of the many uncredited voices on Horizon Zero Dawn. Nolan's mistress, Lydia, is portrayed by another voice acting stalwart, Alexa Kahn, having previously worked on a huge number of TV and Video Games titles, including Horizon Zero Dawn again, The Division, Wasteland 2 and Secret of Mana. Nolan's wife Tracy is voiced by Laila Pyne notable for her work on, yep, Horizon Zero Dawn and many others, including Xenoblade Chronicles 2, Mirror's Edge: Catalyst and Star Wars: Battlefront. Finally, Nolan's android Simon is voiced by Akie Kotabe, who has cropped up on various games such as Need for Speed: Payback, Homefront: The Revolution and (surprise!) Horizon Zero Dawn. I'm beginning to suspect that the "Video Game Voice Acting" industry is pretty compact!
You'll switch between various characters throughout the story, but most of the plot revolves principally around the character of Richard Nolan. Nolan is a journalist working for a large media outlet called The Voice and he is one of the few remaining critics of the use of androids in daily life. The plot is driven by Nolan waking up from a car accident and arriving home to find his wife and young son missing. They were having problems as a family, but Nolan quickly realises that there's more to it than a marital crisis.
Gameplay
State of Mind is an over-the-shoulder third person adventure. You have free movement around the environment, and there's a basic but intuitive interface for interacting with objects and people. Branching conversations move the dialogue along while still allowing you stamp some of your own personality on each character's experience. Some of these are pretty trivial, while others have clear consequences and will affect how later elements of the story play out.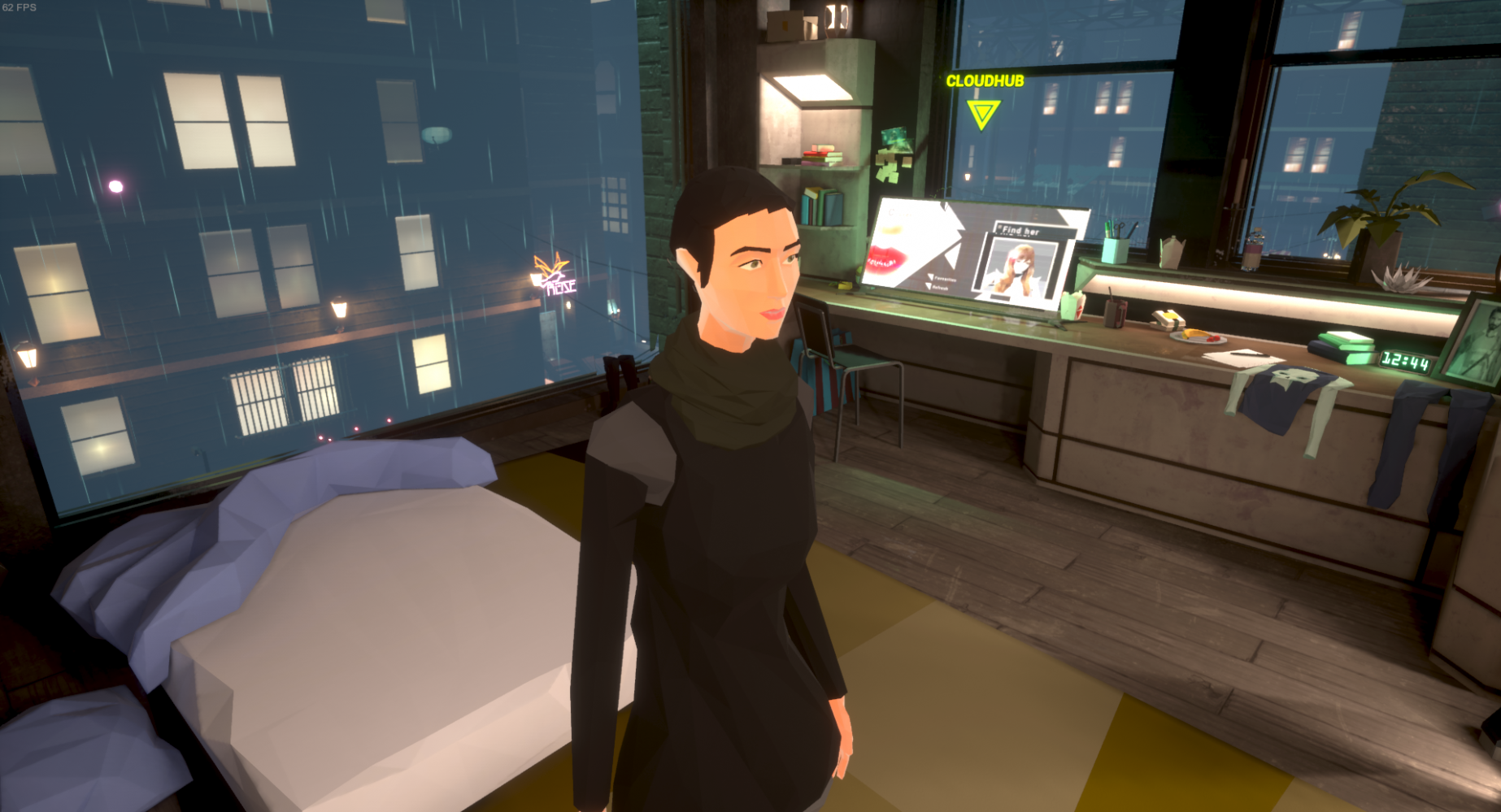 Similarly, some of the interactions are insanely trivial but still completely awesome. For example, you can use a wall panel in your home to activate holographics in your son's bedroom, alter the lighting, or change the mood sounds to help him sleep. Fancy some fish swimming around the room in low light to the sound of rainfall? It's all there, and it's all almost completely irrelevant to the story. There's a similar piece in City 5, where you use various terminals around a balloon launch to create musical notes, holograms and lighting effects which then triggers in a grand finale when the launch occurs. It's the many, many touches like this that help establish the environment and make it all feel so real.
There are various puzzle elements along the way, but (with one exception, see below) nothing too strenuous. The most common and sadly the most frustrating is when you have to piece together a virtual scene in order to progress the plot. The scene is built like a Google Photosphere and you're challenged to fit the scene together like a jigsaw, by cycling through multiple scene options for each segment. It's a fine concept, but rarely clear which scene you're trying to build. Nolan's occasional grunts of "uh huh", or "that's better", or "not quite right" are also delayed just enough to confuse, rather than help. It is, however, still pretty cool when you nail it.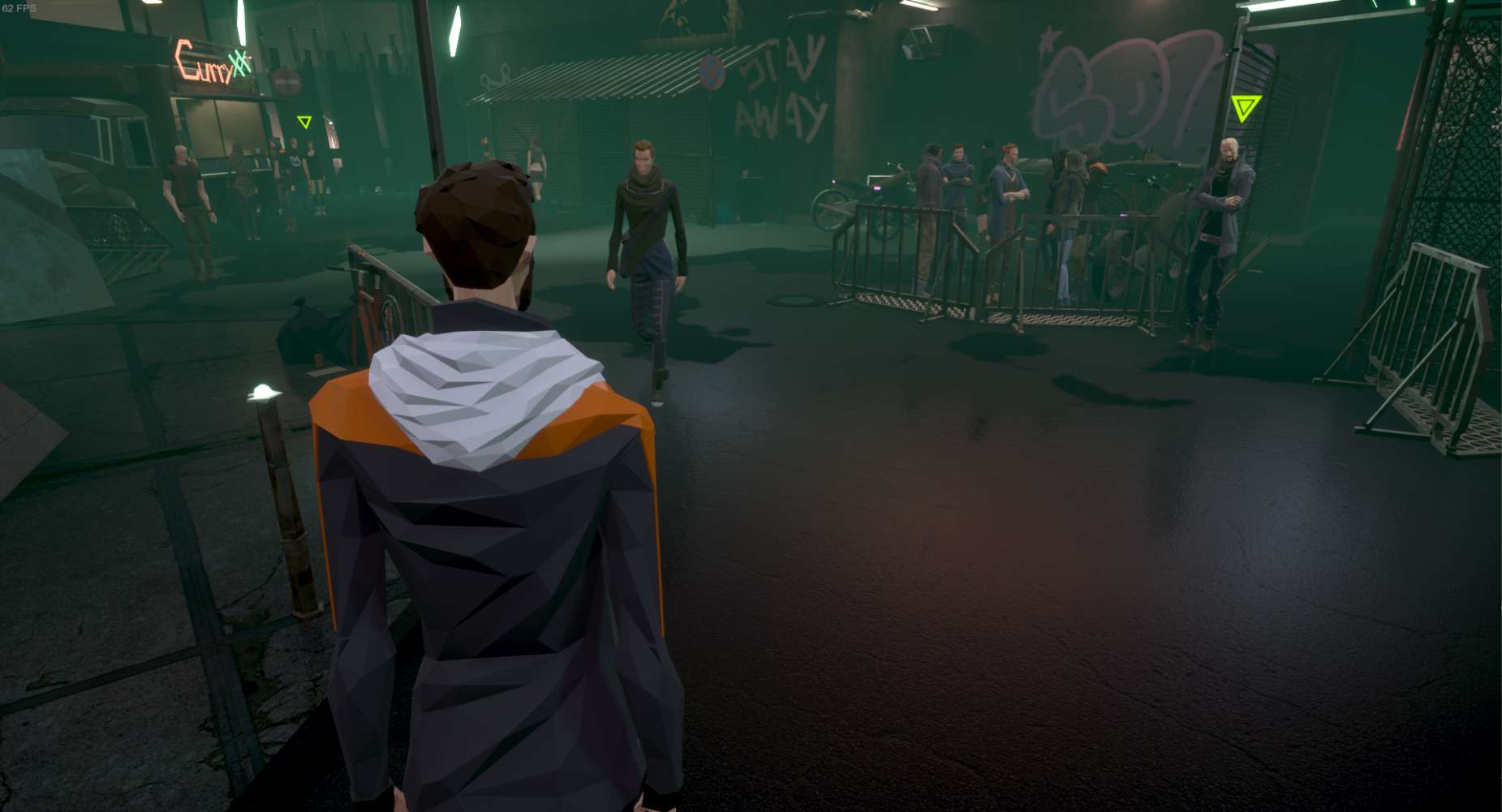 A more satisfying puzzle is based on the fact that you're a journalist. Snippets of information and photos are presented on a desk, and your job is to find three from the pile which best represent what you need to progress the story. It really draws you into the character when you're given role-based tasks like this.
Not so good
Object interactions can occasionally be a little frustrating. Sometimes you'll see the interaction menu pop up and you turn towards it to get it into view and it just vanishes. Then you'll spend anywhere between 2 and 10 seconds backing up and turning around and pointing towards the object to make the interaction menu appear. It doesn't happen often, but it's far from elegant when it does.
One of the puzzles was, to me, just utterly baffling. It has you spinning a train carriage around a circular landing by pressing two unlabelled buttons in two separate locations (you control two characters, seamlessly switching between them in order to coordinate their presses). However, I had literally not a clue what was expected and after three or four minutes of pressing buttons and watching the train spin, I was surprised but relieved when I found that I'd solved it. All the other puzzles in the game are reasonably clear on how you accomplish them, so this train spinning nightmare is a bit of a curve ball.
Personally, I found the pacing to be a little slow. You'll complete State of Mind in around 10 hours give or take an hour or so, but some of that journey is padded with what feels like unnecessary dialogue, such as when Steve takes you to a coffee shop to rag you out over how you treated his wife (in hindsight, I was pretty harsh with her). On the other hand, Daedalic built an entire coffee shop into the game, and invented 5 minutes of dialogue just on the off chance you were snippy with Steve's wife. The attention to detail here is pretty admirable!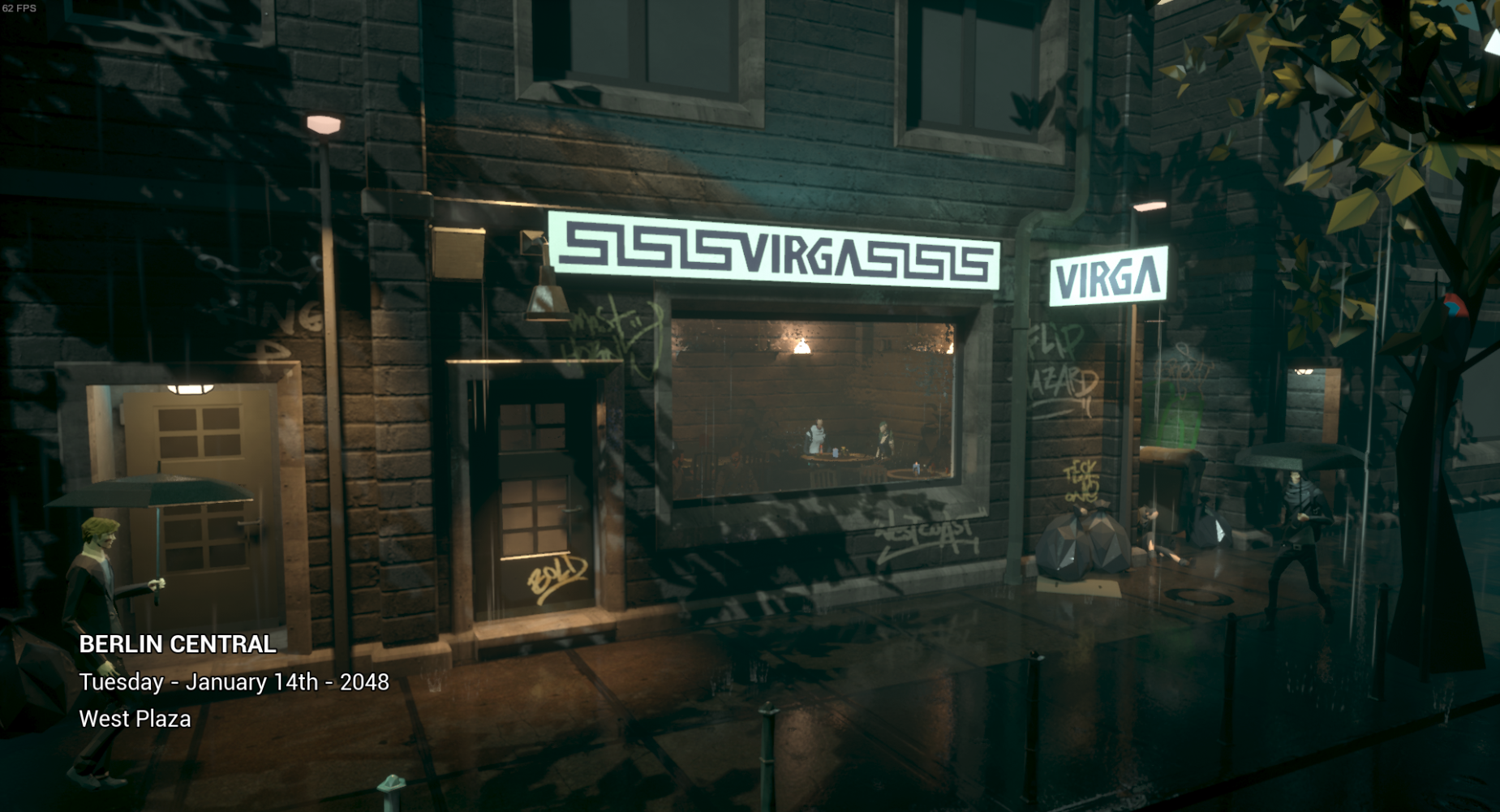 My only other gripe is minor - when I finish a game, I like to watch the credits rolling. Weird, I know, but I like to know who was behind the game, who contributed and so on. It's soothing. So when I sat through State of Mind's credit sequence I was initially pleased to see them also credit the open source projects they used in the game. Great, right? Except, instead of just listing them and maybe thanking their creators and contributors, State of Mind listed the full terms of each licence, in full - SDL, zLib, LibPNG, Ogg Vorbis, OpenEXR, and many, many more. It's bizarre. As a result, the credits run to around 40 minutes! It's even more outlandish when you consider that there's a menu option that you can use to review the terms at any point of your choosing, so listing them in the credits themselves feels pretty redundant.
Summary
So, as with many Daedalic titles, State of Mind is more about the story and less about the gameplay. Provided you bear that in mind, I think you're in for a treat. Despite the sometimes slow pacing and the sometimes difficult to follow plot, I really enjoyed playing State of Mind. There's not much room for replay, sadly, unless you're a completionist, and that pacing really does rob the game of the cinematic presence it truly deserves. But the polish, attention to detail, voice acting and visuals are all of the very highest quality and I would definitely recommend giving this a shot.
Some you may have missed, popular articles from the last month: