It occurred to me today, that no one here at GOL seems to have ever written about the free and open source turn-based survival game Cataclysm - Dark Days Ahead.
Okay, so what is it? A classic roguelike with a survival theme, set in a post-apocalyptic procedurally generated world.
Just recently, the developers put out the "Danny" update and it's pretty huge:
The Danny release is characterized by MORE. More UI polish, more features, more content, more long-asked-for changes. It's the longest-lived and largest in every way release we've ever done, and we hope to never do it again. Future releases are planned for roughly 6-month intervals. This release is made up of 37,604 commits authored by over 700 contributors, and it roughly doubled the number of everything in the game, items, monsters, map buildings, you name it, we doubled it.
Some notable features included in this release are pixel minimap for the graphical tile mode; NPC dialogue support; dynamic lighting; around "double" the in-game content; translations for Chinese, German, Japanese, Polish and Russian; a player faction base, which allows incremental growth and autonomous work by NPCs; an overhaul of the vehicle system; tons of quality of life improvements like auto-pickup and so on.
What I really love about Cataclysm - Dark Days Ahead is how customisable the style is, as it comes with quite a few different visual styles like these: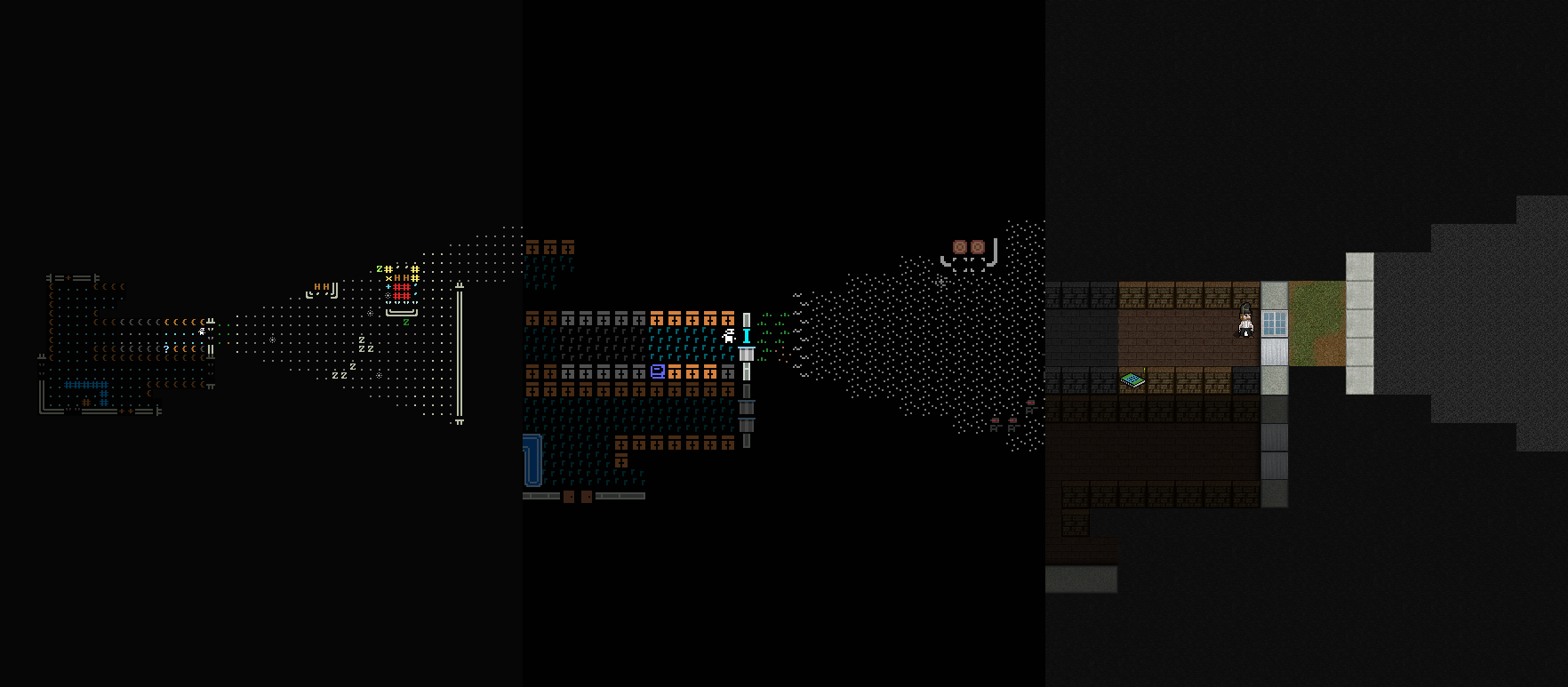 There's around 16 different styles that come with it, likely more can be found elsewhere I've no doubt. Thanks to this, it should suit plenty of gamers from those who want a truly retro experience to something slightly more modern. I've found myself just switching through them at random, as they all give the world a very different feel.
I often find these classic experiences too difficult and uninviting to get into, luckily though Cataclysm - Dark Days Ahead does have an actual tutorial to run you through some basics and it was actually a reasonably good overview too. One niggle is that the tutorial assumes you're using the classic ASCII mode but it's easy enough to understand if you're using graphical tiles too.
I love how many completely different stories these games can give you, especially if you decide to customize your character. However, for those who just want to jump in and have a completely random experience you can do that too. I've had some really fun times with it already from starting a game with a bite mark that's turning green with loads of Zombies outside, to starting in the middle of winter in a tiny cabin, with nothing but a tin of peaches.
You can find it on GitHub or the official site, it's available under the Creative Commons Attribution ShareAlike 3.0 license.
I'm now following it along, so I hope to cover it more often as it's a very interesting experience.
Some you may have missed, popular articles from the last month: