Robo Instructus from Big AB Games, which is mainly a solo-operation, is a puzzle game where you need to guide a robot using a simple programming language.
Is it odd to think programming can be relaxing? If so, I guess I'm pretty strange in that way. Even if you don't know any programming, Robo Instructus walks you through things quite easily and getting started with it is pretty quick.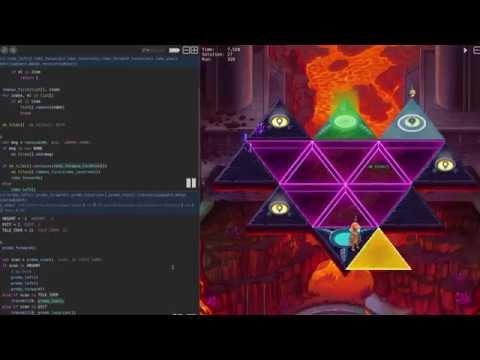 As you might expect, it starts off incredibly and deceptively simple. Later levels start getting complicated but it never really feels overwhelming. Thanks to this, it could be a nice game to introduce someone to programming, to help them get a feel for it.
Solo developer Alex Butler said: "Each puzzle in Robo Instructus asks you to not only get your robot somewhere, but to properly articulate every step in how it gets there. Succeed and you can embrace a sort of narrative archaeology as you uncover the game's secrets. He added: "I've been developing Robo Instructus for two years, the last three months in a beta phase where the game has been polished and improved thanks to the feedback of around 3,000 beta players. So now I'm very excited to see Robo Instructus releasing, and I look forward to the game finding its audience out in the PC gaming wilds."
As you progress through the game, it unlocks more functions for you to use. The setup is interesting and it does make you sit and think things through, rushing isn't really an option. Why? Well, levels come in multiple floors, with your written code being run again on each floor so you need to write code that can finish all the floors in a level in one go. To help with this, it does quite quickly unlock loops, ifs, vars, comparison operators and more.
I've found it to be a surprising delight. You can pick it up from itch.io and Steam. Not sure if you will enjoy it? There's a demo available on both stores, so give it a run and see what you think.
Want to know more about the developer and some behind the scenes info? Check out their blog post.
Some you may have missed, popular articles from the last month: