From the creator of Fran Bow and sharing the same world comes another strange creepy adventure with Little Misfortune, out today with Linux support. Note: Key provided by the developer.
You play as the imaginative 8 year old Misfortune Ramirez Hernandez, a very sweet young lady with a very unfortunate family life and a bit of a thing for a Fox. With the help of her seriously creepy new friend "Mr. Voice", she sets off on an adventure to find Eternal Happiness for her mother. The thing about Mr. Voice is that he's seemingly the narrator, yet she can hear him and he can also speak to you.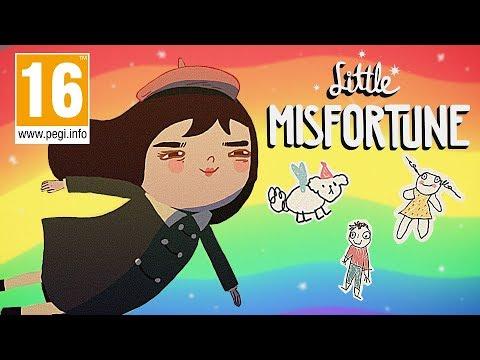 I actually played the demo of this when it came out back in April, which left a feeling of needing to play more. Thankfully, the full game really delivers.
The trailer and the description given by Killmonday Games don't really tell you much of what to expect from Little Misfortune. The gameplay involved is actually pretty simple and quite basic. They call it an "interactive story, focused on exploration and characters" where you make a bunch of choices that have "consequences". What you're doing is travelling from one end of the screen to the other, interacting with a few things and then moving on. So I get what they were going for calling it an interactive story, since this is not a traditional point and click adventure even though it might seem like it initially. It's really not the "gameplay" you come to Little Misfortune for, it's the wonderfully disconcerting experience of it all.
If you groan when you read about choices having consequences, well, here it's actually quite apparent and sometimes shockingly so. I'll admit, my first proper choice that showed me an actual consequence really did catch me off guard. I laughed, mostly from the shock of it. There's a number of moments like that, where things just happen that aren't expected. Others make you wish you had picked a different choice, just to see what would happen. Such is the way of life though, you often only get to make a decision once.
Depending on some of the choices you make, you might want to have another play-through. Although given how the game plays, probably something to come back to and do again after a while. As it's quite linear, apart from the choices. One particular choice I made early on didn't reappear until well over an hour in. It's one decision that will stick with me for a while too. Sometimes it zooms in and shows you a close up of Misfortune to show her facial expression, this time involving the devouring of some candy but let's just say when I took a closer look it was…ergh—I let out an audible groan.
It's just such a thoroughly well-done bizarre tale that I couldn't tear myself away from.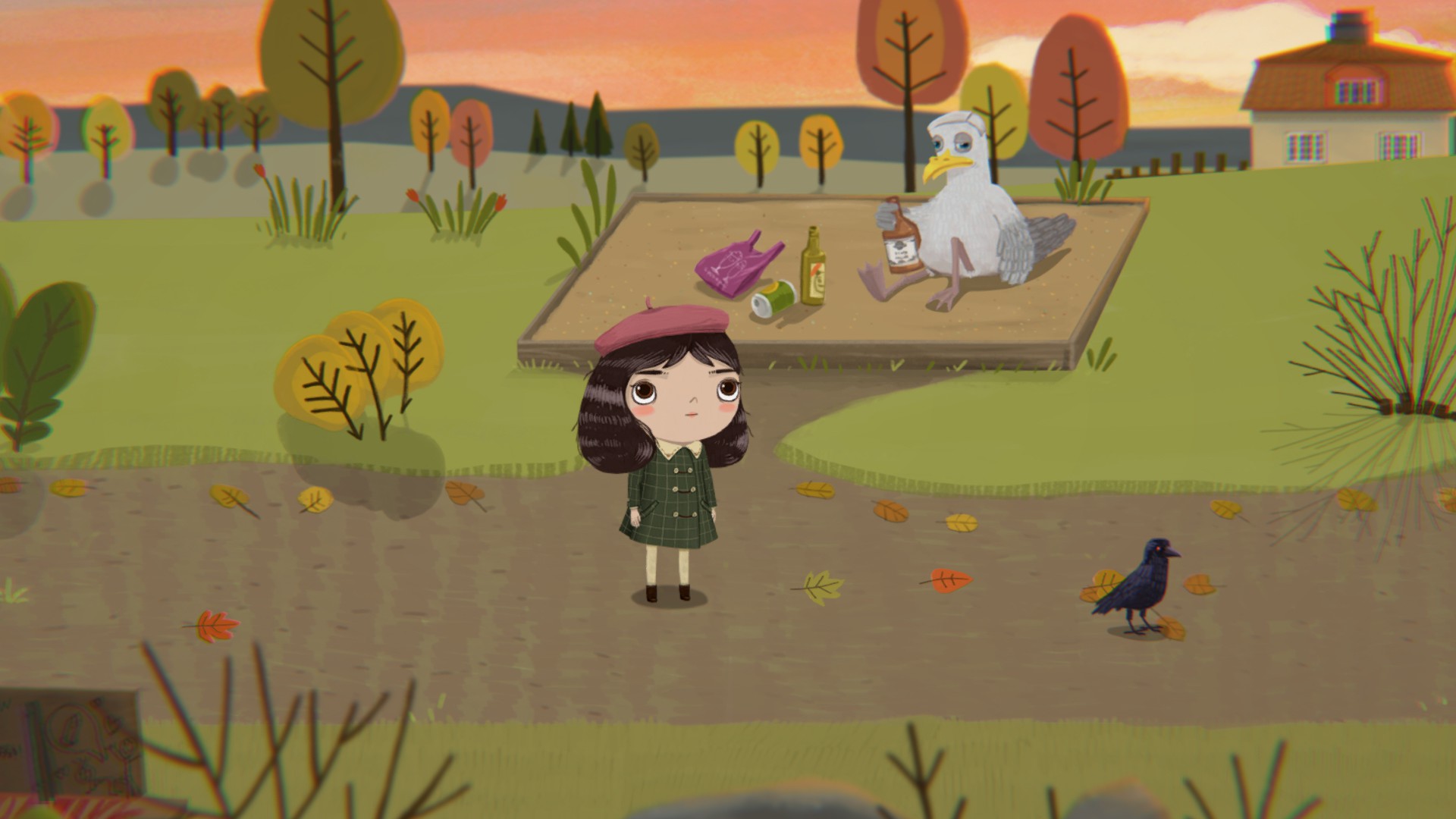 The humour in it is pretty great too, childish-like though in the simplicity of it. There's a certain bit with…cows that I don't want to spoil but I nearly spat a biscuit out of my mouth at it. Ah, the joys of being easily amused. Just so we're clear, this is not a game to play around a younger audience. It has a number of mature adult themes inside and does a pretty good balancing act between the childishness of the protagonist with the adult themes surrounding the setting.
Being completely honest, I fully expected to get irritated by the way Misfortune talks but she really grows on you due to the story and character design. Instantly loved the actor for Mr. Voice though, perfect choice for the role.
It has a fabulous art style, a ludicrously immersive atmosphere, good voice acting and a story that really pulls your attention because of how completely insane it seems as you go through it. It also has some very nicely done short animated cut-scenes at times too. If you're a fan of Fran Bow, this is an easy recommendation. For everyone else, as strange as it is, Little Misfortune is a game worth playing.
The Linux version has run beautifully, no issues encountered at all. I couldn't put it down, played it through in a single sitting. Total time came to nearly three hours so it was quite short but very memorable. Easily one of my favourites this year.
If you own their previous game, Fran Bow, on either GOG or Steam you should also get a 10% discount as they announced on Twitter. You can pick it up the full game on Humble Store, GOG and Steam. Not convinced? There's a demo on itch.io and Steam too.
Some you may have missed, popular articles from the last month: