Lab Zero Games and publisher 505 Games today officially release Indivisible, a very curious blend of action platforming with RPG elements. Note: A developer provided a key for us.
It's been a long road, after being announced back in 2015 with a successful crowdfunding campaign on IndieGoGo it very much delivers. Honestly, I don't know where to really start with Indivisible. It's blown me away. This might be one of the most colourful and gorgeously designed games I've played in a very long time. It reminds me of the first time I played Bastion, it looks incredible.
To explain the genre mix a little first so you know what to expect from it. You're running around in a side-scrolling action and exploration platformer and when you initiate combat, you're thrown into a four-button mashing contest as you launch your characters forwards with each character assigned to a specific button. It's not entirely original (I've seen it being done in Valkyrie Profile) but it's the first I've personally experienced of it and to me, they absolutely nailed it. Especially nice that combat just happens exactly where you are, instead of warping into a special combat zone.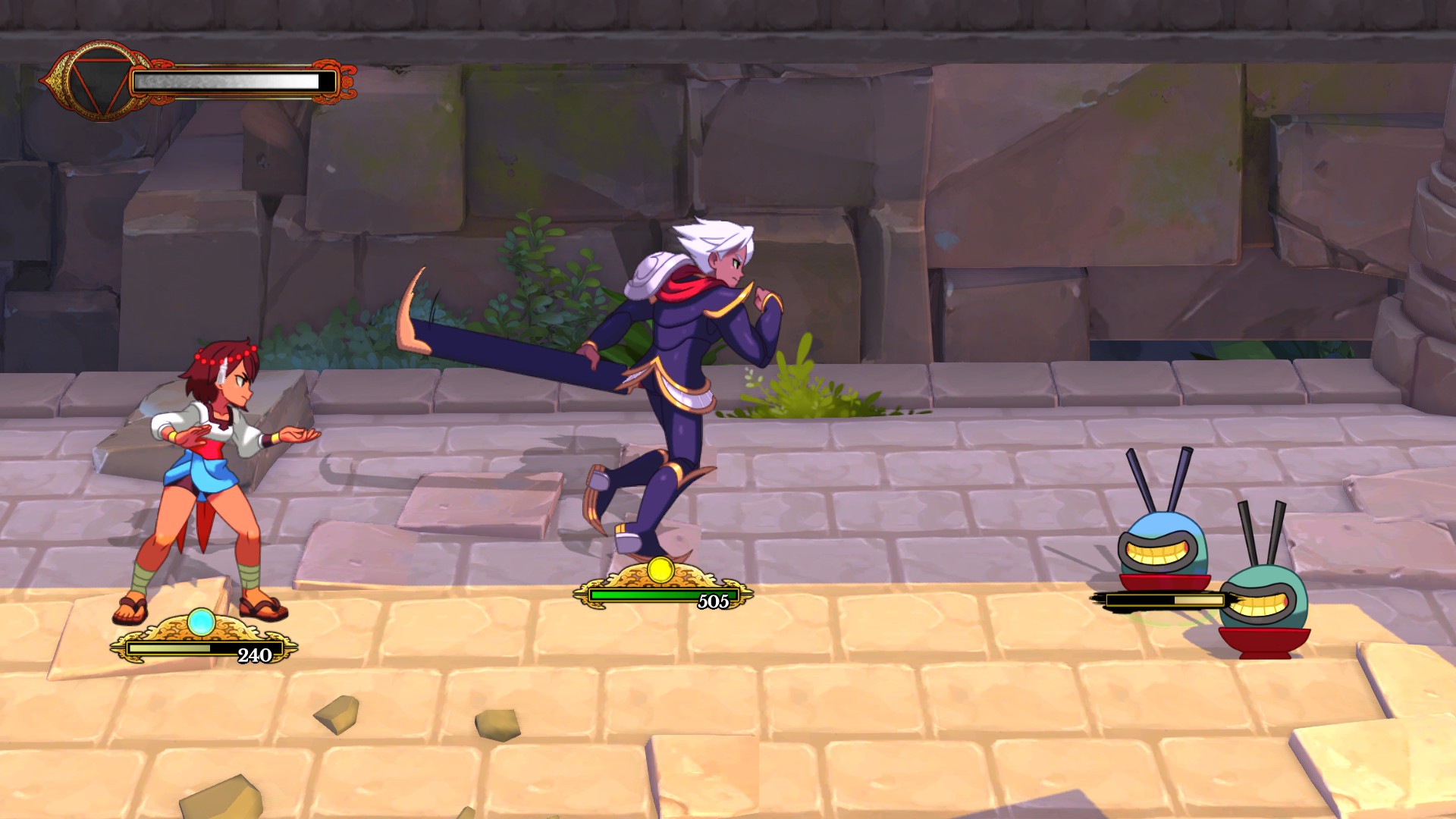 Although the ability to have combat in your immediate position does sometimes cause an issue, if you're right next to a wall. This causes space to be incredibly tight and cramped, making it even more chaotic than normal and it doesn't give you much time to react to defend as the distances between sides are so short. It's pretty rare though and can be avoided.
Combat can be quite a trial for your fingers and brain too, as you're not just responsible for their attacks but their defence at the same time pressing their action button when they're close to being hit. With four characters, it can feel a little crazy and overwhelming at the start. The action is just so damn good though, it's a joy to play. There are elements of a proper fighting game in the combat system too, like your special Iddhi meter that you see in the top left of the above picture, which when full allows you to unleash a special attack from whatever character you pick.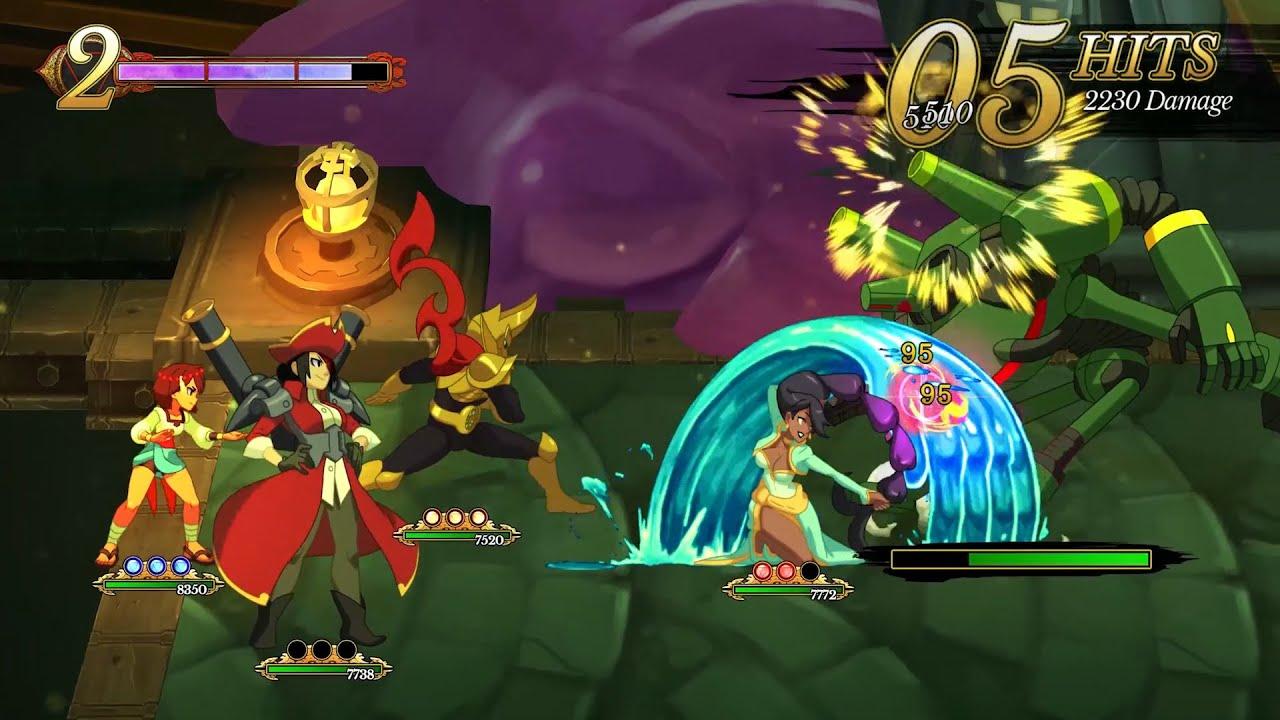 When I was first given access (and only a day before release too), I didn't want to put it down. I've now managed to sink in around 5 hours and I'm still enjoying every moment of it. I will admit the start is a bit confusing, I honestly thought they accidentally gave me a save game near the end due to the intro but the starting scene just sets up everything that's to come. Masterfully done too, the cut-scenes are excellent.
I think they could have done a bit better at explaining how some bits of the combat work though. The whole game feels a bit like it's just pushed you through the door with a pat on the back. It's not overly complicated but feels like it needed more of a helping hand in the initial first hour to teach you the ins and outs of the different kind of attacks you can do. I'm still confused at times. Like Ajna switching between Axe and Bow during combat, I don't remember it being explained and it seems to happen at random with barely any in-game info to look over to check.
"Hop into my brain!"
The main character, Ajna, has a power that not even she understands at the start. Somehow, she's able to suck people into her mind in some sort of alternate dimension she carries along with her. What's amusing, is that characters are still able to talk to you when you've absorbed them. It gets weirder though, Ajna can go into this special zone herself to go and have a chat with her companions.
The assortment of characters you meet and who join you are excellent in their variation too. Not just in terms of their abilities but their personalities too. Someone you meet early on, Razmi, is possibly my favourite. A really glum looking person, with some hilarious and creepy dialogue. Just look at them, they have a tiger on their head.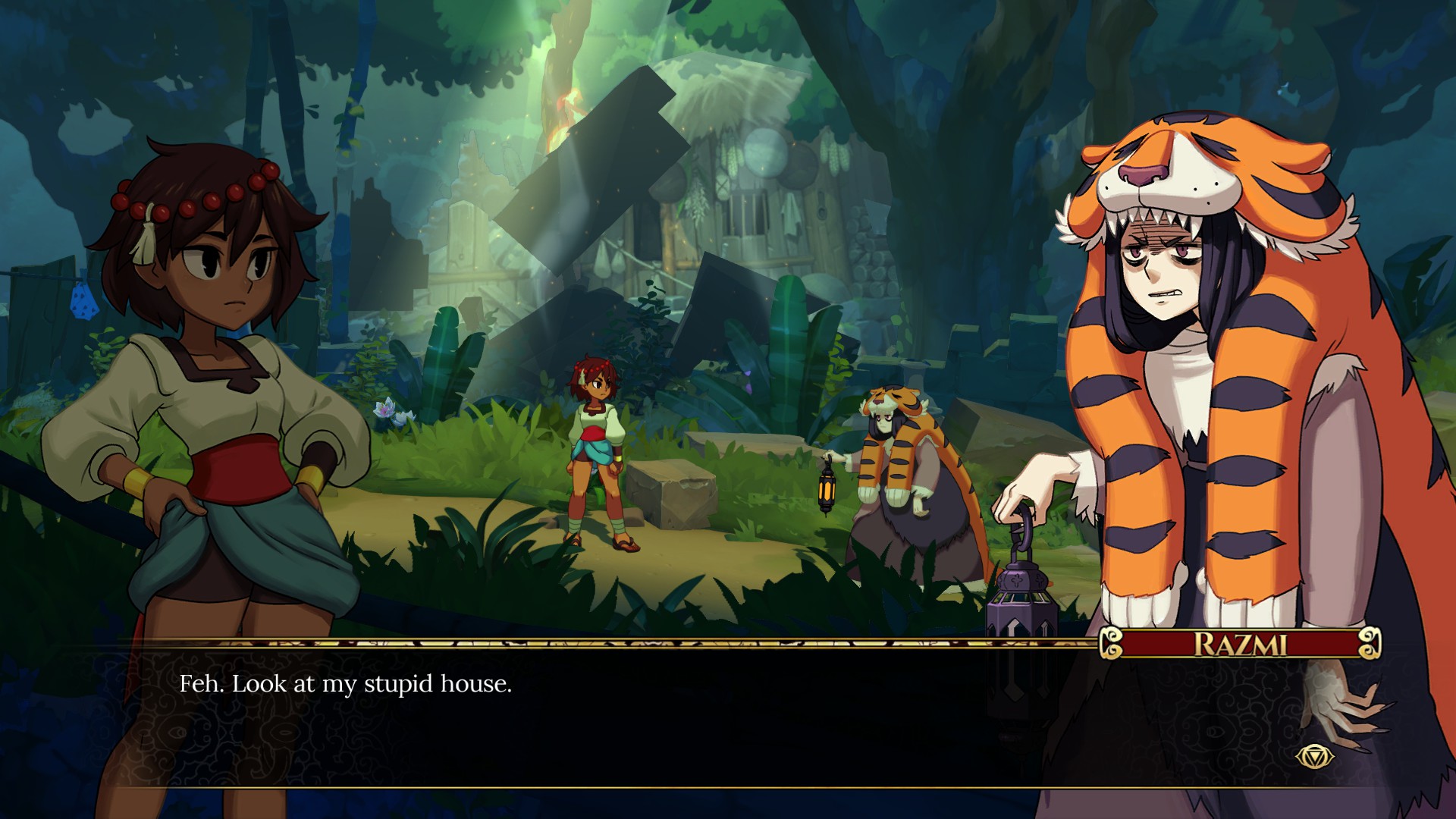 Quite on point with the humour that one of their abilities is "Glare".
What absolutely surprised me was the writing. It's a lot better than I was expecting. Ajna is obviously still quite young and the way she's written reflects it quite well in various encounters. Her lack of experience and childishness shines through in a way that's actually quite charming.
Some characters can have rather witty remarks and there's a lot of genuinely funny moments, with plenty of serious parts sprinkled in too that feel like they all hit the right marks.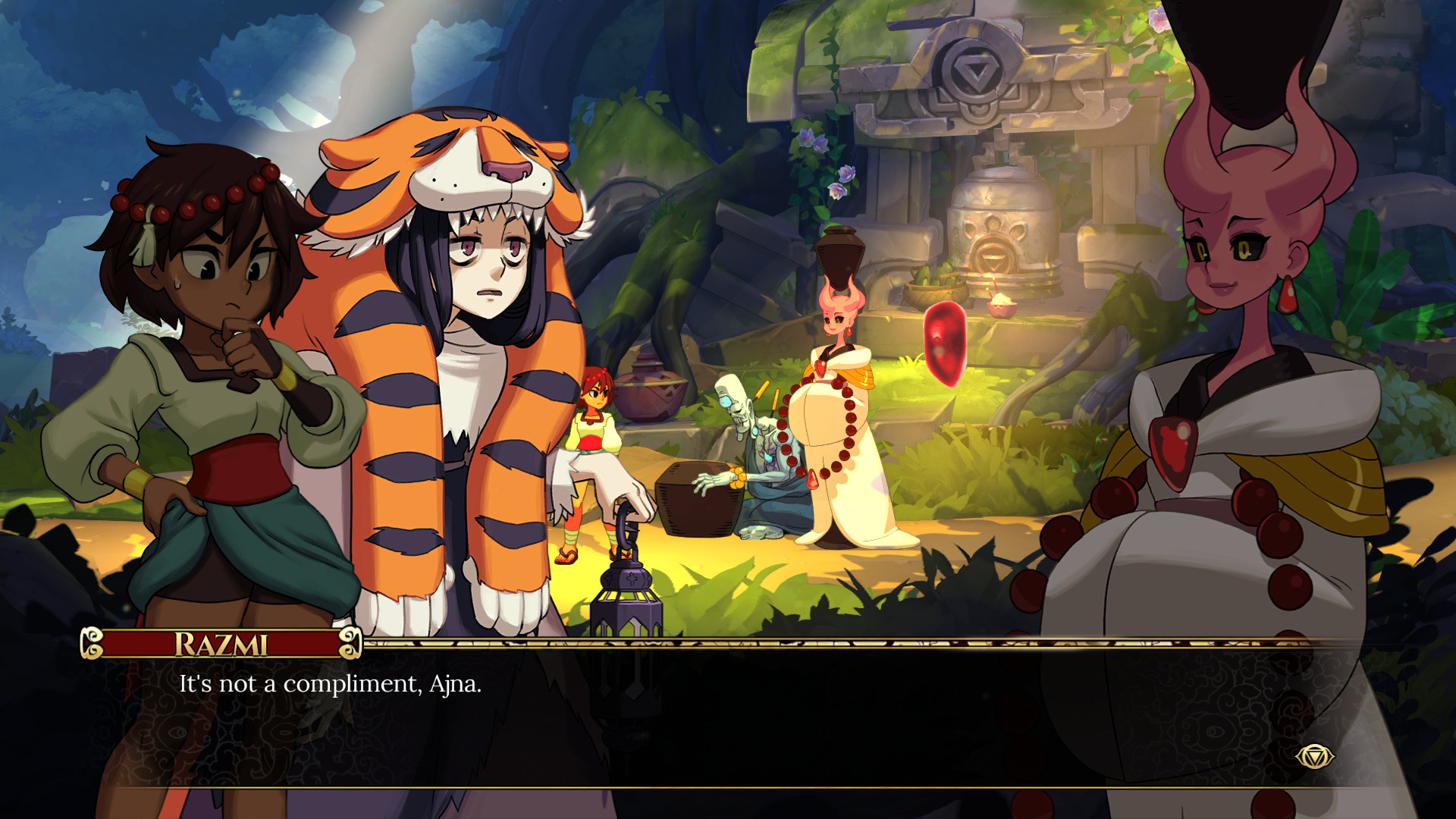 Indivisible is also quite an accessible game, mainly thanks to just how awesome the controls feel. Playing with the Steam Controller has been a perfect experience, it felt completely natural. Everything about it feels so streamlined, so doable.
Most of the game is not supposed to be a tricky platformer though, although there are some sections I did have to repeat a few times (looking at you, mountain!). There's a few jumping sections where you need to activate blocks, then hop between them before they vanish and it is a challenge. Leading into the accessibility part though, when jumping between platforms and blocks you only need to tap the jump button at the right time, no worrying about which way you're pointing and at times that makes it quite effortless and smooth.
While it can be tricky, I've never felt like it was punishing me. Times where I failed I could easily see why, once I finally got the hang of it.
There's a huge amount of little touches to appreciate too. One that really got me, that I didn't actually notice until an hour or two in was that when you save and come back to that game, the menu screen is exactly where you left off. Tap your button to continue, Ajna ties up the bottom of her outfit and off you go it's ridiculously seamless and gorgeous all the way through with those kind of features. Just look at this:
As for the Linux version, this might be one of the best prerelease experiences I've had on Linux. Not a single crash, performance has been smooth and everything I saw worked perfectly.
Could this now be my favourite game of the year? There's been a lot of tough competition. I've thoroughly enjoyed Little Misfortune, Devader, Dicey Dungeons, Streets of Rogue, SteamWorld Quest: Hand of Gilgamech, Surviving Mars: Green Planet, Pathway, Baba Is You and so many more but Indivisible feels like a cut above the rest. I'm giving this a top recommendation.
You can pick up Indivisible from Humble Store, GOG and Steam.
Some you may have missed, popular articles from the last month: