Last August, the developer responsible for the excellent mod Brutal Doom, revealed after a month of absence that he was working on a new project called VietDoom, which takes place during Vietnam War. Since then, he has been releasing updates on a regular basis, showcasing new technical additions and features, and on December 8 the first Alpha was made available for everyone to try.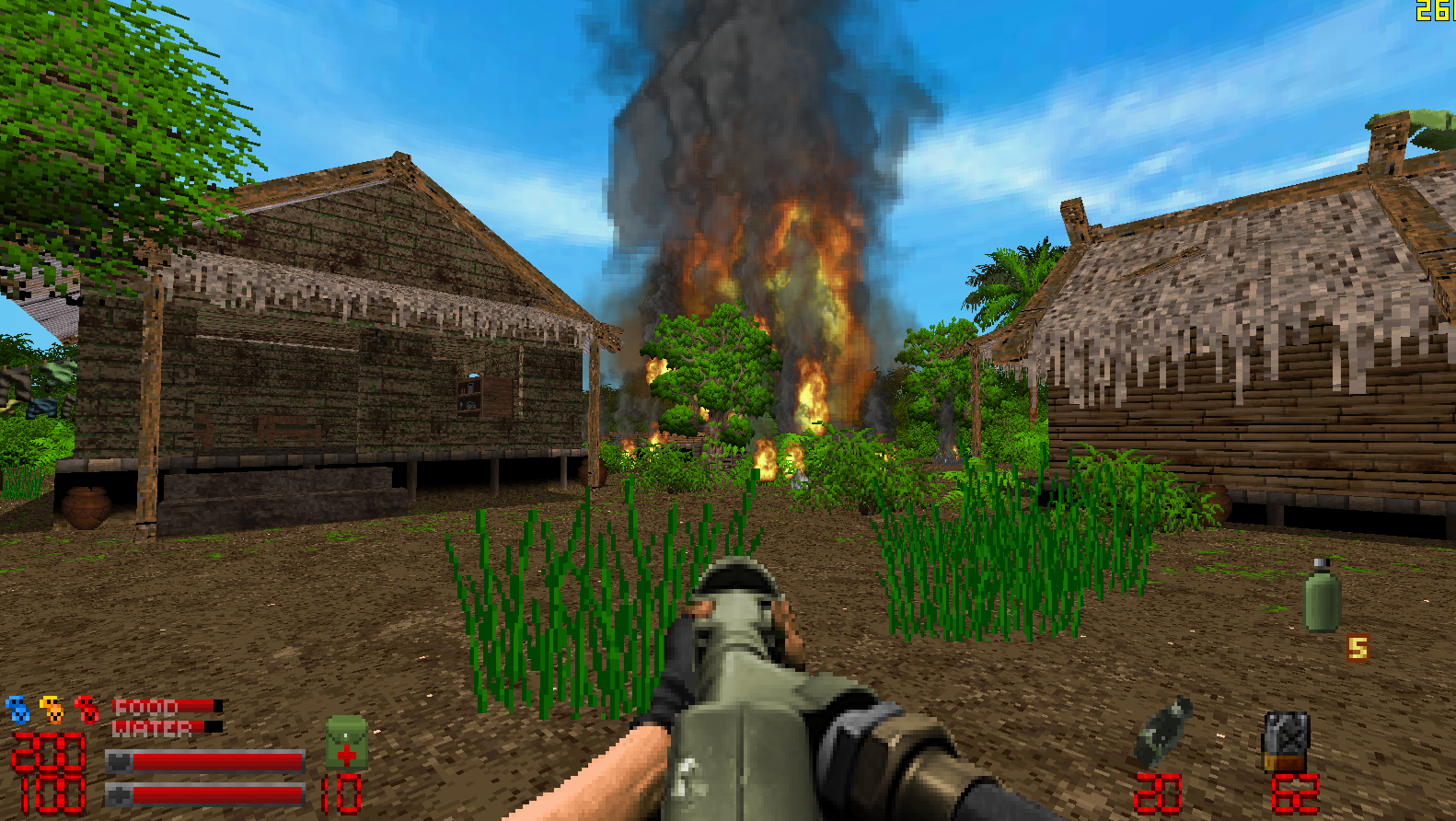 Also, on August 12th, when the mod was revealed, an FAQ was posted on ModDB. It isn't too long to read, but in case you don't have time, I selected the most representative parts and added some small comments:
What is it about?
I always wanted to make a Vietnam war mod since I played NAM* by the first time a few decades ago. (...) there is just something very cool about playing a classic fps in a pixelated jungle.
* NOTE: NAM is a FPS built on the Build engine (Duke Nukem 3D, Blood, Shadow Warrior) that was originally released on August 1998. You can get it on Steam and it has Linux support. Personally, I've never played it and it doesn't have a GOL article (yet?) so unfortunately at the moment I can't tell you anything about its quality.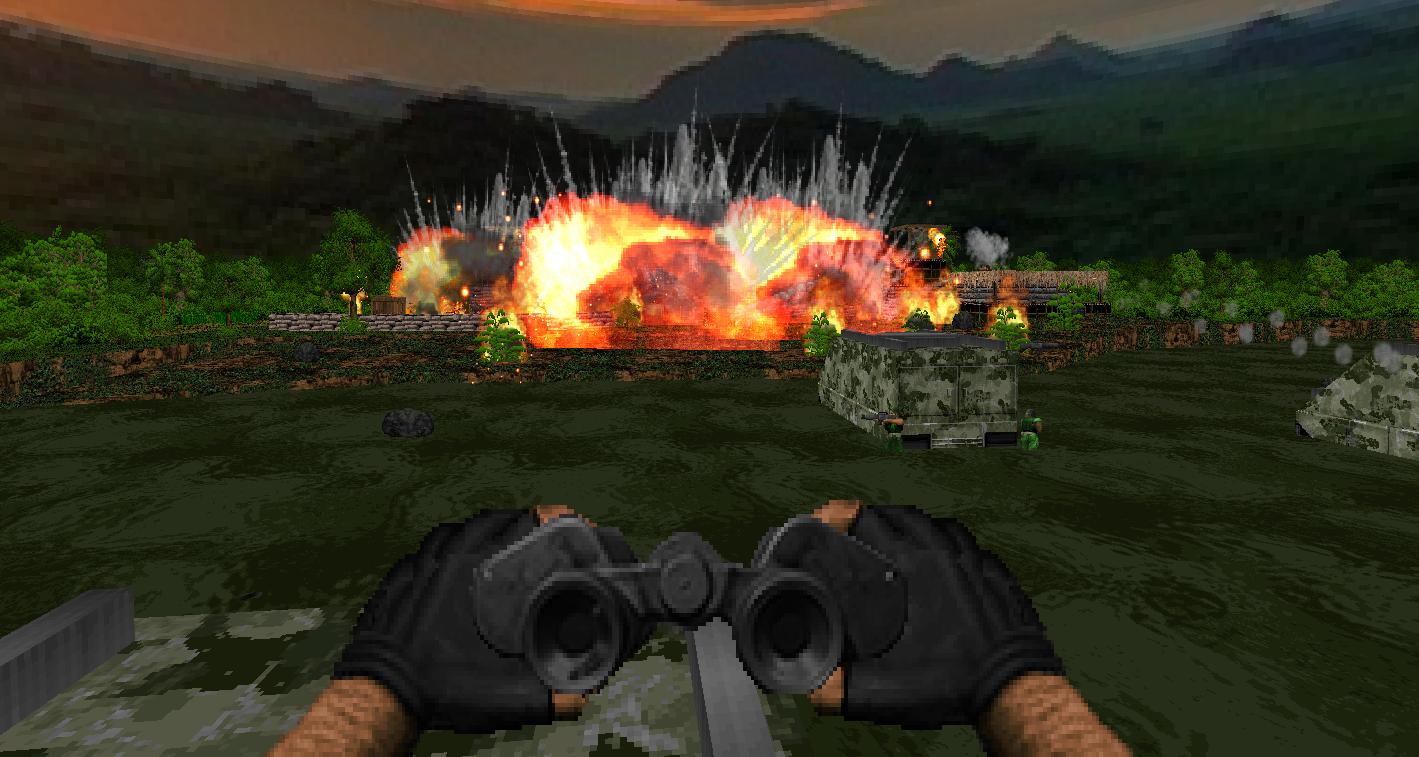 How it plays?
Pretty much like Brutal Doom in Vietnam, but a bit more classical in some parts and more realistic at others, because there is no aiming down the sights. You can switch weapons to semi-auto mode, if you fire full-auto, they have recoil and you need pull the mouse down to compensate it. Each gun has its recoil (...) You may need to spend some time on the boot camp to master all the weapons.

(...) It works on a loadout system. You choose a loadout before starting the game, with a main weapon with maximum ammo and a sidearm, but you can still pick and carry all weapons of the game during the playthrough.

(...) You need to be constantly running around so you don't get hit, taking cover only works temporally.

Just like Brutal Doom, levels are basically a playground which you can have many ways to kill the enemies with many different weapons. There are even ways to be stealthy* if you are into that.
* NOTE: It would be interesting to have a level like that. I can imagine, for example, something like the final thirty minutes of the movie Full Metal Jacket.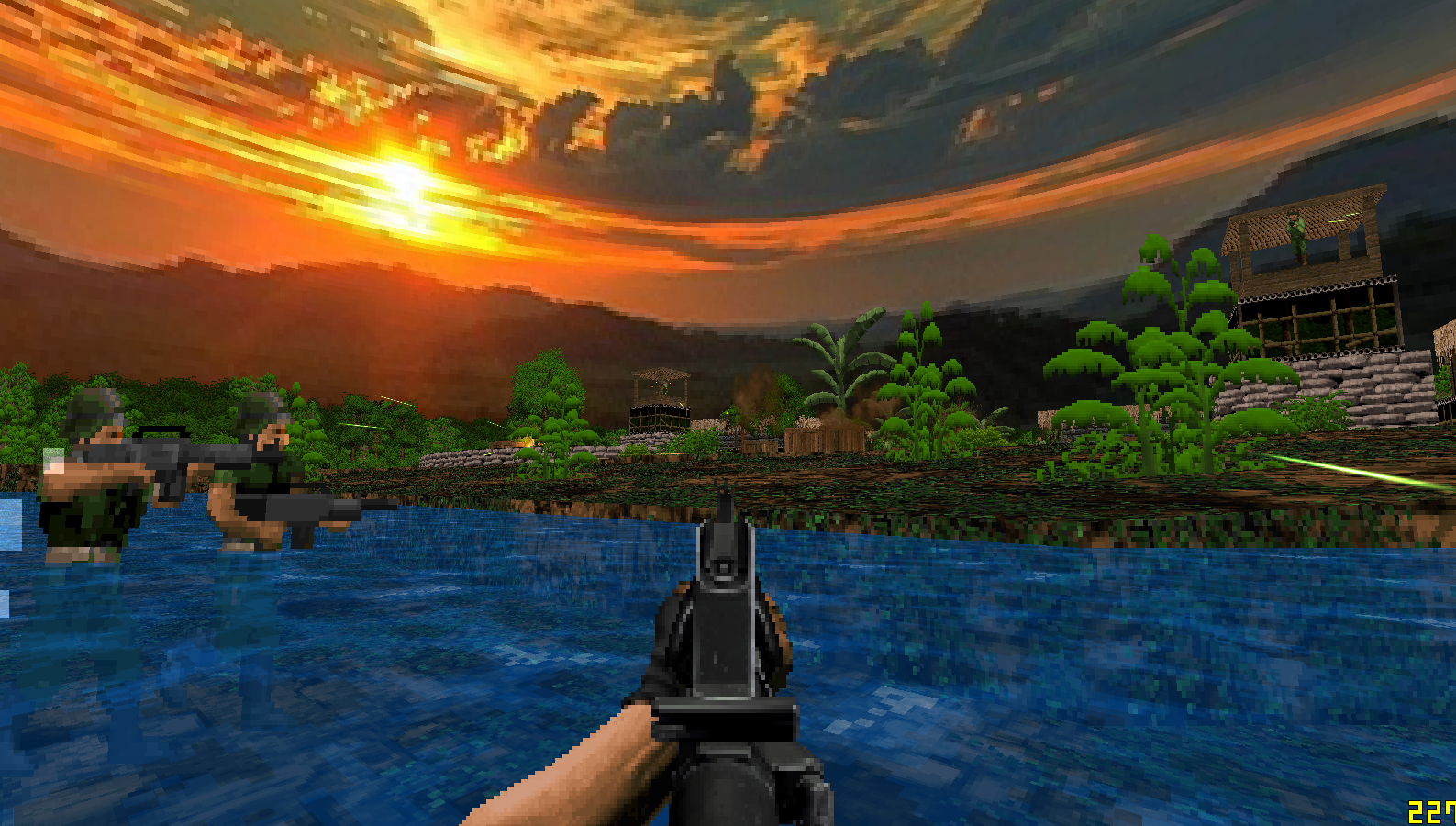 What`s the setting?
It takes place during late war, 1968 and onwards. All the cool toys are accessible, the North has a lot of tanks and heavy ordinance, and there are huge battles happening everywhere. (...) They are loosely inspired on NAM`s maps, taking place in no particularly realistic locations, with random missions such as searching and destroying supplies, ambushing convoys, and rescuing missing pilots and POWs. 

(...) The actual campaign (this one may take some years) will have a supernatural twist (because this is Doom, and anything related to Doom needs to have some demons) and is pretty much an adventure re-imagining Apocalypse Now`s story (if you ever played or heard of Heart of Evil), you may have an idea of what I am talking about).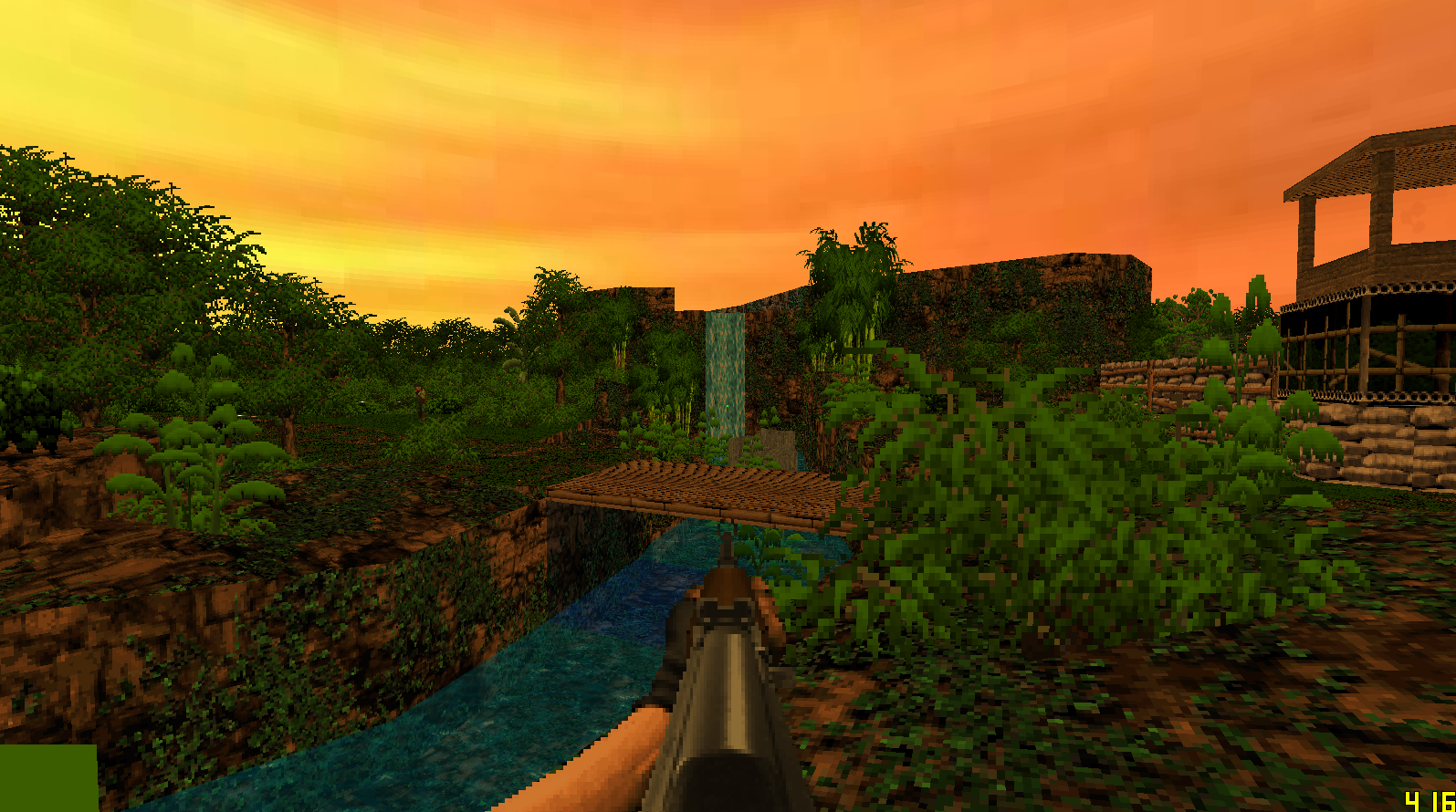 What`s the equipment available?
I want every gun to feel unique and useful, with it`s own pros and cons, I am not adding weapons just for the sake of variety*. To balance things out, weapons of the same caliber shares the same ammo. (...) 

You can carry as many weapons as you want, but its recommended to drop the ones you don`t use to not make your inventory too messy and convoluted.
* NOTE: If you like guns and tanks in real life, definitely you might want to check the whole FAQ, as it mentions the different models the mod will be featuring.
Am I going to need a supercomputer to play this?
No. Everything seems extremely well optimized so far. As you can see in the screenshots, I am getting 200 to 400 fps on my GTX 750ti. I am using mapping techniques to deceive the viewer to make the jungle seem pretty dense without actually using a lot of resources.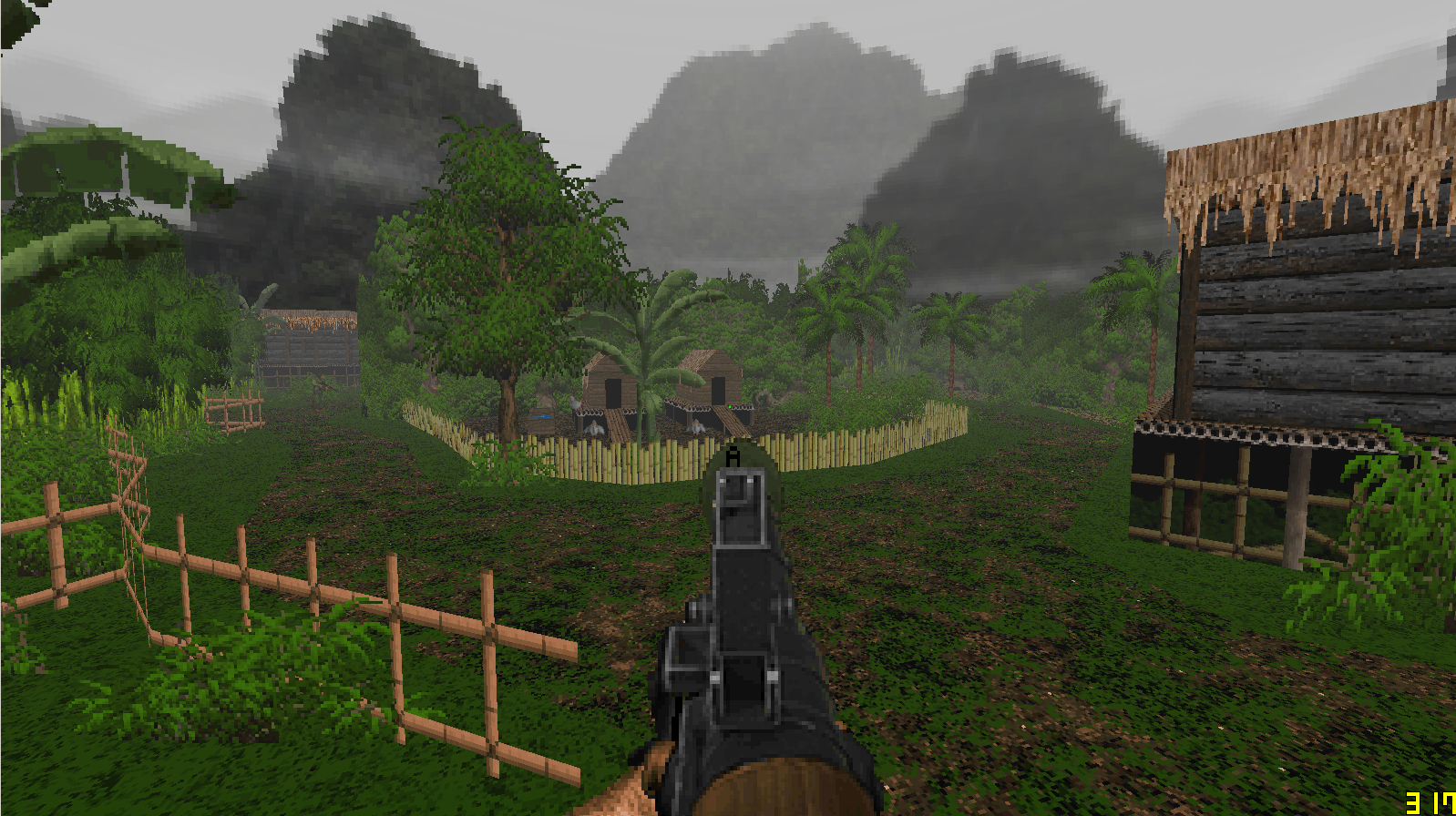 Like I said before, there have been a lot of announcements and updates since the mod reveal. Some of these were videos. I selected two, but since there isn't an official trailer yet you should treat them as spoilers, because they reveal too much. In case you do decide to watch them, I strongly suggest you to turn up the volume first (but not too much!).
The first one is old, pre-alpha footage. There are more recent videos, of course, but they're more technical and/or spoil too many features in my opinion. Besides, I would tend to believe this one is one of the most appropriate to reflect how the game feels: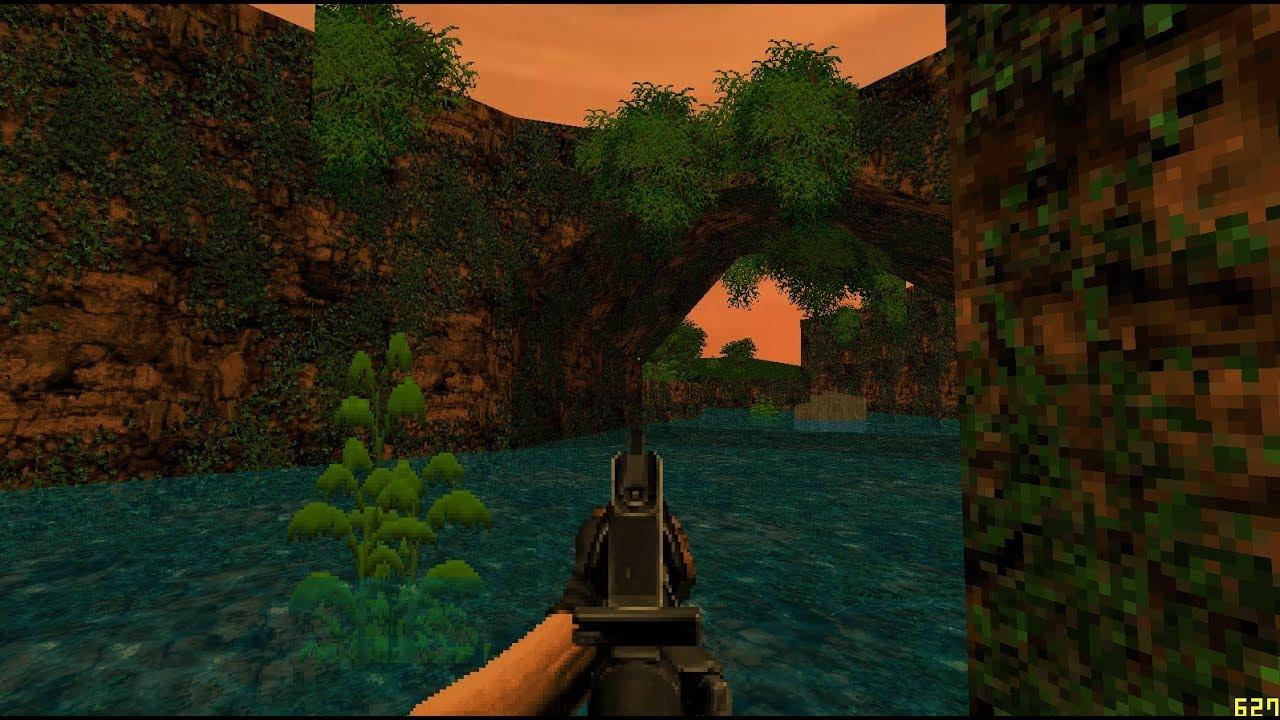 This second video shows vehicles in action. I'm particularly enthusiastic because of these, there is a lot of potential here: imagine recreating scenes from the movie Apocalypse Now, for instance. Other possible films could be Skyfall and Mission Impossible: Fallout.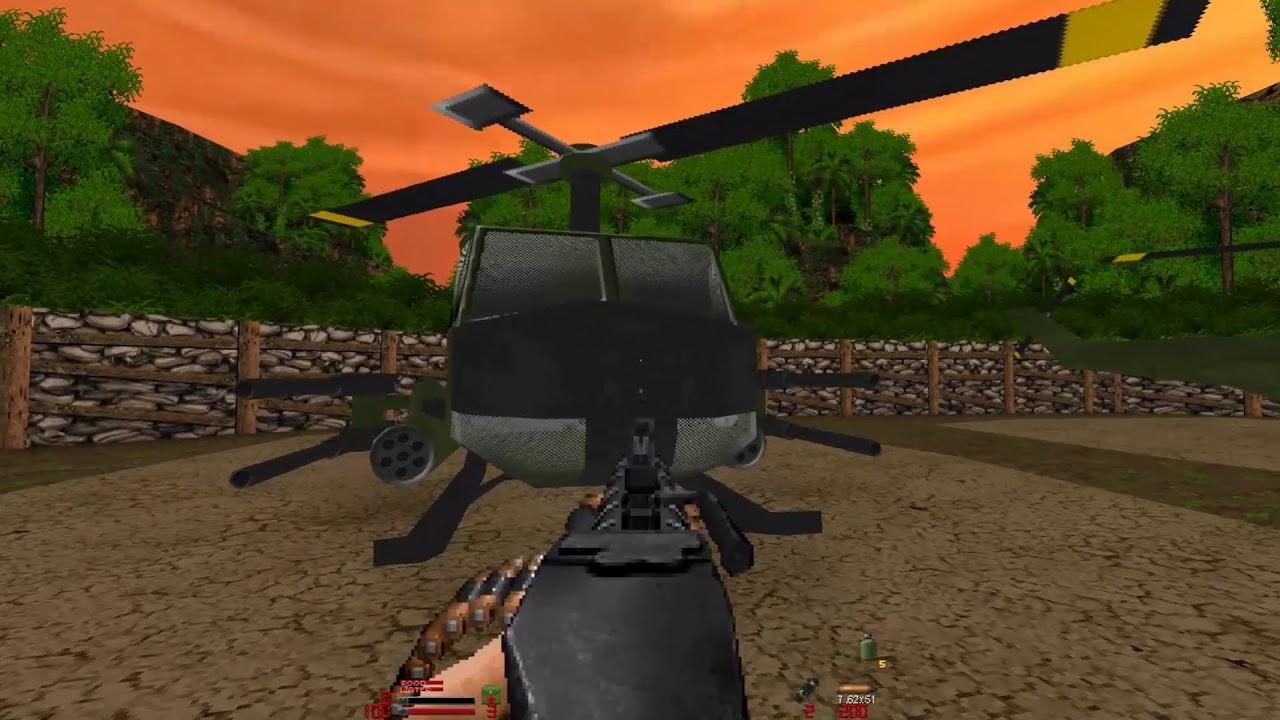 If you want to follow the progress of this mod, I would recommend to check the developer's Twitter account or the ModDB page directly, given that some news about VietDoom aren't being posted on the Brutal Doom Facebook page. And by the way, now that I mentioned Brutal Doom: in case you were worried, its development wasn't suspended because of this new project; in fact, apparently some of the features included on VietDoom will be applied on Brutal Doom on future releases. Check this example.
On a strictly personal level, I decided not to play VietDoom until a proper 1.0 release is launched, but if you want to try the Alpha, don't forget to download either Zandronum or GZDoom to be able to test the mod on Linux.
And if you decide to collaborate reporting bugs, the developer requested not to receive bug reports through Twitter; instead, there is a proper thread on Mod DB for that purpose.
Finally, in case you were interested in supporting the development of the project (and/or Brutal Doom, of course), he has a Patreon account available.
Download VietDoom on Mod DB. Obviously for free.
Some you may have missed, popular articles from the last month: