Out today is Embr, an amusing game that makes a bit of a joke of the gig economy by letting anyone be a firefighter. Available on Stadia so you can easily play it on a Linux desktop, it's their first Early Access game.
The idea of the game is simple with you taking on jobs to fight fires, which includes saving people from burning buildings. You do this using whatever means necessary because you're not exactly a professional. Think of it like the Uber or Deliveroo of firefighting and you get the idea. Smash windows, doors, throw people out of windows onto trampolines and much more. It's pretty hilarious.
Obviously it's not a serious game, the whole idea of it is absolutely ludicrous but that's what makes it so fun. That's why video games are often so amazing, since they can let you play out your wild dreams no matter how stupid you might feel they are and that's why Embr has been so fun.
There's multiple mission types. Some might be just to save people, others to save a special valuable item that requires some searching and object breaking and more. To help with all this as you progress you get to unlock more items, and upgrade existing items and tweak their behaviour so there's a nice bit of progression too. You can even buy different types of hats to give you a buff in certain areas like less collision damage or take less damage from gas leaks.
Part of what makes it amusing is the physics. You can move things, break things and some rather stupid interactions are possible. I gave myself a bit of a shocked laugh at one point, I was carefully placed a trampoline on a lower level to throw someone onto it. What I didn't quite expect was for them to bounce as hard as they did, and for it to all then topple over taking them with it and…
Yeah, they didn't make it. My bad.
There's other fun and surprising action too. Sometimes if a room is entirely engulfed in flames crashing the door down is not a good idea, as I found out when the flames exploded with force towards my face. That, I will admit, gave me a bit of a jump.
Embr itself is basically an app on your in-game phone. As it turns out, there's competition with Hosr and they like to set you up in fake missions where you need to escape. These are challenge-missions, making you use your various tools and everything you've learned to not die horribly which does add another fun element to the overall game feel.
In regards to input on Stadia, it's super responsive. It might be one of the most responsive games yet on Stadia, to the point that with a gamepad it's perhaps a little bit too sensitive and reacts too quickly. They're going to need to add some deadzone configuration. Mouse and keyboard felt like perfection with absolutely no issues on that side of it.
Check out some of our early footage: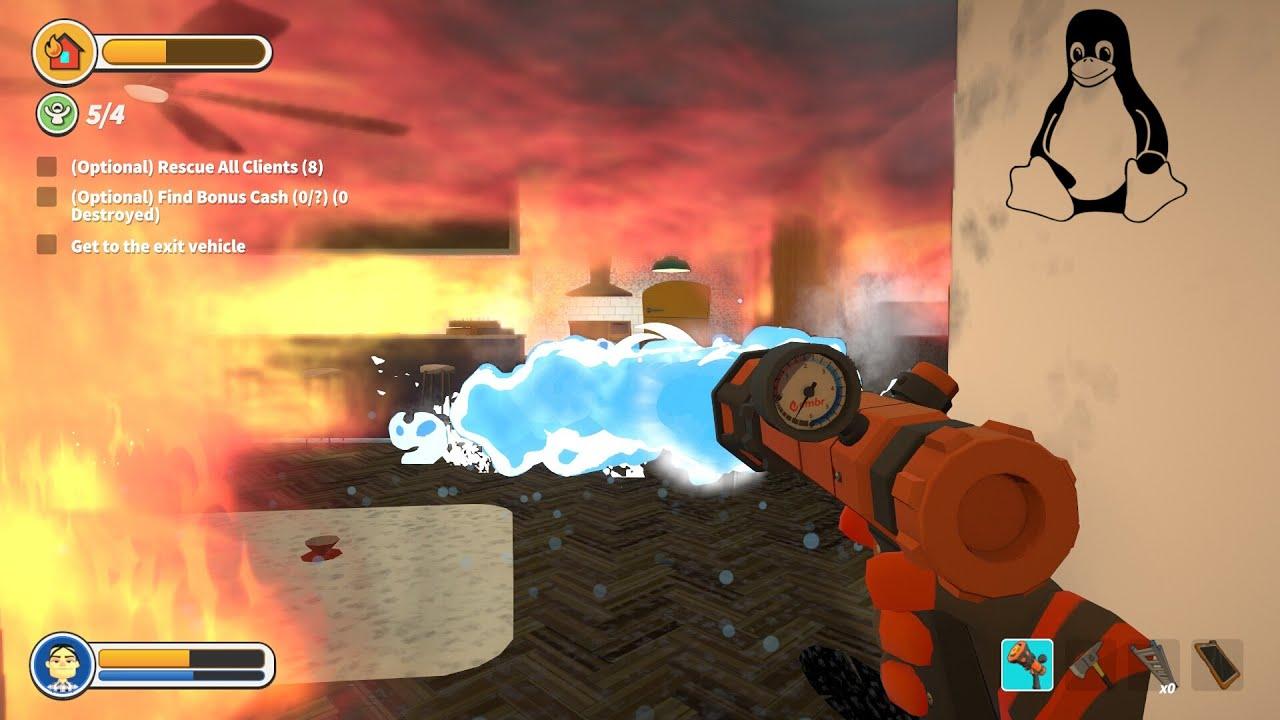 Overall it's a barrel of laughs, and it can be quite challenging when you're trying to complete all the optional objectives. Multiplayer was not tested yet, as our preview was before release without others available. They have a great base here with quite a lot of content already so I look forward to seeing how they can expand on from this. Will definitely take another look when it's further along.
Having an Early Access game on Stadia is certainly interesting too, as the developer can push updates as often as they like, and players can test them almost instantly. That's again part of the overall draw of Stadia, since there's no downloads and for developers perhaps making things a bit easier too.
According to the developer, Embr on Stadia is cross-platform online with the Steam version too.
While trying to do something of a double-look on this one, it was also tried under Steam Play Proton since it doesn't have Linux desktop support (and no plan it seems either). Sadly though, it's just a black screen with Proton so for Linux gameplay you're going to need Stadia.
You can get Embr on Stadia, available today in Early Access.
As a reminder, Stadia will soon drop from two to one month of Stadia Pro free when you sign up.
Some you may have missed, popular articles from the last month: