Creature capture and battle game Monster Sanctuary just had another huge update recently, adding in quite an interesting area to explore.
You can now visit The Underworld, an area that hasn't been explored for hundreds of years. This comes with a whole new major story arc, set after the others so you need to have played through the rest of the game first so this content is aimed at regular players. It gives you seven new monsters to collect, some of which are a "spooky Occult-type" and there's something about giant spiders—spooky.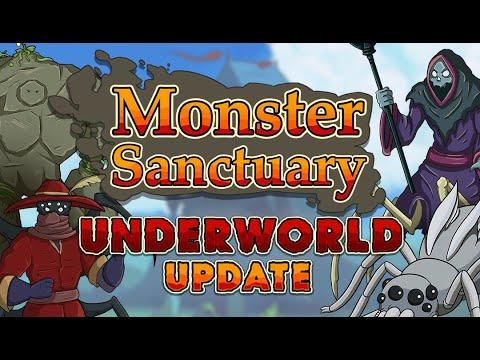 Some of what's included in The Underworld Update:
Level cap raised to 36
Tier 5 attacks added to all Monsters
You are temporarily able to obtain Tier 4 food items as PvP and Infinity Arena rewards
We reduced the champions required for reaching the Keeper Ranger and Keeper Knight rank - there's also a new Rank 'Keeper Champion', following Keeper Knight.
There are new items available at the shop when reaching Keeper Knight and Keeper Champion rank.
With the Underworld update, a new PvP season will commence!
The story with this update is nearing the end, so there might not be many more major updates to Monster Sanctuary after this one. Looks like players are enjoying it, with an overall Overwhelmingly Positive rating on Steam and I can certainly agree to that.
You can pick up Monster Sanctuary from Humble Store and Steam with the demo.
Interested in more monster catching games? Check out Cassette Beasts which was recently announced.
Some you may have missed, popular articles from the last month: