Dicey Dungeons was one of my favourite releases from last year and it keeps getting better! A fresh update recently released making it even easier to play.
What is Dicey Dungeons? It's a deck-building roguelike. You collect cards which form your abilities and travel through various floors of a dungeon taking down enemies as you go. What makes it different is how you play. There's no mana like other games. Instead, you roll dice and cards activate based on what number die you place inside them. It's brilliant.
The thing is though, sometimes you just want to kick back and relax with a gamepad—and now you can. As of the 1.8 update, Dicey Dungeons has full gamepad support and it really does work great. It's actually a little surprising how good it feels in such a game, almost like it was made for it.
More enemies have appeared with this release too: Bounty Hunter and Drain Monster. They were originally cut at the last minute from the 1.0 release but it was always their plan to slot them back in. The third episode for the Robot character went through a "substantial" redesign to make it live up to its full potential and you can also now play through Dicey Dungeons in Irish.
Find Dicey Dungeons on Humble Store, itch.io and Steam. Absolutely recommended.
How about a quick story before you go and have another run?
The 1.8 update for the Linux version initially came with a bit of a gotcha. All this fancy gamepad malarky didn't work. Well it did, in the menu and then when you went into a game it crashed. Why? Well the game was looking for a file named "a_button.png" but the file was actually "A_button.png" which didn't cause an issue on Windows or macOS but crashed the Linux version. The developer quickly changed the asset name but there's another problem, as Steam won't update just because file case changed. So, if you find Dicey Dungeons crashing, you need to re-install. Case sensitivity StRiKeS aGaIn! This bug has been known about on Steam for years, and the developer has noted it tripped them up on Valve's bug tracker.
---
Want to see some footage? Check out the original trailer below: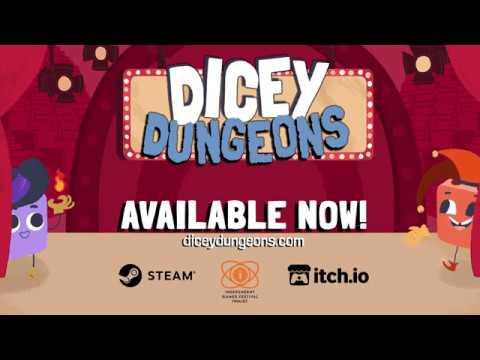 Some you may have missed, popular articles from the last month: