In the mood for a new adventure? Colmen's Quest looks very promising. A fantasy pixel-art turn-based RPG that's refreshingly not a roguelike.
We have enough random generation and permanent death everywhere, some of us want games that allow us to progress through properly and save / quit whenever we want. Colmen's Quest offers that up. Unfinished, Early Access and yet still has hours of content already. Inspired in parts by classics like Diablo but also more modern turn-based stuff like Stoneshard. Colmen's Quest is a turn-based fantasy RPG. You play as Colmen, an aspiring monster hunter, who is on a quest to unveil a dark threat that haunts the village of Valkirk. You will explore Valkirk and its villagers, descend dusky dungeons, fight monsters and eventually collect a bunch of loot and treasures.
Some of the features included:
Retro pixelart look
Fully turn-based
Story & quests
NPCs for trade and gossip
Lots of items

From armor over melee and range weapons to consumable spell scrolls

Progress your character with stats and new equipment
Choose from 20+ very different skills

From melee knockback over permafrost stuns to summoning minions

No classes - you can mix skills and stats the way you like it
Not a roguelike game

You can always 'Save & Quit' and start again in the village. Your character progress is also saved every time you enter a new area. No permadeath!
Check out some early footage of the first ~15 minutes from the developer: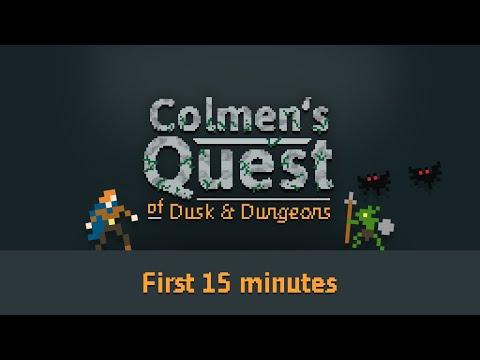 I played a bit of the demo myself and it's genuinely good. A mixture of good pixel-art that's not overly pixelated, mixed in with good lighting and a surprisingly dark and gloomy atmosphere thanks to the ambient music. This is one to watch for sure, a huge amount of promise. The beginning genuinely brought back some early Diablo 2 memories. 
You can try it out right now on itch.io. There's an older demo and you can buy the Early Access build too. 
Some you may have missed, popular articles from the last month: