Space Otter Charlie is a Zero-G platformer puzzler with cute characters and visuals, odd weapons and it looks thoroughly charming. It's due out later in this year.
Currently in development by Wayward Distractions, a group of game development veterans from the likes of PopCap Studios who you might know from titles like Bejeweled and Plants vs Zombies. They've teamed up with The Quantum Astrophysicists Guild for publishing now too.
"With humanity gone, it's up to the otters to save animal-kind from an inhospitable Earth. Join Charlie and his ragtag crew of critters on a daring mission through Otter Space as they search for a new planet to call home. Explore derelict space stations, battle unhinged robots, and enjoy some otterly terrific puns as you jump, float, and fly through over a dozen levels of furry fun."
Have a look at the early preview below: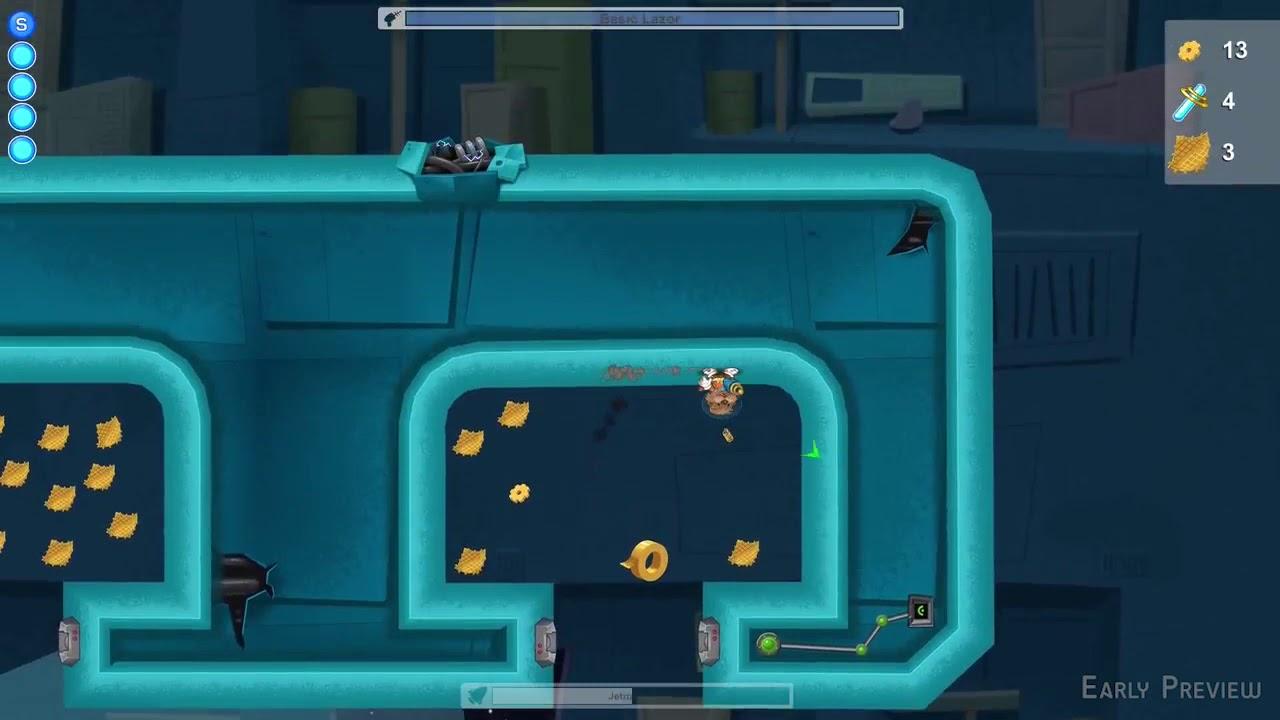 Here's what studio head, Ed Allard, said about developing Space Otter Charlie:
"While I was playing around with zero-g prototypes, the fluid motion reminded me of Feeding Frenzy, which was the first game I created like a hundred years ago. I'm not the first person to realize this connection - NASA trains astronauts for spacewalks under water. I started thinking that sea creatures could probably adapt more quickly to the strangeness of Zero-G than humans could. Blend that realization with a zero-g game prototype and a long time love of sea otters, and you've got Space Otter Charlie."
Feature Highlight:
Zero-G Platforming - Turn your brain upside down as you jump, float, and rocket your way through physics-fueled levels.
Cool Gear and Upgrades - Craft new gear and unlock new space otter skills from parts you find along the way. Pull out your Reflector Ray to ricochet your shots around corners or leave a path of destruction as you slide through enemies with the Electric Slide. From Jetpacks to missile launchers, Charlie's got all the coolest toys.
Wacky Space Suits - Sure, an otter's gotta wear a suit to survive the deadly vacuum of space, but he can still look great (and CUTE) doing it! Plans for new suits are hidden through the game - each with a fun new look and its own unique and powerful weapon! Want to see an otter wearing a shark suit? Charlie's got you covered.
Action-Packed Multiplayer - Looking for more action? Battle your friends in frantic 4-player arenas. Fight for food supremacy in So Urchin mode, or just let the fur fly in a Furry Fury deathmatch.
Become an Otternaut - Just how many hairs are in a square inch of sea otter fur? Dazzle your friends with this knowledge and more as you uncover all kinds of fun facts about sea otters hidden throughout the game.
Fun for Everyone - packed with action, puzzles, and a healthy dose of cute, Space Otter Charlie is designed for all ages to enjoy.
We spoke with The Quantum Astrophysicists Guild, who confirmed that "SOC will be supporting Linux on release! The Steam page is a little spartan as we have other platforms to announce in the coming weeks.".
You can follow Space Otter Charlie on Steam.
Some you may have missed, popular articles from the last month: