Loop Hero, probably the only titles I've pre-ordered in the last few years is officially out now and I really will need some help to pull myself away from running just one more loop.
It's such a strange and beautifully intoxicating mix of genres. For each loop through you're placed into a world full of nothing but a path and it's up to you to build up the world each time. You do this through your deck of cards, while the hero automatically loops around the path and fights enemies along the way without your input. Even though you don't have direct control, there's quite a lot of strategy involved in it.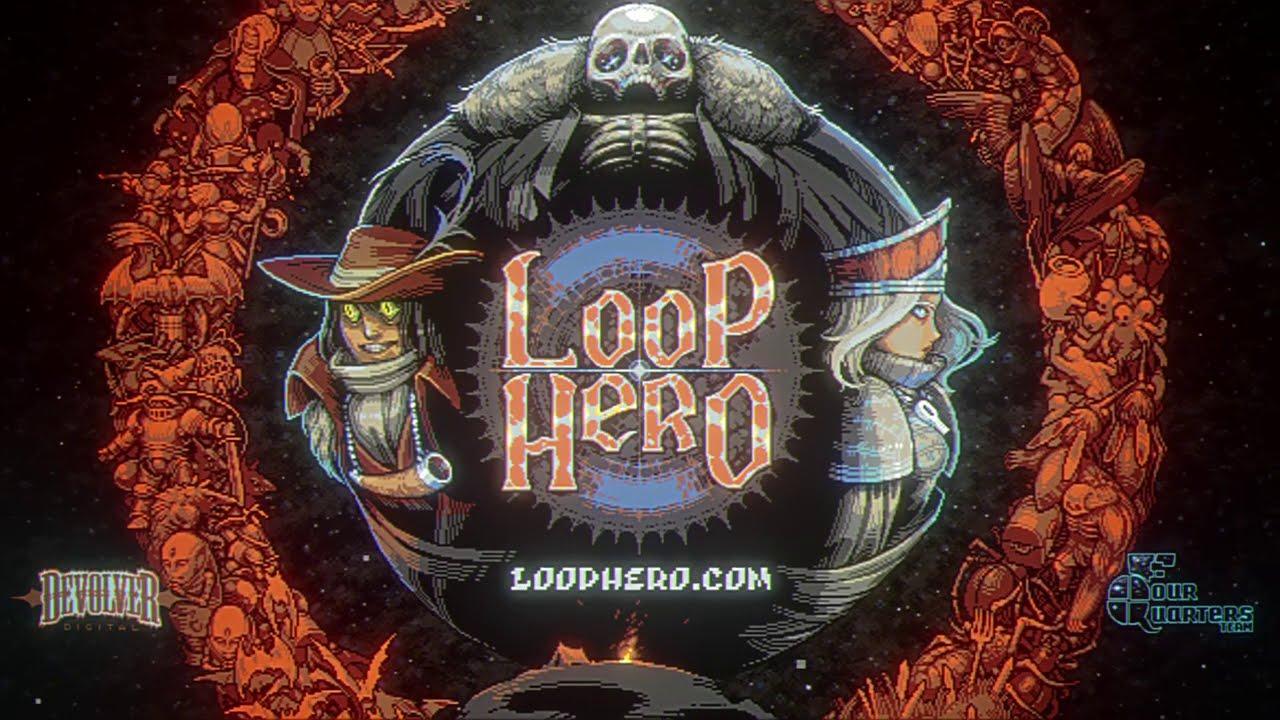 Loop Hero is like a an idle clicker, mixed with deck-building, random generation and a little RPG flavour all in one. So very hard to properly describe and I think you truly need to play it for a few hours to fully start to appreciate it. Such an easy game to get into though, thanks to a lot of it being quite hands-off so you can sit back and just watch what's going on. Good for a tired mind, wonderful as a distraction. Style wise it's an odd blend of things too, it's got the look and and sound of a retro game but with a modern feel overall.
"The Lich has thrown the world into a timeless loop and plunged its inhabitants into never ending chaos. Wield an expanding deck of mystical cards to place enemies, buildings, and terrain along each unique expedition loop for the brave hero. Recover and equip powerful loot for each class of hero for their battles and expand the survivors' camp to reinforce each adventure through the loop. Unlock new classes, new cards, and devious guardians on your quest to shatter the endless cycle of despair."
You do have an actual story to progress through in the game too, it's not all about endlessly looping to better your character. Over time you're also building up and upgrading a little village which pulls in more people over time. It's here that you also get a sprinkle of more story content as the loops go on and you manage to encounter more enemies through the game.
Each loop through it starts off the same. It's a blank canvas, a dark void that gets a random path placed into it. The rest is then up to you. Your chosen hero automatically moves and doesn't stop until they hit an enemy (or a group of enemies) on a tile, then they engage in automatic combat until they win or die and move on. The strategy to it is how you place down map features from your deck of cards, along with carefully choosing your hero's equipment which you gain as you battle and take down enemies. Each time around the path, the current loop gets harder and so you do need to keep on top of things and make sure you're properly equipped or send your hero back to the village if things look a bit too dicey.
Choosing equipment is a constant toss up between different effects. There's lot of different items including weapons, rings, shields, armour and more and all of them with different buffs from vampirism to attack speed.
Putting down tiles is something you need to think about too. Plenty of them spawn enemies to fight, some of them have special effects when placed near a certain other tile and there's plenty of hidden features to find like placing down a certain amount of mountains together to turn them into one huge mountain that will then spawn a special creature. There's lots of these little things to discover. It's also sweet that you get to pause the game to build and think for a moment, a nice touch to not make it frantic. You can easily sit back and relax with it, which makes it all the more dangerous to your free time.
Feature Highlight:
Infinite Adventure: Select from unlockable character classes and deck cards before setting out on each expedition along a randomly generated loop path. No expedition is ever the same as the ones before it.
Plan Your Struggle: Strategically place building, terrain, and enemy cards along each loop to create your own dangerous path. Find balance between the cards to increase your chances of survival while recovering valuable loot and resources for your camp.
Loot and Upgrade: Strike down menacing creatures, recover stronger loot to equip on the fly and unlock new perks along the way.
Expand Your Camp: Turn hard-earned resources into campsite upgrades and gain valuable reinforcements with each completed loop along the expedition path.
Save the Lost World: Overcome a series of unholy guardian bosses over a grand saga to save the world and break the time loop of the Lich!
As another point of appreciation - if you dislike the CRT screen shader effect or the pixel fonts, both can be turned off as there's a proper clear font option and also a font that's supposed to help people with dyslexia. Might possibly have more to say about it after I've played more, there's a lot to get through and it takes quite some time to properly progress on.
This might be my own personal game of the year though, it's going to be really tough to beat it. The Linux version appears to work perfectly too. Fantastic overall.
Some you may have missed, popular articles from the last month: