Mighty Goose is the brand new run and gun action game from Blastmode, MP2 Games and publisher PLAYISM. It's out now with same-day Linux support and it's fantastic. Note: key provided by publisher.
"Assume the role of Mighty Goose and bring the fight to the Void King. This galaxy conquering monarch commands a vast army of minions and mechanised monsters. Dealing with these baddies means traveling to distant worlds and facing all kinds of dangers. But not to worry, this is no problem for the legendary Mighty Goose!"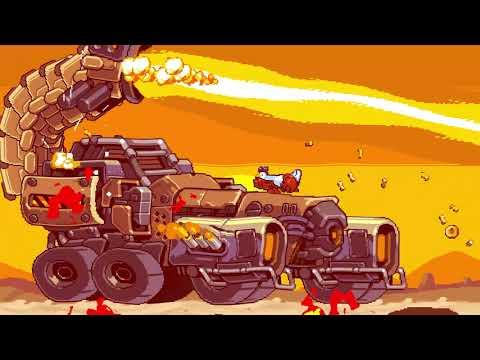 This is probably some of the most furious action I've seen in a run and gun for a while, very much like you might have expected out of some kind of Metal Slug game. Enemies keep on coming, so you keep on gunning. Not just the action that's good though! The visual style, the music and the additions of some comedy make it a truly worthwhile game to go and pick up today.
What's not to love about it? You're a Goose whose first special ability is to Honk. It does absolutely nothing but it's hilarious all the same. You do get to switch to other abilities, and weapons and there's an upgrade system too. Not only that, you also get to rescue and use various different companions. The first of which is an ordinary Duck, which like the Honk, is useless but still amusing as an intro to the rest.
You also have a special ability to power yourself up, essentially turning yourself into a Super Saiyan Goose for a brief moment and suddenly becoming incredibly powerful while you take little damage. This ultimate ability doesn't last long while you use it, and it charges while you fight but it's fantastic too - especially for when you're in a pinch during some of the crazy boss fights.
Don't mess with the Goose.
The way it uses money is pretty clever too. Most games will have you collects coins for lives or upgrades. Here though, you use it directly in each run. You can pause the game, bring up the shop and purchase weapons and vehicles. It's quite a nice touch. There's a few nice accessibility options too. You can turn on auto-fire, disable screen-shake (of which there's a lot) and disable flashing screens (also a lot).
As for the Linux port, as expected by MP2 Games, it's fantastic too. Very smooth and looks awesome. No Linux-specific issues were found here. Solid.
Controller support is a bit odd overall. I've seen others report that some less popular controllers don't work at all like some 8bitdo and my Xbox 360 pad wants to vibrate all the time. It works perfect with the Steam Controller and Stadia Controller though, so I've had an absolute blast with it.
Features:
Fast-paced run-and-gun experience with tight controls.
Battle against screen filling bosses that will test your skill, timing, and dodging
Customize your playing style using a combination of upgrade chips, secondary weapons and assist characters.
Pilot devastating war-machine vehicles to decimate large groups of enemies.
Beautifully crafted vibrant pixel art worlds, vehicles and characters.
An amazing soundtrack featuring crunchy synth-rock and funky jazz-fusion melodies. Composed by Dominic Ninmark (Moonrider, Blazing Chrome, Gravity Circuit).
Honk. You can buy Mighty Goose on Steam. Honk.
Some you may have missed, popular articles from the last month: