Could this be your next 100 hour deckbuilder? Draft of Darkness has freshly released into Early Access on Steam.
Mixing together exploration roguelike mechanics with a deckbuilder isn't new, however throwing a dark atmosphere into it with a horror theme definitely makes it feel more unique than many others. The combat is about what you would expect giving you a turn-based card-throwing event but everything else makes it unusual, including the gloomy exploration you get to do.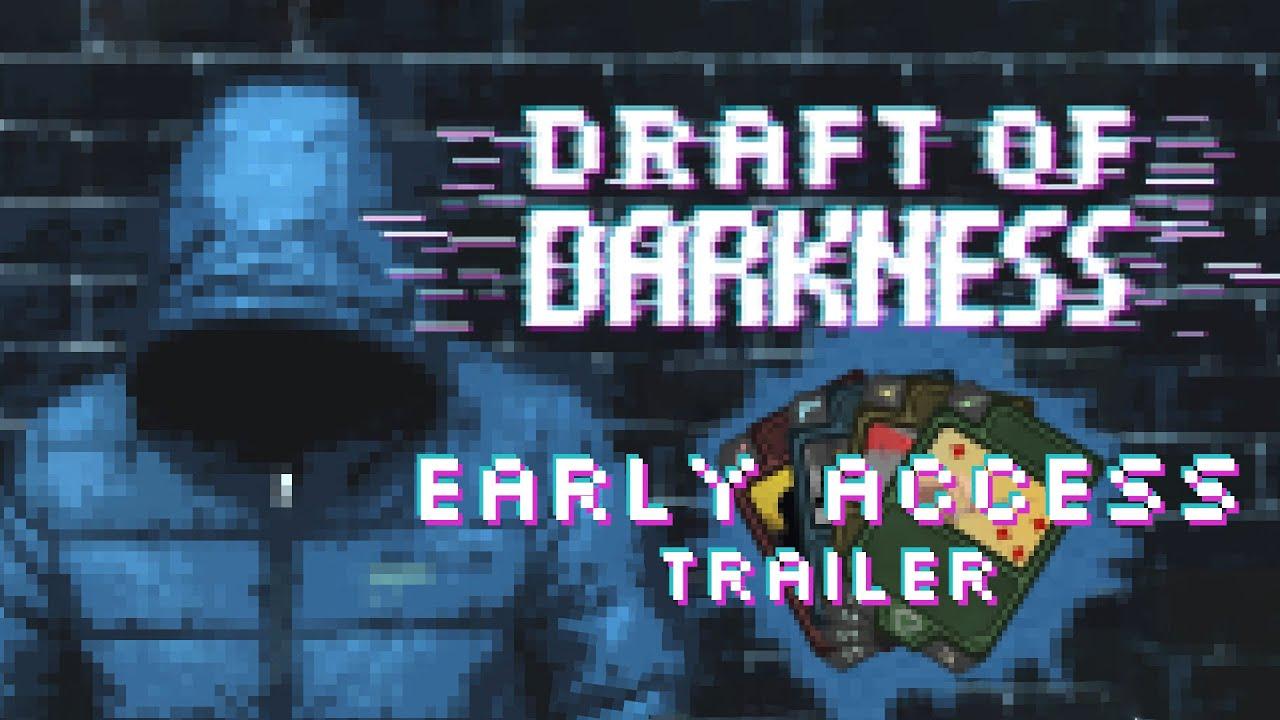 Visually a little bit too dark perhaps but pair that up with some headphones in a dark room, and you've got yourself a thoroughly engaging experience. It's supposed to be dark though, and you can get certain items to lighten up the area around you as you explore.
The style of it feels a lot like the demakes and PS1-styled games we've seen appear recently, which certainly isn't a bad thing but it's definitely not going to be to everyone's tastes. It's not particularly scary though but the atmosphere is good enough to keep you invested in it and pulls you back time and time again for another run through.
The card system is pretty unique too and part of what makes it really interesting to play through, and a big part of what makes it quite a great deckbuilder already. The cards you get will be based upon your weapons, and many of them also have a weaker variant you can use to conserve energy too. So to use certain cards you need to have specific weapons or items equipped, and you can dual-wield certain weapons too. Not only that, with guns you're not just focused on your energy but keeping an eye on your ammunition too. Simply going gung-ho with your starting pistols is not a great idea, as I found out later only having the ability to Pistol Whip enemies.
Being able to explore the world properly, instead of just clicking between points on a map like other deckbuilders is nice too, especially since you get to constantly loot areas and sort through all your equipment. There's times you can avoid enemies too, since (depending on the difficult level) they might not be coming directly for you. While exploring there's many events you come across too where you need to make a decision, with the outcome affecting the rest of your run and the story overall too. Like a little scared robot who wants you to help them transfer their mind into something bigger, some of the events are certainly quirky and fun to go through.
Features:
A card is only as good as its weapon - Attack cards are linked to a weapon, managing your weapons resources as well as your deck is vital to make sure your build is ready to defeat what lurks in the shadows.
Is the darkness better as a group? - Find friends and foes lurking deep within the darkness. Manage the status of your party, avoid radiation and infection at all costs!
Every death brings rewards - At the end of every run, you will receive credits that can be used to open booster packs to unlock new starting cards. Every death is a chance to find new strategies!
Be careful what you ask for - Draft of Darkness has a unique "meta-story progression" system, every decision can alter the outcome of the story and allow for new ways to progress. Different choices are available in each run but be careful, some will have serious consequences.
So far seems to have flown a little under the radar with only 25 user reviews on Steam. Hopefully they will manage to cut through the noise, as this seems like a game that really deserves more proper attention on it. There's a lot to love about it already and I now fear for my free time as it's going to be thoroughly sucked away by it.
You can find Dark of Darkness on Steam. It's Early Access so it's not quite finished yet.
Some you may have missed, popular articles from the last month: