Two big updates arrived for the Steam Deck last night, so let's go over all that's changed as it's quite exciting. Firstly, the main Steam Deck Client update brings some really nice goodies.
Added dual trackpad typing support to onscreen keyboard
Added game mode onscreen keyboard to Desktop mode
Added Family Sharing status to game details page. Borrowers will see whose library they are borrowing from, and lenders will see a message if their library is currently in use by a borrower.
Added a Calibration and Advanced Settings screen with options for:

Adjusting deadzones for the left and right Joysticks
Adjusting haptic strength for left and right Trackpads
Joysticks and other sensors on external gamepads

Updated network connection flow to connect without re-prompting for a known password
Improved performance downloading library images after logging in, leading to less stuttering
Removed display of 'B' back button in Overlay Quick Access Menu
Fixed onscreen keyboard input issues when connecting to public WiFi captive portals
Fixed issue where Chrome wouldn't install from the non-Steam section of the Library
I know a lot of people preferred the dual-typing from the original Big Screen Mode, so it's quite pleasing to see Valve add that back in with the new Steam Deck on-screen keyboard. I have to say it looks pretty great in action too. Here's a quick video example with a bonus showing off some themes: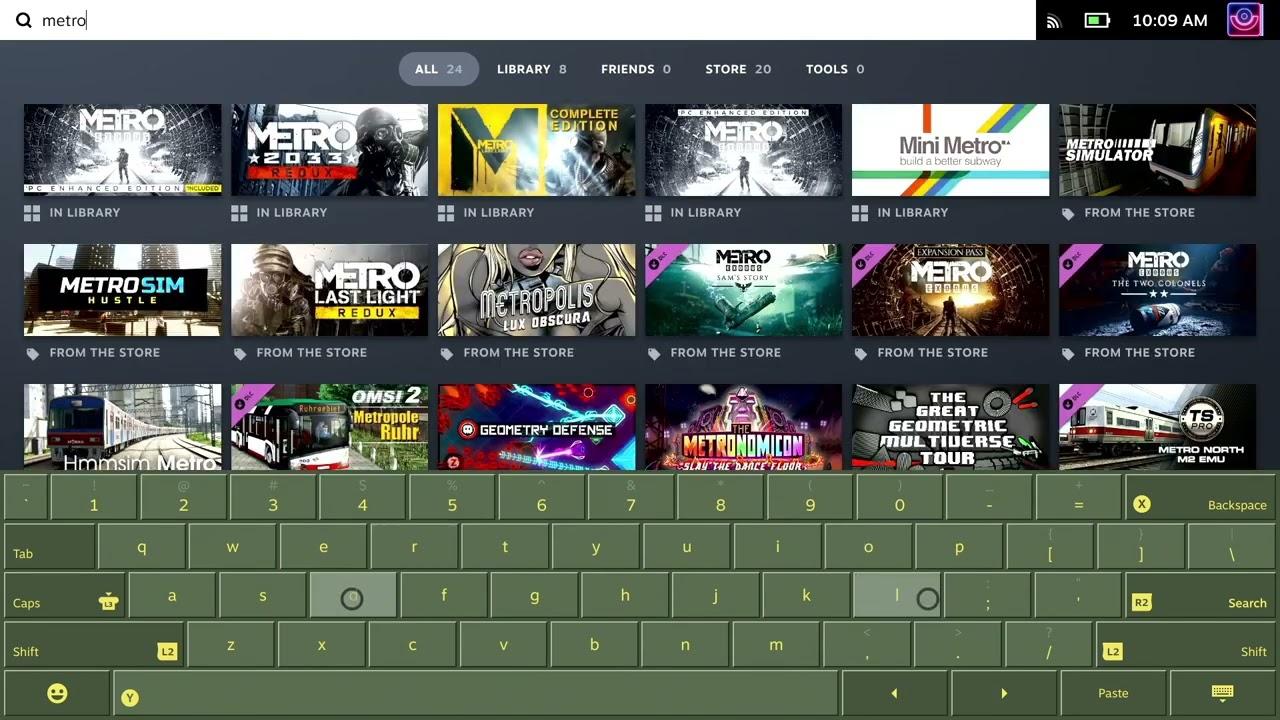 Having that same keyboard in Desktop Mode is also a great idea.
Here's where things get even more interesting though, as there's a Steam Deck OS and BIOS update also available in Beta. Some time ago, I discovered a charging issue with USB-C hubs and reached out to Valve about it. After a bit of back and forth, I ended up finding out that through some hotplugging — charging would work. It turned out that some hubs would pull power from the Deck, instead of a charging wire, and so you needed to plug the power into the hub first, then put the hub into the Deck. Valve were great on this, and they even picked up my exact model to reproduce it on their end. Doing some repeated testing today, it does seem to solve it.
Beta changelog:
Added messaging when a charger that doesn't meet the minimum bar is plugged in
Added uncapped framerate setting in Quick Access menu > Performance
Added fTPM support, enabling Windows 11 installation
Added button combo: hold "..." + "Volume Down" to reset PD contract in the cases where Steam Deck gets stuck due to an incompatible Type-C device
Updated power LED to dim a few seconds after power supply connection events for better experience in dark environments
Improved compatibility for a number of Type-C docks and PSUs
Improved battery life in idle or very low usage scenarios
Improved stability
Fixed issues where the touchscreen does not work after some boots
Fixed compatibility with some SD cards specifically when used as boot devices.
Fixed ACPI error spew in the kernel
To get the OS + BIOS Beta, you need to opt into the Beta channel on the Steam Deck in the System settings menu (down near the bottom).
Some you may have missed, popular articles from the last month: