One of the best strategy games around has grown with the Crusader Kings III: Fate of Iberia DLC now available, along with the usual Paradox free update for all players. Paradox call it a "flavor pack", so it's not quite a full expansion but has enough new content that looks like it may be worth picking up.
"A centuries long Struggle will force you to rethink how to achieve your goals, as a variety of interested and competing parties fight to impose their will on the Iberian Peninsula."
Features in the DLC include:
Struggle system: Entirely new system for historic conflict, available to modders and other content creators.
Decide the Fate of Iberia: Choose the path of conciliation or the path of conquest as you unite Spain or, alternately, agree to a peaceful division of spoils.
New content: Two new Legacy tracks (Metropolitan and Coterie), new cultural traits emphasizing special historical characteristics of the Iberian peninsula, new friendship interactions and duels over the chessboard.
New Events: Dynamic historical events related to the struggle for Iberia.
New Art: New character art reflecting Iberian cultures of the medieval era, new unit designs, new 3D models of holdings and artifacts  and a host of new art for backgrounds, events and loading.
New Music: Additions to the Crusader Kings III soundtrack.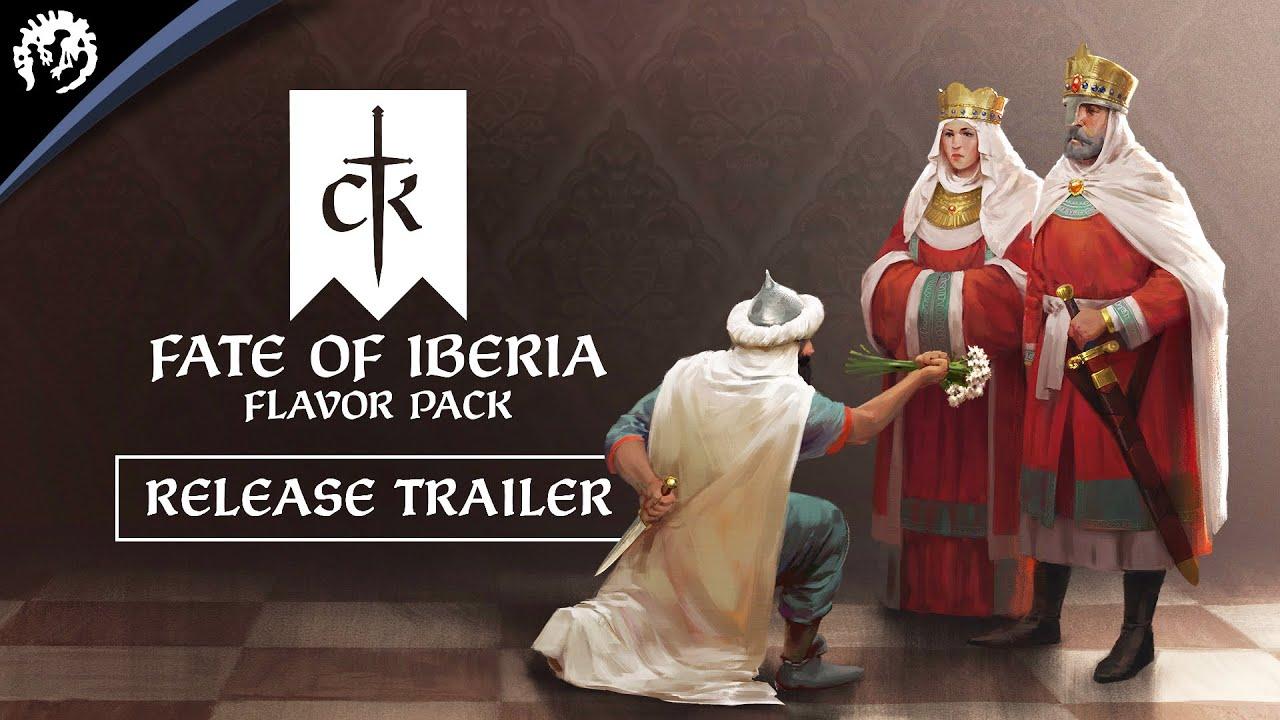 As for the free update, this is what's new there for everyone:
You can now convert to Era Zaharrak when you're an established Basque-cultured sinner in your current faith
Several faiths can now have the same Head of Faith:

Several Islamic faiths now share a Head of Faith at game start, temporal Islamic faiths need to decide on creation which existing caliph they'll submit to (optional for Muhakkima & Zandaqa)
Conversos, Mozarabic, Insular and Catholic all have the Pope as their Head of Faith

Added Rite tenet, allowing theocratic faiths to retain their old Head of Faith on creation if they don't differ too heavily from their mother faith
Added Mozarabic Christianity as a Rite-faith, sharing their Head of Faith with Catholicism
Reworked the Found Aragon decision to create Aragonese culture, be more frequent, and allow for slight varieties in Aragonese
Reworked the Avenge the Battle of Tours decision: it now shifts Aquitaine under the De Jure of Hispania when taken as it's hard to accomplish.
Reworked the Form Portugal Decision: it can now be taken during the opportunity phase of the Struggle without being independent.
Added new special contracts for Clans: Marriage Favor, Jizya, Iqta, and Ghazi
Added a new faction type: the Dissolution faction will destroy the primary titles of their target, removing a Realm from the map
Added a new 867 Bookmark for Iberia: play one of the influential vassals and forge the destiny of your dynasty!
Added a dozen of new emblems for Coat of Arms and new patterns for Iberian cultures
Added a new field "Face item" for the Barbershop to, well, customize the character's face
You can buy Crusader Kings III from Humble Store and Steam, the DLC is priced around $6.99 / £5.19 / €6.99.
Some you may have missed, popular articles from the last month: