Crazy animal fighting game Them's Fightin' Herds has a huge 3.0 update out now, bringing with it some new super abilities and some DLC pulled into the main game for everyone.
This 3.0 update gives "cinematic level 3 supers", a new universal character mechanic completing the move-set for all characters. The developers note many balance changes were done for this release, to really fine-tune the experience. The update is also coming in "hot", as a lot of the backend was updated too so there may be some lingering bugs. On top of that the character Shanty and all of their DLC content is now free in the base game for everyone.
New trailer below: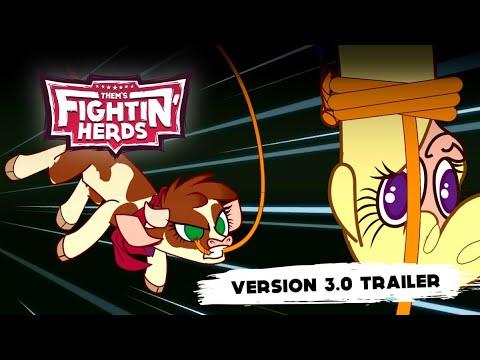 Main Game Features:
Streamlined Combat - 4-button fighting mechanics, magic system, enhanced super attack, and juggle decay to prevent infinite combos.
Story Mode - An episodic adventure filled with exploration, combat challenges, minigames, and boss fights!
Local Versus and Online Crossplay Matchmaking - Fight opponents offline or battle across the globe with GGPO's powerful rollback netcode.
Tutorial and Training Modes – Learn the ropes with combo trials and guided tutorials, practice combos in the data-rich training room, and view replays from your matches!
Pixel Lobby - Unlock accessories, customize your avatar, and explore a top-down visual lobby with other players online.
Dynamic Music System - Rockin' battle music adapts to the characters to make every match feel like a clash of champions.
If you've been hovering over buying it, you may want to do so soon as the price will be rising after the upcoming Steam Summer Sale.
You can buy it from Humble Store and Steam.
Some you may have missed, popular articles from the last month: