Rollerdrome is a thoroughly odd blending of mechanics and style found in the likes of Tony Hawk Pro Skater, a little Jet Set Radio and Max Payne. This is easily one of my biggest surprises so far this year. Runs great on Linux with Proton and Steam Deck Playable.
Note: key provided by the publisher Private Division.
A game all about style, with combat thrown in. There's no filler here and no crazy unlock systems. Just you, some skates and some guns. This is a single-player third person shooter that has you skate around, take down enemies and do some pretty cool tricks to get your ammo back up. I've been pretty amazed at how ridiculously fluid the skating is in this game and yet somehow it's also a pretty good shooter too.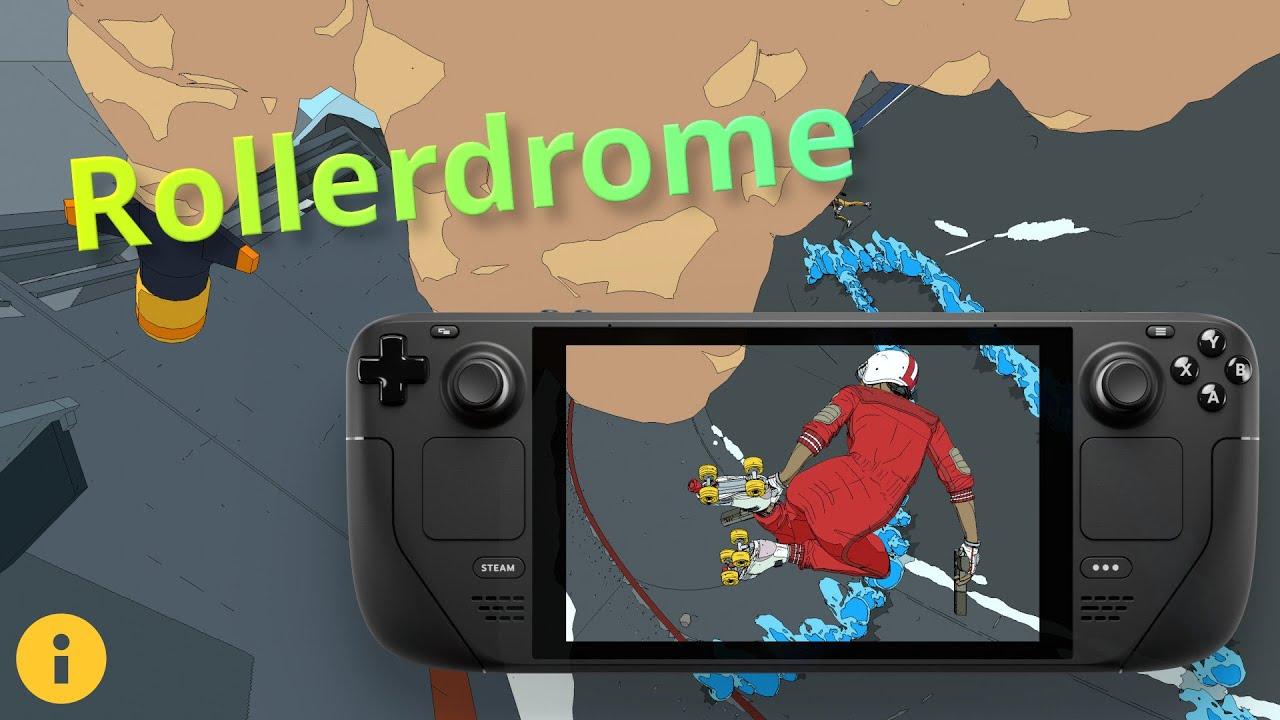 There's plenty to love about this game. While it's fast-paced it gives you plenty of wiggle room to be rubbish. Not only does it have an element of auto-aim so you don't need pin-point accuracy but there's also a Max Payne style bullet-time to make it that much easier on you. It will still make your fingers and thumbs ache though but it's a whole lot of fun. The point isn't just the shooting though, it's about looking ridiculously cool while doing it and that's largely the focus of it. Perfecting dodging, shooting while grinding, grinding along a wall, spinning in the air while taking out a sniper — it wants you to look awesome.
It is a sport after all, the whole idea of the setting in Rollerdrome is that this is a blood sport in a world where corporations rule and they keep the masses distracted with ridiculous things like this. Sounds almost like real-life.
Another point to like about it is that each mission has various challenges for completionists and high-score chasers. However, even that was done to a point where it's accessible and not overly difficult. You can re-run levels any time you want and completing a challenge doesn't need you to actually win the level again. You can jump into a level, complete a challenge in thirty seconds and die and it keeps that you've done it. I really like this. Something extra to work towards without being annoying about it. Makes me want to come back for more and not need to put it down and take a frustration break.
That's only briefly touching on the gameplay feel. The rest of it is brilliant too from the musical score to the art style. The soundtrack is suitable dystopian sounding like it's out of a futuristic movie and the art is stylized without looking cheap, it all comes together very nicely.
Features:
A third person action shooter like no other – an original hybrid shooter-skater that blends high octane, visceral combat with fluid movement and tricking mechanics into one complementary and challenging whole.
A test of skill – Take on a unique challenge throughout the Rollerdrome tournament. Establish your dominance in the field with online leaderboards and push yourself to the limit with the unlockable "Out For Blood" mode for the most extreme test of skill and agility.
An original identity – An all-new fully original soundtrack that merges iconic era sounds and tones with cutting edge production to provide a heart-thumping backdrop to the carnage, brought to life with a unique comic-book inspired art style.
A dark conspiracy – Discover a mysterious, sinister plot in this distinct retrofuture universe.
Available to buy on Humble Store and Steam.
Some you may have missed, popular articles from the last month: