Making the best city-builder even better, the Cities: Skylines - Plazas & Promenades expansion is out now.
Introducing special zoned pedestrian areas, allowing you to create walkable cities and car-free areas around their ideal metropolis. This expansion also brings specialized districts and city service buildings to Cities: Skylines, deepening the city simulator's management gameplay.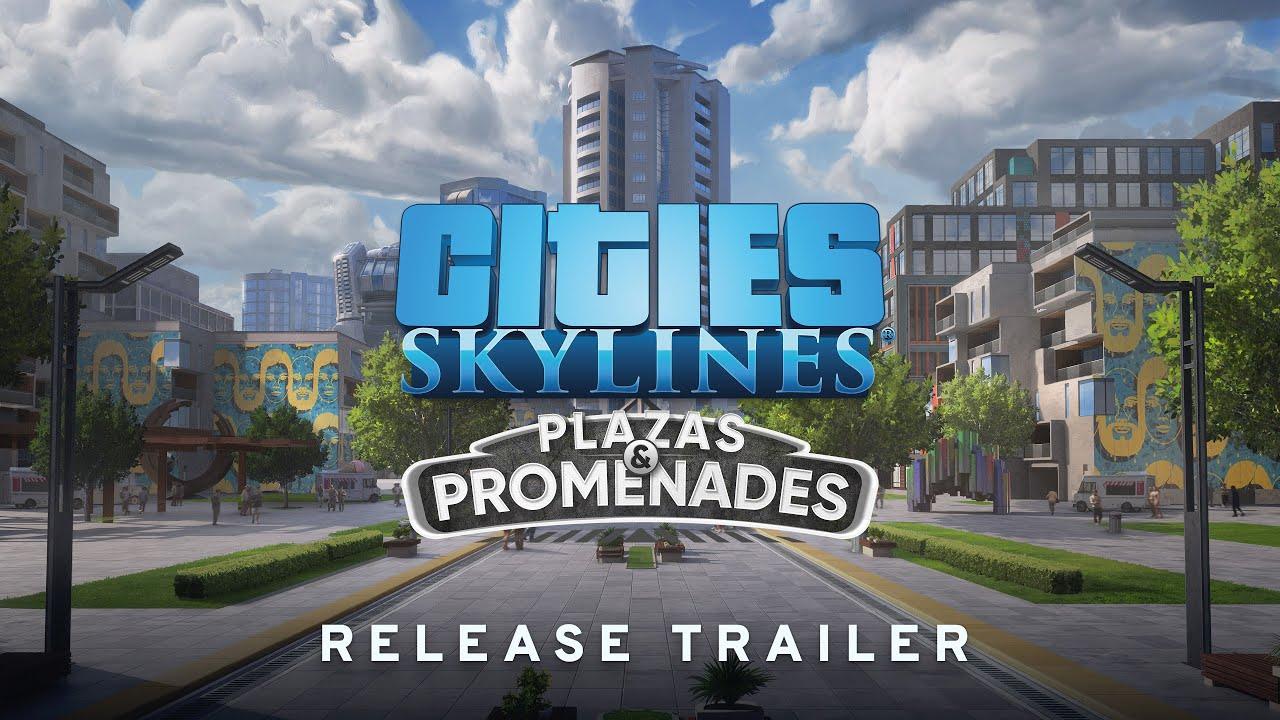 Features:
Pedestrian Streets: let your citizens walk freely on pedestrian-only streets! Place them in your city like any other road and create new green city centers free of most vehicles and pollution.
Pedestrian Areas and New Policies: activate three area-specific policies for your city, including Slow Driving: all roads in the pedestrian area, except highways, get a speed limit of 20 km/hour. Sugar Ban: increases the average lifespan of citizens in the pedestrian area but decreases their happiness. Street Music: increases happiness and noise pollution in pedestrian commercial areas.
District Specialization: we added 3 new district specializations: offices, high-density residential areas, and high-density commercial areas. Setting a specialization on a district affects all area squares in that district that will spawn buildings with a different visual appearance and a gameplay effect. Each specialization features 24 new modern wall-to-wall buildings!
City Service Buildings: service buildings are important, but how about awesome-looking service buildings? Connect them to pedestrian areas by matching their visual style and provide services that contribute to good happiness values.
On top of that two content creator packs and two radio stations were also released as DLC.
A free update was also released for all players that includes:
New Roads added:

9 New Small Roads.
4 New Large Roads.
5 New Highway Roads.

One-Way Metro Tracks added.
Quit After Saving option added.
Fixed: "Allow Intercity Trains" and "Disable University Boost" buttons cannot be disabled.
Fixed: Airplane models are not displayed properly in the Asset Importer.
Fixed: Incorrect display of burned-down Terminals.
Fixed: Collapse flag does not work on bend network segments.
Fixed: Crime rate icons don't appear on Airport Terminals.
Fixed: Chirper Balloon icon is missing in the Asset Importer.
Fixed: Fields, pastures & tree plantations no longer randomize their type/submesh.
Fixed: Some spelling mistakes.
Fixed: Names in Simplified Chinese do not display correctly.
Fixed: "Allow Intercity Trains" is missing or hidden when Simplified Chinese is selected.
Fixed: Incorrect seating position for Modern Table Set.
Fixed: Highway bridge towers are missing light props.
Fixed: Duplicates RequestItemDetails sometimes causes the game to crash.
Fixed: Vehicles are not highlighted in vehicle selection UI.
Fixed: Citizens get stuck on large nodes.
You can buy it on Humble Store and Steam.
Some you may have missed, popular articles from the last month: