Take on the detective role in Nine Noir Lives, a new "point and lick" comedy adventure game out now. Created by Silvernode Games, a small indie team from South Africa and is their first major project.
You take on the role of P.I Cuddles Nutterbutter, along with their trusty assistant Tabby Marshmallow. You will talk, poke and lick (yes licking is a game mechanic) your way through a murder investigation. Check out the launch trailer below: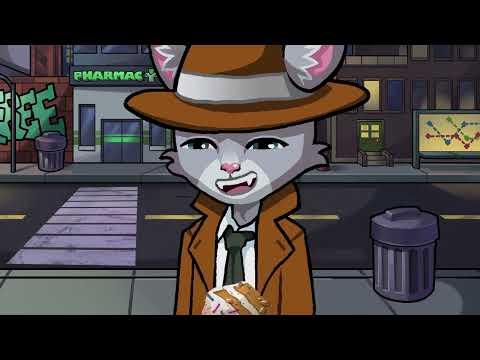 Features:
Brought Up on Feline-y Charges: A charming comedy-noir storyline set in the unique and intriguing city of Meow Meow Furrington, inspired by every cat ever and with fewer cat puns than you might expurrct.
A Point-and-Lick Adventure: Discover a whole new dimension to everything in the game by using Cuddles' tongue. Lick first, and ask questions later. Questions like "what did you expect that to taste like, Cuddles?"
S'more Cats Equals S'more Fun: Experience the city from two very different perspectives as you switch between Cuddles and his trusty assistant, Tabby Marshmallow.
Purrfect Voice Acting: Laugh and learn about the world of Furth with over a hundred thousand words of fully-voiced dialogue performed by an all-star cast including Lucas Gilbertson (Megaman X), Carol-Anne Day (A Hat in Time) and SungWon Cho (Borderlands 3, God of War Ragnarok).
 "Adventure games like Day of the Tentacle and Broken Sword left a huge impression on me, and I wanted to pay tribute to the genre with my own unique contribution," said William Kruger, Founder of Silvernode Games. "Nine Noir Lives is a dream come true for me, and I can't wait for people to experience it. I hope they grow to love Cuddles Nutterbutter and Tabby Marshmallow as much as we here at Silvernode do."
Available to buy on GOG and Steam with Native Linux support.
Some you may have missed, popular articles from the last month: