Crusader Kings III has a big free update out now, plus the Crusader Kings III: Friends & Foes event pack is out now. You can also try the game free this weekend.
This event pack adds in over one hundred new events spread across the game, along with several new pieces added to the musical score. From what Paradox said about it: "Over one hundred new events and event chains which expand upon the relationships you have with your family, friends, rivals, best friends, and nemeses. Experience a much more varied pool of random events every year, as well as specific heart-wrenching (or heart-stabbing!) reactive content for when you, as an example, lie dying, or when someone close to you takes part in a foreign battle."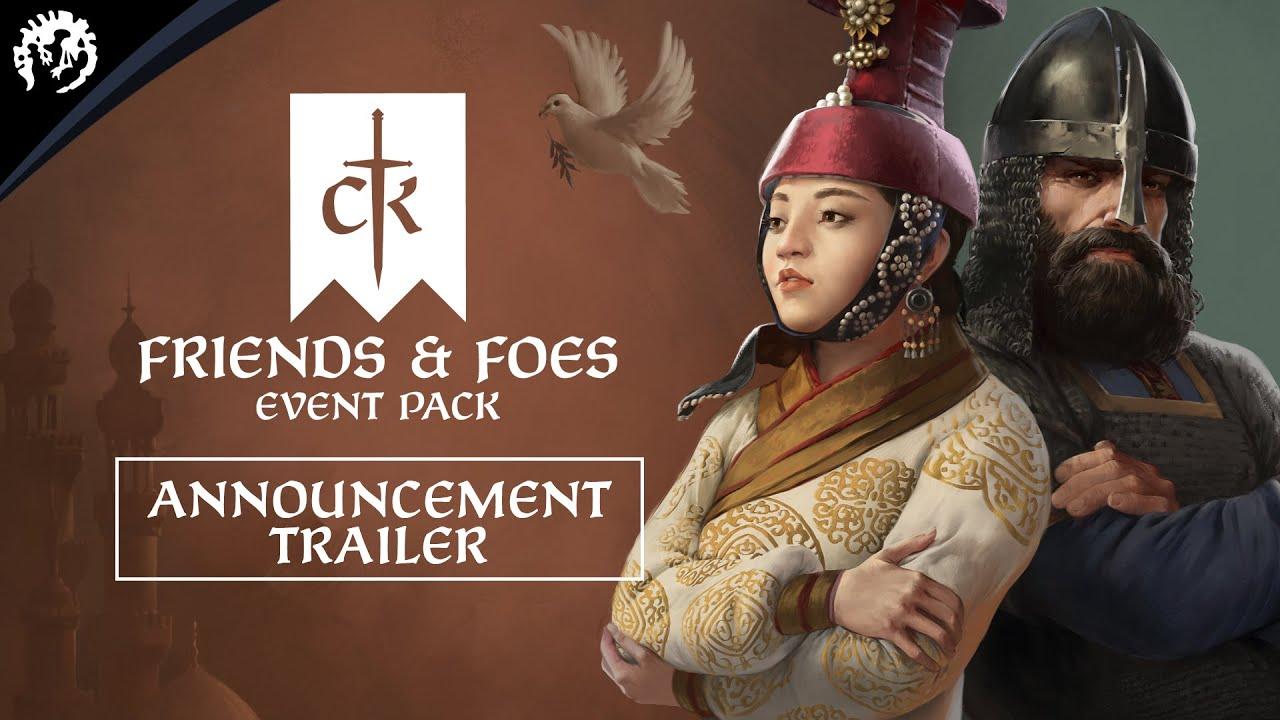 There's quite a lot new free for everyone too including:
Added an additional set of 12 new Childhood Personality Events, this will make certain personality trait combinations much more likely to appear, and also makes certain combinations possible that previously weren't. The trait combinations are balanced in such a way that the choice for you as a guardian should be more interesting:

diligent, gregarious, temperate
zealous, ambitious, sadistic
shy, paranoid, craven
lazy, gluttonous, compassionate
lustful, chaste
just, greedy, callous
humble, cynical, content
vengeful, deceitful, calm
generous, fickle, arrogant
forgiving, trusting, patient
honest, arbitrary, impatient
brave, stubborn, wrathful

When a Friend, Best Friend, Rival, Nemesis, Lover, or Soulmate relation is formed, a reason will now be stated. For example: "Kaiser Heinrich and King Philippe shared an excellent feast in Aachen" or "Basileus Andreas swore to avenge the death of Aristarchos, who was slain in battle by Ulf Munk". These reasons can be viewed for any character in the Relationships tab in the Character Window, presuming the relation is public.
Added relationship icons on character portraits so you can see who is your friend/rival/lover at a glance, along with an informative tooltip
Characters now have Memories of things happening in their lives (children born, battles won, rivals killed, etc etc.). These memories are used in events and other content. For example, if you are murdered your assassin might cite a grievance that your killer had against you. These memories might fade with time, and are usually lost on death. For certain characters memories are preserved longer or even forever (such as rulers the player has controlled, and high tier rulers).
Memories can be viewed by opening the Memory Viewer from the character window, via a button in the same place as the Kill List, Inventory, and Lifestyle.

Memories are listed chronologically alongside the date they were added (you can flip direction with a toggle).
Private memories will not be visible unless it's your own character, or you are in Observer mode. (private memories such as gaining a lover or murdering someone).
You can view the public memories of any character in the world.
Memory lists can be copied to the clipboard via a button and shared outside the game.
For convenience you can pin the Memory Viewer to one character, or browse through different characters while keeping the Memory Viewer open.
Memories are collected up during game play time, but some characters may start with some already in place.

Added the Loyal/Disloyal Traits, which affect how likely a character is to join factions, cheat on their spouse, etc. These traits are integrated as Sins/Virtues, hooked into Cultural Traditions, and can be gained through new events.
Reworked Populist Factions in order to improve their functionality, especially in regards to how they interact with player vassals:

Vassals directly affected by a Populist Revolt now get a letter from the revolt leader, asking the vassal how they will respond to their demand. The vassal may:

Join the war and help their liege
Convert to the faction's culture and/or faith and join the war on the side of the rebels
Stay out of the war and do nothing (though still risk losing land if the liege loses the war)

AI vassals are most likely to join the war on the side of their liege, but can in rare cases pick either of the other two options
Made it so that AI lieges will never accept the faction demand if a player vassal is targeted by the faction (this will finally allow player vassals to intervene and help protect their own realm)
Greatly increased the military strength of Populist Factions, to compensate for the fact that vassals can join the war:

Populist armies now spawn a few basic Men-at-Arms in addition to levies
Populist armies spawn Siege Weapons depending on their culture's innovations, allowing them to better scale into the late game
Populist factions now generate a few commanders to lead their troops

The populist leader will now get some extra gold upon victory, to ensure that they can afford creating titles and Men-at-Arms
Reduced the rate at which factions gain discontent for being over the military power threshold. In practice, this will give rulers a longer time to react before factions press their ultimatum (especially when the faction is only slightly stronger than their target)
A successful Populist Faction will no longer usurp or create an existing title if they don't control at least 50% of its De Jure (this is to prevent titles from being usurped too easily)
Increased the restrictions for a successful Populist Faction to create custom kingdoms and duchies. They will primarily attempt to create a title without a holder or usurp an existing title
Rulers participating in a Populist Faction will now become independent if they have too high a rank to be vassalized by the populist leader, instead of remaining a vassal to their old liege
The leader of a successful Populist Faction should no longer steal counties from rulers joining the revolt

Added 14 new event illustrations

Food Cellar
Crossroads with Inn
Hills
Plains
Bonfire
Kitchen (Western)
Jungle
Desert/Drylands
Docks (Tribal)
Castle Corridor Day/Night (Indian)
Courtyard (Indian)
Courtyard (MENA)
Relaxing Room
Wetlands

7 new character animations for events

Assassination pose with raised knife
Eavesdropping
Eye Rolling
Laughing
Drinking from Goblet
Holding Lantern
Toast Using Tankard
Never played it? Well it's currently on a Free Weekend on Steam so you can download it and play free over the next three days. There's also a 20% discount on it but the below might work out better value…
There's also the current Humble Choice, with Crusader Kings III as the headline game plus a bunch more. Honestly, that's the best way to grab the game right now even if you only keep it for one month.
One of the best strategy games available supported on Linux, don't miss out on it!
Paradox also recently shared some fun stats for the game:
225 million hours of Crusader Kings III playtime.
33 million successful murder schemes.
25 million wedding celebrations.
2 million cats and 2 million dogs petted.
2 million chess games played.
Some you may have missed, popular articles from the last month: