As Intel ready up their dedicated desktop graphics, they have released fresh details on the specifications so here's what's about to arrive. Released in a short Q&A video, I'll spare you diving in with the details right here but the video is below if you wish to listen in.
Just like their CPUs they will be split across different tiers including Intel Arc 3, 5, and 7 graphics. With 7 beiong "High Performance Gaming", 5 being "Advanced Gaming" and 3 being "Enhanced Gaming". Here's the specs:
When it comes to the higher-end though, they're split between 8GB and 16GB. Intel said that partners will mostly ship with 8GB but their Limited Edition GPU doubles it to 16GB. That's about the only difference they've revealed in the line-up. They also said that each card is fully features with HDR, variable refresh XeSS, video encoding for AV1 and other popular codecs.
You can see their full video below: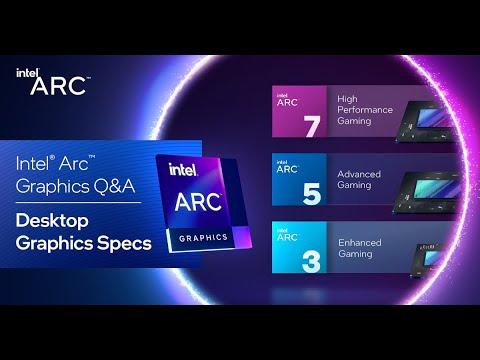 Some you may have missed, popular articles from the last month: